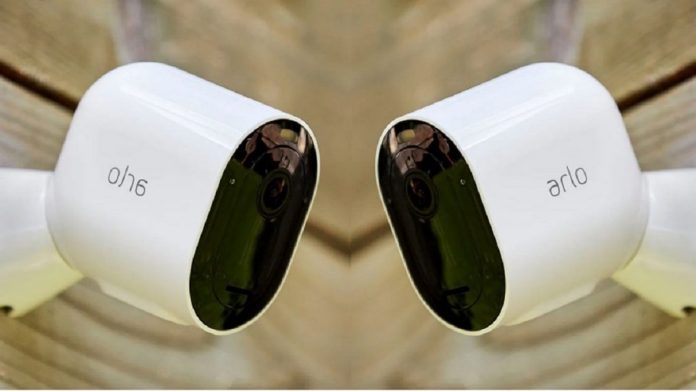 Today's article is about Arlo Pro 2 Review, Features, and Drawbacks.
Alert! We're an affiliate
We hope you love the products we recommend! Just so you know, we may collect a share of sales or other compensation from the links on this page. Thank you if you use our links, we really appreciate it!
Arlo Pro 2 Security Camera is a wonderful product designed and developed by Netgear. It can keep an eye on your home or business while you are away from it.
In addition, It can even watch your children, pets, and other valuables. Arlo Pro 2 is very helpful in that you can even check the feed when you are far away from the camera.
Arlo Pro 2 is a great little security camera that has a few features that'll surprise you such as it can be used indoor/outdoor to add more security for your property.
Plus, it's a wire-free camera powered by a strong battery, unlike other wired security camera brands such as Ring, Google Nest, And Blink cams.
You just need to use the Arlo App as well as other connected devices like computers, mobile phones, and tablets.
| | |
| --- | --- |
| Technical Details | Arlo Pro 2 Security Camera System |
| Type | Wireless Security Camera System |
| Power Source | Wire-free or plugged in |
| Installation Time | 10-20 Minutes |
| Dimensions | 9.92 x 9.69 x 4.96 inches |
| 3-Second Lookback | Capture activity 3 seconds before the events |
| Sound-Activated Alerts | Record when Sound Detected |
| 1080 HD | Crisp HD Videos |
| Live View | Available |
| Night Vision | Available |
| Advanced Motion Detection | Available |
| Activity Zones | Available |
| Home Smart Systems | Support Apple HomeKit, Amazon Alexa, the Google Assistant, IFTTT & Stringify |
| Local Storage | Available |
| Free Cloud Recordings | Free 7 days |
| 2-Way Audio | Available |
| Smart Security Siren | Remote-activated 100-decibel Siren |
| Connectivity | 802.11 b/g/n Wi-Fi connection @ 2.4GHz |
| Weather-Resistant | Available with IP65 Rating |
| Available Colors | White |
| Global Ratings | ⭐⭐⭐⭐ |
| Price | Check Latest Price |
Now, Let's Dive into Arlo Pro 2 Review, and see the features first
Arlo Pro 2 Features
1- 100% Wire-free system
The first thing to note in the Arlo Pro 2 Review is how the camera is powered?
There's no such thing as a bad thing as having a camera system with countless wires to trip over and annoying wires to plug into every single device you own.
Plus, Using traditional security cameras is expensive and inconvenient – running cables can be difficult and costly, especially around windows and doors. And they can obscure your beautiful view.
But, Arlo Pro 2 security camera solves all this.
With a 100% Wire-free system you can be sure that not only is your footage safe but so is your bundle of cables.
For Arlo Pro 2 security camera, There are no cords to run because these cameras are powered by a battery (2 included).
The base station connects directly to your Wi-Fi router so you can place it wherever internet access is available. If you need an Arlo camera without Hub you can select Arlo Pro 4 Spotlight Security Camera.
2- 2440mAh Rechargeable Batteries
I'm happy to say that in the Arlo Pro 2 Review we like the Rechargeable Batteries and how long does it take to recharge them again.
What do you think of when you see a battery?
The first thing on my mind is probably panic, fear, uncertainty, and stress.
Many people and homeowners worry when they pick a security camera with batteries and ask a question like:
What if I run out? If I put it in my camera, will it break it? If I do that, is it going to leak everywhere and then set on fire?
Don't let downtime cost you money, With the Arlo Pro 2 Security Camera rechargeable extension battery kit, you can get the best value for battery technology with our 2440mAh rechargeable batteries.
Go ahead, relax. You can leave your camera running for as long as you need to without having to worry about a fading charge.
This is because when the camera detects low power, it will stop transmission until you change the battery.
3- Night Vision Feature
Arlo Pro 2 security camera is one of the most user-friendly and feature-filled systems available.
Our team of seasoned tech experts has carefully tested over 50 different brands of security cameras. And countless hours researching, testing, and comparing all the latest features and technologies available.
In the Arlo Pro 2 Review, the Night Vision Feature was not perfect as we expected. The cam Records clear video footage in low light conditions without the need for a bright second camera.
In a small comparison between Arlo Pro 2 Security Camera and other cameras, you figure out that the night vision feature doesn't have quality like other brands.
The Arlo company claims that this camera can illuminate up to 25 feet of your dark area, but we don't think so, it's a few feet.
4- Indoor/Outdoor
Having to choose between security systems available out there is a headache for customers and homeowners especially if they are beginners.
There are a few surveillance systems that have the compatibility to work both inside and outside of your home, and Arlo Pro 2 Security Camera is one of them.
The Arlo Pro 2 hub and cameras are designed to work wherever you place it indoor or outdoor.
If you think of putting the cameras inside the home with a magnetic ball mount you get your job done within minutes.
On the other hand, For outdoor usage, the cameras have a nice sleek design with durable materials to make them work for a long time in bad weather conditions.
The next words about Weather-Resistant Arlo Pro 2 cameras and how great they are.
5- Weather-resistant
Expensive security systems are ineffective. They need a lot of attention otherwise they're just not working properly.
A straightforward, user-friendly, and smart home security system is needed.
The Arlo Pro 2 Security Camera System provides weather-resistant cameras that mean you don't have to worry about outside conditions.
With these security cameras, you can keep an eye on your home no matter if the weather is raining, or cloudy. Your cameras will work continuously.
6- 2-Way Audio
One of the biggest pain points for folks in the US is to have a fully secure system.
Especially when it comes to protecting your family and belongings and thinking about how to increase your security level.
Most people go for looking at camera features like resolution and cam lens, remote viewing, and night vision. But there is an important feature and you should look for 2-way audio.
Arlo Pro 2 Security Camera takes the advantage and enables two-way audio in their cameras by using a built-in mic, and speaker to enhance your house protection system.
Just By connecting your cameras directly to your mobile phone you can listen in on activity happening inside or outside of your home.
Arlo Pro 2 Is considered one of the Best Security Cameras With Two Way Audio for home, business, and your favorite places.
7- Free Cloud Recordings
In our criteria for Arlo Pro 2 Review and other cameras review, we take Video Storage as a high priority.
Imagine you purchase a high-quality surveillance system that records videos in 4K resolution and have a wide-angle viewing angle to allow you to get the best footage of your home.
But, you have a problem when you try to save videos a small alert message comes in front of your eyes that "you don't have enough space".
Then in a case such as this, you may think about picking a micro SD memory card, But if your camera doesn't have a slot for a memory card?
The next choice which may cost you some dollars is to have cloud storage to save more and more of your recorded videos.
But with Arlo Pro 2 Security Camera it's simple, the Arlo Pro 2 gives you a cloud storage option and advanced features for 7 days free without a monthly subscription.
8- Works with Smart Home Systems
Unsecured home – Security systems that have multiple cameras running on them are often very expensive or complex and hard to set up
Whether you forget to close the door and your dog gets out or you just want some baby monitor action, it's always a drag when there's no one for the job.
You don't have to worry, new devices come to the market that has the capability to connect with other smart home systems, and Arlo Pro 2 Security Camera is one of them.
Arlo Pro 2 can connect with Alexa and other smart devices and will send security video clips to your smartphone whenever it detects motion or sound.
9- Local Backup Storage
As we mentioned above in Arlo Pro 2 Review we look for available storage options in any camera we test and review.
One of the biggest concerns for most people when it comes to buying security cameras is storage capacity.
With limited hard-drive space on the majority of systems available, you could be forced to miss out on important footage during an incident. Or pay a fee every month for cloud storage. Don't worry!
Arlo Pro 2 Security Camera has both options for cloud storage and local Backup Storage. Arlo Ultra 4k Cam has Local storage, but not free cloud storage – until now.
Using the latest in hardware backup technology, with the new Arlo Pro 2 Security Camera with Local Backup. You can store videos recorded by your Arlo Cameras in any place you need them most.
10- 3-Second Lookback Feature
Arlo Pro 2 Review based on camera features and discover more unfamiliar features for the user, and one of these features is 3-second Lookback.
Arlo users tell us they love that Arlo cameras are completely wire-free and have a rechargeable battery which means you can put an Arlo camera almost anywhere.
What if I told you that you are missing out on a key feature that most Arlo users don't even realize exists?
What if there is a way to see what happened just before the motion sensor was triggered? With the new 3-second Lookback feature, you can finally see the first 3 seconds of any movement captured by your Arlo camera.
The feature is available for all Arlo cameras in order to keep your home or business protected at all times, even when someone sneaks into a room, walks into a hallway or
11- Activity Zones
In our Arlo Pro 2 Review journey, we test and try another amazing thing that is Customizable Motion Detection advantage.
The Arlo Pro 2 security camera has a feature called Activity Zones. This feature allows you to define zones of activity that can trigger notifications.
This is a brand new way for you to customize your video feed, so only the things that really matter to you are recorded and shared.
One such zone could be the camera covering the driveway and front door of your home.
If the camera senses movement, it will take a snapshot and send a notification to your smartphone notifying you when someone is coming or going.
Other cameras can be set up as motion detectors in another area such as a backyard, and garage, But record video clips for unwanted areas and that affects on storage space of the camera.
Final Words
At the end of the Arlo Pro 2 Review, the Arlo Pro model has a lot of features that you can use indoor or outdoor, Plus you can extend your system cameras easily.
A lot of users trust Arlo Technologies because of the high-quality cameras and affordable prices the company offers, so if you plan to get a new security system Arlo Pro 2 will be the best for you.