Discover Blink Mini Security Camera Review, Features, and Con in this article
We have tested the Blink Indoor, and Outdoor cams and write a full detailed review if you are interested in Blink cameras Reviews.
However, today you are going to read a Blink Mini Security Camera review. It is not just another surveillance security system, it is small and portable, easy to use, and a complete camera system 
This Blink Mini camera is suitable for surveillance as well as a dashcam (if that's what you are looking for). 
There are several key types of security camera systems that provide different functionalities.
If you're planning to invest in a security camera system, it is advisable to determine your specific needs in advance and then research available surveillance solutions that suit those needs. 
In case you search for a simple design and compact size, then this cam is for you.
The Blink Mini security camera is a neat little device. It has been carefully designed and highly engineered to provide optimum performance in its most compact size.
Now, Let's dive into Blink Mini Security Camera Feature
| Blink Mini Camera | Specification |
| --- | --- |
| Power source | Plug-In |
| Usage | Indoor Only |
| 2-way audio | ✅ |
| Motion-activated alerts | ✅ |
| Infrared night vision | ✅ |
| Works with Alexa | ✅ |
| Video resolution | ✅ |
| Weather-resistant | ❌ |
| Price | Check Price |
Features
Compact Indoor Smart Security Camera
Security is a major concern for many homes and business owners. But, for most of us, the costs also outweigh the benefits.
Plus, traditional CCTV cameras are bulky and awkward to use and require more investment to hire a person for installing your surveillance system.
With Blink Mini Security Camera it's different. It's a compactly designed indoor smart camera system with no installation required that works completely wirelessly. So, it can be placed anywhere you choose.
It's simple, All you have to do is plug in the power adapter, direct the camera to the place you want to monitor.
HD Video
Advances in technology leave security measures behind. With Blink Mini security cameras, your home is safer than ever. 
The camera captures and records 1080 HD videos to get everything happening inside your house recorded in detail.
So if someone comes by your house, they won't have any idea you're recording them. It records with a frame rate Up to 30 frames per second, so you can easily capture evidence of intruders, spills, and more. 
It's not the best Resolution in the market, there are cameras that come with FHD, and UHD. But in the price equation, the Blink Mini security camera is the best resolution in this price range.
Night vision
Night vision security cameras are so expensive and you can take days to find an affordable one.
For Blink Mini security camera it's a basic feature, whatever happens, day or night everything will be captured by your small camera.
Some professionals advise not to use cameras with IR in the house, But it depends on your needs. 
If you leave your home for a long time during the day, it's better to activate the night vision feature. If not, you can turn it on at the times you need.
Motion Detection Alerts
A lot of security camera brands out there raise up their camera security level by using motion detection. 
It differs from camera to camera, some security cameras have customized motion detection features, others do not.
Other security camera manufacturers use motion detectors to detect Persons only, not animals, and so on.
Blink Mini security camera is one of these cameras, it has a high motion detection sensor that detects everything that breaks in your property.
Plus, the camera has the ability to send Alerts to you via your smartphone through Blink App, These alerts make you active and alert with what happens in your area.
Two-way audio
In our Blink Mini Security Camera Review, We were looking for the best security camera with audio that we could recommend.
We're really not sure how many security cameras actually have two-way audio. And we've been looking!
First, We started with an entirely unbiased perspective. And Finally, we determined that the 'Blink Mini' is one of the best cameras that offer 2-way audio on the market.
What we notice while testing Blink Mini 2-way audio, is the output audio is clear enough to hear without any noise, also it's fast and the voice can be heard with no delays.
Works with Alexa
Your front door is your castle. But you're too far away to see what's going on through the peephole. 
You want the peace of mind that comes with knowing who has visited — when, where, and how long they stayed — and some clear footage of all their faces.
That's why we came up with the Blink Mini Security Camera. The Blink Mini Security Camera works with Amazon Alexa voice commands. 
So, it's easy to control your cameras by using the mobile app that lets you remotely check on your home or business anytime from anywhere.
Easy to install
If you're a beginner with no experience in installing surveillance systems, then it's better for you to search on Easy to install security cameras.
In our Blink Mini Security Camera review, we install the camera within minutes. On the other hand, Other home security systems are too complex to install by yourself.
Blink cameras are very easy to install. True DIY installation. No wiring or setup is required. 
You just plug it in and connect to a Wi-Fi network, then download the free app on your phone and you are ready to go.
Cloud Storage free 30-day trial
Cloud Storage Now makes everything easy. In the past, the only way to store your videos and data was to store it on local drives like a Hard drive, and USB Flash.
Nowadays, security cameras capture important clips and these clips may be used as evidence in crimes and so on. 
So, Cloud storage is the best option for this, it allows you to protect and keep your video for a long time. Plus, make you to access it from anywhere.
On our Blink Mini security camera review, we try the 30-days free trial provided by Blink. It works fine, and we easily reach our stored videos.
An additional Option for storage provided by Blink is the ability to use local storage. But in this case, you need to purchase a separate device called Blink Sync Module 2.
Small Size 
Security cameras available in the market right now have a bundle of features, and most of these features are amazing to have in your security camera.
But, What if you think about buying a small spy mini camera to hide it from people's eyes?
You may take the whole day searching, comparing, and looking for the best mini camera for you, and you may not find it.
In our point of view, we recommend the blink mini security camera as the best mini camera. It's small and has a sleek design, so no one will notice it. 
You can hide it between books, behind your TV screen, and in a lot of places due to its small size.
Plug-in power source
In Blink Mini Security Camera Review, we test Blink different cameras like outdoor, and indoor cam. Both cameras are powered by non-recharge batteries which is a big problem.
Although the batteries are made of Lithium and may last up to 2 years without a need to replace it. But when the batteries run out your system will stop instantly.
Does the blink Mini camera differ from other blink cameras in how it is powered? The mini camera comes with a 2 meter micro USB power cable that connects to the Power adaptor. 
So, when you plan to purchase a mini camera from blink, the first thing you should consider is that it must mount near to the power outlet.
Once you connect your camera, then it may work continuously without any stop until you decide to turn it off.
Read Blink Outdoor Security Camera Review tested by our Experts.
Drawbacks
Wired Camera
A little advice we figure out during our Blink Mini Security Camera Review.
If you're a beginner and it's the first time for you to buy a security camera, then this mini Blink security camera isn't the best option for you.
The camera takes more time and effort to install than other wireless or wire-free cameras. Plus, wiring problems that you should solve by planning carefully for your whole system
Where to mount the cameras
Cameras power source
Place of DVR/NVR of the system
You may avoid this by paying for professional installers to do the job instead of you.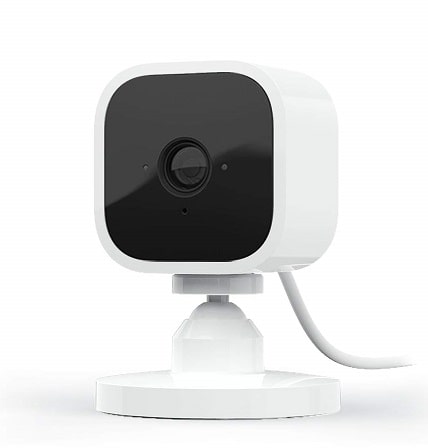 Summary
Now in the last of Our Blink Mini Security Camera Review, If you don't plan well to have a security camera for your home, then don't just buy any camera and test it later.
Make sure that every feature of this camera meets your home and family needs, getting the right product sometimes be the solution for your problems.