How to install security camera wiring? and How to run security camera wires inside and outside your house?. As the installation process takes more time if you're a beginner.
The security cameras are divided into two types wired and wireless security cameras, each type has its usage and tools.
If we look for wireless security cameras we found that it's easy to install, while wired security cameras take more effort in installation than wireless cameras.
In this article, you'll know how to install security camera wiring for Both Analog CCTV security cameras, and network surveillance cameras.
How To Install Security Camera Wiring 
Installation of the security camera can be an easy process if you plan how you want to install security cameras.
The planning step is a very important step, once you did it then it will make you take less time and effort to install the whole surveillance system.
Here're 7 steps you can follow to make the installation of your security camera wiring easier than usual.
Step 1: Decide where you want to Place your security camera
When it comes to the Best place of the security camera you want to install the camera in, It's not as easy as you think.
As the place of your security camera decide too many things in your recorded videos and the area you want to cover.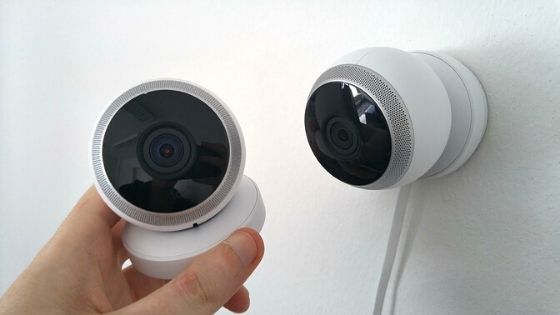 There are many things you should keep in your head before deciding where you want to place your security camera. Things like :
What is the place you want to cover with your camera is it Front, back doors, Driveway, Street Windows, and Porches?.
Is the place easy to install the security camera wiring and near the DVR/NVR or it's far away from the central device?.
In the case of wired cameras, How the security camera will turn on? is there any electrical outlet for your camera or not?.
Is the place you choose has the ability to hide security camera wiring or not? as we know hiding camera wires from sight protects our surveillance system.
Once you answer the above question and know everything about the place of camera you choose you can move to the next step.
Step 2: Planning For your Surveillance System before installation
Now you find the right place to install your home security camera and allows you to get the most feature of your cam.
The next step you have to do is to bring a white paper and start to plan for your whole surveillance system.
In the case of security cameras, is the camera cover the area you want or not? and what's the best angle of view for you?.
For outdoor security cameras, you can install your security camera high in the soffit to get a wide range of camera views and cover a large area.
Also, If you install a security camera outside the house, you should ensure that your camera has a protecting case against water and bad weather.
The best way to avoid protecting problems is to buy a security camera that has a waterproof and weatherproof feature.
After you finish your security cameras planning, think about camera wiring and how to connect it to DVR in a short way.
Most people like to measure the wire route of the whole surveillance system and look for the best way to hide wires on the soffit, windows, and wall corners.
Furthermore, you must give yourself a lot of time thinking about where to place your DVR/NVR as we know DVR is the heart of any security system.
Security camera experts advise installing DVR near to the security cameras, and away from people's sight. You can hide a DVR or Home Network Video Recorder in a bedroom, or behind your house walls.
Step 3: Prepare the Installation Tools
Now you choose the place of your security cameras and finish the planning of your surveillance system. The next step is to prepare the installation Tools.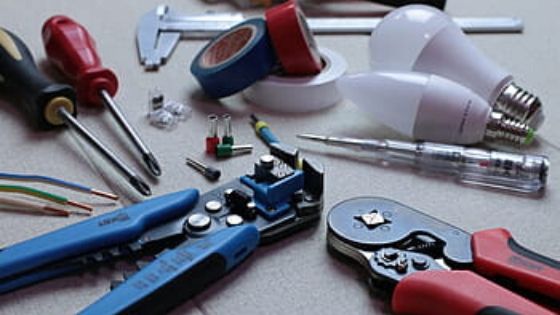 The installation tools you need are a power drill, Cable staples, Light hammer, monitor, mouse, and keyboard. And these tools may differ from one person to another.
If you have the old technology of security cameras which are Analog CCTV security cameras, you must prepare your coaxial cable and be well connected to BNC.
In addition, the analog CCTV cameras are connected with DVR, and you should ensure that DVR has outputs according to your security cameras number.
On the other hand, The new technology cameras like Network or IP cameras use Ethernet cable whatever it's cat5 or cat6. These Ethernet Cables are the main connection between NVR and security cameras.
The final step is about the electrical wire of security cameras you want to install and you should ensure that the electrical outlet work before you install anything.
Step 4: Install security camera wiring
Once you finish The first 3 steps, you can move to the important step at all in how to install security camera wiring in your home.
First, Open your security camera and search for a drill template sticker this sticker helps you drill for your camera in an easy way.
If not, you can bring the security camera base and put it on a wall or whatever you want to place your camera and mark with a pencil or marker mounting screws holes.
After that, you need to untwist the camera wiring and bring the light hammer with cable staples to run the cables through the walls.
In the case of installation cables in the soffit, you need to use steel fish tape to run your security camera wiring easily through ceilings. With your friend's help, you can do the wire installation process in a few hours.
Note: you should hide your security camera wire as much as you can. If you run wires through walls make it high and paint it with the wall color.
Step 5: Connect Security Camera Wires To DVR
The next step is to connect security camera wires to the DVR, depending on where you mount your central device the wiring process will be easy or not. In addition, the number of security cameras you install.
When experts install security camera wiring they make the wire hole of the camera larger than the maximum amount of wires you want to run for DVR.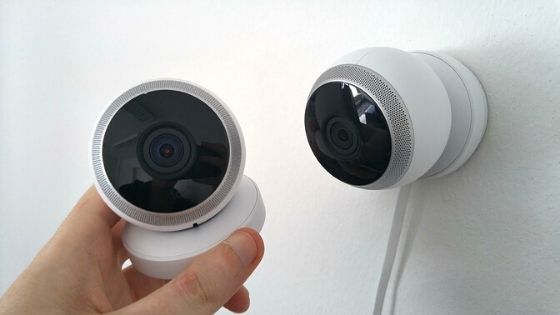 So, to avoid wiring problems try to make the wire hole large enough to run your security camera wires especially if you have an Analog security system.
The wired analog security cameras have two cables one for data connection and the second cable for electrical power. Imagine you have 4 cameras this means that you want to run 8 wires.
On the other hand, Network security cameras use what is called PoE ( Power Over Ethernet cable) which means your run only one wire for each camera.
Some types of network cameras use both ethernet cable for data and electric cable for power like Analog CCTV cameras.
Once you install security camera wiring, now it's time to all of those cables to the DVR which means you need to use fish tape again and drill more holes.
Call your friend for helping you with connecting security wires to DVR it's a bit complicated than installing camera wires.
Use fish tape and attach camera wires and pull the wires in the DVR location without any bending in wire, and try to make the clean without scratches.
In case of installing camera wiring through walls you must have what's called Coax cable bushing this will help you feed your camera wire.
The final step is to connect camera wires to DVR inputs and you should be careful to avoid making wrong inputs in The DVR.
Note: If you have more than one camera, labeling camera wires will help you to know which camera is working or not? and also put a name for each channel.
Step 6: Connect and Configure the DVR
After finishing camera wiring things get a lot easier from here, Now it's time to turn on and configure our DVR and set up our settings for cameras and recorded videos.
The first step you want to do after connecting each security camera to the DVR is to turn on the Power of the DVR.
After that, connect the external monitor you buy to the DVR to see your cameras, and then connect Mouse and Keyboard.
Once you see everything work well, you should go to Channels and rename each camera by its type, place, and indoor or outdoor.
Plus, you must ensure where the camera will store the recorded videos and set your setting and test it works or not. You can use a USB drive with a DVR to export camera footage if you want.
Step 7: Check The Surveillance System
Know you know definitely How to install security camera wiring in your house or any place, Just by following the above steps. The last step you must do is to ensure that your surveillance system works well.
In addition, turn on the most features of the camera like motion detection, night vision, and remote viewing and test it work or not.
Analog security camera wiring Installation
Analog Security Camera Wiring Tools
Their many tools you must have before installation of the analog security camera wiring.
Coaxial cables
Wire Cutter
Stripping tool
BNC Crimp connectors
BNC Crimping Tool
Cable Tester
These tools may differ from one person to another. But make sure you have the suitable tools to cut and measure the wires.
How to Connect BNC Connectors to RG59 Coaxial Cable
Now after you bring the installation tools and the Coaxial cable. It's time to jump to the next step which is connecting BNC connectors.
Step1: Bring The wire you want to install and use the wire cutter to cut the suitable length you want.
Step2: After that, use the stripping tool around 2 cm of the wire and move the outer black insulation.
Step3: Twist the light copper insulation layer down and cut them with pliers.
Step4: Use the Stripping tool again to cut and move the white plastic insulation over the copper wire.
Step5: Open the BNC crimp connectors which have 3 parts main part, circular silver part, and a little main connector.
Step5: Bring the little main connector and connect it with the copper wire we have. After that, use the crimping tool to crimp the little main connector.
Step6: Put the second part of the BNC crimp connector at the end of the coaxial cable, down the little main connector that we crimp. 
Step7: Install the main part of BNC connectors. After that, use the crimping tool to crimp the circular silver part.
Now you connect the BNC connectors to the RG59 coaxial cable. Then you can test it with The cable tester you have to ensure that you connect the cable correctly.
For more, you can watch how to connect BNC crimp-on Connectors to RG45 Coaxial cable video.
Source: CCTV Camera Pros
Network security camera wiring Installation
Network Camera Wiring Tools
Security Network cameras Like CCTV IP cameras use an ethernet cable to connect the NVR (network video recorder). And to install network CCTV cameras for your home, office it's easy.
All you need in the installation process of Network cameras are just 
Ethernet Cable Cat5, or Cat6.
Crimping Tool.
Rj45 for NVR.
Now let's jump to see how to connect Ethernet cable with RJ45
How to Crimp RJ45 on Ethernet Network Cable
Bring the ethernet cable you buy and the crimping tool, measure the cable correctly to avoid wire length problems. Let's see how to connect RJ45.
Step1: At the end of the ethernet cable put the stripping tool at 2 cm before the end of the cable. After that, strip the network cable with the stripper and move the outer plastic. 
Step2: Cut the white separator that you found between the four twisted pairs. Once you finish this, untwist the four pairs of wires and cut the little end of each wire. 
Step3: Bring Rj45 and order the wires as this order from left to right
White- Orange
Orange
White-Green
Blue
White-Blue
Green
White-Brown
Brown
After that, Insert the wires with this order into the Rj45, and with the crimping tool crimp the Rg45 until you hear a low crash sound.
Now, you have a connected ethernet cable with Rj45 and you can use it and test on the cable tester also.
Making Ethernet is easy, See how to make an Ethernet cable video.
Source: Ferrules Direct
Summary
After finishing reading this post you don't need to ask how to install security camera wiring again. It's a simple and easy process if you have enough knowledge.
You don't need to call a security camera expert to ask him about installing the wires, you can do it yourself with your hands! just try.