"how to watch CCTV camera from anywhere using internet?", a friend of mine ask me As he is always away from his home.
You and I may be like our friends, stay a long time away from our family, house, and office. Or you are one of the people who love to travel around the world from time to time.
But, there are some problems that stop you and me from enjoying our time outside the home. One of these problems is your kids are alone in the house and you want to ensure they are safe or not?.
Or, you have beautiful pets and you want to see if they are eating their food or not?.
In both situations, the first thing that hits your head is using CCTV security cameras to watch your home life by using the Internet. 
But unfortunately, you don't know how to watch your CCTV camera, or How to connect the devices to View Security Cameras Remotely. Don't worry!!
In the following words, you'll know how to watch CCTV cameras from anywhere using the internet.
Expert Tip: you also should know how to Blind cameras to stop any spying on your property from anywhere by using his cameras.
Now
How To Watch CCTV Camera From Anywhere Using PC or Laptop
Note: Before using this method make sure you have
Monitor to connect DVR and set up the setting.
Broadband internet connection.
Router to match between cameras and DVR.
1- Watching CCTV camera From anywhere inside The Home
If you want to see your security camera inside your home it's simple, connect your security camera to the DVR.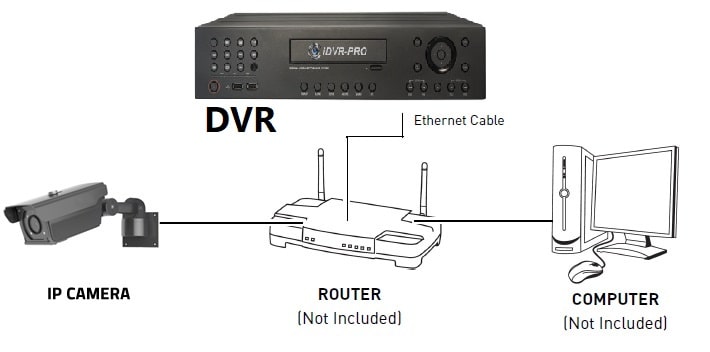 After that, take the network cable from the DVR and connect to the Router. open your PC and you should connect the computer to the router.
Once, you connect the PC to the router that means you have permission to access the router and set up the setting for remote viewing.
Now, watch your cameras inside the home. Just type the IP of the security camera in the web browser and you'll show your cameras.
Note: if you don't know the IP address of your security camera, look at the back of the camera for the label and you'll find the IP of the camera. This is the first way in how to watch CCTV cameras from anywhere using the internet.
2- Watching CCTV camera From anywhere Outside The Home
Most people look for a way to watch their security cameras while they are away from home, and maybe you look for a new method to solve this problem.
Don't worry. The network engineers discover to solve this problem by using what is called Port forwarding, this method is used in view security cameras on PC.
DVR Setting
To enable Port forwarding for remote viewing, make the previous connection in the first method for watching the camera inside the home.
But, before you connect the devices and wires, connect the DVR first to the monitor by using a VGA or HDMI cable to see and set up the DVR.
From the Main menu>Setting> Network Configuration to find the HTTP port number used by the camera and the IP of DVR.
In the network section also, you should disable DHCP which makes the DVR take IP automatically and enable Static IP.
For Example, just put
IP address: 192.168,1,100
Subnet mask: 255.255.255.000
Gateway: 192.168.1.1
HTTP PORT: 80
Note: In most cases, The default port number is 80. But, some ISP block port 80 and you should change it.
After changing Port, you should save the changes by rebooting the camera. Say that you change Port 80 to 1000 as an example.
Type in your web browser.
HTTP://(IP address):(Camera port number). Like http://192.168.1.100:1000 and try what you'll see?.
Router Setting
The next step is, Go for your router to adjust the port forwarding settings. Open the Web browser and Type 192.168.1.1 and type username and password for router login. 
Look for the forwarding section and Follow Forwarding > Virtual Servers and hit Add New.
Put the following. 
IP address: 192.168.1.100
Port Number: 1000
Protocol: All
Then, leave any other setting on default and click save to add the new entry.
Now, you finish everything and you can check if it's work or not?.
Use a different PC that doesn't connect to the same network of cameras. And open the web browser and type HTTP://(IP address):(Camera port number).
After you type http://192.168.1.100:1000 and press enter you'll go for the DVR page.
The final step is to type the Username and Password of DVR and enjoy watching your cameras remotely.
The Next Video explains everything from A to Z for camera port forwarding.
Source: Openpinoy Greenhills
How To Watch CCTV Camera From Anywhere Using Mobile
In the previous method, we see how to watch CCTV security cameras from anywhere by using Laptops or PC on different networks.
Nowadays, most people use mobiles in their daily lives like browsing social media sites, buying from online stores like Amazon & Walmart.
For security, security cameras manufacturers find a way to make it easy for you to watch your home remotely by using your smartphone.
To enable remote viewing of your security cameras you need to do a few steps.
Step1: Connect your security camera like the first method of watching CCTV cameras on Laptops or PC.
Step2: Open the WIFI setting in your mobile and connect to your home internet network.
Step3: After setting up a network setting on DVR, you'll watch a QR code on the screen scan it, and download the mobile App.
Step4: Once you scan the QR code, you'll see the serial number on the screen scan it, and put a name for your DVR.
Step5: The final step when the App opens is to decide which camera you want to watch.
Watch the next video to know more about How To Connect CCTV To Android OR iPhone
Summary:
Once you finish reading this post you probably know how to watch CCTV camera from anywhere using internet on your computer or mobile. If you feel something wrong and someone accesses your camera, the first thing to do is erase camera footage to keep your videos away from him.
But, make sure you do the previous steps correctly, and read the manual user guide to see if there are more things you should do to enable remote viewing in your security camera.
In most cases, you'll use the 2 methods we mention here. But, some security cameras companies have different methods for watching cameras remotely. Don't worry! just follow the steps in the user guide or contact the company.