There is no doubt that having microphones in security cameras has made people's lives much easier. 
Surveillance cams offer further protection and security for you and your properties. For example, you could listen to customers, monitor employees, or eavesdrop on thieves as they're caught on camera. 
In addition, If you are traveling around the world and away from your house, you can access your camera to watch and hear what's going on in your home. 
Moreover, audio-enabled security cameras play a significant role when it comes to burglars. Having a camera that alerts you and lets you say threatening things to a potential burglar can keep your family and your home safe and secure.
Now, Let's Dive Into and know more about microphones in security cameras.
Do all security cameras have microphones?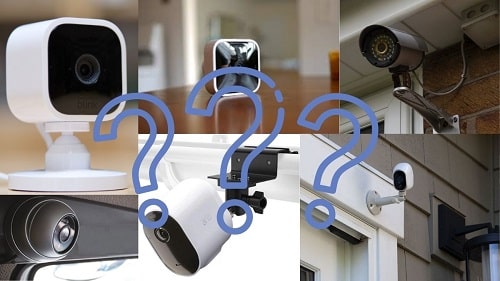 The short answer is NO! Old Traditional security cameras with DVR and video cables don't have microphones. You'll have to get specific audio security cameras and DVRs to record audio with these systems. For Now, most modern residential security cameras come with built-in or external microphones. 
The microphones in security cameras are used to capture audio along with recording the video. The feature of recording audio can uncover valuable information not captured on videos, like the sound of a vehicle driving away or arguments with a person out of frame. 
On the other hand, commercial security cameras are usually not equipped with microphones as those with audio capacities will cost a fortune to buy.
How do you tell if a Security Camera has a microphone?
Suppose you are in a public place where there is a security camera there, you want to know if this camera has audio recording facilities. There are a few simple ways to find out whether the camera has audio recording features.
Method1: Ask the person in charge
You can go and ask the responsible person or the moderator about the camera, if it has a microphone and if the audio is recorded and saved. 
Method2: Check the camera's body
Check the camera's housing if you can get close to the camera. If you see a small black dot, it has a microphone used to pick up sounds. 
This technique might not be easy as most security cameras in public places are mounted to cover the whole place.
Method3: Ask Google
One easy method to check if the camera has audio features or not is Googling it. First, take a picture of the camera, go to Google Images, upload the photo, hit enter, and let Google do the rest. 
Google will get you the name and model number of the security camera. Next, search for it on the websites that offer reviews; you will find a lot of information and details about the camera, including if it comes with a microphone or not.
Method4: Contact the manufacturer 
The logo of the manufacturing company is usually printed on the body of the camera. Go online with your phone, search for the company, go to their website and find contact information. 
Some companies offer chat boxes on their websites, and some offer a phone numbers. Send them a photo of the camera and tell them that you want to buy this camera model but you need to know its features. They will tell you everything about it.
How far can security cameras record sound?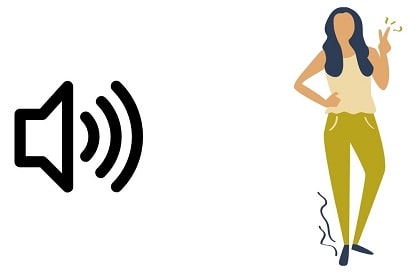 Generally, most security cameras have a 6-meter audio range on average. As you can guess, the quality of captured videos and audio ranges vary with different brands. It might not be possible for the security camera to record your voice or surrounding noise and sounds because you are so far away from it. 
So, It is essential to ensure that the security camera you want to buy offers a good audio range. For example, suppose you are looking for security cameras with top-quality sound recording features. In that case, it will be essential to go for reliable brands that offer different models that have a large customer base and with positive reviews.
If you go to a trustworthy manufacturer's website, you might find some sample videos containing sound recordings. Though this isn't ideal, it will offer you some reference on how far you hope the camera can record sound.
These video samples with sound recording can at least give you a bit of an idea to judge the audio quality of security cameras. As you would expect, this will differ significantly among different brands and models.
Because security cameras are commonly mounted from a higher vantage point to cover more areas, the distance between the object and the recorder will have to be enough to allow clear audio recording.
Is recording audio by microphones on a security camera illegal?
Having microphones in security cameras maybe not be allowed and can turn a person into a criminal as he is violating other people's privacy without their knowledge.
The truth is that many manufacturers don't offer microphones on security cameras because it is illegal. The audio surveillance laws by state differ from place to place and are entirely stricter than video monitoring rules. And that also clarifies why not all security cameras come with audio capacities.
As stated by the Invasion of Privacy Act, it's illegal to make a sound recording of a conversation that you're not part of. So even if you are thinking of setting a camera in your office-which would record your conversations-there are laws for how that recording can be used. 
On the other hand, audio recording is perfectly acceptable for residential security camera applications, even for outdoor cameras.
Below are a few factors you have to take into consideration to find out whether it is illegal to have security cameras with audio in your location:
If the security cameras with audio recording microphones are located in your home for security purposes, then video and audio recording are legal.
If the security cameras with audio recording microphones are located in places where people expect privacy, such as the toilets, dressing rooms, bedrooms, etc., both video and audio recording are not allowed.
If you want to place the security cameras in the workplace. In that case, we strongly suggest searching related federal, local, and state laws or consulting your lawyer directly before you have one camera set up.
Conclusion
Knowing that you have microphones in security cameras that you have installed gives you peace of mind more than anything. 
Unfortunately, recording audio is not legal in many conditions, which is why many camera production companies don't support audio systems in their cameras. 
The good thing is if you want to set up a camera in your home for protection and security, you can have cameras with audio capacities with no legal issues at all.
Resource: Reolink, brinkshome