What do security cameras look like? the most common question between people interested in the shape of cameras and other factors like material, Color, etc.
Last year the security cameras industry increases to a high level and advanced features were added to cameras.
Features like Motion detection, Two-way Audio, and others add more security to you and your family.
The shape of the security camera was also developed by the manufacturer. Some security cameras are used for spy and they must be small. On the other hand, outdoor security cameras are large and must be visible.
In addition, the shape of security cameras depends on the type of camera used. Types like Dome CCTV cameras have a different shape as compared to other types of cameras.
Also, the application that the camera used for the effect of camera shape. For outdoor security cameras, it has a protective case while indoor cams come without any cases.
For Types of cameras let's see more about the shape
What Do Security Cameras Look Like?
Dome security camera
The Dome security camera has a unique design and shape with Half of the circle and base. This type of security camera is commonly used with surveillance systems whatever indoor or outdoor.
In addition, the circular shape of the Dome camera provides a wide angle of view to cover more areas.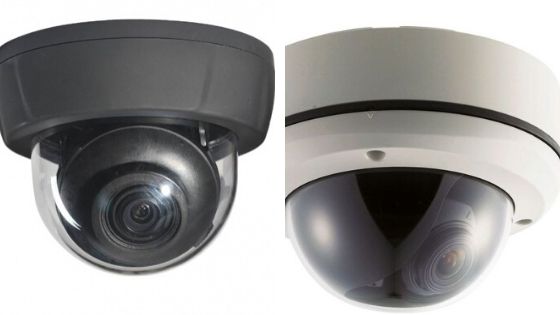 Plus, the camera shape makes it difficult to decide where the camera looks.
The Dome security camera can be a wired CCTV cam or wireless camera that uses wifi signals for connection. 
Some people referred to the Dome camera as the Ceiling camera, as the most and consider the best place to mount Dome camera is the ceiling. A few people mount a Dome security camera on a wall.
Dome-shaped cameras can use inside the home or outside. In addition, this type of security camera has night vision, heat, and motion-sensing technology.
Note: Best security cameras in the market have one or two Dome cameras as it has a perfect shape and work efficiently.
Bullet security camera
The second security camera which has a unique design is a Bullet camera, The shape of the camera is simple Like a Bullet as it has a long cylindrical shape.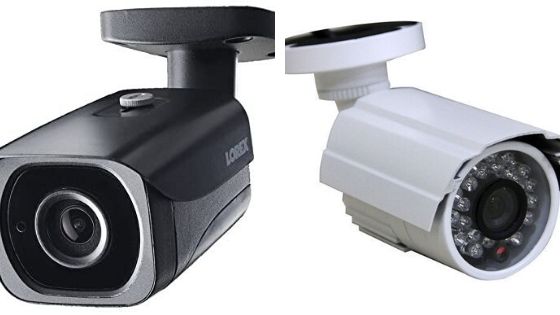 This camera is ideal for outdoor surveillance systems as the outdoor cameras focus on fixed views which make the camera is good For the Front, and Back door. Like a Dome camera, a bullet camera can be mounted on the wall and ceiling.
The shape of the bullet camera makes it prone to vandalism more than a Dome security camera, as the camera is visible and the direction of the camera is known also.
PTZ Security Camera
Pan, Tilt and Zoom security cameras have a different shape than Dome and Bullet cameras. The PTZ cam has mechanical controls that make you control the movement of the camera by software on mobile or joystick.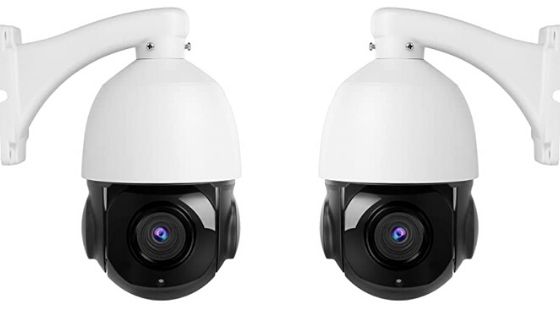 This type of security camera is often used by surveillance specialists to control the camera accurately. In addition, the PTZ camera support covers a wide area and also zooms to get more details.
Most installation experts advise installing cameras Like PTZ in high Places to avoid damage by burglars.
Plus, the shape of the camera makes it visible to thieves, and as we know thieves target places that don't have security cameras.

Wireless IP Camera
Wireless security camera or as know IP security camera. This type of camera has a different shape as we compared to Dome, Bullet, and PTZ cameras.
The wireless security camera Shape is simple it's like normal security cameras but has an antenna, as wireless IP cameras use the network for connection.
The IP security camera has more than one version such as Wireless, Wired, and Wire-free. The main difference between them is how the cameras are powered.
Also, the antenna shape can be changed from wireless to wired or wire-free cameras. Some IP cameras use PoE Ethernet cable for connection Called "PoE camera" while others use wifi signal.
Box CCTV Camera
Box CCTV security camera this type of camera has a Box Shape and it has a different feature from other cameras. This type of security camera is used for indoor/outdoor security systems.
Homeowners prefer Box-style cameras as they can use different sizes of camera Lens and support customization and use of many lenses. Focal and Fixed lens can be used in Box security cameras.
To add more to what do security cameras look like you should look for the shape. The shape and size of this camera make it noticeable, So when thieves or intruders see Box-style cameras in a home they target another home without a camera.
"What Do Security Cameras Look Like" FAQ
Q1: How do you know if a security camera is on?
It's so easy to know if the security camera is on or not, as most security cameras have infrared lights, one of the simplest methods is to see the red lights around the lens is flashing in the dark.
If it's a wired security camera, you must look for the camera power cable to see if it's connected to an electrical outlet or not.
In the case of a wireless security camera, to know if it's working or not look for the base station of cameras it's has a light indicator to inform you if the camera connected.
Q2: What are the different types of security cameras?
There are many types of security cameras out there, like:
PTZ Camera
Bullet Camera
Box Camera
Dome Camera
Wireless IP Camera
IP PoE Camera
Day/Night Camera
Thermal Camera
Each type of this camera has its usage and before you buy any type, make sure it's suitable for you.
Summary 
The shape of the camera makes you know what do security cameras look like. So, after reading this article, you can define just by looking at what is the shape of the security camera used.
In addition, there are many other factors that can change camera shape and style such as battery pack size, Wire of camera, and protective case.
Also, the color of the camera can change the shape, some security cameras have dark colors if designed for outdoor usage. On the other hand, indoor security cameras have white color in most cases.