Bullet security cameras are known for their noticeable shape, It has a longer outside casing that is made of a durable material that can withstand harsh weather conditions. 
This outside casing is helpful as it protects the camera from tampering. Plus, the long casing makes the camera house a larger lens with a higher field of view (FOV).
The larger lens will allow the camera to capture more detail. So, the Bullet security cameras will provide the best image quality and clarity, eliminating any blurry or pixelated footage from happening.
Plus, This allows the camera to detect more people or vehicles, and increases the likelihood of capturing an incident on camera. 
Moreover, if your camera supports night vision, you'll notice that the camera night vision range is extended due to this long case.
What are the Benefits of Bullet Security Cameras?
Well, Bullet security cameras have a lot of benefits that you can use that don't exist in other security cameras such as Dome, C-mount cameras.
Depending on why you are using a bullet security camera, you can search and look for the camera specification before picking the cam, The features that Bullet cam has such as
1- High Resolution
The resolution of security cameras is the most important factor that a lot of people search for.
For resolution, the bullet security cameras provide HD videos to UHD depending on the model of the bullet camera you have. 
In the past, there were only bullet cams with 1080p which is not enough for capturing high-quality images. But now there are a lot of modern bullet cameras with varying resolution options ranging from 2-8 megapixels.
2- Easy to Install
Bullet Security cameras are easy to install. They are lightweight and don't require much work or time to set up.
The camera is designed to install in minutes, it has a mounting handle attached to the camera body. So, you don't need to remove the base or the body like dome cameras.
Bullet cameras can be mounted quickly on soffits, walls, or high places. All you need to do is to put the mounting bracket in the camera location, and then attach the camera to it. 
After that, direct the camera to the targeted area you need to monitor, if you make a mistake and direct it to the wrong area! Don't worry! It can be re positioned easily.
3- Weatherproof Design
Bullet cameras are designed to be weatherproof and water-resistant. 
The camera has a small and compact design, making it a durable and reliable option for a variety of outdoor activities.
So, when there is rain or snow outside the camera will continue to work without any stop as it has a high IP rating, the rating differs according to camera material sometimes it can be IP67, IP66, and IP65.
Moreover, The outdoor bullet cameras provide integrated temperature gauges and heaters to ensure the camera is not damaged by extreme weather conditions. 
4- Suitable for Long/Short Distance
Another amazing feature of having bullet security cameras is the camera can house a larger lens.
As the bullet cameras have rifles or lipstick cases that are suitable to house large lenses, these tools are ideal to cover large areas and important places.
On the other hand, if you have a small place such as a house, or small business, the mini bullet cameras will be the best option for you. This type of bullet camera has a wide-angle lens so it will provide a wide viewing angle and capture more details.
5- Noticeable Shape
Bullet surveillance cameras have an uncovered feature which is a rectangular shape.
There are a lot of burglars and thieves who look for homes without security cameras to break into.
A bullet camera has a noticeable presence, unlike other surveillance cameras. The burglar sees it clearly, and in most cases, they don't enter these places that have bullet cameras installed.
6- Best for Night Vision
Bullet cameras come with infrared illuminators to enhance and continue surveillance into the night. The IR illuminators emit beams of light that will scan the camera area during the night.
Bullet security cameras are a great option for high crime areas where many incidents occur during the late hours of the day.
7- Light Reflection
How many times did you find images taken by your home camera were out of detail?. and start to think about what the exact problem is from a camera or another thing.
Well, this happens a lot when indoor security cameras or outdoor security cameras point at the reflective surface like a window.
Windows make what's called Reflection of light for a surveillance camera, this light reflection blinding the surveillance cameras.
Sometimes many criminals use a light reflection source to run away from surveillance cameras.
Reflection of Light will obscure and cause whiteout on videos and images in Dome security cameras, While bullet security cameras will not suffer as much as a dome camera.
simply, when bullet surveillance cameras pointed at a light-reflecting surface the camera pointed downward when placed on a vantage point.
8- Maneuverability
Dealing with Dome camera cameras may not be easy, especially when mounted in the wrong way and want to fix it, changing the coverage angle for dome cameras is still hard.
To fix it you want to take the camera out and mount it again. like you just buy the new camera and start with instructions from scratch.
Doing this process will take too much time especially if you're busy and don't have time,
In contrast, a bullet camera adjusting the coverage angle is so easy.
As it comes with a unique engineering design that makes bullet CCTV cameras easily adjust their angles. If you make a mistake and direct the bullet camera in the wrong direction you can fix it easily.
Bullet camera has a robotic neck that can change angles and direct it to the correct corner if there was an error in pointing, so you don't have to re-drill it like a dome camera.
9- More Features
A great camera like a bullet camera is perfect with its original features. But imagine what happens when amazing features are added to bullet cameras?.
As we mentioned before, bullet cameras produce crystal clear images, you can get a bullet camera with a built-in motion sensor.
That's not the only added feature. Some bullet cameras use smart technology and come with a thermal sensor, and also optical zoom.
In addition, the most added feature in bullet cameras is wifi to send and receive data. This means that cameras use a battery, a few exceptions aside.
According to market research, the majority of WiFi-enabled surveillance cameras come from bullet CCTV cameras family, not dome-shaped cameras.
What Are the Types of Bullet Security Cameras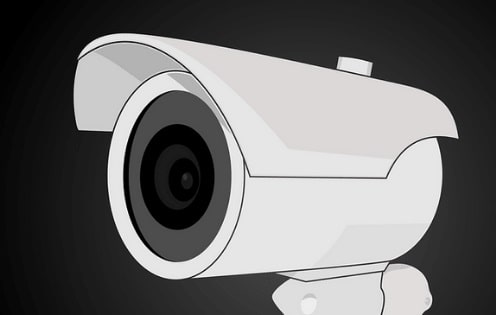 The types of Bullet security cameras have the same shape, sometimes large like the traditional camera, sometimes small like mini cameras. 
In general, most bullet cameras share the shape of a soda can but differs in how it's powered, and the way used to send/receive the camera data.
Now, Let's look at the types
1- Small Mini Bullet Camera
Not all Bullet cameras are large, there are also small mini cameras. Mini bullet cameras are a type of camera that provides video surveillance that is shorter in distance with wide viewing angles.
The mini bullet cameras are popular in the markets, entrances, and small areas outside the buildings because they are able to be placed in areas where larger cameras are difficult to conceal.
In addition, this model of bullet camera is easier to install than the large one, the mini security camera comes with a mounting bracket and flexible controllable arm to make it easy to adjust the camera viewing angle.
2- Pan-Tilt-Zoom Bullet Security Camera
PTZ Bullet security cameras are another type of bullet cameras; it has a special design that enables the camera to monitor large areas.
These PTZ cameras are used to cover large areas, not link mini bullet cameras. Pan-Tilt-Zoom cameras have a body with a controllable arm and lens which make it so easy to adjust the zoom and the direction of the cam.
So, If the camera is positioned high, it can zoom in to capture a particular location. If it is positioned lower, it can zoom out and cover a larger area.
Besides the zooming, and other features. PTZ bullet cameras, especially the IP version, have the ability to remotely control your whole system while you're away from your phone.
3- Outdoor Bullet Security Cameras
The Outdoor bullet cameras are highly effective at deterring vandalism and theft because of their shape. 
They can be strategically placed in high-risk areas to ensure the safety of public spaces. Bullet cameras are also easy to install, making it cost-effective to install them in public spaces. 
These cameras are often designed to be used at night to capture what is happening during the night by using IR LEDs. 
Plus, Bullet Outdoor Security Cameras are ideal for bad weather because of their weatherproof design.
4- Indoor Bullet Security Cameras
The indoor bullet security cameras are commonly used inside houses to monitor children and pets.
Indoor Bullet cameras are similar to mini bullet cameras in coverage, they are installed in rooms, or in small areas outside the home.
Another difference between indoor/outdoor cameras is the Indoor camera has fewer features than the outdoor cam. For example, the weatherproof advantage does not exist in the bullet indoor camera. 
Both cameras have a simple installation process, you can place the camera without screws, or you can put the mounting bracket and attach the camera to it depending on your needs.
5- IP Bullet Security Cameras
Security cameras engineers decide to update a new model of CCTV bullet camera, so they come with an IP bullet camera. 
The IP (Internet Protocol) bullet camera transmits the video surveillance over a wired network connection by using Ethernet cable, or wireless through WiFI Signal. 
Depending on the system you have, you can connect the PoE bullet cameras directly to NVR (network video recorder), or you can use Wireless IP cameras and link it with its own base station. 
These IP cameras are considered the best if you have a large place you want to monitor. 
But there are a few things that you should care about to avoid camera problems such as updating the system regularly to stop access by hackers, opening firewalls, port forwarding rules, and more.
6- Analog Bullet Security Cameras
Analog CCTV (closed-circuit television) bullet cameras are a widespread type of surveillance cameras used in the last years in many places such as open areas, supermarkets, ..etc.
This model of Bullet cameras is connected to a recorder like DVR (Digital Video Recorder) to store videos, unlike IP bullet cameras that use NVR.
Most customers love to pick CCTV bullet cameras because it's using Coaxial cables to pass video to a recorder, and this cable is cheap and can work for a long time.
How To Choose The Best Bullet Security Camera For Your Home?
Before you purchase bullet home security cameras you need to know exactly how to choose the best cam.
Selecting the right camera isn't an easy decision, you need to know what is a bullet camera and what featuring these cameras?.
Also, you need to decide your selections and show the difference between each one.
There are many key features to decide which cam is perfect for you and your home. let's dive & see.
1- Outside or Inside
The first factor you want to decide is, are you want to use bullet cameras for indoors or outdoors activity?.
Indoor security, choosing a bullet camera with high quality, allow you to get a clear photo of what happens inside the home.
While outdoors activities you should look for well-designed cameras with high-quality material, long-range of viewing with day/night features.
2- Wired or Wireless
When you buy a bullet security camera your first look is wired or wireless?.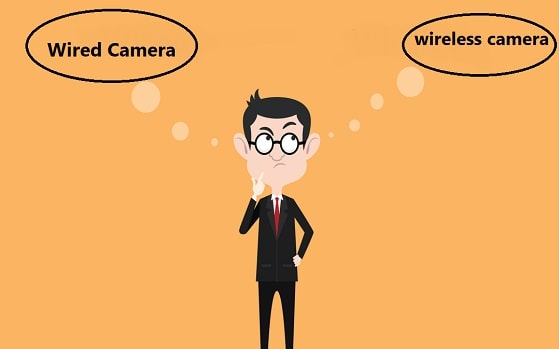 Nowadays, most people depend on wireless cameras, as they don't use multiple wires to connect to a security system,=.
Also, a Wireless camera doesn't damage home design with wires, in addition, installation processes are so easy.
While a wiring camera doesn't use wi fi or radio waves to connect to a security system Like the wireless camera
Wired security cameras use coax cable or POE cable to make strong connectivity between cameras and systems.
3- Pan/Tilt/ Zoom
Another important thing you must put into consideration while picking bullet cameras is it Pan, Tilt, and zoom or not?. This feature makes you control your camera and move in both directions horizontally and vertically.
Also, you can make zoom in to see a clear view of the recorded video and footage image. PTZ Camera is available online on Amazon, Walmart at a little high price.
So, if you want an affordable security camera for your smart security system. Are you really need PTZ cameras for your home or not?.
4- High-Quality Material
Once you decide to use a bullet camera for outdoor security, you must buy a camera with high-quality material.
Looking for a bullet security camera with a waterproof feature, to ensure it still works while it's rain outside of your home.
Also, you must check if the camera has dustproof or not? weatherproof Or not?.
In addition, you want to know if the camera has infrared features and is capable of working at night?.
Now, you know what is bullet cameras? and how to choose your Bullet security cameras?.
right?
After that, it's time to know more about the uses of bullet cameras.
Here's:
Where are Bullet cameras commonly used?
The bullet camera like the other security cameras can be used inside or outside the home, and in Public places.
Inside/outside the home such as 
Main rooms
Front door
Streat window
Garage
Back Yard
Hallways
General Places such as
Parking Areas.
Airports, and Train Stations.
Traffic Lights.
High- Dangerous places.
Schools, and Universities.
Hotels, and Resorts.
Gas, and Power Stations.
Hospitals, and Clinics.
Public Libraries.
Sporting Clubs, Studimes.
Final Thought
The bullet camera is an important type of Closed Circuit TV camera that use for surveillance systems.
Bullet security cameras have a shape like rifles or lipstick cases sometimes like soda cans.
Most bullet cameras are used outside the home as they can be mounted on a wall or ceiling.
Bullet cameras have features like waterproof, dustproof, and weatherproof so it's one of the best choices for outdoor security.
Some people use bullet security cameras for indoor, as it offers HD resolution that makes viewing things inside the home easy.
Bullet camera uses to cover one area with a wide range, once you install the bullet cameras.
Installing Bullet IP security camera is easy, after installing directly the camera to the area you want to monitor.
There are other CCTV security camera types in the market like PTZ, Box camera, and Hidden cameras. Don't be confused and choose the suitable camera for you and your purpose.
Resources: Swann