What is a PoE security camera? and what is the benefit of using a PoE camera? and what PoE means?. These Questions and more are asked by a large number of people.
What Is A PoE Security Camera?
In the first years of discovering and using cameras for security, there is only one type which is Analog CCTV security cameras. And have only some types Like Dome Cam, Bullet camera, and CCTV box camera.
After years of using CCTV cameras and while using the internet increasing in our life daily. A new type of camera has been discovered with fewer problems and work with great efficiency Called Network cameras.
The network cameras use the internet to make a connection between the cameras and other system devices Like NVR, Switch, and Router.
The network cameras have two types 
Wired security camera.
Wireless security camera.
A wired security camera Has a Special camera shape, as it uses a network cable and Port for Network cable while a wireless cam uses a wifi signal.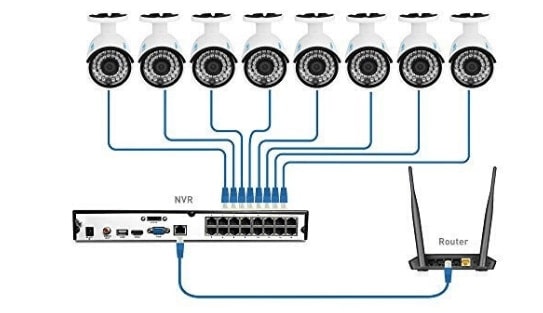 The best example of a network wired camera is the PoE camera.
PoE: refers to Power-over-Ethernet which means that the camera use one cable for data transmitting and power. So, all you have to do to turn your Poe camera on is to plug into ethernet ports.
Benefits Of PoE Security Camera
Now after we know What is a Poe security camera. Let's see the Benefits:
If you have a CCTV security camera or a friend of yours has one. You'll know that CCTV cameras have a lot of problems.
Problems like:
Using a large number of wires.
High cost to install CCTV security system.
need maintenance regularly.
need a fixed electric outlet for power.
On the other hand, the PoE camera eliminates the common problems of surveillance cameras. So, most people prefer to buy an IP security camera as it has fewer problems and more benefits. Like:
Less Time: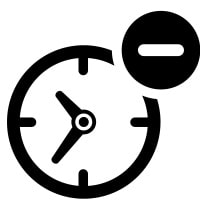 One of the most benefits of the Poe IP camera is it takes less time in the installation process, as you don't need to install power cables like other analog security cameras.
Moreover, the ethernet cable is easy to install all you have to do is connect the Rj45 with the cable and you will get a reliable ethernet cable.
Low Cost:
Another benefit of having a Poe Network camera is it has a low cost you compared to other surveillance cameras. PoE cameras use only one cable for both power and data transfer, so you don't need to buy more power cables.
Also, The ethernet cable is very cheap and you can choose between UTP (unshielded twisted pair) or STP (shielded twisted pair). 
Fast Speed: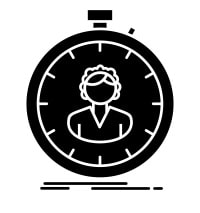 Nowadays, the new generation of security cameras with advanced features needs a high transfer rate( fast upload and download ) to keep you fully knowledgeable of what happens around you.
Ethernet cable supports high and fast speed in the case of having Cat5 as an example your maximum data transmission speed is up to 100 Mbps. this high transmission speed allows you to download or upload recorded videos easily.
Note: if you have more than One PoE wired camera you should have Cat5E or Cat6, as both cables have maximum Fully knowledge up to 1 Gbps. 
Easy to Mount anywhere:
Many security cameras type like CCTV analog cameras need a power outlet near it to turn on while the PoE security camera doesn't.
PoE security cameras turn on through the same Ethernet cable which means that you can mount your camera anywhere without the need for a power source. Once you get a Poe security cam you have the flexibility of placing the camera anywhere.
Final Thoughts
At the end of this article, you know what is a Poe security camera and what is the benefits of using a Poe Camera. Some People prefer to use Wireless cameras while large companies look for a reliable and stable surveillance system.
The more your security system is stable the more videos quality you get without any cut due to losing signal, or when the power of the camera is turned off as it's run out. In this case, you should think about Poe's camera.