What to look for in a security camera Is it Resolution, sensors of camera, Design, and Material?. And How to choose the features of your home security camera.
Imagine you went home after a busy workday and find your assets stolen, what is the first thing to do?. Call police this will take time.
The first solution that hits your head is to see a home security camera. But, what if you don't have one and that because of more than one reason. Then you couldn't prove your rights and know who does this bad thing.
And to avoid being stolen again, the next time you should have a security camera, but What to look for in a security camera is an important thing you should take into consideration.
So, let's jump to know:
What to Look For When Buying Security cameras
1- Cover Range
Cover Range or the Field of view of the camera must be in consideration before you think about buying home security cameras.
Nowadays the majority of home security cameras have a range between 90 to 140 degrees.
If your area is small enough and you want to monitor it, then a security camera with 90 degrees is suitable.
for large rooms and a backyard, you should think about a camera with a high range to cover.
in the past, most of the security cameras tilt-only 180 degrees, when thieves see it they go behind it.
but today home security cameras can cover every corner of the area as they can rotate vertically and horizontally.
The best camera that gives you the perfect cover for your home can rotate up to 355° horizontally and up to 90° vertically.
There's some type of cameras that can rotate manually and you can control it by remotes. You must check the rotating angle of the camera before buying one.
PTZ refers to Pan, Tilt, and Zoom this type of home security camera gives you control over three-dimension. And it's the best choice to install PTZ cameras for surveillance or at important places.
Cover Range is the first thing to know when searching on What to look for in a security camera?.
2- Night Vision
If you want to make your home and family safe. You must ensure before purchase that your camera support Night Vision recording.
With Night Vision Camera your home and family will be safe during the whole day. In addition, a camera with Night Vision features is the best choice for people who live out of residential areas, especially in rural areas.
Also in residential areas, the Night Vision camera is perfect as most crimes are committed at Night. So, what to look for in a security camera? absolutely a Night Vision camera.
Some company provides a LED with a camera to make sure that the video is recorded at the night. Clear Night Vision security cameras can be installed for outdoor/indoor security systems.
3- Video Quality
One of the most features that people look for in-home security cameras is the Resolution of Video. There are no benefits to a camera if you use a camera with the bad video quality.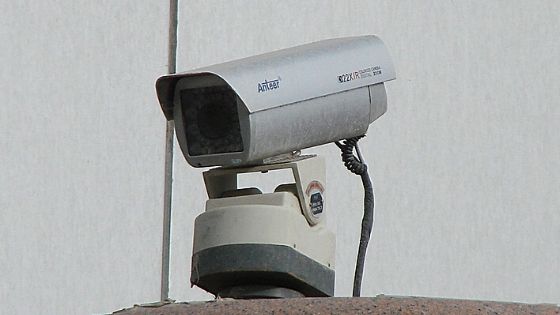 What happens if your camera comes with bad video quality?. you can't take high-resolution videos, also you can't recognize the face of the intruder.
Many cameras in the market come with regular resolution 1280 x 720 that is good enough for your home, office and indoors/outdoor security system.
If you want to spend more money to get the best resolution for your videos, then your selection would be probably a full HD camera. Most Full HD cameras come with resolution 1920 x 1080 Pixel.
IP cameras in popular come with a high-quality resolution. And a lot of companies that produce IP security cameras tend to use the highest resolution for camera quality.
You maybe think could I use 4K resolution for my cameras?. although 4k monitors are perfect. But it will take a lot of bandwidth and storage space.
In most cases, security cameras have a resolution of 720p, but if you want the best result you can get cameras with resolutions 1080p.
4- Motion Sensor
To add more security for you, some types of home security cameras have motion detection features.
This feature uses a built-in sensor to detect any movement in the camera range. Homeowners look to use a security camera with motion sensor features for indoor security.
A camera with a Motion sensor keeps your home safe while there's no one inside it. This type of camera sends alerts via security systems when the specified area has a movement.
Motion detection also has a range some cameras use 90-degree other use up to 270 degrees. In addition, the boundaries you want to cover can be set on some cameras.
5- Storage
There's no need for a camera if it's not recording videos and storing them. So, you must put storage space into consideration before picking your home cameras.
For storage, you can choose what is suitable for you. Previously Analog cameras which are cheaper used DVR to store Images on a Hard disc.
Now, some security cameras have a place for external storage elements like SD. So, you can use it from 16GB up to 128GB.
If you have high features camera that records videos in High Definition you probably need 128GB SD. If your camera takes small storage we recommend using 16GB up to 32GB SD.
Also, there's some type of security cameras that use a cloud storage platform to record videos. This cloud storage is provided by the camera manufacturer and you can choose from gigabytes up to 100 gigabytes depending on your usage.
Note: the more storage your security camera has the more recording time of your camera you get. Storage is one of the important factors that determine How long do security cameras record.
6- Wired or Wireless
Now, after you decide your camera resolution and other factors we mentioned in this guide for what to look for in a security camera, it's time to decide how you want to connect your camera Wired Or Wireless?.
Wired or Wireless cameras each one has its cons and pros.
if you are the person who wants to:
keep the house design without any damage by using camera wires.
make strong connectivity between your camera and storage device.
check is the camera power is on or off.
look for low price cam.
Then choosing the wired camera is the best option for you. There is a type of security camera called "Power Over Ethernet camera" that uses one cable For power and data.
but if you want to:
reduce the use of more than one coaxial cable.
have an available budget for wireless Cam, as the good brands are quite expensive.
depend on the battery as a power source for wireless cam.
Wireless cam has many options also, but that is the most important feature you should know before choosing a security camera.
in addition, when you're shopping and read reviews before purchase for your cam, you should check and look at camera accessories and keep this important thing in your mind.
7- Infrared LEDs and Lens
Infrared LEDs are provided in many types of home security cameras, after you read the cam guide and what is included, look if the security cam has Infrared LEDs or not.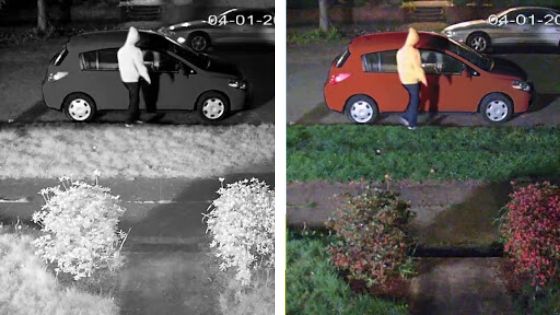 What're Infrared LEDs and what are the benefits?.
Well, infrared LEDs are small red light In camera founded around the cam Lens, a large number of red LEDs is better to make the camera capture a clear view.
This will be a helpful thing, especially in night vision mode when the light around the camera is low, also it gives you a clear sign if the security cam works or not?.
Cam Lens is a top priority in choosing a home security camera, the lens allows you to cover a better range.
8- Design
to make this post a guide for you when you shop for a home security camera, we put Design in consideration as a feature for the camera that must check & look at.
the design of your camera depends on-camera usage is it indoor or outdoors?.
if you want your camera for home or your business office, then you looking for a key like a video quality, wired or wireless, and size.
but if you want a camera for outdoors then you must put keys like waterproof, dustproof, and weatherproof at the top options when choosing your cam.
be aware and avoid wrong decisions, when you want to buy an indoor camera of high quality for outdoors security, as it's not designed to face weather effects.
also, it's not good if the camera doesn't have a waterproof feature, more damages happen to the camera when it's raining outside.
9- Power Source
the power source is most important when choosing your home security camera, as you want the camera to work 24/7.
for wireless security cameras, as it's using a battery as a power for cam, the wireless security camera is easy to set up and you can place it anywhere you want.
Note: maybe you need to change your batteries from time to time.
while wiring security systems are connected directly, then you don't need batteries anymore, all you have to do is connect the security system directly into a power line.
this makes you place your cameras anywhere without the eyesore of power cords.
10- App Support and Notifications
Everyday technology introduces new things for humanity, Nowadays the modern security system comes with a mobile app.
in most cases, the camera app is available for popular online stores like Google play store and Apple Store.
this app keeps you connecting with your camera, also you receive alerts when the camera detects something wrong happen.
alerts and notifications may be a text or an email, this alerts will be sent when the security system detects motion, face, or sound.
11- Security Against Spy
you may choose the best key features in the camera and buy an expensive camera. after you read more about what to look for in a security camera.
but your home doesn't secure, this day's many owners use wi-fi security camera, they think it's the perfect camera at the market despite high price for wi-fi cameras.
this camera uses a network to connect and this may cause you a ton of problems, hackers may take advantage of the network and spy on you and your home.
so before purchasing a new home security camera, you must look and choose a trusted manufacturer that guarantees this will never happen for you or your home.
also, you must check if there are updates for their security systems or not, and if the camera encrypts internet transmission?. support the latest security protocols?. or not.
12- Indoor Security Cameras Vs Outdoor security cameras.
For an indoor security camera, you first think about the quality of the camera video. While for outdoor cameras you think about waterproof and material of camera, also the range that you want to cover.
After you decide the purpose of buying home security cameras, where you want to use a camera is it indoor or outdoors?.
Before you Buy you should know what type of camera is fit for you and your purpose. As there are many types of home security cameras in the market, and each camera has different features and functions.
Why you should buy a smart home security camera?
How many times have you thought to get home security cameras to keep your kids safe? Even your family is safe while you're inside the home busy at something.
Also outside your home, monitor what happens outdoor and see every movement around you.
Or, maybe you want home security cameras to prevent more intruders to enter your home or being upset and stealing you.
Some people use home cameras as a doorbell camera to know who is knocking on the door?. without the need to open it for strangers people.
In addition, maybe your home assets are valuable and you want to make sure that your home is secure enough from thefts, plus if your pet needs monitoring while you're outside the home.
In most cases, you must think before buying a camera for your home, family, kids, and pets. You probably need a home security camera to add more safety to your family.