The audio in security cameras is very important especially if you are using them to monitor your home, office, etc. You can know if your kids are fighting or if you have an intruder at home. 
I'm going to share with you a few things I've learned about audio in security cameras. This is a topic that's near and dear to my heart because I love security cameras.
I have a few myself. In fact, I have 7 security cameras, and I have been wanting to add audio for security cameras now.
What is an audio camera?
Well, an audio camera is a security device that comes with a built-in microphone or has a special audio input to connect an external mic and record audio with your videos. Regardless of what type of security camera you have, analog or network cameras both have audio recording capability.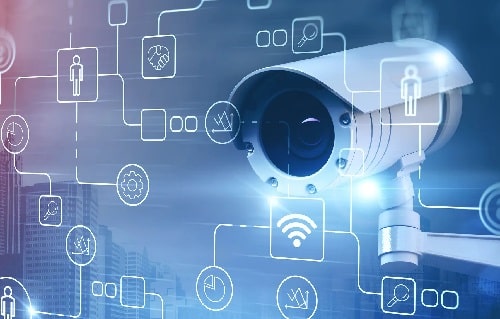 The audio cameras available in the market differ as they have more than a one-factor effect on the clarity of recorded audio. For example, the noise level around the camera and if the cam has noise cancellation or not? Also, the microphone's sensitivity level is it covers a large space or just only covers a few feet.
Do Security Cameras Have Audio? 
The answer is YES, now there are a lot of advanced security cameras that have audio by using a built-in microphone to give customers and homeowners full protection. In the past, the traditional CCTV cameras captured only images and recorded videos in low quality.
The reason behind using audio in surveillance cameras, whatever is Analog or IP network cam is to 
1- Listen to what the intruders say while breaking into your property, recording audio in these situations allows you to reveal useful information not captured on video and take action.
2- Not only that, some camera brands use audio in security cameras to trigger the camera sensors and start recording videos automatically to capture more details. 
3- On the other hand, Most camera manufacturers use audio in security cameras, especially for the 2-way audio feature.
The two-way audio is a great way to communicate with people or pets who exist near your Network IP camera. By using a built-in speaker you can talk from your mobile and anyone near the camera will hear you clearly.
Do all cameras have audio?
Simply, the answer is NO, we have been in the market for security cameras for years now and we can say confidently that not all security cameras have audio, some security cameras, especially the old traditional CCTV cams record only video without supporting recording audio.
These cameras that capture video only are useful for specific activities such as monitoring your pet, or your garage and seeing who comes close to your car while you're away. But if you seek to get 100% protection you should go and pick a security camera with audio.
What are the Benefits of Using Audio in Security Cameras?
Having audio in security cameras is absolutely amazing and makes you feel more secure than before. 
1- Full Protection
By installing CCTV that records audio and HD videos in your home or workplace, you'll get protection and security. Plus, If burglars and thieves enter your property and speak to each other you'll know instantly and provide their speech as evidence to the police.
In Business, if you install these types of surveillance cameras with audio recording in your office, you are completely protected. First, Employees with bad behavior will be unable to communicate with your customers badly. Second, if your clients know that your security cams are recording video they respect your employees and will offer you greater protection than ever before. 
2- Keep you Connected
Old CCTV cameras record only videos when it first comes to the public after a short time engineers find a way to make them record both audio and video and that is amazing compared to its ancestors. 
Nowadays, Audio in security cameras has jumped to advanced levels due to the high features added to security systems, and one of these features is two-way audio communication technology. 
Having security cameras with 2-way audio means you'll stay connected where you are. Simply, from your mobile phone, you can speak and listen directly through your cameras so you can contact your kids, or pets when they come near to the camera, or you can use it to alert thieves who are trying to break into your house.
3- Uncover the Hidden
Another advantage of having a security camera with a built-in microphone that provides the audio recording with video is to detect strangers. While some individuals are aware of how to avoid CCTV cameras, they are unable to conceal their voices. 
This means that even if a person is outside the camera's field of view, they will be detected via their voice, especially if you have a high-quality security cam that records clear sound. In that case, you can speak to them directly through your cam or send your personal guard to stop them.
4- Provide More Details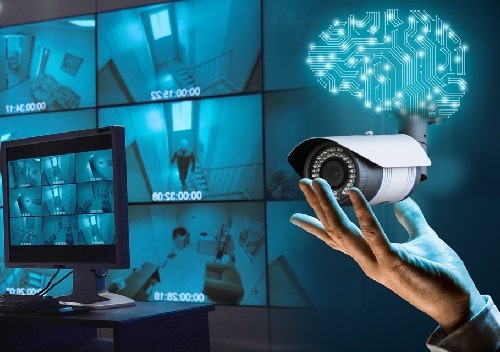 When burglars and thieves enter your property in most cases they cover their faces with a mask making it almost impossible to identify them even if you have a 4k security camera. Moreover, they go for a camera lens and blind it by using many different ways such as putting a piece of clothes on the cam lens, using a laser or flashlight, and sometimes they paint with colors on the camera to stop it from capturing them.
In this case, the intruders or any stranger person will need to call their partner by code language if his partner exists, or call him by his name if he is away. What I mean is that in both situations he will try to speak. Once he is speaking, then your CCTV or PoE camera with audio will record his voice and you will be able to easily identify him from his voice. 
5- Monitor without Violating Privacy
Nowadays, it's almost impossible to monitor your kids or your work without having cameras, but the only thing you should take care of is NOT Violating Person's Privacy.
The audio in security cameras allows you to monitor and be in contact with what exactly happens on your property, microphones in cameras are used to track your child's behavior and if he is talking badly to his brothers? Some parents put security cameras with audio in their baby's rooms to be alerted when their child is waking up.
Conclusion
There are many types of security camera systems designed to protect the home and business premises. One of the most common is the security camera with audio capability.
However, there are times when you may want to disable the audio, so it's imperative to know if those cameras actually have audio capability.
Resource: singaporecctv