Having an NVR with few channels is a real problem that can affect your property protection in the long term. 
When it comes to expanding their security system cameras, many homeowners consider replacing their old NVR.
However, They have no idea how to connect two NVRs or how to connect NVRs to increase the number of channels and storage spaces.
Here in this article, we'll dive into the right steps to connect two NVRs together or add one NVR to the second NVR. 
Plus, we will mention the requirements and the advantages of doing this. Keep reading
Now,
Can I connect two NVRs together and make them work as a single unit?
The short answer is Yes, you can connect two NVRs together by using a wired or wireless connection and make them operate as a single unit. 
But before you do anything, you should ensure that both of the NVRs have updated firmware and network configurations (IPs, subnet mask, and gateway) before connecting them together.
What are the Requirements for Connecting Two NVRs? 
Connecting two NVRs is a great way to increase the coverage of your surveillance system. When setting up two NVRs, you should consider the following requirements:
1. Network Connectivity: The two NVRs must be connected to the same network, either through a wired or wireless connection.
2. NVR Compatibility: Make sure that both of your NVRs are compatible with each other in terms of features and performance.
3. Camera Support: Check if both of your NVRs support the same type of camera and make sure that the cameras are also compatible with both devices.
4. Power Source: Both of your NVRs must have enough power to run all of the cameras connected to them, so ensure that there is an adequate power supply for each device.
5. Video Storage Capacity: You should also make sure that each device has enough storage capacity for all of your surveillance footage, as this will determine how much footage can be stored on each device at any given time.
Connecting IP cameras to NVR is essential because of the importance of the video recorder device. 
One NVR in the system allows you to store camera video for a long time on a large-capacity HDD, control your cameras, enable remote viewing, and more. 
Combining two NVRs will give you more features like you have multiple surveillance systems.
Quick Link: How to Connect WiFi Camera to NVR Like Professionals.
Next,
How to Connect Two NVRs Together? or How to connect NVR to NVR?
At first glance, you may think connecting two NVRs together should be done by professionals.
But the good news is you can do it yourself without the need to hire installers or pay extra money for expert consultation.
All you have to do is to follow the below steps and apply them one by one to get a successful connection.
Step1. Prepare the NVRs
Before start doing anything, you should prepare both NVRs for connecting with each other.
The preparation phase includes ensuring that both NVRs are powered up and the system cameras are linked to them without any wiring issues. 
Moreover, The main NVR should be connected to a display screen, mouse, and internet to make the connecting process easy.
Step2. Check System Resources Available for Each Device
After completing the 1st step, then you should check your NVR resources to see if your IP cameras and NVRs are able to work together efficiently or not.
Sometimes there are specific NVRs that work only with video recorders and surveillance cameras from the same manufacturer, and if the system devices are different, and not compatible with each other they'll not work. 
Anyway, To check the system resources of each device, you need to access their settings page and look for information about available NVR models (printed on the NVR box), system firmware, no.of channels, storage capacity, and other relevant specifications. 
This information will help you determine if two devices have enough resources to be compatible with each other, and also shows you if the resources available are suitable for the tasks you intend them to perform or not. 
When you're finished gathering this information for NVRs, compare them side-by-side to determine if they meet each other's requirements.
If they do not match up well enough, consider picking different models or brands of IP cameras or NVRs before attempting to connect them together.
Step3. Update NVRs Firmware
Another important thing that most owners forget to do is to update the NVRs firmware, you need to double-check your system firmware.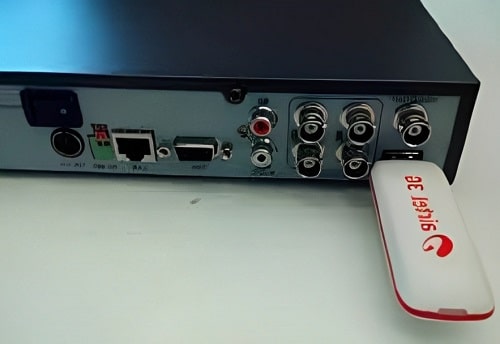 Earlier when we connected two NVRs together for one of our clients we faced an issue, what is it? 
Well, the customer purchased two NVRs from the same brand and they must be compatible with each other. 
After connecting both devices, they can't work with each other until we figured out that one of the NVRs has an old version of the firmware. 
Updating the firmware of your NVR or DVR is an essential step in keeping your system secure and running as smoothly as possible. 
Firmware updates can address security issues, fix bugs, and enable new features. Anyway, To update the firmware of both devices, Here are the steps:
Download the latest version from the manufacturer's website. 
Transfer this file to either a USB drive or a microSD card.
Insert this into one of the two devices' USB ports.
Follow the manufacturer's instructions for updating each device.
Once finished, remove the USB or microSD card and insert it into the other device and repeat these steps for updating the second device. 
Finally, make sure that both devices are running on the same firmware version before continuing with any further operations.
Step4. Check The NVRs IPs
The 4th step and it's considered the most important one to connect two NVRs together is to check the IPs of the devices.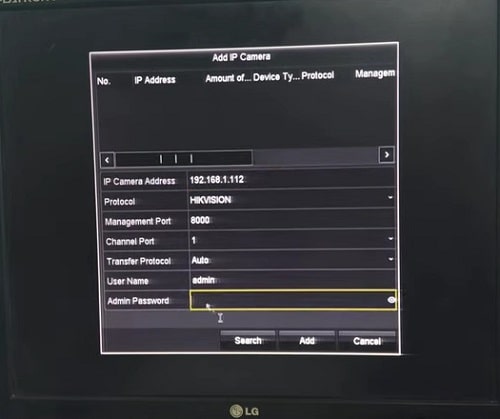 This process involves assigning unique IP addresses to each device, as well as configuring the subnet masks. 
However, to know the IP addresses and subnets of NVRs, you will first need to connect the 1st NVR to the display screen through an HDMI cable, then follow the next:
1- Turn on the NVR, then go to the main menu. 
2- From the menu, select "Network". 
3- On the "Network" section you will find the NVR network information such as IP, subnet mask, and gateway. 
4- Take this information and write it down on a note, or on paper. 
Now, you get the network necessary information for connecting the first video recorder. 
For the 2nd NVR, repeat the above steps, and if you find the IP differs a lot from the first NVR, change it, and finally write the information also. 
Note that, it's best to make both NVRs have the same subnet and same IP class and change only the last digit of the IPs.
E.g, make the 1st NVR IP 198.166.1.111, and the 2nd NVR IP 198.166.1.112.
Also, Don't forget to disable the DHCP option on both devices to avoid repeating the above step each time when the NVRs shut down.
Step5. Connect Both NVRs
The last main step to connecting two NVRs together is to make a hardwired or wireless connection between both NVRs.
The process of establishing a connection between two NVRs (Network Video Recorders) it's simple, not complicated, and can be done in a few seconds. 
But before you start doing anything, you should deice how you want to link the two NVRs is it by cable or through wifi signal? The 2 options are available, and the choice is on your needs. 
E.g if you hate wiring issues and their complexity then you can use a wifi bridge to connect two NVRs together wirelessly without a cable.

On the other hand, if you want to make your security system more reliable and work for a long time without being affected by interference from other wifi signals or jammer devices, then the best choice for you is to connect two NVRs together by an Ethernet cable.

Once both NVRs are connected to each other, you will then need to add the 2nd NVR to the 1st from the "Main Menu". Here are the steps to connect two NVRs together:
1- Connect the 1st NVR (main unit) to a display screen via HDMI cable, then power on the NVR.
2- Take an Ethernet cable from the 2nd NVR and link it to the LAN port of the 1st NVR (you can replace this cable with a wifi bridge for wireless connection).
3- On the display screen, open the "Main Menu", then go for "Camera Management" or "Management".
4- Click on the "Add device" button.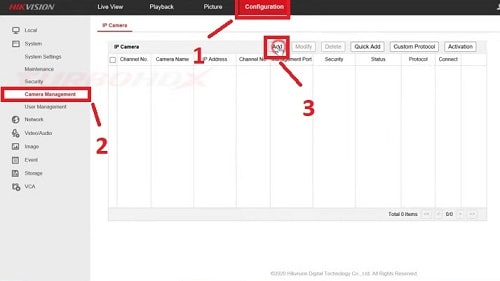 5- Enter the network information of the 2nd NVR such as IP, and subnet mask.
Concerning the above example, you can write the 2nd NVR IP which is 198.166.1.112, and then write the same subnet. 
6- Before you click on the "Apply" button, you should select 1st NVR specific channel, or choose them all.
Finally, after saving the settings, and rebooting the device, you should be able to watch the 2nd NVR channels on the 1st NVR live view on the display screen.
Once it's completed the 2nd NVR will work as a backup device for their security camera footage.
For more, watch the next video on how to add NVR to NVR Hikvision video recorder.
Source: TURBOHD X
What are the Benefits of Connecting Two NVRs Together? 
Well, connecting two network video recorders has a lot of advantages, it increases the efficiency and effectiveness of your security system. 
With one NVR, you can monitor limited security cameras depending on your NVR channels, and also you have small storage space. 
But by connecting two NVRs, you will be able to:
Record multiple surveillance cameras simultaneously. 
Expand your security system's no of channels.
Keep a backup of your security camera footage on the old NVR HDD.
Increase your NVR storage space to store more footage for easier access.
Allows you to monitor a wider area with fewer cameras.
Anyway, using two NVRs is beneficial if you compare purchasing a new NVR with advanced specs. 
and can make you cover more of your property without wasting extra money on increasing one of the NVR specs. 
you can connect multiple cameras around different areas of your property or business while still ensuring that all recordings are stored in one place. 
Before you go…
Connecting two NVRs together is a shortcut way of having two NVRs unit with the same components. 
Doing this will allow you to use a few one-time components such as a display monitor, hard drive, mouse, and power source, all of these exist in one single unit. 
For example, If you have two Dahua NVRs mounted in different locations, it's recommended to connect two Dahua NVRs together and make them work as one unit.
Related Articles