We live in a world where technology is advancing at an incredibly fast pace. There are many new inventions that make our lives easier. 
One of the most important inventions is the security camera. Security cameras are a great way to keep your home or business safe. 
But, these cameras don't always work the way they are supposed to, they have a lot of problems and one of them is weak wifi signal.
So, If you don't think bad wi-fi is a problem, then you should know that it is one of the biggest problems facing security cameras. 
I'm not talking about your home router, although that can be a problem as well, the cameras you buy need to be able to work with the worst wi-fi possible.
In a short time a compression table of best security cameras for bad wifi and their features
Before we jump into the best security cameras for bad wifi, let's talk about what you should know, as it relates to security cameras and their connectivity.
What are the Factors Effects on Security Cameras WiFi Performance? 6 Things
Well, there are many factors that cause bad wifi signal problems for your home cameras which result affect the signal coverage and the security cam performance in the long term. Here are the most important factors
1- Physical Obstacles
It doesn't matter how you're designing your home, there are some out-of-control things that play an important role in weakening your home wifi signal. One of these things is the Physical obstacles such as 
Concrete Walls
Masonry and Brick Walls
Wood Walls
Window Glasses, and mirrors
Metal Plates used in the ceiling, and fences
Floor Material whether it's Ceramic, or Concrete
Water Tanks
Most of these materials affect badly on your wifi, especially if you're working on a short coverage wifi single like 5GHz.
2- Home Devices
Nowadays, every device in the house works with wifi signals whether it's 2.4GHz, or 5GHz, and the more devices you have in your home, the worse your wifi signal will be.
For example, If you have a microwave for heating your food, then it'll have a bad impact on your home wifi network signal as the microwave uses the electromagnetic waves of the 2.4GHz signal.
The same is also with other home appliances such as Smart TVs, Walkie-Talkies, bedroom security cameras, and computer monitors if you put your router near one of these devices, your wifi signal will be weak to reach your surveillance cameras.
3- Neighbor's Wireless Networks
Living in a large building has many features that a large number of people and homeowners want to have. 
But as we know everything has advantages and disadvantages. 
One of the disadvantages of living in an apartment between other large buildings is you have a regular interrupt on your wi-fi signal from your neighbor's Wi-Fi signals.
The reason behind this issue is most of the wifi devices available right now in the market operate at the same frequencies. 
Once this interference happens between wifi devices then it will result in a delay and slowness in the sending/transmitting rate between your wifi cameras and the home wifi router.
4- Bluetooth Gadgets
Again, Home gadgets can cause wifi interface in many forms. One of these forms is the Bluetooth devices used in the home such as mobiles, headphones, computer mice, and others.
When the Bluetooth is turned on in one of these devices then it'll impact instantly your home wifi signal causing interference and delay in the wifi signal performance.
Problems like this one are common, and engineers have a solution for it by making the router change the transmitting channel automatically. 
But unfortunately, changing the channel will get the same result as the Bluetooth will hop through all the wifi channels used at that time.
5- Router Settings
Sometimes the router or access point setting causes your home wifi signal to be weak and makes it hard for your security cameras to be connected to it.
Settings like the transmitting power of the wifi signal, channels used to broadcast the wifi signal, and how they work when the wifi of the device faces interference from other devices, also the antennas that have been used by the router is strong or not.
In some rare cases, the reason for getting a bad wifi signal is the router software as it has bugs, or is not updated. 
So, make sure to update your wifi router with the latest firmware from your router manufacturer, and ensure that your wifi is also encrypted against hacking from bad guys.
6- Long Distance
How long distances between your security system equipment whether wireless cameras or NVR affect the wifi signal performance. The longer the distance, the less powerful the wifi signal is.
What I mean is mounting security cameras away from your wifi source will result in making your camera lose connection continuously (unstable signal) which in general affects the camera performance.
This problem of long-distance appears frequently in security cameras of the barn as the camera is installed away from the network router.
Now, 
What Are The Best Security Cameras for Bad WiFi?
The best security cameras for bad WiFi are wireless cameras that are strong enough to be connected to WiFi in the worst-case scenario. 
So, here in this blog post, we have compiled a list of our favorite options for the best security cameras for a poor WiFi signal.
1- Reolink Argus 3 Pro
Say goodbye to constant buffering and video lags with this security camera's wifi system. 
Reolink Argus 3 Pro has the most advanced wireless transmission system on the market, meaning you can now view your camera footage in real-time on your smartphone or tablet. 
With this small security camera, you'll be able to see everything–even what's happening outside your house! 
Let's see the cam features
Reolink Argus 3 Pro Features
Connection: It's one of the best security cameras for bad wifi as it offers the most advanced WiFi frequency currently available, it supports both 2.4/5GHz, with a long-distance wireless range. Plus, it also eliminates the problem of WiFi interference. 
Resolution: The camera has a 4 MP super HD video resolution so you can see and record videos in high quality. Also, You will be able to see even the smallest details of what's happening and capture it clearly with this resolution.
Night Vision: to capture clear images at night, Reolink Argus 3 Pro has a built-in spotlight that is bright enough to illuminate your property and capture who is moving around your house. In addition, The spotlight can also be activated by motion or remotely from the Reolink App.
Motion Detection: For more safety, this camera has a smart motion detection technology that is backed by Person/Vehicle Detection to differentiate people and vehicles from other objects.
Storage: The camera has two storage options, so you can record and save motion clips locally to a micro SD card when there is a breakdown in the network. In case your network is operating normally, you can back up important motion clips to the cloud for additional security.
Moreover, This is an easy-to-install, wireless security camera that has no wires or cords. It comes with mounting brackets for both the wall and ceiling, as well as one tree strip so you can have maximum flexibility.
Reolink Argus 3 Pro Drawbacks
As Reolink Argus 3 pro comes in the first place in our recommendation list for the best security cameras for bad wifi because it's great and has no stops, unlike other cameras. 
The only thing is the motion detection time is too short as compared to other camera brands. Reolink supports claims that this setting is to save the battery for a long time and to increase the battery life of the cam.
Reolink Dual Band WiFi Security Camera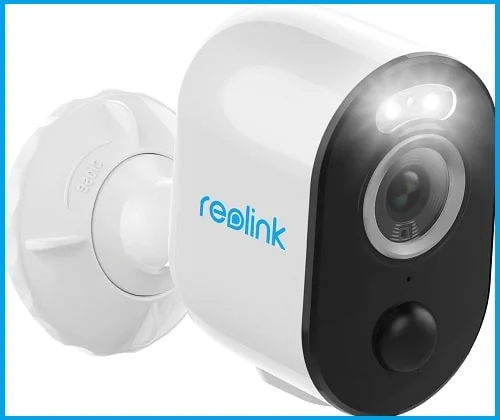 Pros
Dual-Band WiFi
Super HD Resolution
Two Storage Options
Cons
Short Motion Detection Time
2- Arlo Pro 4 Spotlight Camera
Arlo is a popular brand that produces high-quality security cameras to fit all activities and purposes of homeowners.
In case you're looking for the best security camera that works in low-signal areas or pre-existing wifi, then Arlo Pro 4 Spotlight Cam is the answer.
The Arlo Pro 4 Spotlight security camera is perfect for protecting your medium to larger spaces as it has a bundle of useful features that do not exist in other surveillance cameras.
Arlo Pro 4 Spotlight Camera Features
Connection: This camera is a great option for best security cameras for bad wifi as it can be connected directly to your home network router that supports a 2.4 GHz WiFi band, or you can connect the Arlo wireless camera with WiFi to an Arlo SmartHub, or Arlo base station devices if you have.
Resolution: The wireless security camera from Arlo comes with 2K HDR video quality and records clear footage that is easy to zoom into without losing any clarity, allowing you to see clearer objects up close and personal.
Plus, It has a wide 160° diagonal viewing angle lens that can be helpful for auto image correction and reduce the fisheye effect.
Night Vision: Arlo Pro 4 camera has an integrated spotlight that allows you to see details like faces or license plates in full color on dark areas.
Motion Detection: This spotlight cam has a powerful AI object detection that can detect important features and can tell the difference between a human and a tree branch, as well as recognize when a package is delivered so you know when to expect your deliveries.
Note: This home security camera from Arlo has been built to withstand the heat, cold, rain, or sun, and it is ideal for homeowners who live in areas with high/cold temperatures.
Arlo Pro 4 Spotlight Camera Drawbacks
The only thing that we face with Arlo cam while trying the best security cameras for bad wifi is the battery life. 
The battery of the Pro 4 cam sucks, Arlo claims that the battery lasts for months but after we recharge it and insert it in the cam body, it lasts for only a few weeks.
Arlo Pro 4 Spotlight Wireless Security Camera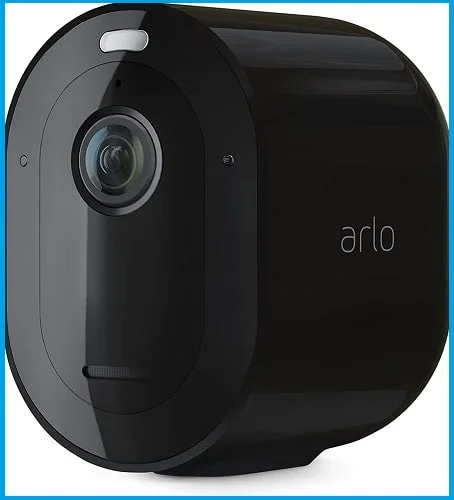 Pros
Connect Direct to WiFi
2K Resolution
Wire-Free
Cons
3- Ring Stick Up Cam
The Ring Stick Up Cam is another perfect home security camera for people with spotty wifi. 
Unlike competitors, this camera has good connectivity by using 802.11 b/g/n Wi-Fi connection  2.4 GHz which can provide you with a strong wireless internet connection with no interruption.
No matter how the long distance between the camera and the router, it'll be connected to the wifi. Also, It can be used around the house to monitor the comings and goings of your loved ones. 
Ring Stick Up Cam Features
Resolution: The Ring Stick Up Cam is designed to capture more details, it provides high-definition 1080p video with a wide field of view, capturing 130° diagonal, 110° horizontal, 57° vertical.
2-Way Audio: The camera has a two-way talk mode with noise cancellation, so you can enjoy a clear and uninterrupted conversation with your family, pets, or any person near the camera.
Motion Detection: It has an advanced motion detection technology that can detect movement within a long-range. 
For more control over the camera and the places that are monitored, the cam comes with customizable motion zones to enable you to cover your favorite areas.
The custom privacy settings feature lets you create private zones to focus on the things that are most important to you and disable motion recording, alerts, and audio from unuseful objects. 
Works With Alexa: This camera from Ring is designed to work with Alexa, the Ring Stick Up Cam is perfect for smart home systems that require an intelligent security system. It can be set up with just a few easy steps, so you'll have it ready in no time.
Additionally, when someone activates any of Ring's motion sensors, your Echo device will light up and make an announcement so you'll always know when somebody is there.
Ring Stick Up Cam Drawbacks
Ring stick-up cam is considered one of the best security cameras for bad wifi homes but not for outdoor activities.
The camera can't be used outside the home as it may get rained due to bad weather conditions such as rain, cloud, and water.
Ring Stick Up Wireless Security Camera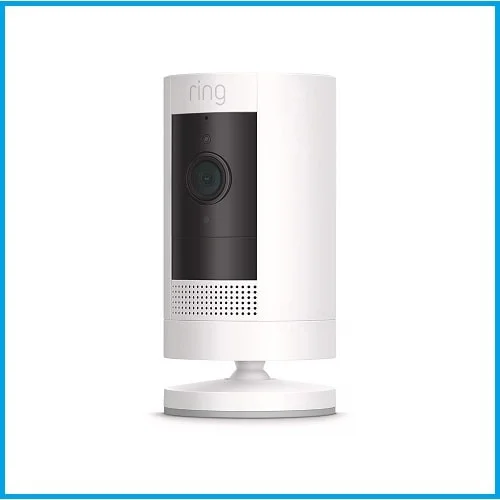 Pros
Support 802.11 b/g/n Wi-Fi Connection
1080p Resolution
2-Way Audio With Noise Cancellation
Cons
Paid Plans for Advanced Features
4- WYZE Wireless Cam
If you search for the best security cameras with affordable prices to use with weak or bad wifi signals then the WYZE cam is the perfect choice for you. 
This WYZE Outdoor camera has a strong wifi signal and can monitor all the activity inside/outside your home while you're away. 
To give you full protection, this camera has many other amazing features that will be helpful for you such as recording HD videos, Wire-Free, and PIR sensor.
Plus, it has one base station which can be connected to up to four cameras. So, you are able to view all video streams in real-time through the Wyze app.
WYZE Cam Features
Resolution: The WYZE Cam captures 1080p Full HD video which enables you to see and record everything happening on your property.
In addition, The night vision range of the Wyze security camera is up to 25 ft and can automatically switch to the infrared mode when it detects it's completely dark in the ambient area. 
Motion Detection: The motion detection feature of this camera is different as the camera senses body heat, which can be detected by infrared light, and this reduces the likelihood of false alerts due to fluctuations in temperature.
Power: It uses 2x-2,600 mAh integrated rechargeable batteries that last from 3-6 months depending on normal usage.
12 Second Video Clips: The camera is designed to capture people and animals with 12-second motion-activated video recordings that are stored in the cloud for 14 days.
Weather Resistance: Built for the toughest weather conditions, it can be used in all kinds of different climates, so no matter what the forecast says, you'll get clear video footage of your home.
WYZE Cam Drawbacks
While many people rely on Wyze cams to get the security level they want for their families, pets, homes, and businesses. But there is a small issue that may be not suitable for monitoring your property.
This issue is concerning the Ethernet cable that is being used for linking the base station with the network router, you need to make the base station device near to the router if you have a small cable.
WYZE Wire-Free Smart Home Camera
Pros
2.4GHz Wi-Fi
Full HD Resolution
Motion & Sound Detection
Cons
Some Ethernet Cables Required
5- Amcrest Indoor WiFi Camera
In case you don't love the above cams and are still looking for the best security cameras with bad wifi? 
Then Amcrest UltraHD may fit your needs, it is designed for those who want to make sure their home, business, or loved pets are protected. 
With this camera, you can see every detail of your property on a Wi-Fi camera from anywhere with a smartphone or PC/MAC. 
Amcrest Indoor WiFi Camera Features
Connection: The Amcrest has a WiFi connectivity frequency of 5ghz/2.4ghz, which is helpful for staying in contact with what you love, no matter where you are, you'll always be in the wifi range.
In addition, This security camera provides a secure connection via HTTPS, wireless encryption, and has been certified by the FCC and CE. It's powered by a UL-rated power supply and firmware is updated regularly (supports both 5GHz/2.4GHz).
Resolution: The resolution of the camera is amazing, with its UltraHD 4MP image sensor and Ambarella chipset which make this security camera deliver stunning video quality. 
Plus, the camera has a wide 120° viewing angle allowing you to see more of your surroundings so you can keep what matters most safe.
Night Vision: The Omnivision OV4689 1/3" 4MP progressive low-light image sensor and built-in IR LEDs offer superior low-light performance and night vision up to 32 feet.
Compression Technology: The camera from Amcrest also has bleeding-edge video compression technology which provides smoother video and reduces file sizes and bandwidth consumption, and keeps your wifi signal fast.
2-Way Audio: With a two-way audio feature in this smart camera, you can communicate with others by using the built-in speaker and microphone to talk to your children, pets, or loved ones from anywhere in the world
Storage: Another great advantage of Amcrest cameras is that they have flexible storage options such as MicroSD, Amcrest Cloud, Amcrest Surveillance Pro (PC & MAC), Amcrest NVRs, Synology & QNAP NAS, FTP, Blue Iris, and more.
Amcrest Indoor WiFi Camera Drawbacks
One of the main bad things about Amcrest cameras is the software bugs, while this camera brand provides high-quality hardware cameras but there are still some issues with the software.
Another thing concerning this camera especially is the cam suitable only for indoor activities, so if you have a problem with your wifi signal outside of your home then this cam isn't the best for you.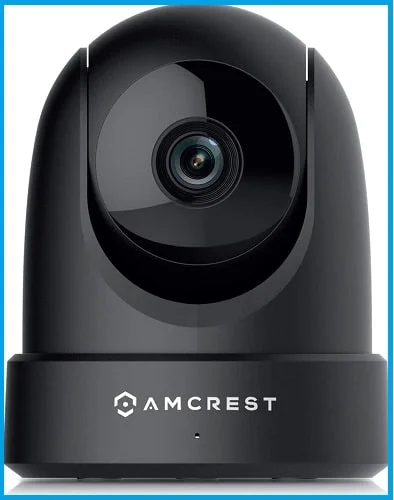 Pros
Dual-Band WiFi
4MP High Resolution
Pan/Tilt Camera
Cons
6- Blink Indoor security camera
If you're having a hard time getting your WiFi router signal to reach every corner of your home, or if you want to make sure you never miss a moment of your family life, then Blink is the perfect device for you. 
This indoor security camera is designed for homes with bad wifi or that do not have a strong enough connection to the internet.
As it works with a wireless network (wifi) that supports the 2.4 GHz 802.11b/g/n frequency band which is commonly used in a lot of devices.
Generally, Blink provides security at your fingertips with its low-cost and easy setup process. Let's see the cam features
Blink Indoor security camera Features
Video resolution: The Blink Indoor camera is a smart security camera that uses HD resolution to help you protect, monitor, and manage your home.
It can record in 1080P during the day, and at night when it goes dark it will record in the same HD resolution by using infrared.
Motion Detection: With the Blink Home Monitor app, you can receive customizable motion alerts on your phone, so when it happens, you'll only be alerted when you need to be!
Integration with Smart systems: The Blink Indoor security cam is designed to work with Amazon's Alexa voice service. 
Storage: This camera from Blink Store video clips and photos in the cloud with the Blink Subscription Plan and saves events locally to the Blink Sync Module 2 via a USB flash drive. 
The Blink Subscription Plan offers unlimited storage on cloud servers, as well as full-resolution continuous recording. You can also store your memories with us for as little as $2.99 a month.
Power: The indoor cam from blink comes with long-lasting battery life, Indoor runs for up to two years on two AA lithium batteries. That means you can experience wireless freedom in a variety of settings without worrying about any power outlets.
Installation: This Blink Indoor is a revolutionary, wireless, installation-free camera that helps to combat the common installation problems that are often associated with wireless cameras. 
Blink Indoor security camera Drawbacks
Blink indoor security camera is a versatile device that can be used for places with a weak wifi signal.
Plus, if you search for a good small camera to hide it from people's sight then this camera is good for you because it's small and has a compact design.
Blink Wireless HD security camera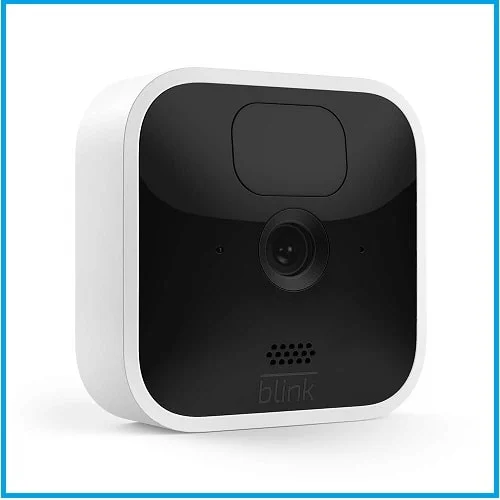 Pros
2.4 GHz 802.11b/g/n Frequency
HD Clear Resolution
Two Years Battery
Cons
7- Arlo Ultra
Again another amazing camera from Arlo comes in our recommendations for best security cameras for bad wifi, this time we go with Arlo Ultra. 
Arlo Ultra is the perfect security camera for anyone who struggles with bad wifi. This camera works anywhere, even when you have a poor connection.  
With Arlo Ultra, you'll never have to worry about poor connectivity or bad wifi ever again.
Let's Dive into and see camera feature
Arlo Ultra Features
Resolution: Arlo Ultra has 4K & HDR advanced image quality technology that captures every moment of high-quality video with clear, rich colors.
The camera has a 180-degree diagonal field of view, so you can see more with a wider angle lens that features auto image correction reducing the fisheye effect.
Additionally, Arlo Ultra delivers enhanced night vision to see what's lurking in the dark by using color night vision. This feature allows you to see the video in color which is a stark contrast to their traditional black and white video.
Spotlights: The Arlo Ultra's integrated spotlight provides a perfect amount of illumination for any outdoor scene.
Communication: Easy to communicate without the need for any additional hardware or software with this two-way audio system with noise-canceling technology. You can use it to hear and speak clearly as if you were standing face-to-face.
Integration: This is a great camera because it's compatible with Amazon Alexa and HomeKit.
Weather Resistant: the camera comes with a weather-resistant design that consists of metal and glass construction.
Arlo Ultra Drawbacks
Arlo Ultra is one of the best security systems available in the market and is trusted by a large number of customers over the whole country. But there is something that you should be aware of before buying Arlo Ultra.
The Arlo Smart Premier is a paid service from Arlo that allows you to get more features such as 30-day cloud recordings, auto-zoom tracking, and more. So to enjoy these basic features you have to pay a monthly subscription fee.
Arlo Ultra Wire-Free Security Camera System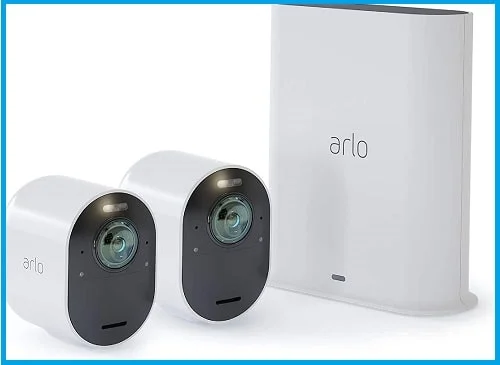 Pros
Work on Bad WiFi Signals
Ultra HD Resolution
Wire-Free System
Cons
8- TP-Link Tapo Smart WiFi Camera
Among big network companies, Tp-link is a well-known brand that produces high-quality with powerful wifi signals modem routers, and the good news is it does the same with security cameras by introducing Tp-link Tapo cam.
TP-Link's WiFi camera is an easy way to keep your home safe. Instantly monitor what's going on at home and stop would-be burglars in their tracks. 
Moreover, It's easy to install and even easier to set up, so with this awesome camera you can see what's happening on your property via the free mobile app.
TP-Link Tapo Smart WiFi Camera Features
Resolution: The C200 Camera is the perfect home security device for people who want to know that their family and property are always safe. This camera captures every detail in crystal-clear 1080p, enabling you to clearly see what is happening 24/7.
Field of View: The 360° horizontal range and 114° vertical range allow you to keep a watchful eye on a much wider field of view. This is perfect for those who need to keep tabs on what's going on in their surroundings.
Night Vision: Tapo's night vision infrared sensor is specially designed for low light conditions and is perfect for watching your home and loved ones from a distance. At a range of up to 30 ft, you can monitor your home with peace of mind knowing that Tapo can see in the dark.
Motion Detection: The camera has smart motion detection and notifications alerts. It protects your family and home by installing an IP Camera near the entrance of your home or garage, or in your basement. 
You will receive instant notifications on your phone when the camera detects motion and will be able to trigger light and sound alarms that will scare away unwanted visitors.
Storage: Your recordings are stored locally on a MicroSD card to cut down on expenses like monthly fees for cloud storage. 
The C200 supports up to 128 GB Micro SD cards (384 hours of footage), meaning that you don't have to worry about running out of storage space in the middle of an important event.
Communication: check in on your home and pets while you are away with the two-way audio capability of the cam. 
With this feature, you can scare off intruders, talk to your furry friends, and ensure your kids are staying out of trouble while you are away.
TP-Link Tapo Smart WiFi Camera Drawbacks
The Tapo camera from Tp-Link has more than the above features but besides these amazing features, there is a little issue with the mobile app.
The KASA mobile app, whether for Android or iPhone is not user-friendly and you should read the user guide provided with the camera to install it and link the cameras in the right way.
TP-Link Tapo WiFi Security Camera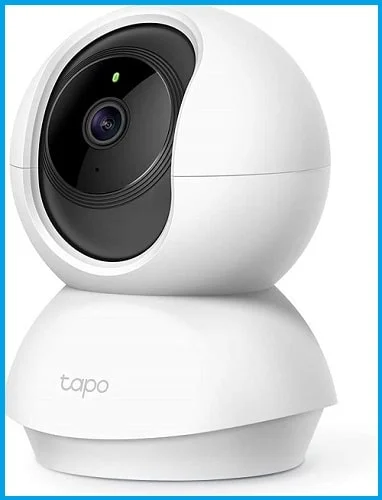 Pros
2.4GHz WiFi
1080p HD Resolution
Advanced Clear Night Vision
Cons
9- Swann WiFi Security Camera
Days of laggy, unreliable footage are gone. By having this camera from Swann you get a piece of mind about the safety of your home, and family.
Swann wiFi security cameras are designed to work with weak WiFi signals which makes them one of the best security cameras for bad wifi. Also, it's designed to give you crystal-clear footage, day or night.
The camera has a bundle of features, Let's see some of them
Swann WiFi Security Camera Features
Resolution: The camera provides high-quality videos with a wide-angle 180 degree and 1080p HD, you can see what other cameras may miss by having a narrow field of view, so you need fewer of these cameras to cover your whole area which saves money.
Night Vision: Swann has night vision features on their cameras that are like other brands which let you see in the dark up to 26ft (8m) with infrared night vision. This is automatically turned on when there's no light in the camera range.
Motion Detection: The camera is equipped with motion detection, which enables you to record and send an instant notification in the instance that it detects movement. 
This feature is especially useful in detecting both people and cars in order to act quickly before there is unwanted activity.
Integration: Swann's security camera is compatible with Alexa, which in turn enables smart devices such as Echo Show, Echo Spot, and 4K Fire TV. This camera is also compatible with Google Assistant, Chromecast, and Google Home Hub.
Weather- Resistance: Preparation for inclement weather is a must when living in a rainy area. 
But don't worry! with the Swann wifi security camera you'll be protected even in the bad weather. This cutting-edge device is designed to withstand rain, snow, or heat year-round.
Swann WiFi Security Camera Drawbacks
When you search for the best security cameras for bad wifi, you look for cameras that work with weak wifi signals and provide you with high-definition videos and images.
With Swann cam, it provides 1080p videos which are good and still better than old cameras that capture videos in 720p but still the cam resolution needs to be improved.
Swann Wireless Security Camera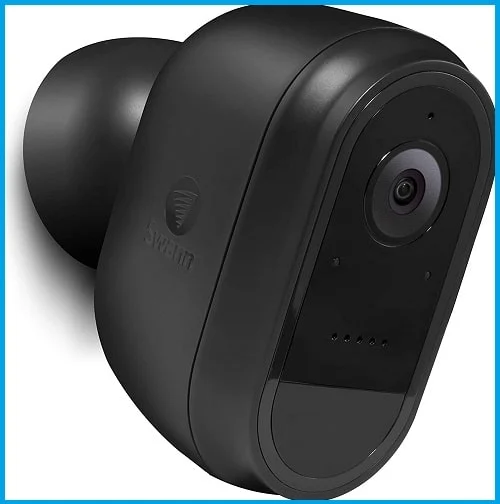 Pros
Support 2.4GHz WiFi
Ultra-Wide Viewing Angle
Heat-Sensing Technology
Cons
"Best Security Cameras for Weak WIFI" FAQ
Q1: Do you need good WiFi for security cameras?
Well, the short answer is NO. In detail, not all security cameras need good wifi unless you want to get a remote control, live viewing, or receive notifications. These are the features that rely on WiFi and require a good stable wifi signal to allow you to take quick action when something wrong happens around your property. 
However, if you don't have good wifi in your home, you can still enjoy it with the security camera you have as most of them have the ability to work without wifi. 
In case you want to get remote viewing, and other internet features work on your system and you don't have internet, you can pick a cellular security camera.
Q2: What kind of WiFi do I need for security cameras? 2.4 or 5GHz?
There is no specific answer to this question as there are a lot of security cameras that work on both wifi bands 2.4GHz and 5GHz. 
Security camera engineers after finding a lot of issues due to the 2.4GHz wifi band tend to use the 5GHz band in the camera and that is a good solution. Making camera work on both wifi bands has a bundle of features that no one can imagine. 
One of these features is to support cameras with stable wifi connection in far places, and also give high internet speed for cameras to allow them to send and receive within milliseconds.
Summary
Finally, getting a good wifi signal in your home will make you stay in contact with what happens in our world from east to west. The same also for security cameras, getting good wifi for cameras with high speed will add more features to the features you have before in your security system.
So, before you start searching for the best security cameras for bad wifi make sure you remove all the physical obstacles and reduce interference from other wifi devices. 
If the problem of bad wifi still exists then you can go and pick a wifi repeater or access point to make your wifi signal reach the far spots of your house.