In this guide, I'll show you how to charge wireless security cameras in JUST 4 methods.
Wireless security cameras can't work without a source of power. One of the ways to provide power for a wireless security camera is to use rechargeable batteries. 
These battery-based wireless security cameras are beneficial if the camera is portable, such as in a bus or vehicle or in case you don't have regular access to the power source. 
Unfortunately, though these wireless cameras are generally motion sensor-based, high foot traffic and constant remote viewing can cause these wireless cameras to lose their battery capacity in a short time.
If you have wireless security cameras, especially wire-free ones, this article will help you learn how to charge wireless security cameras in many different ways.
Different Methods to charge Wireless Security Cameras
It is necessary to charge wireless security cameras to make sure they will keep working continuously. Fortunately, there are four ways to charge your surveillance camera(s). Below we discuss each method in detail. Keep reading!
Method1: Use Portable Solar Panel
One of the best ways to charge wireless security cameras is to use a solar panel. It is an excellent approach to using renewable, clean energy.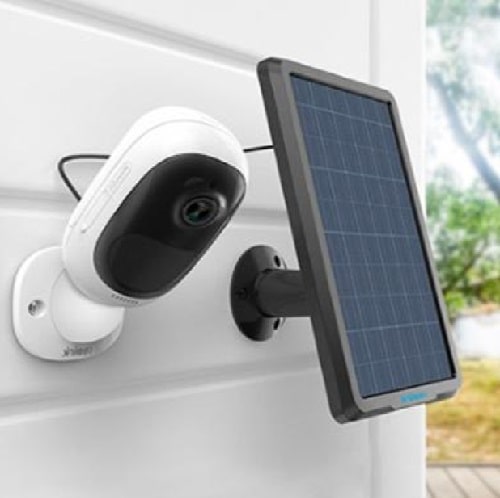 Nevertheless, before you can begin to use the solar panel to feed your cam with power, you'll have to install a charge controller ( This device adjusts the voltage output from the solar panel as it's transferred to the battery input).
Otherwise, on sunny days, the solar panel could generate more energy than your battery can manage, which may damage the battery while on normal days your cam will work perfectly okay. 
Below are simple steps that you can follow to charge the camera's battery(s) in no time!
1. Connect your Battery to the charge controller :
Using a proper cross-section cable, connect your battery to the terminals of the charge controller. Ensure that the negative (-) battery terminal is connected to the negative (-) terminal on the controller and repeat the process with the positive(+) terminals. To hardwire the cables onto the battery terminals, use crocodile clips, use ring terminals.
2. Connect your Solar panel to your charge controller:
Connect the negative and positive solar panel cables to the terminals on your charge controller. 
Again, ensure that the negative (-) cable connects to the corresponding negative(-) terminals on the controller and the same with the positive(+) terminals. When the sun or light hits the solar panels, the charge controller should show a 'battery charging' signal right away.
Note: This method doesn't work for most wire-free security cameras as there are some special cameras with different designs.
Method2: Use High-Capacity Power Bank
A straightforward method to charge wireless security cameras is to use a power bank (Also known as a portable power station).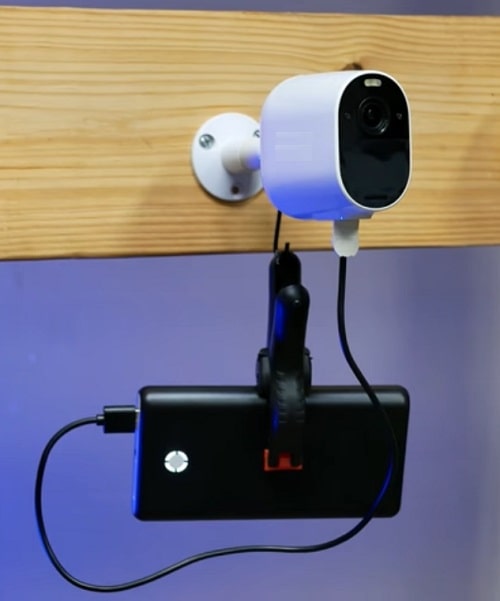 Power banks use a high-capacity battery to allow you to charge any device you have with a USB port which is excellent for portable devices. The micro USB cable can then be plugged into the camera and the power bank.
They usually come in various different shapes and sizes, so it is best to purchase one that can fully charge your surveillance cameras. 
In addition, most wireless security cameras can be powered via USB. So, you can use a proper power bank (which often features AC outlets) to charge the battery of your wireless security cameras.
The most crucial factor in buying a power bank is the mAh – milliamp hours. So, before you pick one look at its mAh capacity as It tells you how much charge a battery can hold. It's always a good idea to purchase the biggest mAh battery you can manage, but be careful. 
More power means less portability, so there is a proper decision to be taken, specifically if you think about buying a power bank that can easily fit into your camera bag.
Generally, these wireless cameras will need some hours to charge up via power bank. Therefore, I prefer to use double-sided velcro tape to hold the power bank firmly to either the camera itself or the wall.
Method3: Use a Power generator 
Before you start to install a wireless security camera look at is there any power source available or not? for temporary situations, if not, and you have already mounted your camera and want to charge, you can use this method.
The power generator can be very beneficial for your home and business. It keeps your surveillance system, lights, and appliances on when the power is out. One great benefit of generators is that they can be used to charge a wireless security camera.
Generators come in different shapes and types. Charging wire-free security camera batteries with a power generator doesn't put batteries in danger, and it is safe to charge them.
Nevertheless, the charger could be in danger if you choose a primary generator since the power quality is unstable and low. 
Though chargers should be able to endure this fluctuation in the current, if it is more than the charger's rate, the charger will certainly stop functioning, or in the worst case, it might fry for charging the batteries of security cameras. 
Therefore, it isn't worth trying as these products are highly costly. So, we strongly recommend using a portable inverter generator. They're quieter, lighter, efficient, consume less fuel than other types, and produce high-quality electricity.
Furthermore, It is essential to use a surge protector since there is a small chance of damaging the camera device and its battery even when using clean power. As well, if the charger is from an unknown brand or counterfeit, the risk of damage goes up.
Method4: Pick an Alternative Battery
The last technique on our list about how to charge wireless security cameras for today is to replace the battery of your wireless security camera(s).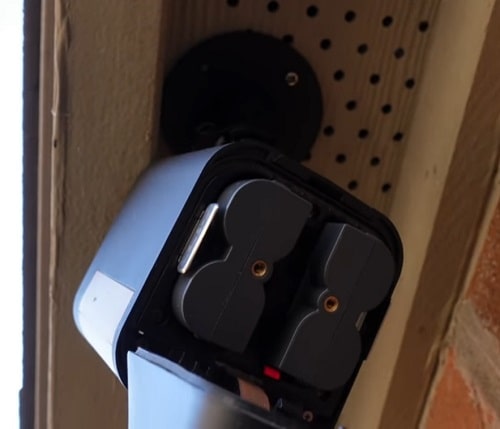 Though all the people who have wireless security cameras with non-rechargeable batteries go for this option, there is a broad spectrum of people who have rechargeable battery-operated security cameras who prefer this option as it is hassle-free. 
Below are some useful tips for safely replacing the security camera's batteries.
1. Consider the Battery Type
Different wire-free security cameras operate with different batteries; some support non-rechargeable and rechargeable batteries, while some support non-rechargeable batteries.
2. Decide upon Battery Voltage Correctly
The battery's voltage rate should be the same as the battery of security cameras; otherwise, it may degrade or damage your battery-operated security cameras.
For example, the Reolink Argus battery-powered security camera runs on a rechargeable lithium battery (3.6V~4.2V) and a non-rechargeable lithium CR123A (3V) battery.
3. Get Right Size Battery
One more factor to keep in mind is to select batteries that suit the compartment, not too big or too small to fit in.
It's essential to buy batteries from known suppliers such as Streamlight, Gp, PANASONIC, and Tenergy. 
How often do you have to charge wireless security cameras? Weeks or Months?
The life of a wireless security camera's battery differs from one to another. But In most cases, the rechargeable battery-operated security camera can run for 2-6 months under regular use. Plus, there are a lot of factors with regards to how long the battery of wire-free security cameras can last. Factors like live motion activity, night vision, Wi-Fi router/environment, battery brand, the placement, and temperature of the battery security camera, battery capacity, and streaming usage all can undoubtedly decide the battery life.
On the other hand, if you place the rechargeable outdoor security camera in high-traffic areas, you might have to recharge your batteries every two or three months. Luckily, you can apply some smart techniques to extend battery life when using rechargeable security cameras.
Summary
Battery-operated security cameras can be very beneficial in many situations. For example, you can depend on this type of camera if you live in a winter weather area where the power goes out. 
Unfortunately, the batteries don't run forever; you'll need to charge them from time to time. This article has provided some useful methods to charge wireless security cameras.
In case you want a continuous recording then these types of battery-powered cameras aren't good for you, you can compare between wire, and wireless cameras, and see how wireless security gets power if you don't need a wired system.
Resource: reolink, a1securitycameras