Early in the middle of the previous century when CCTV the security camera was invented by Walter Bruch. The idea of the closed-circuit camera was invented to capture light and convert it into a video signal.
CCTV security system has many advantages, but the disadvantages of these cameras are bigger and make more problems.
As the CCTV security system use many wires and cables, Plus a DVR to process the analog signal from a surveillance cam.
Then years later, A new technology discovers to eliminate wires of Analog CCTV cameras.
This technology uses digital signals from the camera and processes them inside the camera after that sends them to NVR.
The NVR and digital security systems use fewer wires as we compared to Analog surveillance systems. In addition, reduce the cost of using more wires and cables and eliminate wiring problems.
Digital security cameras like IP security camera use Network and has many types and shapes.
The connection between other cameras it may be wired, wireless, and the last type wire-free.
In the case of a wired security system, it uses one cable called PoE while wireless cameras use wifi signals to connect to NVR and other cameras.
Wired security cameras use PoE to work, but what about wireless security cameras How do wireless security cameras work?
Here's
How Does Wireless Security Cameras Work?
In the previous lines, we mentioned that wired cameras use PoE cable to help cameras send data. Plus this PoE cable is the power cable of the Digital security camera.
For wireless security cameras, it is a little different.
Wireless cameras Like IP security cameras share data through RF signals and in most cases, they use Home Network wifi Signal.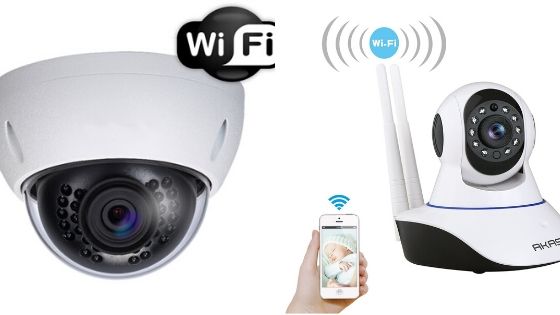 First, the Wireless camera capture the video and maybe sound, after that the camera process the data to send it To NVR.
The NVR device uses to connect the wireless cameras to storage devices that may be Cloud storage, Hard drive. Plus NVR allows camera owners to access and see their recorded videos.
In addition, the installation of wireless security cameras is easy, and to add more cameras to the system you don't take too much time.
Just turn on the camera and connect it to System Network with other home cameras.
More features added to wireless security cameras, as it supports a fast connection between system devices, and best cameras that connects to phone these days are wireless.
Plus, these cameras have fewer problems.
How Are Wireless Security Cameras Powered?.
For the power of wireless security cameras. Many ways used to depend on the type of security camera is it wireless, wire-free.
It's important to know that a wireless camera doesn't mean it's literally wireless, the wireless word describes how the security camera shares data.
But for the power, it's different a little bit.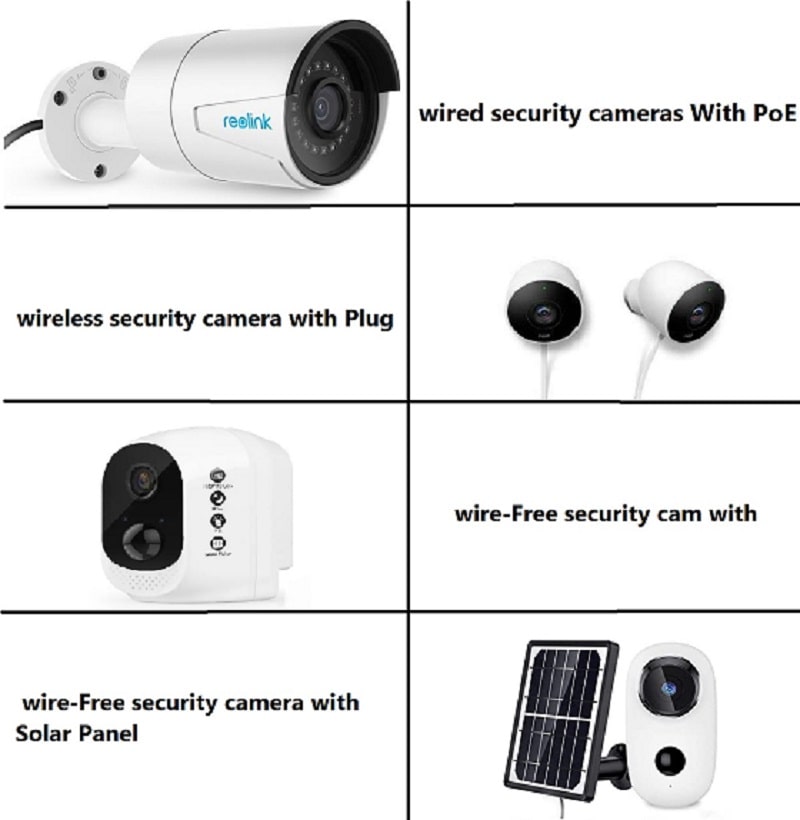 4 methods are used to power wireless security cameras.
Wired security cameras Powered With PoE: This type of wireless camera uses a PoE(power over ethernet cable) which means the camera uses the same cable for data and power.

A wireless security camera with Plug: In this case, the wireless camera has a Plug and must be mount and install near the Electric outlet.

A wire-Free security camera with Battery: The Wire-Free security camera means no wired used with the camera. In this type a battery used as a power source for the camera and in most cases this camera is rechargeable.

A wire-Free security camera with Solar Panel: Another way used differently from batteries is Solar Panels. A Solar panel used with wire-free cameras to provide power and this method are common in outdoor surveillance systems.
These are the four methods for How are wireless security cameras are powered. And it's important to know which type you will use before purchasing a security camera.

Can wireless cameras work without Internet?
Many people asking " Can Wireless Cameras Work Without Internet?". The answer is absolute YES, you can do it and install wireless cameras that work without internet.
There is more than one solution you can use if you don't need to use the internet for your home security cameras, and the surveillance system.
let's show the 3 Solutions
Method 1: Connect the camera Directly: This method simply uses wire connected directly to the camera. PoE cable or UTP cable in the connection between the camera and Your PC to save and Record Videos.
In case you want to remove your PC and worry if the camera still works or not? you can complete and read the next Words.
Method 2:Connect the camera to NVR: using an NVR with many ports can help you make your camera work without the internet. In addition, if you to remove your PC the NVR will save the videos and pass it to another storage device.
Note: if you have a security camera that uses a micro SD card to store videos. In this case, all you have to do is power the camera, and SD will record camera footage.
Method 3:Use a wireless 4G mobile surveillance camera: This is the best way to use wireless security cameras without internet, the mobile camera use 4G LTE mobile network.
This wireless security camera does not require a WiFi connection to work and is powered by a rechargeable Battery, Or Solar Panel with no cords and wiring hassles.

Summary
This article answers three questions "how do wireless security cameras work",  also "How Are Wireless Security Cameras Powered?", and "Can wireless cameras work without Internet?' and this is the most common question about Wireless security cameras.
Absolutely, there are other questions and more answers about wireless cameras.
But you should know the basic of wireless security camera and how it works.
In the last, you can find a new method for any of the above questions you can inform us in comments to share with others.