How To Protect security camera wires? or How to Hide security camera wires?. what you can do if your security system wires cut or the security camera was damaged by water, weather, and dust the security systems will not work.
Once, your security system doesn't work it means that you couldn't watch and monitor what happens around you. Plus, you can't feel safe anymore as there are no security cameras working to record videos.
In this article, we will show many ways to protect your surveillance system if it is indoor or outdoor. Especially for security system wires and how to protect and hide security cameras wires.
Hiding and protecting security cameras wire takes too much time and effort to do it correctly. Some ways to protect wires need money some ways are not.
But, if you don't know how to install a security cameras system and you want to try it by yourself, you may install and make something wrong like:
Choose the wrong place to install surveillance cameras.
Pick a bad quality security camera, or you don't know what to look for In Security Camera?.
install the security camera system with bad wires, especially if you choose to install cameras outdoor.
Damage the camera Lens while you installing it.
These and more you can do if you install security cameras by yourself. If you don't know how to install security cameras you can read the installation guide to install the cameras in the right way.
Now, Let's see
How to Protect security system cameras?
As we know security systems have more than one part, and we should take care of each part to keep security systems working.
It differs from one system to another system, systems like indoor security systems consist of a few parts while outdoor security systems have many types.
Also, the system differs from a Business security system or a smart home security system.
But the most common parts in any security system are:
Camera Wires if you have wired security systems. If you install a wireless security system you don't need Wires and cables.
Security cameras and camera parts like Lens, Antenna, Camera Stand.
Storage devices Like NVR, DVR.
These are the most common parts of popular security systems.
Let's start with the First Part: Wire
How To Protect security camera wires?
Wires are one of the main parts of indoor/outdoor security systems, and if something wrong happens to wires the security cameras will stop immediately.
Here Are Some Ways to Hide & Protect security cameras wire.
1. Cover the security camera with colors
Indoor or Outdoor Wired security systems use cables and wires to send and receive Data, and wires to connect to an electrical source to run the camera. The Data Cables may be Ethernet Cable Like Cat5 or Cat6.
Some security systems use Two cables one for Data and the second for Power, especially if you will install an Analog CCTV camera.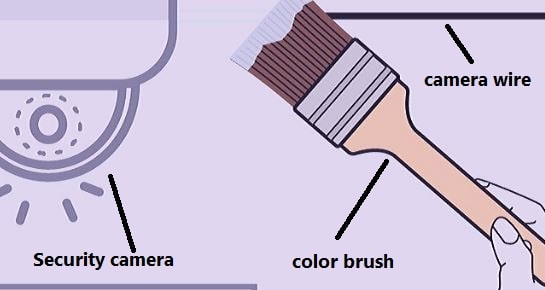 If you have a Digital CCTV camera the security systems often Use one Cable POE cable (This cable sends and receives Data, Plus it works as a power cable for the Camera).
While the Wireless security system doesn't use wire for sharing Data.
To Protect these wires even if it is Data wires or Power cables, The easiest way and most simple method to use is to cover camera wires with colors.
All you need to do is staple the wires on the wall and make sure that you finish installing the whole security system.
Once, you Finish you can choose the color you want to paint wires with. The best choice is to pick the same color of walls this makes the camera wires noticeable for intruders.
Plus, Painting the camera wiring will keep your home design, and avoid damaging home decor by using different colors.
If you don't like painting wires and find it hard to do, you can use cord covers, but you need to find the cord covers that match your walls.
2. Use Baseboards to Hide Camera wires
Another way to Hide and protect security cameras wires inside the home is by using BaseBoards. Baseboards can be a perfect place to hide wires of security cameras in two ways.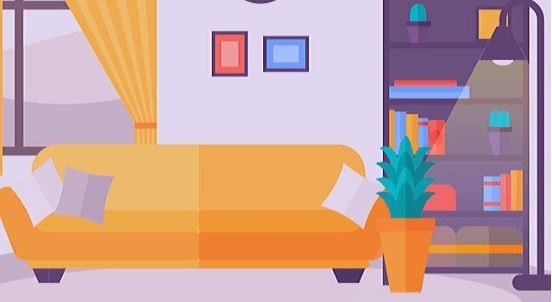 First: you can separate Baseboards first and after that put the camera wires between the Baseboards and the wall, then put the baseboards back.
Second: Using the first way which is painting the wires of the camera. But in this way, we will cover the camera wires with the same color as Baseboards.
This method will keep your security camera wires away from people's sight. And protect the wires Against damage or cut from kids or any other person from the family.
3. Hide security camera wires inside the home by using wallpaper
If You find the two previous methods are hard to do, you can solve the problem of How to Protect security camera wires by using Wall Paper.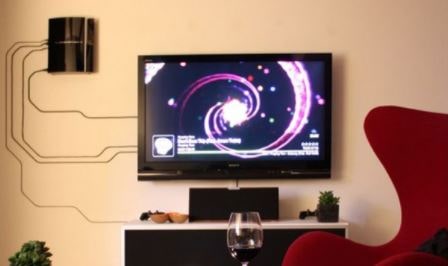 Wallpaper is a good solution to use for covering and hiding security camera wires, first finish the installation of the camera security system. Afterward, search online for the most suitable wallpaper that matches your wall color.
Once you buy the wallpaper you can use it to hide the security camera cables. Also, you can use Abstract Painting to cover the wires of the security camera behind it.
Wallpaper may not be the perfect way to hide and protect system wires, as it's leaving some wires to show and does not cover the total length of wires.
But it is still an effective method to use for covering and protecting our surveillance system wires.
4. Protect Wires in Plastic Tube
The first method is suitable for Indoor security systems and you can use it to hide and cover wires inside your Home or Business.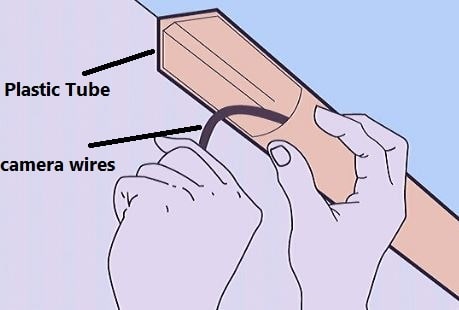 But for outdoor security systems covering and protecting the Wires of the camera are not easy.
As we know outdoor security camera has a specific design to work in Bad weather conditions like if it is windy. Plus, outdoor security cameras have waterproof material to protect the camera when it rains.
But, what to do to protect security camera wires if you have an outdoor security system?
Well, The best and most effective solution in this situation, is to use a Plastic tube to hide and protect wires inside it.
The plastic tube and especially the best ones that have high-quality material will protect the wires of the camera.
Although this method of covering wires is perfect. But if you don't know how to install the tube you may damage it.
This way involves drilling through studs and threading the tube and making sure that the tube is fixed before you use it.
This may be a complex way for most people, so if you are one of these people you can contact a security camera installer expert to do it.
Or if you are one of the DIY lovers you can search and watch videos online and learn to install the plastic tube.
5. Hide Wires by using Walls/ Ceilings
What if you have a security camera inside and outside of your home?
Well, the best method to protect your home security system cameras is by hiding wires in walls and ceilings.
For outdoor security cameras if you have a doorbell camera and you want to install a camera to monitor your property.
The best place to install the camera is the front door area, but what about camera wiring as this wire will be visible for people.
The most perfect solution is to use walls to hide security cameras inside them and keep only your camera outside of your home.
In addition, if you install an outdoor security camera at a suitable height this makes the camera far away from people to damage it.
For indoor security cameras to hide wire of camera there are many ways we explain some of these ways above.
But what if you have a security camera on a specific wall and the rest of the surveillance system devices on another wall.
In this case, to connect the camera with other devices you will use more wires, but how to hide these wires?.
The best solution for hiding and protecting cameras wiring is to use ceiling and walls. Just drill holes in the wall/ ceiling and thread the wires through the holes of the camera.
Using this method will make your camera visible to most people. But for wires, it will be hidden inside the walls or ceiling.
6. Install wireless security cameras
Wireless security cameras are a type of CCTV cameras that use the network to send and receive data Like CCTV IP cameras. This type of camera uses to monitor your property if it is inside the home or outside.
In most cases, A Powerful IP security camera is installed beside the ring doorbell as it has a High-quality Video that takes and records every detail that happens.
A wireless surveillance system can be
Wireless: That means that the security system uses a network for sharing data. But use the electrical cable as a power source for the camera. Previously we review the best wireless cameras to use in home.
Wire-free: Wire-free cameras that use the network for Date, and use a battery or solar panel as an electrical source for the camera.
If you're one of the people who need to protect the wires of the camera. The wire-free camera is the best choice as it has no wires to protect it.
7. Use Fake Wires
This trick you can use to mislead intruders or any person who wants to cut the wire of your camera. Simply Hide the real wire of the camera by using the above methods. After that, use fake wires to connect between cameras and other devices of the system.
Once, the intruder sees the wires of the camera visible, the first thing to do is to cut the wires and damage the surveillance system. But, he cut the wrong wires and the camera still works and maybe captures him.
Summary
The previous 7 methods give you the perfect answer for How To Protect Security Camera wires.
All you have to do is to read each method and find the best suitable method for you.
FAQ About "How To Protect Security Camera Wires"
How to Protect a Security Camera?
In the first question How To protect security camera wires, We explain 7 methods for wiring the camera and how to hide and protect it.
Keeping your camera's wire hidden and safe doesn't mean that your surveillance system will still work if the camera wiring is cut. But you need also to protect and hide security cameras.
Here's:
Tips to protect security camera
Tip1: Place the outdoor security camera out of arm's reach like up on the walls, above the front door, and window of your house.
Note: The harder it is to access quickly, the less chance of damage.
Tip2: Use surveillance camera metal housings/covers to protect the Camera from weather, water, dust and keep it clean. Plus protect the camera lens.
Tip3: Convert the camera to black and hide it from sight to avoid being blinded by a flashlight or laser pointer and damaging the camera.
Tip4: Hide surveillance cameras in birdhouses or bird nests. Avoid mounting WiFi outdoor security cameras to metal Birdhouses to protect the camera from damage by electricity.
Tip5: Use Fake cameras and make them visible, and keep the real camera completely hidden from people.
Tip6: Try to buy IP cameras that have wireless security protocols Like (WPA2) to protect your data and avoid hacking from stranger persons.
Tip7: Purchase a camera that has motion and tamper sensors. IP security cameras that have these features will keep you safe and send alerts when something wrong happens.
Note: Sometimes homeowners Blind Neighbor's Security Camera because they think it's spying on them. So, when you install your camera make its direction away from your neighbor's home to avoid blinding by him.
Summary
To protect your security camera depends on many factors like the Material of the Camera, how you run the camera wire, and how to keep it away from people.
So, if you want to completely protect your camera you have to do all the things without any wrong.
How To Protect Security Camera NVR/DVR?
To protect security camera equipment like NVR/DVR and also protect camera cabling and parts. You need to plan for how and where you place the security system.
If You have a wired Surveillance system, the place NVR/DVR determines the route of wiring and if you need more wire or not?.
In addition, Placing NVR/DVR smartly can eliminate problems of camera wiring.
Tips To Protect NVR/DVR
Hide DVR/NVR in a Locker or Safe Box made of steel to make it hard to damage DVR or NVR.
Use Ceiling To Put NVR or DVR or you can use attic, but make sure it's out of intruders' reach.
Put NVR or DVR inside the wall and hide them, and you can cover the wall by picture.
Hide Storage devices in home furniture Like Closet, bookshelf. This will help you cover the device and make it hidden from people's sight.
The NVR/DVR is the heart of any security system and here's the best NVR system for 2020.
Summary
Once you do these tips for wires, security cameras, and storage devices you have a completely protected security system. Unless you purchase a cam that has low-quality products and is easy to hack by jammers.
Note: All Images and resources used in this blog post From WikiHow