Security cameras are a crucial part of keeping your home or office safe and protected, but they can be damaged easily if not protected from the rain. 
Rain is one of the known threats that many homeowners complain about as rain droplets may damage or stop their outdoor security cameras from working normally.
The bad news about the weather is it's unpredictable and it's hard to predict when it will rain. 
But the good news is you can control and protect your security camera from being damaged by the rain by applying some of the simple tips and tricks mentioned here.
In this guide, we will show you how to protect security camera from rain, so you can keep your home surveillance system safe and secure.
Follow our easy methods to protect your security camera from rain, snow, and harsh weather. 
By doing so, you'll keep your security camera in good condition for years to come!
Does rain affect security cameras?
Simply the answer is Yes, rain affects security cameras, and worse it may affect the system connections, and power feed for the cameras if they are wired cameras. However, the effects of rain on security cameras vary depending on the type of camera and its location. 
For example, In case the security camera is placed indoors or is weatherproof, then the rain should not have any effect on the camera.
On the other hand, if a security camera is located outdoors and is not weatherproof, then the rain can damage the camera and cause it to malfunction easily. 
Rain can damage security cameras in several ways:
Rain can impact the performance of security cameras, as it can cause the camera lenses to fog up, or become wet inside and form condensation. 
This can affect the quality of the images that the cameras can capture, and may make it more difficult for camera owners to identify potential threats.
Helpful Link:  Learn how to get condensation out of security cameras in 5 easy steps.
The water of the rain can damage the camera's casing, causing it to break down, or move from its place over time which results in making dust, and sand entering the camera body.
The water of the rain can damage the camera's casing, causing it to break down, or move from its place over time which results in making dust, and sand entering the camera body.
Rain droplets can also seep into the camera and cause the electrical components to short out. This can lead to a loss of power, or even a fire if the camera is not properly protected.
Water droplets can distort the camera's view during rain, which can make it less effective, as they can distort the camera's view.
Anyway, you can get rid of most of these issues by learning how to protect security camera from rain, and more than that, you'll increase the lifespan of your surveillance system components. 
Now, Let's see 
How to Protect Security Camera from Rain?
One of the most important aspects of security camera protection is to keep it from getting wet. 
If your camera is outside, there are a few ways you can do to keep it from rain damage.
Method 1: Get A Waterproof Security Camera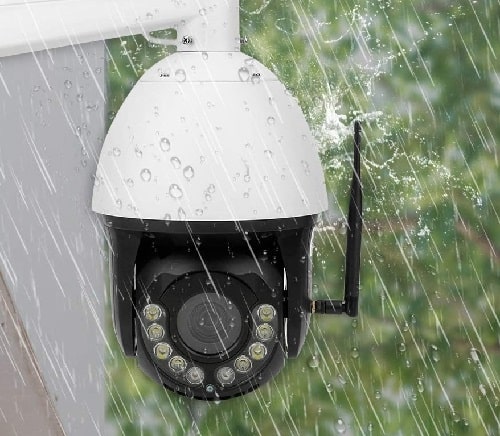 The easiest way to protect your outdoor camera from rain is to invest in a waterproof model. Many companies manufacture weatherproof security cameras.
Waterproof security cameras mean that they are completely sealed and protected from water, making them ideal for use in outdoor environments.
These water-resistant security cameras are designed from high-quality materials to resist water, rain, or snow which makes them a good choice for use in rainy or snowy conditions.
Note that, some surveillance camera manufacturers claim that their devices are waterproof but the truth is they're not completely waterproof.
Plus, their cameras are completely damaged when a small number of waterfalls are on them, or when the weather changes outside and becomes windy.
Method 2: Install A Security Camera Under The Soffit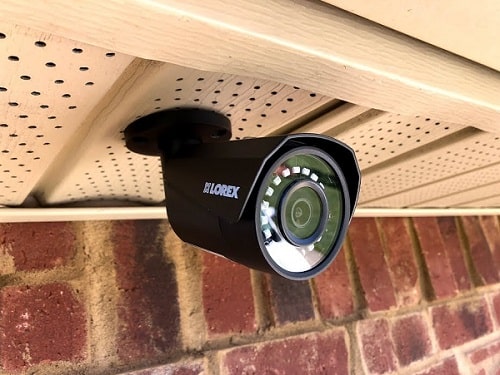 In case you already purchase security cameras and you figure out that they are installed in the wrong place and exposed to rain heavily.
Simply to solve this issue, you can change the camera spot and install your surveillance camera under the soffit (the horizontal board that runs along the bottom edge of the roof.) of your house to protect it from rain.
By installing your camera beneath the soffit, you'll be able to keep it out of direct exposure to the rain. 
1. The first step is to measure the area where you would like your security camera installed.
2. Make a camera-compatible hole in the soffit.
3. Install a weatherproof gasket around the hole.
4. Place the camera into the hole and secure it with screws.
5. Connect the camera to the power source and your home security system.
6. Test the camera to ensure it is working properly.
7. Enjoy the peace of mind that comes with knowing your home is protected from rain and other weather conditions!
Applying this method with the mentioned steps guarantee you protecting your system for a long time, and keeping it dry from water.
Method 3: Invest In A Waterproof Box
One more way that we use previously to protect security camera from rain is we purchase a waterproof box and put the camera inside it.
The reason for that is waterproof boxes are designed specifically for protecting cameras from being stolen and the other outside elements that may damage the camera or obscure the camera view such as bees, birds, geckos, or water. 
Plus, most waterproof boxes come with ventilation holes and cable access slots, so you won't have to worry about your camera overheating or being disconnected from its power source. 
Note that when you decide to pick out a waterproof box for your security camera, be sure to choose one that's made from durable materials like ABS plastic or aluminum alloy. These materials will stand up well to heavy rainfall and windy conditions.
Anyhow, In case you love the idea and want to apply it to your cameras, here are the steps:
1. Purchase a waterproof box from a trusted seller, and make sure it's made from durable material.
2. Make sure that the box is large enough so that the camera can move around freely without hitting the sides.
3. Place the box in a good location where direct rain won't fall, then put the camera inside the box and seal it shut so that no water can get inside.
4. Run the camera wires, and cables through the designed holes, after that use a seal material to close the hole completely.
5. Pick a piece of glass and try to put it in front of the box hole that is designed for the camera lens to keep the lens clean and prevent bees, or insects from coming on the lens.
Once you apply these steps, your cameras will be 100% protected from rain, and other bugs so that the camera stays clean and work for a long time without breaks.
Method 4: Use Silicone Seal To Prevent Water From Entering To Camera
Instead of purchasing a new waterproof camera or changing your old camera positions, you can use a Silicone Seal to keep water out of your surveillance cameras.
Aside from its effectiveness in preventing water or dust from entering inside the camera body, Silicone Seal is cheap and easy to use, you don't have to be an expert to know how to use it.
Just follow the below steps to get the best result and protect your cameras from rain, snow, or water:
1. Check the camera for any cracks or damage.
2. If there are any cracks, use a silicone seal to fill them in and prevent water from entering the camera. Make sure to smooth out the caulk so that water can't seep in through any cracks.
3. The seal will keep rain and moisture away from your camera once it is dried.
4. Re-install the camera in its place, and make sure that the camera is properly covered and protected from the rain.
5. Monitor the camera regularly to make sure that it is still working properly and that there is no water damage.
Now, your camera are well protected and for more safety, you can put some silicone seal around the wires, and sensor holes of the camera body. 
Method 5: Change the Camera Location
Again you may apply some of the above-mentioned methods to protect security camera from rain but you still have the same issue.
In this scenario, the first thing you should do is try to move your outdoor CCTV security camera to a location that is protected from rain. What I mean is to install the camera in a location where it will not be exposed to direct rainfall.
For example, you can place your IP camera under an awning, porch, attic, or any other hidden place that is suitable for mounting cameras and keeping them protected from rain, or water.
In case that isn't possible, consider investing in weatherproof housing for your camera.
You can also use Rain-X which is a product that can be applied to the lens of your security camera to help repel water. 
This can help to keep the lens from getting wet and foggy, which can impact the quality of the images that your camera captures.
The next video is about how to make a camera cover with sheet metal for protecting it from rain. Watch It
Source: Builds by Alexis
Summary
Outdoor security cameras are quickly damaged if they are vulnerable to water regularly. So, you should consider protecting them. 
Protecting your security camera against rain, or water is important to maintain its longevity and improve its performance.
To accomplish this, you should invest in a waterproof model or use a silicone cover. 
You can also try repositioning your camera so it's not directly exposed to rain. By taking these precautions, you can be sure your security camera will be up and running when you need it most.
So, which method do you find more efficient? Let us know in the comments below.