The best outdoor security cameras without subscription shouldn't be difficult to find. However, it can be tricky to pick the one that's right for you.
Most people are stuck when it comes to choosing surveillance system equipment for their homes because there are a lot of cameras out there. Differ in design, type, and where to mount indoor or outdoor.
NETVUE is considered one of the best outdoor security cameras without subscription in the market.
So, if you are looking for an outdoor camera that can provide you with effective surveillance, this review is for you.
We'll be discussing its features, pros, and cons to let you make a decision that you don't regret later.
At safebudgets.com we write a full review on The Top best outdoor security cameras without subscription, you can read it
Now, Let's start with
NETVUE Camera Review | Outdoor Security Camera Without Subscription
Features and Benefits
1- Resolution
Camera resolution is arguably the most important feature of a security camera. Thankfully, the NETVUE outdoor security camera offers 1080p resolution, keeping everything in the view clear and easily discernible.
Best outdoor security cameras without subscription must provide a wide view of the surroundings. This Netvue cam offers a 100-degree wide-angle view, giving you a broad view of the outdoors.
2- Night Vision
Besides High-Resolution, Netvue cam offers an advanced Nigh vision feature to catch everything that happens at night.
Not only can you clearly identify objects from a distance in the day, but the camera's night vision allows you to monitor the outdoors even in total black areas. You can see clearly at night to up to 60 feet from it.
3- No Batteries
NETVUE cam is a type of wired camera that requires to be mounted near an electric source, it can work up to 24 hours without any problem like a battery running out, or recharging the battery again.
Just place the cam and plug it into the power outlet then turn it on. Don't worry! the power wires are strong enough so you can use them anytime you want.
4- No Subscription For Storage
For homeowners who look for the best outdoor security cameras without subscription, NETVUE is the best choice for you it's free and doesn't need a monthly fee for keeping videos.
The NETVUE security camera provides you with free 30-day AWS cloud storage for your footage. Not like other cameras brand which you must pay to access your recorded moments.
Plus, to add more space for your videos, You can also insert an SD card with up to 128GB of storage space and have your footage saved in it.
And, it's a one-time investment. You won't have to pay a subscription fee to use its security features.
5- Two-Way Audio
The two-way audio feature of the NETVUE outdoor security camera enables you to communicate with anyone at your home. You can talk to your guests from anywhere.
6- Compatible with Smart Home Systems
Not only that the camera offers free storage and other features, but the NETVUE camera also works with Amazon Echo Spot, Echo Show, Alexa, and even Fire TV.
Its compatibility with these smart devices makes it a whole lot easier to control. You can connect the camera to a 2.4Ghz Wi-Fi or an ethernet cable and it'll work smoothly.
7- Weatherproof
Another reason why it's one of the best outdoor security cameras without subscription is that it's IP66 waterproof.
You won't have to worry about the elements damaging the camera, which allows you to use it outdoors with peace of mind.
8- Motion Detection
NETVUE came with smart motion detection and alert system, the security camera allows the user to set motion detection zones.
It sends a notification to your mobile app whenever it senses any motion in the set spot. Moreover, it can record motions and put them together in a video (up to 24 seconds).
Another good thing is, you won't have to receive false notifications or encounter false alarms. The camera allows you to adjust the sensitivity of the motion detection.
Plus, the deterrent alarm of the camera helps in keeping the intruders at bay.
9- Easy to Install
The security camera is quite easy to install at best places too, you'll just need to use the screws to set it up on a wall or a ceiling.
You may need some tools like a drill, screws, and installation template to make sure it's available before installing the NETVUE cam.
Note: The camera package includes a user guide that contains every step you should make to install your camera correctly.
Cons
· However, the ability to monitor multiple of these cameras from the app would be a nice addition to its features.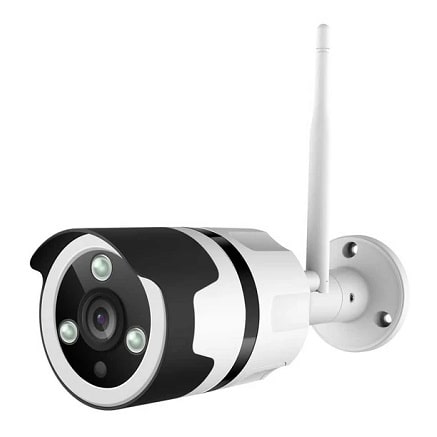 Pros
Easy To Install
Suitable For Smart Home Systems
Free Subscription cloud storage
Cons
Some Issues When Monitoring All Cameras
Summary
These were the best outdoor security cameras without subscription review. If you don't want to give a monthly fee to use a security camera outdoors, the NETVUE is for you.
It offers 1080p video quality, two-way audio capability, Alexa compatibility, easy installation, motion detection notification, alarm, and up to 120GB SD card space.
So, make sure you have everything in mind before investing in this security camera for your home or office. Make a well-informed decision so that you don't regret it later.
Source: NETVUE