Hidden security cameras are a great way to keep an eye on your home or property when you are not there.
Unlike Old CCTV cameras that have a big body and a lot of LEDs which make the camera noticeable to be detected easily by visitors.
These cameras are designed to blend in with their surroundings and go unnoticed. You can find them at home and on the market for commercial use.
So, If you are looking for the best hidden security cameras, you have come to the right place. Here are some of the most popular hidden security cameras with the pros and cons of each.
Before we start, here is a comparison table between all the hidden security cameras
But, First
What to Look for Before Buying A Hidden Security Camera?
there are some things that you should look out for. If you're looking for a hidden security camera for your home or office. Thing such as
1- Size
Size plays an important role when you think about choosing one of the best hidden security cameras in the market.
A camera with a small size is easy to conceal between home and decorative things on the wall. On the other hand, Big cameras are detected easily by intruders and home visitors. Both hidden and visible cameras have advantages and disadvantages.
For example, hidden security cameras will give you powerful unnoticeable proof to record and capture videos of anything important you want.
However, visible cameras are helpful devices and they will be used to inform burglars and intruders that the building is installing surveillance systems. In most cases, the persons will be captured and the videos will be sent to police, and law enforcement.
2- Resolution
Size is not the only important consideration that you should be careful of while choosing the best-hidden security cameras for home, or business. The resolution of the camera is also an important thing that you must care about.
The reason for taking resolution as a serious factor is the desire of getting and capturing high-quality videos that are rich in hidden details.
There's no need for a small compact size camera with low resolution. What I mean is even if you get the smallest camera in the world and it provides low-resolution video clips it will be useless, and a waste of money.
3- Connection Type
Aside from security camera size, and resolution, the connection type of your camera is a killer thing that you should be aware of before paying for any of the hidden cameras in the market.
There are 3 types of connections used in security cameras.
First, is a total wired camera which is powered by cable, and sends data through cable also like analog CCTV cameras.
Second, is a wireless camera, this cam is powered by a power adapter and transmitting data through wifi signal.
Third, Wire-Free cameras, this type of cameras are powered by a battery and send/receive data through wifi signal or through cellular data SIM.
Note: There's another type of wired camera which is PoE camera, and that type is connected by ethernet cable to router or NVR and not suitable to be a hidden cam.
So, before you go to any of the stores to pick one of the best hidden security cameras, you must decide what type of security cameras you want? Wired, Wireless, or Wire-Free.
For monitoring and spying on your pets, wire-free cameras are the best, for any other purpose you have the freedom to choose one of any type you feel comfortable about.
4- Power
Thinking of getting a hidden security camera meaning that you want a completely invisible camera with no wires or cables.
Generally, a lot of homeowners hate to pick a security camera because of messy wires, and the wiring common problems such as cutting, and splicing.
The same concept with hidden cameras many people refuses to buy spy cameras if they find out it's powered by a powered adaptor. The main reason for refusing is the wires, and the cables will be more visible than the camera itself.
But, Nowadays, there are no more wires or cables thanks to wireless and wire-free cameras that are powered by long-lasting batteries making you record for days or maybe weeks with signal charge.
5- Storage
Imagine you get a camera with a small size, high-resolution, and wire-free but you don't have enough storage space to store your recorded videos for a short period of time.
This is one of the common mistakes that beginners make. They go to online stores and purchase any type of spy camera without looking for the storage space of the hidden camera, after a while of using a camera they discover that it records a few minutes of videos which in general is not enough for capturing important clips.
In most scenarios, hidden security cameras store videos on a micro SD card that is provided with the camera package.
My Advice to avoid this kind of mistake related to running out of storage is to make sure that your hidden camera has a large storage space to enjoy recording and storing videos for a long time.
What are the Best Hidden Security Cameras For Home, and Business?
There are quite a few hidden security cameras out there, with some better than others. I searched high and low to find the best hidden security cameras for home and business use.
I found some great options on the market, as well as some to avoid. Here are the top 9 hidden security cameras that you should invest in
1- Blink Indoor
Blink indoor camera is one of the best hidden security cameras for home security. They don't look like a camera, so intruders won't know they're being recorded.
This camera is small enough which makes it perfect for monitoring your home while you're away or keeping an eye on what's happening in your outdoor area while you work in the back.
Now, let's jump to see the camera features
Blink Indoor Small Security Camera Features
Resolution: Blink Indoor security camera is a reliable surveillance system that can be monitored in 1080p HD quality day or night thanks to its infrared night vision technology.
Wide Field of View: The camera has a 110° diagonal viewing angle which allows for a full picture to be seen without the need to zoom in and out to show specific details.
Battery-powered: This small security camera is a great option for those who need a long-lasting and reliable surveillance solution in an indoor environment. The battery life in these models can last up to 2 years, depending on the size of the battery that you use.
2-Way Audio: Another amazing feature is the camera which allows you to "hear" what's happening in your home in real-time. You can also speak to people and pets with the Blink app, which has two-way audio for a full conversation.
Small Size: Blink Indoor Cam is a small, easily hidden camera that provides a discreet yet reliable security system. It has a 71 x 71 x 31 mm size and 48 grams weight which makes it easy to carry and conceal between home objects.
Blink Indoor Small Security Camera Drawbacks
While a Blink indoor camera is a great device to use and hide in your home, or office but there are some hidden fees that you need to pay monthly to enjoy some of the additional features on your cam.
Blink Small Indoor Security Camera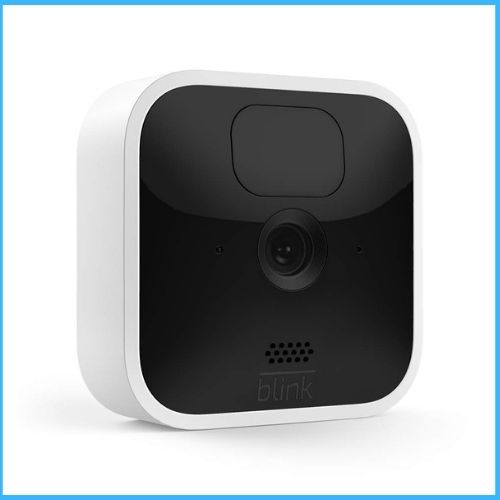 Pros
Record HD Videos
Two Years Large Battary
Small Size
Cons
2- SIRGAWAIN Mini Hidden Camera
Protect your home from intruders, pet thieves, and more with a hidden camera that's virtually undetectable.
This invisible mini camera from SIRGAWAIN is disguised as a small baby toy and designed to blend into any environment. It's perfect for keeping an eye on things when you're not there.
This spy cam can be used in a variety of different ways, such as for housekeepers, babysitters, pets, professional surveillance, body safety or action, and drone use.
Now, Let's see
SIRGAWAIN Mini Hidden Camera Features
Resolution: This hidden camera from SIRGAWAIN is a great choice for anyone looking to discreetly keep track of activity in their home, office, or other spaces. It features 1080p HD video, 12MP photos with a 140° wide-angle lens allowing it to capture more details than your average camera.
Night Vision: the mini camera also has 6 invisible LEDs that provide a 16-foot radius of coverage and can cover up to 10,000 square feet.
Motion Detection: The camera offers up to 60 minutes of battery life with its motion detection function and can turn on and start recording as soon as it senses movement.
Storage: Unlike other hidden cameras from Top manufacturers, This camera can store more videos with the use of SD cards from 2 to 32 GB.
Power: The camera is powered by a rechargeable battery to make it easy for you to hold the between your hands and record while you're waking.
SIRGAWAIN Mini Hidden Camera Drawbacks
Looking at the camera price and features it'll be a good investment for persons who search for the best hidden security cameras but the only thing about this mini cam is the battery life.
The lifespan of the battery of this camera is short, and you have to be careful when charging and using the camera to record your videos.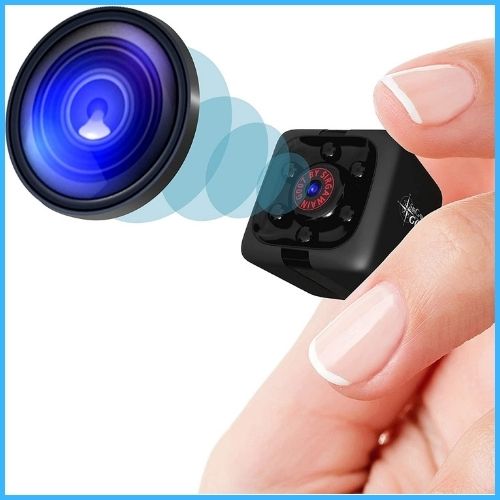 Pros
1080p Resolution
Mini Camera
Offer Local Storage (SD Card)
Cons
3- SIRGAWAIN Pen Mini Hidden Camera
This spy pen in disguise is the perfect way to discreetly and secretly record everything that's going on in your surroundings.
It's designed to blend in completely, these hidden cameras are small enough to be concealed inside common objects so you can keep an eye on your home, office, or anything else you need to keep safe.
SIRGAWAIN Pen Mini Hidden Camera Features
Resolution: Utilize a six-layer glass lens to achieve high definition 1080p picture quality, and place it in a pencil holder in the office to monitor suspicious behavior and protect your privacy.
Plus, It is equipped with a silent shutter so it will not make any sound while capturing moments.
Viewing Angle: The shooting angle of the lens is as high as 90°, which allows for shots that are difficult or impossible to capture with a standard camera.
Storage: With enough memory, it can help you record more events about the people and places that are most important to you.
Moreover, this hidden small pen camera supports micro SD cards up to 128 GB, unlike other spy cameras that work on 32GB sd cards.
Shape: This pen provides a confidential writing and monitoring experience at all times, is difficult to track down, and can be easily carried in a variety of places. It also has a detachable clip that attaches securely to clothing or other items so it can't be lost or misplaced.
Power: This pen camera is powered by a battery, and the battery life is also very long so you can capture many important moments without recharging.
SIRGAWAIN Pen Mini Hidden Camera Drawbacks
The only thing that may stop you from enjoying this small size pen is that it's not easy to use if you're a beginner.
So, my advice for you before picking this pen is to read the user guide carefully and see if you're familiar with setup instructions or if it's hard for you to do.
Another alternative option you can do in this case is to contact customer support to ask them the question that you don't find answers to them online.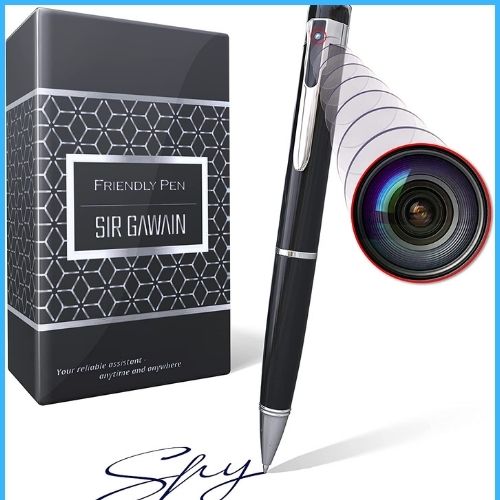 Pros
Full HD Resolution
Portable Small Camera
Provide wide-angle
Cons
Offer Few hours of Continuous Recording
4- Arlo Pro 4 Spotlight Camera
Save your time, effort, and forget to search for the best hidden security cameras anymore by picking this amazing camera from Arlo. Which is Arlo Pro 4 Spotlight Camera.
This Cam hides seamlessly into your space, and home objects, whether you mount it on the wall, set it on a shelf, or place it on a counter.
Arlo Pro 4 Spotlight small Camera Features
Resolution: The camera is able to capture clearer details due to its wireless design and advanced video quality which records in clear 2K HDR footage. This allows you to see more detail from a distance as well as zoom in on moving objects with clarity.
Viewing Angle: the security camera is made with a wide 160° diagonal viewing angle lens that helps to reduce the fisheye effect that is common to this type of surveillance camera.
With this viewing angle, the camera will be able to cover medium spaces well but has just enough power to cover larger areas as well.
Night Vision: Arlo Pro 4 Cam is designed with an integrated spotlight that allows it to light up the night and see features like faces or license plates in full color, even at night. With its color night vision, you can see up to 25 feet away in high resolution.
Motion Detection: This camera from Arlo provides you with the best of both worlds. It's a hidden camera with motion-detection capabilities, so you know who's coming to your front door, no matter where you are.
Smart Notifications: The small Arlo camera can help you monitor your home security with precise accuracy by letting you receive notifications for people, vehicles, and packages. You can take quick action such as sound the alarm or call friends or dial emergency services with the Arlo Secure trial.
Small Size: This camera's compact size makes it perfect to conceal it inside or outside of a building with minimum effort not like other cameras.
Arlo Pro 4 Spotlight small Camera Drawbacks
One of its drawbacks is that it's expensive, but a camera with the above-mentioned feature will be a good investment in the long term.
You can purchase it with the peace of mind that you'll not change the camera after 1 year because it's damaged, or stop due to any reasons.
Arlo Pro 4 Spotlight Small Camera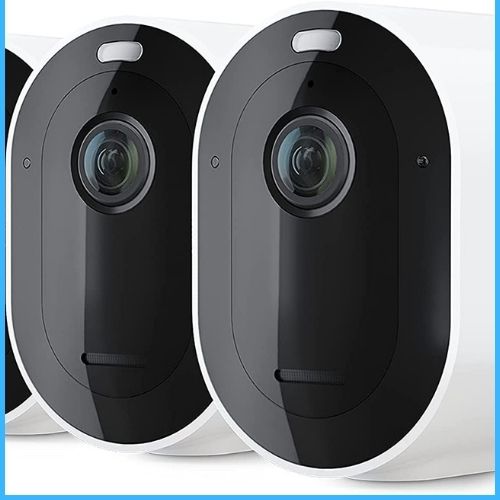 Pros
2K Resolution
Provide 160° Diagonal Viewing Angle
Has Spotlight
Cons
5- Photo Frame Spy Camera
Have you ever wanted to check on your baby while you are at work? Or spy on your pets? This spy camera can give you peace of mind.
With this hidden security camera, you can see everything that's happening in your home even when you are not there. The best part? It is unnoticeable and looks like a photo frame!
Photo Frame Spy Camera Features
High Definition: The camera video provides 1080p resolution which makes it very easy to identify the perpetrator's face or actions. Moreover, high-resolution is handy in providing law enforcement video evidence of crimes committed in the household or office.
Viewing Angle: The photo frame small camera has a concealed 15 degree downward viewing angle camera lens which is useful for covering more of the area you want to monitor..
Night Vision: Enhanced with superb Night Vision capability and its powerful "No Glow" night vision LEDs inside can see up to 8 meters (26 feet) in darkness at all times. So, you can sleep better knowing someone's got an "eye" out in protecting your interests, day or night.
PIR Motion Sensor: The security camera features an advanced PIR motion sensor alarm system. When motion is detected, the security camera photo frame will send an alert notification to your smartphone and record a 10-60 second video clip of the event within 0.7 seconds to the removable SD Card!
Rechargeable Battery: this product is built with a 10000mah rechargeable battery that has up to 365 + days standby time. This means that the battery can last up to 365 days before it needs a charge, and the battery will work for up to 30 hours a day.
Storage: A SD card that has a powerful 64GB capacity is included with this device. By using this card you can save hours of video clips and have the ability to playback your videos at any time of your choosing.
Easy to Use Mobile App: The Yi Eye app used with the camera is a powerful mobile application for those who want to keep a small eye on their loved ones from afar.
The app can be easily installed on an Android or iPhone and allows you to view and stream video from anywhere in the world.
Photo Frame Spy Camera Drawbacks
According to its design, a Photo Frame camera is considered one of the best hidden security cameras to use in your home, or inside any of your children's rooms. For more, you can look at Best Security Cameras for Bedroom blog post.
The only thing that we don't like about this camera is that the setup of the mobile app isn't suitable for beginners, and it takes too much time to pair the camera with the app.
Photo Frame Hidden Security Camera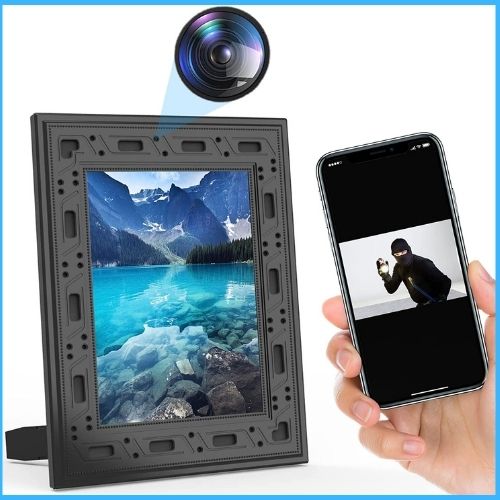 Pros
Capture 1920x1080p Videos
Small Hidden Camera
Offer PIR Motion detection
Cons
6- Small Camera Charger
Get the peace of mind you deserve with this fully functioning spy camera charger that hooks up to any standard power outlet. It looks just like any other charger, but it's secretly recording everything that happens in front of it.
Unlike any other small cameras used as hidden security cameras this device is small and comes with a lot of features that don't exist in common security cameras.
Small Camera Charger Features
Resolution: This compact security camera in a small, portable USB charger that charges your devices and records high-quality 1080p video. No matter where you place the camera, everything will be recorded in detail with this HD resolution.
Plus, to capture more of your property, this camera comes with a wide viewing angle which means anything happening in your camera range will be captured and recorded.
Motion Detection: When the slightest movement is detected for reliable, automatic use the camera will automatically record HD video to watch and track everything happening.
No Need For WiFi: This device can be taken anywhere without the worry of connecting to a network and uploading your video files at a later time, every video clip will be recorded on the SD card.
Storage: As we mentioned above, the small camera from DIVINEEAGLE doesn't require Wi-Fi for recording, just insert a micro SD card up to 256GB Class 10.
In addition, This spy camera charger has loop recording and SD card protection which means the USB spy camera automatically records and overwrites the oldest files when full for continuous recording and has surge multi-protection to save the SD card from corruption.
Small Camera Charger Drawbacks
Getting an unnoticed device and putting it in your home will be a great idea as it's hard for anyone to detect it, and know the camera is recording.
But the only thing that you have to be aware of before buying this camera, is the customer support taking too much time to respond to your questions and inquiries.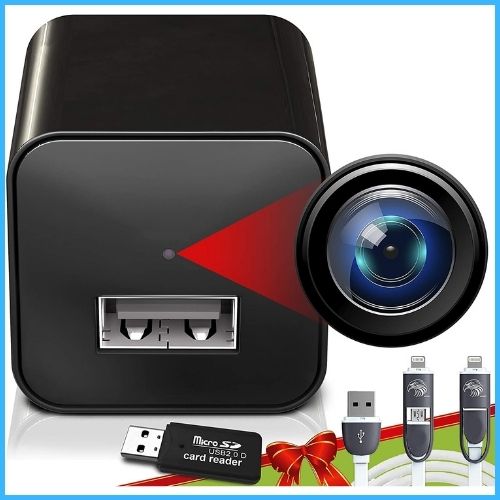 Pros
HD Resolution
Very Small Camera
Work Outdoor & Indoor
Cons
7- Wi-Fi Light Bulb Camera
This Wi-Fi light bulb camera is a perfect security camera for your home or office. The bulb is designed to look exactly like a normal light bulb, but with Wi-Fi capabilities, motion detection, and a built-in microphone and speaker.
Light Bulb Camera Features
Resolution: This camera comes with Full HD 1080P resolution and a built-in fish-eye lens that will provide you with a 360-degree panoramic viewing angle without a blind spot. As a result, you'll be able to monitor the entire room (up to 400 square feet) with just one single camera!
Night Vision: As a result of using Pro HD fish-eye lens, and built-in IR LED besides 1080p resolution. The Light Bulb Small Camera provides you with super clear vision day/night, it's colorful during the day, and clear at night when it becomes dark in your area.
Motion Detection: This camera makes your place much safer as it comes with a motion detection feature that captures instant videos when burglars or intruders break your camera range.
Alert notification: The Alert notification feature will be sent to your smartphone as a warning when motion is detected by the security camera, so you won't need to worry about a thief breaking into your house while you are away from home.
Easy To Connect To WiFi: There are only a few cameras that come with AP spots, these spots are helpful, used in a wide range by panoramic cameras, and assist you to connect the camera to the 2.4G WiFi router with minimum effort.
Light Bulb Camera Drawbacks
While we test this Light Bulb camera to review for best hidden security cameras we have a little issue. The issue is related to the lighting of the camera, sometimes the light stops for no reason.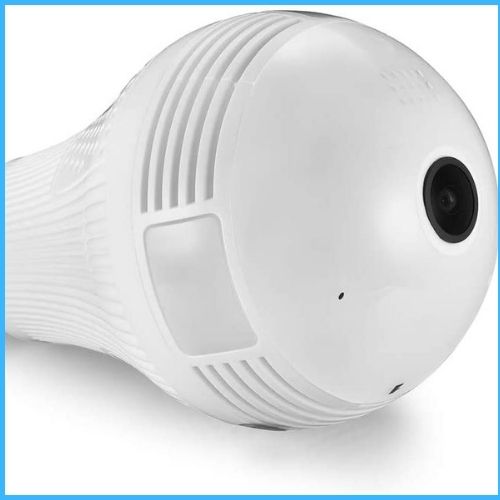 Pros
1080P Resolution
360 Degree Panoramic View
2 in 1 Device
Cons
8- Kami Indoor Camera
Kami is one of the best hidden security cameras available, it has the features like top tech security cameras, and comes with sleek and small designs like spy cameras.
Unlike other monitoring devices from new brands. This AI-powered camera features advanced facial recognition technology, accurate object detection, and powerful night vision.
Kami Indoor Camera Features
Resolution: Say goodbye to grainy images that miss most of the footage details with the true 1080p HD resolution of this camera you'll be able to record crystal clear videos.
Viewing Angle: With a 340° rotation, 95° tilt, and 10°-50° pan capabilities of this camera from Kami, you're able to see every corner of the room within seconds.
Motion Detection: The Kami Indoor Camera offers advanced AI features that can be used right out of the box: person detection, activity zones, rich notifications, and a crying baby alert.
Furthermore, as we mentioned above the camera is powered by sophisticated Artificial Intelligence algorithms which means that it can detect humans, pets, and unusual sounds with ease and only alerts you when it's actually important.
Connection: Another amazing advantage of this camera that makes it one of the best security cameras for bad wifi is that it has Dual-band (2.4/5 GHz) Wi-Fi Connectivity. This means that you can connect easily over dual-band Wi-Fi with no wifi drops anymore.
2-Way Audio: With Kami's two-way audio, you can both communicate with your family and remind potential intruders that you are still monitoring them.
Design: A good product deserves a great design and the Kami Indoor Camera is no different. It has a small and compact design which makes it easy to be hidden whether on a bookshelf or hanging from the ceiling.
Kami Indoor Camera Drawbacks
The Kami camera comes with a bundle of features but there are some issues with the camera when it's powered or connected to the internet. The camera always makes low sounds which are not good in case you want to monitor your kids while they are sleeping.
KAMI Home Small Security Camera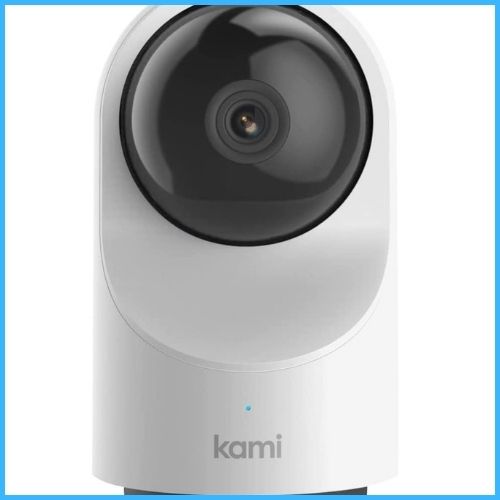 Pros
1080p HD Resolution
Offer 360 Viewing Degree
Support 2.4GHz, and 5GHz Wifi
Cons
9- WYZE Cam v3
Home invasion, vandalism, theft…these are the types of crimes you want to catch on camera. But who wants to leave a bulky, ugly security camera in plain sight? With the WYZE Cam v3, you don't have to.
This device from WYZE, similar to its predecessor, comes with great features and at a cheap price as compared to any of the best hidden security cameras mentioned here.
WYZE Cam v3 Features
Resolution: Wyze Cam v3 offers high definition resolution and lets you see and record 1080p video to capture more details.
Night Vision: The Starlight Sensor used in the latest Wyze Cam v3 version is a revolutionary product that can see full color in environments 25 times darker than traditional cameras, and the new f1.6 aperture captures twice as much light as traditional lenses.
Inside/Outside: The Wyze Cam v3 can be used indoors or outdoor, it's a wired IP camera with durable material, a high water-resistant IP65 rating, and is ready to be installed in any room of the house, no matter the weather.
Storage: This superb camera from WYZE is one of the most affordable ways to keep your home safe, but what sets it apart from other options on the market is that you never have to worry about missing something important or running out of storage space. The Wyze Cam v3 includes 14-days of free cloud storage and doesn't require a monthly subscription.
Design: This is a small and unique design that measures 2.51″ x 2.24″ x 3.93″ to allow you to hide or place the camera in any location where you want to be filmed.
WYZE Cam v3 Drawbacks
As we look for the best hidden security cameras to use in our daily life without the camera being noticed quickly by people.
This WYZE camera is not good in concealing as it's a wired camera which means that you need to run the power cable from the camera location to the nearest power outlet and in most cases, the power cable will be detected.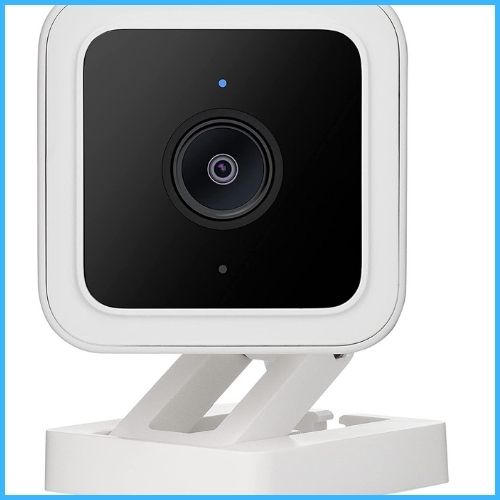 Pros
HD Camera
Work Indoor, and Outdoor
Cheap
Cons
FAQ " Best Hidden Security Cameras For Home"
There are a lot of customers who ask questions about best hidden security cameras and here are the most common questions, and their answers.
Q1- How do you hide a security camera in plain sight?
A security camera hidden in plain sight is a great way to catch an intruder when they least expect it.
For outdoor cameras, some people have tried to hide security cameras in the ceiling, but it's not very practical.
On the other hand, some homeowners try to hide security cameras in the street window but the bad news is that this method does not work also.
As for hiding cameras in the ceiling, and windows doesn't work, you can try and hide your cameras in the mailbox outside of your house. Bird boxes also can do a great job in concealing small cameras, while the best is to get a pipe and cut a small hole inside it then put your camera.
For indoors, you can hide your security camera in the bookshelf, inside your kid's toys, behind wall mirrors, besides home decoration parts, and so on.
Q2- Where is the best place to put a hidden camera in the home?
It is quite easy to hide a camera in the home, however, it is important that you choose the right place
BookShelf: In the past, I hid my camera in the bookshelf, I have removed books from bookcases and then placed the camera beneath books to hide them and it's worded. However, I would not recommend doing this as it is possible for someone else to move the book while you are trying to get away with your hidden camera underneath another book.
Closets and drawers: This type of camera is often placed inside things like boxes, bags, or other storage containers. The main reason for this placement is that there will be no signs of anyone having been in them.
Behind Wall Decor: Wall decor is a small piece of paper containing a beautiful painting to be put on a wall and get a good view. These things can also be used to put a hidden camera behind it and make it completely hidden.
Decorative Items: All decorative items can also be used to set small cameras inside or hide cameras next to them. This way is an effective way especially if you have a lot of visitors coming to your house regularly.
Inside Smoke Detectors, and Light Bulbs: Almost every home around the world has one of these devices. The good news is you can use any damaged device's body to drill a hole and put the small camera into it.
Summary
Nowadays, There is a wide range of security cameras on the market, and each one of these cameras comes with its own unique features.
All you have to do is to make a list of the cameras you want to pick, then apply your own criteria for selecting the best camera for your needs. But make sure you put in your consideration the 5 things that should be in the hidden camera like size, resolution, power, ..etc.