If you are on the lookout for the best outdoor security cameras without subscription, the ZUMIMALL outdoor camera will interest you.
Here is the ZUMIMALL Security Camera Review in detail based on our test and expert point of view.
ZUMIMALL security camera is one of the best cameras available in the market, it offers a high-quality service for an affordable price.
The camera comes with all the bells and whistles to provide effective security for your home or office.
But, there is a lot more that you should know before buying the camera. We'll be discussing the features, benefits, and drawbacks thoroughly in this article.
After reading this, you'll know whether it's the right fit for your home or not.
Let's get into the details of our best outdoor security cameras without subscription review.
Best Outdoor Security Cameras | ZUMIMALL Security Camera Review
Features and Benefits
1. Wire-Free Security Camera
The ZUMIMALL wireless outdoor camera is equipped with a 6000mAh battery. This allows you to use the camera without having to recharge it again for about 5 months.
Just make sure you fully charge the battery the first time. Moreover, the built-in long-lasting battery keeps the camera wireless.
This allows you to install the camera anywhere you want as the connection between the DVR/NVR and surveillance system cameras is wireless.
Note: the camera support 2.4Ghz WiFi Only
2. Easy Installation
It's pretty easy to set up as well. You'll be able to install the camera without any tools within 5 minutes.
The double-sided adhesive tape and magnetic bracket screw help you install the camera anywhere with ease.
Plus, the cam comes with a Quick User Guide to help you install and mount the camera correctly.
3. High-Definition Resolution
Picture quality should be one of the most important factors in a security camera, you don't want to capture something and not able to clearly see it.
Thankfully, the ZUMIMALL outdoor camera offers 1080p resolution, allowing you to see every detail of the footage.
In addition, the camera covers a 130-degree wide-angle view, keeping no blind spots in a scene. Just one or two ZUMIMALL security cameras can cover your whole area.
4. WeatherProof Surveillance Camera
It's one of the best outdoor security cameras without subscription. So, you won't have to worry about the weather damaging it. It's weather-proof with a rating of IP65, providing you with the necessary peace of mind.
Plus, it has a durable build. You don't have to worry about it even if you live in a very hot or very cold climate.
5. Two-Way Audio
Not only that, but you can also talk with your loved ones at home with the two-way audio feature.
By using this advantage you can hear and talk with stranger people who knock on the door without opening it.
6. PIR Motion Detection
Another cool feature that comes with the IP Zumimall security camera is motion detection. When it detects a motion, you receive a notification and an image on your smartphone.
Once someone enters your area the camera sensor will detect it and notify you instantly.
7. Night Vision
The night vision capability allows the user to look into the night even when there is pitch darkness. You can identify subjects as far as 32 feet from the camera.
8. Free SD storage
For storing your footage, you can use the camera's cloud storage but it's paid. It also has an SD card slot that supports SD cards with up to 128 GB of storage space.
The best thing? You have more than one plan to choose from for storing your video clips on Cloud storage. Once you subscribe you can use the amazing security features of the ZUMIMALL security camera.
9. Cheap Price
Not only that, but the one-time price of the camera is also not that high, for the value it provides.
In comparison with other surveillance camera brands like Reolink, Arlo, Google Nests, and amazon Blink cameras, Zumimall has the best price among them.
10. Smart Mobile App
What's more, you can access the camera and watch the live stream remotely with your smartphone using the cloudEdge app.
Connecting the app with the camera is easy too, the instructions take you through a few steps and the security system would be good to go.
Cons
· The night vision may not work perfectly with night lights
· The manual isn't too elaborative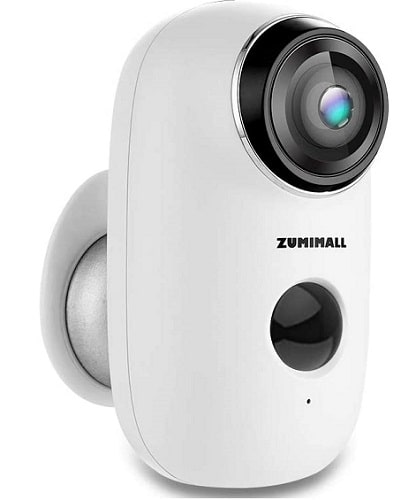 Pros
Affordable Price
High SD Storage
Wire-Free Camera
Cons
Subscription For Cloud Storage
Summary
The best outdoor security cameras without subscription don't take money out of your wallet every month. You just have to invest in them once.
The ZUMIMALL outdoor security camera is one of those. And, the security features it offers don't lack in any way. You'll get effective security for your home or office.
The outdoor camera offers 1080p resolution, night vision, weather resistance, two-way audio, and is easy to install.
Keep in mind the features of the ZUMIMALL outdoor security camera before you decide to invest in it.