If you're suffering from spying or trying to disconnect security cameras from your surveillance system, then you're in the right place. 
Many people around the world are looking for privacy with high importance as it's related to their family and they do their best to keep them protected and safe. 
For example, Homeowners purchase security cameras to protect or track who is moving inside and outside of their homes and businesses especially when they are away. 
These cameras may be wireless or wired and they help monitor children or pets without bothering them.
But unfortunately, sometimes bad neighbors buy security cameras with the intent to use them for spying on others.
Anyway, if they do this with your home and family! Don't panic. 
In this ultimate guide, we'll show you everything you need to know about how to disconnect security cameras if they are spying on you, your family, or in case you want to stop one of your system cameras alone and leave the other working. 
First
Can Security Cameras in the Market be Disabled Regardless of its Advanced Security System?
The answer is YES. It is not too hard to disable any CCTV camera your annoying neighbors have, but you should know it varies by the type of camera you are going to deal with. 
Burglars over time become smarter than before and they replace the old ways of disabling security cameras with new ones. 
In your scenario, you can use one of the intruder's creative methods to stop the surveillance cameras of your neighbors.
As we mentioned above, it all depends on the type of security camera your neighbors installed. Is it wireless or wired cameras? And also depend on how they are powered? by using a DC power adapter or Battery?
That's why in this beginner's guide we focus on different methods to disable security cameras from power, mobile app, PC viewing software, network, and other effective ways to return your privacy.
Who Can Disconnect or Disable a Security Camera?
To be honest, there is a high percentage of people who know how to disable a security camera except for beginners and they can learn it easily if they decide. The reason behind this level of simplicity is the new devices that are used with creative ways to disconnect security cameras.
For example, wireless or wire-free cams, one of the new ways used to hack or disable wireless IP cameras is jamming, It is an illegal way that prevents electronics, like security cameras, from communicating with your wireless systems by using a device called a signal jammer. 
Once this device is turned on inside the camera range, the camera will turn off immediately and it'll stop recording or sending any videos. 
Jamming is not the only method used for disconnecting security cameras, there are still some new ways used also with wireless cameras such as removing the camera battery.
For more, you can read our blog post: How to Protect your Wireless Camera from Hacking and jamming.
On the other hand, Wired cameras, PoE, or Analog CCTV cameras both type of cameras can be disabled by cutting the main cable that feeds the device by power. 
So wherever your neighbor uses a wired or wireless camera both can be stopped or frozen from monitoring your property and house with a few steps.
Pro Tip: It is really important to use legal ways to disconnect unwanted CCTV security cameras to avoid the accusation of invasion of others' privacy.
Just now
How to Disconnect Wired Security Cameras from the Power Source?
Wired security cameras are sometimes called DVR security systems. They are connected to a power source and the internet by an Ethernet cable.
Many businesses and homeowners install wired CCTV security systems because they provide more durability and steady video feed than wireless.
So in case your neighbors have one of the wired cameras and you want to disconnect or freeze his security camera, then the simplest solution is to remove it from the power source.
But How? Don't Worry! Follow the next steps
First, Try to reach your neighbor's camera cable and cut the power source from the electric outlet to avoid any chance of being monitored. 
Second, Make sure it turns off when you cut the power of the camera.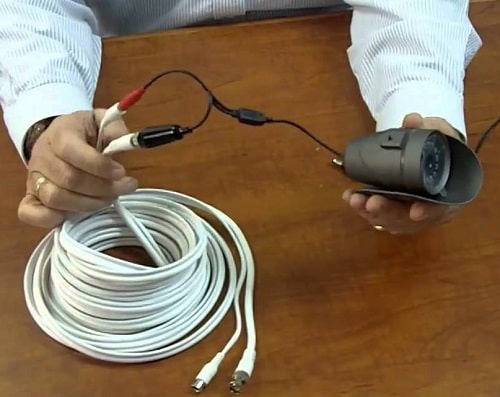 After learning how to disconnect CCTV security cameras let's jump and see how we do this with IP cameras.
Can we Disconnect the IP Security Camera from an NVR or Network/Router switch?
For now YES, you can disconnect the IP security camera from an NVR or Network device to stop sending and receiving data online. 
The theory behind this is disconnecting the IP camera from the internet or the NVR will stop the camera from streaming or storing its recorded videos online.
In this case, the camera becomes vain unless the camera uses an SD card as local storage for saving recorded video clips but also it'll not be able to stream videos online. 
For more, Let's Know
What is NVR?
NVR security camera system stands for Network Video Recorder. It is responsible for video recording by encoding and processing video data at the camera and then streams it to the NVR recorder which is used for storage and remote viewing. 
When NVR is connected to the Internet, it provides easy remote access to the recordings. It sends notifications to users regularly and creates video backups on storage. 
If there is no internet, NVR will record and stream the videos locally, but they will not be remotely attainable to users.
Here's
How to Disconnect the IP Security Camera from an NVR or Network/Router switch?
Each wired IP POE security camera uses a network Ethernet cable to be connected to the internet. 
In case your neighbor has Power Over Ethernet IP cameras, then you can disconnect it easily as this type of camera is powered and transfer the data through only one cable which is Cat5, or Cat6 Ethernet cable.
All you have to do to stop any Poe IP camera is to cut the main Network cable that is linked between the NVR and the camera, or between the camera and the home router.
Once you do this, the camera will stop and it's will not work again until the Ethernet cable is spliced by a specialist.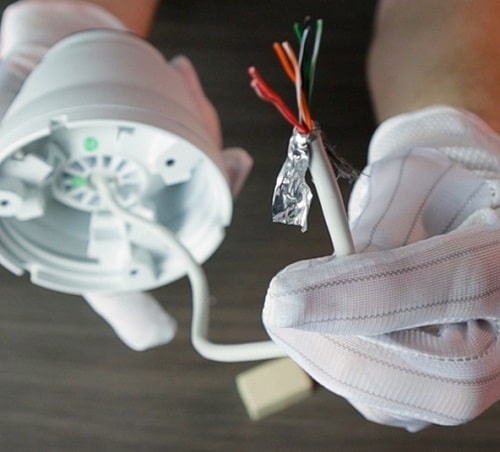 Now, Let's see how to disconnect wireless or wire-free cameras and make them stop working.
How to Disconnect Wireless or Wire-Free Security Cameras From Power?
Wireless or Wire-Free security cameras are powered by a rechargeable battery and connected to the home network through a WiFi connection with no need for cables, and involving in wiring issues.
Apart from that, wireless cameras are inexpensive, easy, and more flexible and that's why many homeowners love this type of surveillance camera.
For disconnecting the Wireless security camera and making it stop, you can simply remove the battery from the device and it'll stop working immediately.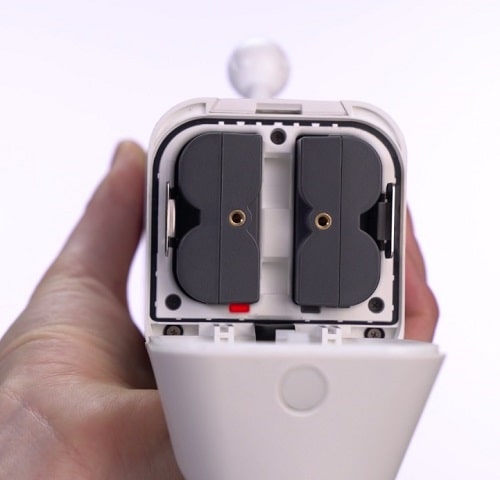 In case your neighbors have a wireless camera powered by a battery and this battery is recharged by a solar panel, then you can disconnect the camera by cutting the cable that is connected between the camera and the solar panel.
How to Disconnect/Unbind Security Cameras from Mobile Apps?
Having an app for your security cameras is a good thing and gives you more than one option to manage and control your cameras.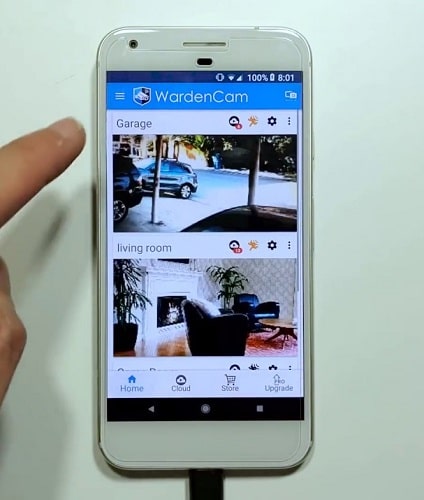 From the mobile app, you can 
Receive notifications and alerts of your property anywhere and anytime.
Watch recordings from your phone to see what's going on outside your house.
Talk to your family and kids if your camera supports 2-way audio. 
Link or disconnect any device you want to use in your system. 
Removing linked security cameras to the mobile app is one of the common ways to get rid of a specific security camera in your system.
Without the need to unscrew it from the mounting spot, or cut the power cables of the camera you can stop the camera from working with your system cameras.
This option is helpful, especially for older people who don't love to play with tools like screwdrivers and also for people who hate to cut or splice security camera wires.
In addition, it's an amazing solution when you have a problem with one camera in your system and want to troubleshoot it to discover the main reason for the issue without stopping other cameras in the system.
For the steps, Here's the way to unbind a security camera from Mobile Apps
Open the application on your smartphone. 
Enter the login information Username and Password. 
In the app Homepage, open the settings of the page screen and look for the Linked Devices option.
Select the device you want to remove and click on it. 
After that, Choose "remove device" or "delete device" at the bottom of the device settings page.
This method is considered the best way for beginners who don't deal with any surveillance system before. From a mobile app, they can stop and disconnect whatever NVR, DVR, or camera.
How to Disconnect/Unbind Security Camera from PC Viewing Software?
Each top security camera brand offers viewing software for its customers to allow them to watch and control their cameras from any place online by using an internet connection.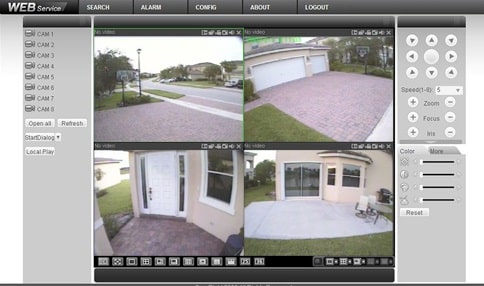 The viewing software is downloaded from the Brand website or a CD attached to the camera package, once you download it, then you need to set it up and link your cameras to get the best of it.
In case you've already linked your house security camera with the PC viewing software and decided to disconnect them, all you have to do is to follow the below steps:
Turn on your Computer or Laptop.
Launch the Viewing software on your PC.
Log in to your account by entering your login information.
Ensure the cameras are connected to the software.
Go to the Main Page of the program.
Select "All Devices" or "Linked Devices" from the main menu.
Open the page, and scroll down until you get your camera name.
Once you find it, Highlight it.
Select "Delete Device" or "Remove Device" and tap "OK".
These are the steps used to remove any linked device with a PC viewing software. In case you want to link them again, you can click the "+" icon or search for "Add Device" to link again your camera or video recorder. 
How to Disconnect a Security Camera from a Wi-Fi Signal?
When you change the Wi-Fi connection username and password every device connected previously to the signal is removed until the WiFi signal new information is entered. 
The same concept you can use with security cameras to disconnect them from the wireless surveillance system if you want. 
Pro Tip: Changing the Wi-Fi connection will affect all the devices that use this signal.
On the other hand, if one of your neighbors spies on you and he has a wireless security camera then you can disable or disconnect it from his system by jamming it. 
What is jamming?
Always done by Jammer, this device is responsible for producing a signal with the same radio frequency used in the security camera with the aim of interfering with the camera signal or stopping it from working.
If the frequency of the security camera and the jammer do not match, the jamming will not affect the operation of the camera, if they both are the same then the jammer will disable the camera and disconnect it from the Wi-Fi connection. 
So for your neighbor's case, You can hack or jam his CCTV camera if it is wireless using the right device and prevent it from working correctly just following the below steps. 
First, Do a small search to know your neighbor's security camera system and type.
Most security cameras use a 2.4GHz frequency so when you pick a jammer ensure that it uses the right radio frequency that the security camera uses.   
Second, By using a jammer signal, send a stronger signal that uses the same frequency as the camera.   
Third, Repeat the previous steps until you see the camera is stopped or the connection signal LED on the camera is turned off.
Overall, this method is unlike other methods, this one does not require too many steps to disable the security camera that's why we recommend it for beginners who want to disconnect their security camera from their home system.
Note: Use the Jammer only when you are being spied on or monitored, not for breaking into other people's privacy.
What If you suspect someone is jamming your security cameras?
If you suspect that your neighbor is targeting your home, there are two things you can do to protect yourself. 
First, You can contact your local HOA (homeowner association) or your local law execution agency. 
Second, Make a complaint with the Federal Communications Commission. Ensure that you have all the relevant details and evidence.
The last one is to speak with your neighbors directly and ask them to stop doing these bad things to keep your family and kids safe and protected.
Summary 
No doubt surveillance cameras are helpful and many people suggest them for privacy. 
But sometimes neighbors spy on you, and in this scenario, you need to learn a little information about how to disconnect security cameras and stop them from being connected to any surveillance system.