If you're looking for a way to keep an eye on your home or office when you're not there, a wireless security camera might be the solution for you. 
These cameras can be connected to a computer monitor, or any type of monitors such as a Smart TV, or mobile, allowing you to watch live footage from anywhere in the world. 
But now we need to hook up wireless security camera to computer monitor.
In the past, The older monitors use a cathode ray tube (CRT) to display an image which is not enough for displaying high-resolution images, and videos.
Now, computer monitors use a liquid crystal display (LCD), or Light Emitted Diode (LED) which provides these monitors with a much higher resolution than older monitors. 
Plus, Using LCD, or LED computer monitors allows you to show a lot more detail which is better for wireless high-resolution cameras from Reolink, Blink, Amcrest, and more.
Moreover, The LED and LCD screens are also thinner and lighter than CRT screens, so they take up less space on your desk which makes them suitable for different purposes.
Now,
How to Connect a Wireless Security Camera to Your Computer Monitor
To connect wireless security camera to computer monitor or any other monitor or TV, there are a bunch of available methods that you can use to get your job done.
These methods vary in simplicity and in how you want to monitor your wifi camera feed. Is it for watching recorded videos during the whole day? or it will be used for tracking and capturing events at a specific time?
But in general, you can hook up wireless camera to computer monitor separately or by using other helpful devices such as NVR, PoE injector, or WiFi router.
Now, Let's see the methods
Method1: Hook Up Wireless Security camera to Computer Monitor Directly
One of the simplest ways to hook up wireless security camera to computer monitor and suitable for beginners is by connecting the surveillance cam to the monitor directly with no additional devices in between.
Simply, get your camera installed in the right location and direct it to the targeted area to monitor, then power the camera by using the power adapter provided with the camera.
For the viewing connection, you should follow the next steps, but before we start on how to connect wireless security camera to computer monitor, you should know that each wireless camera has a pigtail consisting of a LAN port and a power wire.
Step1: Run an Ethernet cable from the Wireless security camera to the PC device
Take the first end of the cable and hook it up to the cam, and the other end of the cable to the back of the computer in the LAN port specifically.
Step2: Download the Camera Software
If it's the first time you have a new wireless security camera you'll find in the cam package a CD having the software on it for allowing you to watch the camera on the web.
Take the CD out of the box and insert it on your personal computer, then download the software and set it up, and after that create an account for yourself.
Step3: Scan the local LAN
Depending on your camera brand software and the features it has. However, you should get the default IP address of your camera to use it in the next step( each camera manufacturer sets an IP for the cameras, you may find it on the camera user guide or on the back of it on a small label). So, launch the viewing program on the software and Scan the network.
Step4: Change the Network Settings
The only issue with using this method is it requires you to have a little knowledge of networking and the internet. 
As you know, for getting access to a device on the same local LAN, the devices must share the same network prefix. 
Let's make it easier when you go to your router page to change the wifi username, and password or you set additional settings you write the default router IP which is 192.168.1.1. 
Once you write it and your PC has an IP of 192.168.1.2 you will go instantly to the homepage of the router. What I mean is both devices share the same prefix which is 192.168.1 and differ only in the node or host that is 1, 2, or 3 depending on the number of devices you connect on your LAN.
So, you have to change the IP address of the PC to watch the camera on a computer monitor, or change the IP of the wireless camera and make it static instead of getting dynamic IP that changes every time you reset the cam.
To choose what to change PC or camera IP it'll depend on how many cameras you have in your system, if you have a large number of cameras from the same supplier then it'll be easier to change the computer IP if not then you have to change the camera IP and make it static.
Step5: Watch the Camera Feed
At the moment you finish hooking up the wireless security camera to the computer, open the software and go for the live view tap and watch your camera videos and see if there's an issue or not.
Read More about How to Hardwire Wireless Security Camera Without Receiver
Method2: Pick HDMI Wireless Security Camera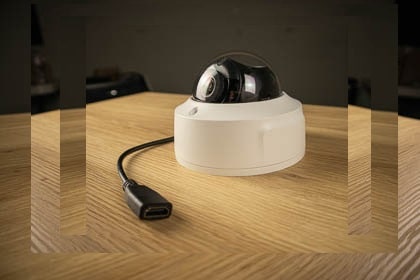 In case you have a standalone wifi cam and want to know how to hook up wireless security camera to computer monitor then this way will be the best for you.
This method depends on having a wireless camera with an additional HDMI port beside the main pigtail of the camera in the body. 
Now, there's a large number of wireless surveillance cameras on the market and each one has a unique shape and connection. 
One of these models comes with HDMI,  Ethernet port, and power cable, and also in resolution, there's 1080p to 4K resolution.
So, to connect wireless security camera to computer monitor, take the HDMI cable from the camera port and then insert it into the PC display screen. 
Note: before you pick these types of cameras you should choose the suitable resolution of the camera that meets your screen specifications to avoid viewing problems. 
Method3: Make Connections with NVR
The default way to connect wireless security camera to computer monitor when you have a complete surveillance system is by using the Network Video Recorder (NVR).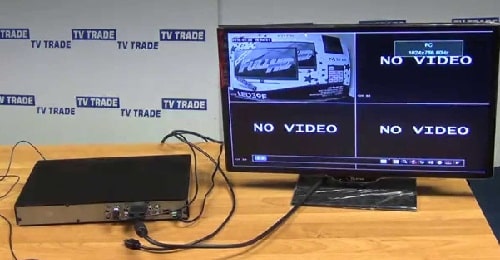 The NVR is a device used with wired PoE IP cameras and wireless cams to store recorded videos on the hard drive installed inside the device, and to enable security cameras to broadcast video feeds online. 
Another thing is to use NVR to view all the wireless security cameras installed on your property on the same screen. 
To do this, Bring a VGA or HDMI cable and run it from the back of the NVR to the PC monitor if you have it alone without a PC. 
Note: This method and the cables used depend on the ports in the back of the NVR. So, if you have a VGA port on both NVR and the Screen then get a VGA cable and the same with the HDMI. If not, then you should pick a converter. 
Sometimes this method doesn't work due to a problem with the monitor. So, make your checks and In case you found the issue is in the display monitor, then you can fix the security camera monitor to solve this issue.
Method4: Use Home WiFi Router
Another method used to hook up wireless security camera to computer monitor when you have a camera with an antenna is through a WiFi router.
The wireless cameras come in both, First cameras that have additional wires in case you want to use network cables to connect them, and Second Wire-Free cameras that are totally wireless with no wires.
Whatever model you have, you can implement this method and connect wireless security camera to computer monitor without wires, and cables.
Let's see the Steps
Step1: Before mounting the cameras, install the antennas and make sure the camera placement is wide and free of any physical obstacles that may affect the signal power.
Step2: Power the camera if it's powered by a DC 12v adapter or if it's a battery-powered security camera, insert the battery pack and turn it on.
Step3: Link the wireless security camera to the home wifi router directly or by using the mobile app support from the supplier.
Step4: If your Laptop, or PC works wirelessly you can connect it to the wifi router, if not then you need to pick a USB wifi adapter to receive the Wi-Fi signal from the router.
Step5: Download the viewing software as we mentioned in the first method and adjust the settings and now you're ready to view the camera footage on the computer monitor.
The next video will illustrate everything you need to hook up wireless security camera to computer monitor without any help from expertise
Source: Nelly's Security
How to View a Wireless Security Camera on Your Computer Monitor
There are a few things you will need in order to view your wireless security camera on the computer monitor.
First, you will need to make sure that your security camera is wireless. If it is not, you can purchase a wireless adapter to convert it.
Second, You will also need to have a wireless video capture device, and make sure the sender is connected to your wireless camera and the receiver is connected to your computer.
Lastly, you will need software that can display and record video from your webcam or security camera.
5 Tips for Setting Up and Using a Wireless Security Camera
No one loves to have a wired security camera with wiring problems, most people and homeowners prefer wireless surveillance cams.
However, connecting a wireless security camera to a computer monitor can be a little tricky and consumes a lot of time.
So, here are five tips for setting up and using a wireless security camera:
1. Make sure your camera is within the wifi range, and also your computer should be near the router if it uses a WiFi signal.
2. Check the compatibility of your camera and monitor, and the type of cables used in the connections between devices.
3. Install any necessary software or drivers on your PC to help you, or if you use your mobile to view the camera on it download the smartphone application, and then connect your wireless security camera to the phone.
4. Connect the camera to the monitor and power it on, and see if the connections, whether wired or wireless are correct or not.
5. Adjust the settings as needed and enjoy!
Final Thoughts 
In the end,  you learn how to hook up wireless security camera to computer in 4 different methods. All you have to do is choose the best way for you, and see its benefits.
As it's shown, There are amazing benefits of connecting a wireless security camera to a computer monitor. 
Firstly, you can keep an eye on your property from anywhere in the world, as long as you have internet access. 
Secondly, you can receive real-time alerts if something suspicious is happening, so you can take action immediately. 
Lastly, you can review footage from past events and see who is coming in and out of your home.
Sources: Reolink, Microsoft