According to reports home, windows are the second place that thieves and burglars target after the front door.
But if you know How to hide a security camera to protect the camera from stealing. and record every one face that comes near to your window. By doing this you take 99% of saving your home steps.
After this article, you know exactly the best ways to hide your security camera.
Most people Nowadays install security cameras In-home and outdoors in the wrong way, they make everything right from choosing the right camera, to picking the best NVR or DVR system.
But when he installed the camera he forget to hide it, then some intruders found the security camera and damage it to steal the house.
Without Hiding your security camera the whole surveillance system can be damaged within minutes.
Once thieves or intruders find the camera, the first thing they think about is how to stop this security cam.
In addition, Hiding your security cameras makes you keep your family, and pets safe from camera wires, and keep your home design clear without any damage.
What you'll find in the next words is 6 effective methods to conceal your camera
Method1: Use outlet To Hide the camera Near Window
Method 2: Hide your cam inside Window Box
Method 3:Hide camera in decorative case Around Window
Method 4:Disguise Cameras in Birdhouse Near Window
Method 5: Use Window Frame to Hide Camera
Method 6: Get Spy Camera or Mini Camera
Now:
How To Hide A Security Camera In a Window
The statistic shows that over 23% of burglars enter through the First-floor window. So, it's a good solution to make your window area safe by using a security camera and hiding It.
Here are the Best ways to The question " How to Hide a security camera in a Window".
Method1: Use outlet To Hide the camera Near Window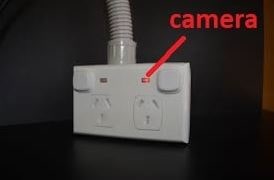 A clever way to hide your indoor security camera is to use your home window especially if you have a wireless security cam. This way needs an outlet near your window and a wire-free security camera that use the battery for power.
Also, it is one of the important places to install cameras in the home not many people know.
Simply, take off the backing of the outlet, then place your small outdoor security cam inside the outlet. This method depends on using a small-size camera.
So, when you pick a fake electric outlet it will be small and cheap.
Once you finish this replace the backing again and watch your camera monitor and record videos without anyone seeing them.
Note: make sure to pick an outdoor security cam with a long day battery life to avoid replacing and recharging the camera.
Method 2: Hide your cam inside Window Box
Another way to make your camera hidden from people's sight around your window is by using Box. The box is used for many things near the window such as Electrical Boxes.
Hiding your outdoor camera inside the box is a perfect way. No one would imagine especially intruders and burglars that a security camera work inside the box.
Using the box to conceal your camera also protects your cam from weather and water. Simply there are a lot of amazing wall boxes to hide cameras in.
Buy a large Box to hide the camera and anything you want. After that, make a small hole for the camera lens.
In this way, a wired security camera can be used, but make sure you also hide camera wires and cables. Plus, wireless security cameras that use solar panels can be used also.
Method 3: Hide camera in decorative case Around Window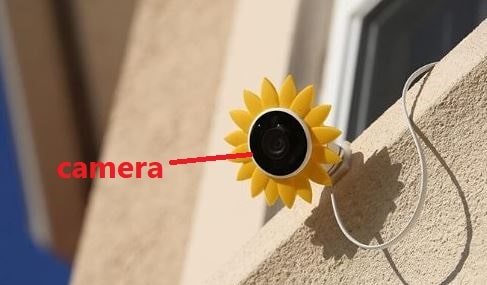 The first two methods are suitable for outdoor surveillance systems. But what if you have a camera and want to hide it inside the house near the First door window?
Well, in this case, we can hide the indoor security camera in everyday objects. But the best way is to use a decorative case near the window.
Using this way makes people think that it is just an ornamental piece in your house and there's no camera inside it. Plus, there are a lot of wonderful decorative cases for cameras.
In addition, most people think that cameras are put in visible places and no one hides a security camera in a window.
Method 4: Disguise Cameras in Birdhouse Near Window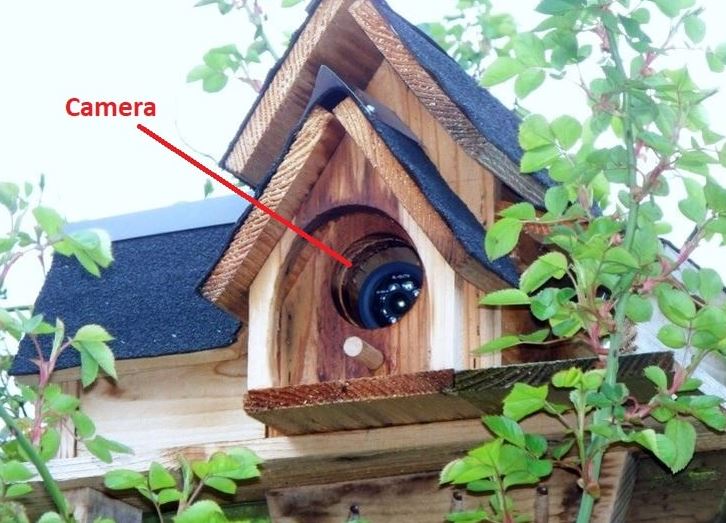 Using Birdhouse near the window to hide security cameras is perfect for both indoor/outdoor security systems, but if you want to use this method a wire-free camera is preferred.
The birdhouse is a good place to hide the camera in. The style of the birdhouse helps the camera to capture clear videos and protect cameras from vandalism at the same time.
An expert tip is to pick the best Birdhouse for your cameras to avoid common problems and choose the most relevant style for your home.
Also, in bad weather conditions, the hidden security camera in the birdhouse will work without any stop, as the birdhouse protects the camera also.
Note: If you decide to use this way to hide your camera you must think of picking an outdoor cam with a high waterproof, and waterproof rating.
Method 5: Use Window Frame to Hide Camera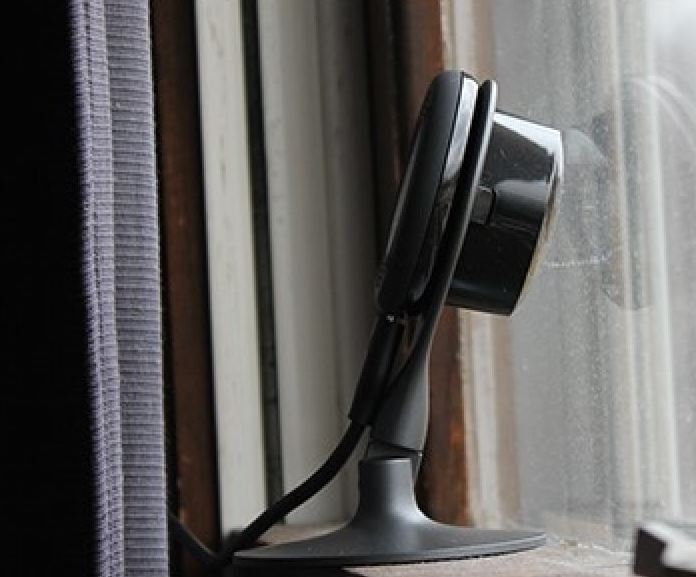 Hidden security cameras in the window frame may be useful if you don't how to hide outdoor camera wires or your camera. The window frame can help you to make your camera invisible to many peoples.
Many homeowners have a window with a wide frame and we can use this to hide a camera in.
Simply, drill the frame and make sure it's fitting to camera size, then put your camera in and see if it works or not.
You can hide the camera more by changing the camera color to window color, this can be made by using colored sticky tapes.
Method 6: Get Spy Camera or Mini Camera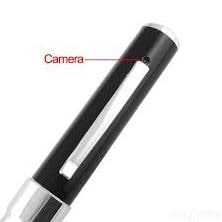 The best solution for how to hide a security camera in a window is by getting The Best spy small security camera directly. this method is easier than other ways and doesn't take time and effort like others.
Some of the above methods can be DIY and others need installation experts to make your camera fully hidden. But when you get a spy camera you don't need to worry about these problems.
There are many types and models of Spy camera in the market if you search for Google, and Amazon you'll find the best cameras.
Using a Mini camera allows you to use it anywhere near a window. Plus, you can use it outdoors and indoors to watch the front door, driveway, garage, porch, or garden.
Summary
After you finish reading this article you should know how to hide a security camera in a window well. But to keep the whole security system safe you need to know how to hide security camera wires. In addition, how to hide NVR or DVR units.
No doubt hidden security cameras eliminate the damage that makes the camera stop and making your camera hide is a good solution.
Note: If you find a new method to hide your security camera in a window you can share it in the comments.