Nowadays, Most common security cameras utilize Wi-Fi and the internet to make users enjoy more of the smart features that exist in the camera.
However, this raises the question, what if the homeowner or business is located in an area with poor or no Wi-Fi access?  
Thankfully, there are a handful of other top-notch security cameras that work seamlessly without any need for a Wi-Fi or internet connection. What's more? There're 2 models to choose from the wired or wire-free camera. 
Nevertheless, many beginners face various difficulties when trying to install a Wi-Fi-free security camera for the first time.
However, this article tells you what you need to know for completing the installation process of your security system cameras, including a simple step-by-step guide to installing a security camera without Wi-Fi. 
Before we dive into the details, If you have a problem with your wifi, you can read and pick one of the best security cameras for bad wifi.
Now
Do Security Cameras Need Wi-Fi in the Installation Process?
The best thing about internet-free security cameras is that they do not require any internet connection to function. Most available wire-free security cameras in the market require an internet connection for the device's initial setup. Afterward, your camera can run seamlessly internet-free. 
So, you can pair your camera to a stable internet connection and then run the setup procedure. After that, you can safely put it on your wall, ceiling, or wherever you deem fit. 
For most, the only time you would require internet access is if you need to access your footage, or to control the camera movement, and other features remotely. 
Apart from that, you can enjoy 100% offline use, and all of the camera features will work normally unless internet features like what we mentioned above. 
For example, Battery-powered security cameras that support local recording to an SD card are usually an excellent option for this need. 
After recording your footage, you can safely take out the SD card and transfer your files onto a computer. 
Why Are Wireless or Wi-Fi-free Security Cameras Essential? 
Aside from working without an internet connection, many wireless or Wi-Fi-free security cameras also work without the need for power wires. 
The new generation of surveillance cameras is powered by rechargeable batteries, and when it's run out the batteries recharge from a solar panel. This makes wire-free or wireless IP cameras versatile and reliable. 
Not only that, most wireless or Wi-Fi-free camera owners prefer to not connect their cameras to the internet at all. Why? Because it makes their footage more vulnerable to hackers and cyber-attacks.
Cybercriminals can easily keep tabs on a customer's recorded or live view videos when connected online because of the internet's exposed ecosystem.
However, there are simple ways to minimize unwarranted access or other forms of abuse. Overall, you should be vigilant, and cautious, maintain best practices, and keep your system firmware updated.
For more tips for protecting your camera from hackers, read our blog post How to Protect Wireless Security Camera Signals From Hackers. 
Furthermore, although there are many benefits associated with using a networked video surveillance system, they are limited.
The reason is that they cannot be used in places like off-grid homes, rural areas, and other locations with limited or no internet.
On the other hand, the ability to keep watch over your property in the absence of an internet connection provides an additional layer of protection for homeowners who are afraid of hacking.
So, with no- internet security cameras It doesn't matter whether you're located in the city or the countryside you can still use your camera.
How Do Security Cameras Work Without Wi-Fi? 
A Wi-Fi-free security camera works similarly to its networked counterparts. They provide the same quality of video footage as their colleagues and can cover wider angles as well. 
They are not stopped by this limit, a lot of wireless surveillance cameras work without a power adaptor. They typically achieve this through the help of a built-in rechargeable battery. 
For more, watch the next video
Source: IC Realtime
How Do Security Cameras Store Captured Videos Without Wi-Fi?
Well, Security camera systems use more than one solution (online/offline) for storing video clips, and footage of cameras.
For local or offline storage, recorded videos are stored locally on a micro SD card inserted in the camera. 
This option is helpful as you can take the storage card out to view your footage on your mobile device or PC any time you want. 
In contrast, If you want to see your recordings remotely, you may have to connect your system cameras to a stable internet service or Wi-Fi. Or configure your camera to keep videos on a cloud storage service to allow you to access the captured videos from anywhere once an internet connection is available.
The Installation Steps for Security Camera Without Wi-Fi 
The steps for installing a security camera without Wi-Fi are very similar to that of a traditional networked surveillance camera. 
The two main differences from other security systems are it's required to insert an external storage device for your video footage and the initial internet connection during setup.
Some cameras may also have different procedures for connecting with their associated mobile app (if they're not already paired). 
One advantage of a no Wi-Fi camera installation is that they do not require hard wiring into the property. 
They are also easier to install, contrary to the general narrative. Unlike their wired networked counterparts, you don't have to draw cables across the property to link them. 
Instead, you can easily mount the device on the wall, and won't also require any high-end additional tools or accessories. 
For more, These simple steps should help you get the job done effortlessly: 
Step1: Mark Out the Spots for Your Wireless Camera Screws and cables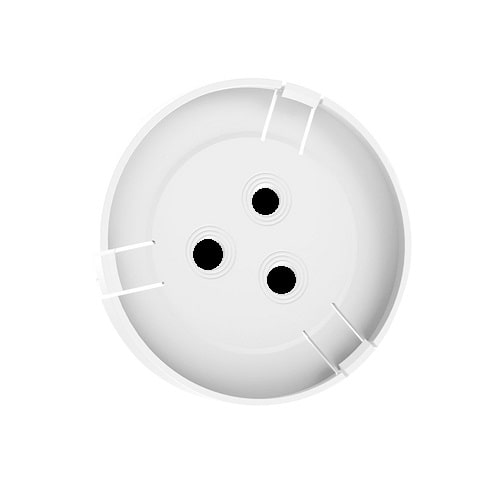 The quality of captured videos and footage depends on where you mount your security camera.
So, start by marking out the specific spots on which you want to install your new security camera. 
It could be on the top corner of the wall of your house or business, or the corner of the ceiling. 
You can mark multiple spots if you're installing more than one camera at different angles. 
Pro tip: Use a mounting template included with the camera package for marking out spots. 
Step2: Measure Distances to Switches and Plugs (for wireless cameras with power adaptor) 
Unlike wire-free cameras, wireless security cameras can be powered by a 12v DC power adaptor or a rechargeable battery.
So in case you have a wireless security cam powered with an adaptor, then you must ensure that you have properly measured out the distances to switches and plugs.
Confirm that the distance between the camera and the plug/switch isn't longer than the device's wire. 
Note: To make your job easier you can use a wire detector to cross-check your work. 
Step3: Drill Spots for Screws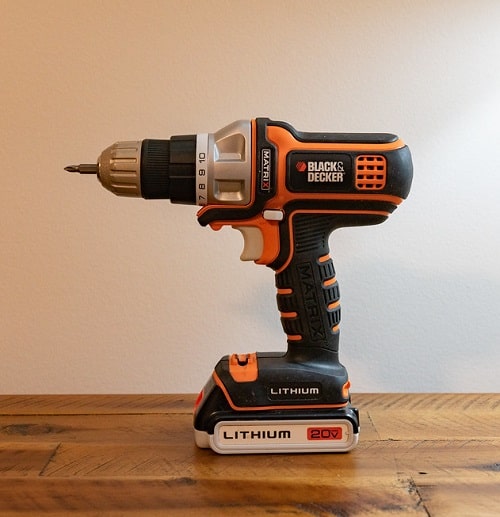 The third step to install a security camera without wi-fi is to bring a drill for making holes.
Clean the camera location and carefully start to drill the proposed sites for inserting the camera's screws. 
Note: Do this with a dedicated drilling tool instead of using freehand. This way, you can avoid denting your ceilings or walls. 
Step4: Place The Device's Brackets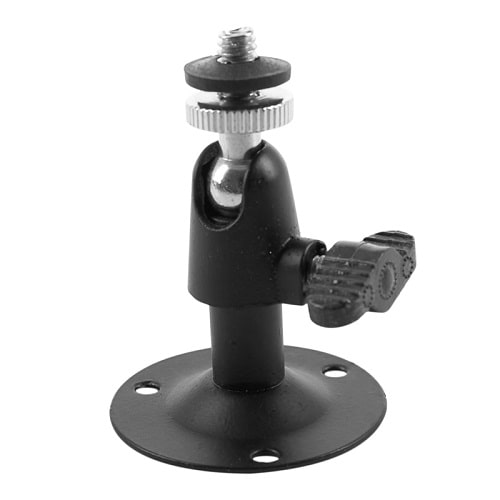 Once you're finished drilling holes for camera screws or power cable holes then you need to step to the next step.
Carefully insert the security camera bracket fittings into the proposed locations for mounting the device. After that, start to tighten the screws around the bracket.
Ensure that the hinges are properly screwed into the walls, ceilings, or whatever platform you're mounting your security camera.
Step5: Connect Your Wireless Security Camera to a Stable Internet Network to Complete its Initial Setup
To complete your device setup, you will need to connect to an active internet service. 
This step is similar to what you would have on a traditional networked surveillance camera. The procedure is also necessary for connecting with your security camera's associated mobile app. 
Also, this allows you to personalize your experience to your most preferred settings. 
After this process, you won't require any more internet connection while using your Wi-Fi-free surveillance system. 
So, after installing your wireless or wire-free cameras, turn them on, and then try to connect the cameras to the available wifi signal in your home.
Step6: Insert External Storage Device 
As we know, Most Wi-Fi-free security cameras support a locally installed external storage device for recording video footage. 
You typically have to insert this item on the camera before going ahead to mount it on the bracket. 
You can take out the storage drive whenever you need to watch your recordings. All you have to do is insert the storage device into your smartphone or computer and then replace the drive afterward. 
You may also need to take it out regularly to delete files to maximize storage space. 
Step7: Install the Wireless or Wi-Fi-free Security Camera onto The Bracket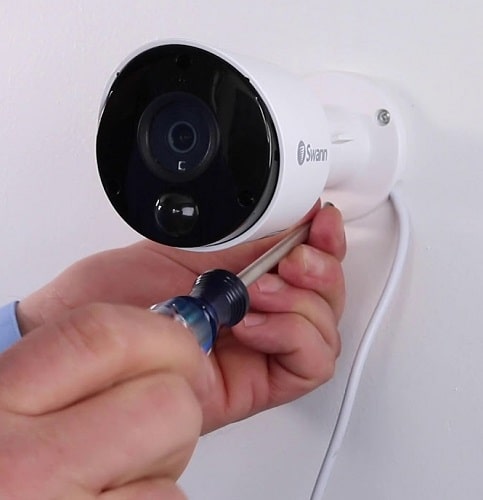 After completing all the steps above, you can now install your wireless or Wi-Fi-free surveillance camera onto the bracket. 
Double-check to make sure everything was done correctly. Address any blunders you might have made to prevent unforeseen consequences such as directing the camera to the wrong angle, or the camera location you chose has a lot of things that obstacle the camera from taking clear videos, etc.
After finishing all the above steps now you're ready to launch your device! And enjoy watching the security camera without wi-fi.
Summary 
Wi-Fi-free surveillance cameras eliminate the risks of theft, hacking, and other common cyber-attacks on your security footage. 
Many of these devices also come with built-in rechargeable or replaceable batteries that last for a long period which means you don't need to take off the battery every week to recharge it again. 
Contrary to the popular narrative, no Wi-Fi camera installations are easy. You only need to carefully follow a few procedures and you're good to go. 
Hopefully, this article provides all the necessary information to help you install your wireless Wi-Fi-free security camera safely. 
We hope we helped you achieve the results you wanted. Kindly let us know your thoughts in the comments section.