If you have a wireless camera and worry about how to power wireless security cameras then this guide is for you.
Many people are choosing to install wireless security cameras in their homes nowadays. This is a great way to save money and not have to deal with the hassle of running wires from your house to your security camera. In order to run a wireless security camera, you need a power source.
And, If you're not sure how to power your wireless security cameras. I'm going to share with you how I power my wireless security cameras.
How do wireless security cameras get power?
Well, the wireless security cameras get power by using 3 main methods. The first method is by plug-in the camera cable into a power outlet, the second way is by having a wireless camera that is powered by a rechargeable battery, and the third method is to pick a surveillance camera that is powered by a solar panel.
Above the most common ways people use to get power for their wireless security cameras, the only differences between wired, wireless, and wire-free systems are in how each system is powered and how it sends the data.
For Power, Here are a Small Compression
Wired Security System: Get power from a 12v DC plug-in power supply if you have Analog CCTV cameras and DVR, and powered by Ethernet cable if you have a PoE IP camera and NVR.
Wireless Security System: Powered by Plug-in power supply, Rechargeable battery, and Solar Panel.
Wire-Free Security System: This does not require any cable, it's powered by a long-lasting rechargeable battery, and Solar Panel Only.
These are how each camera of the available security cameras gets power. In case you have a Wireless camera and want to know how to power wireless security camera and the differences between each method, then complete the reading.
Now,
How to power wireless security cameras
A wireless security camera like other devices needs a lot of power to run constantly during the whole day. These cameras can use one of the below power sources:
1- Common Electric Source
The easiest way to power wireless security cameras is by picking a plug-in power adapter, usually, surveillance cameras use a 12v DC power supply.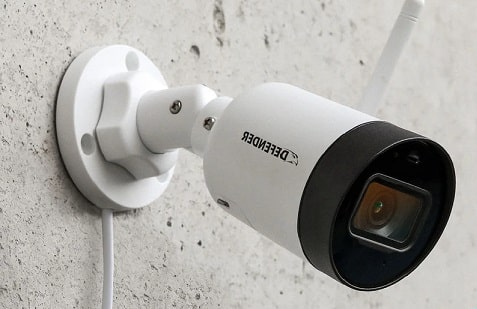 This way is suitable if you have a few wireless cams in your house or business, and want to get power for your camera. But there is a small issue, you should install the cameras near the power outlet.
A lot of homeowners make a mistake by purchasing a wireless camera that is powered by a plug-in adapter and installing it away from the electric outlet, after a while, they struggle with getting power for the camera.
So, before you get this type of wireless camera, decide first where you want to mount your cameras, and you should be sure that the camera location has a power source near to it. If not, you can change the camera placement or get an extension cord with a single outlet.
2- Pick a Lithium-Ion Rechargeable Battery
Another solution to power wireless security cameras is to use a Lithium-ion rechargeable battery that lasts for days, months, or years like blink cameras.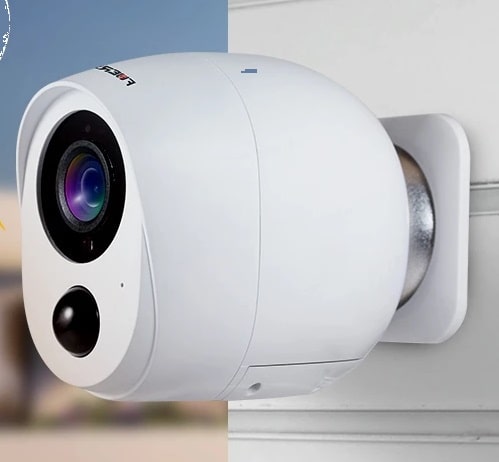 This method is suitable for anyone, especially beginners who hate the wiring problems of old surveillance cameras. By picking a wireless security camera powered by a battery you can install and power the camera without dealing with any wires.
The only obstacle that may face you if you have the same scenario is how to keep the battery lasting for a long time? And how to recharge it without damaging the camera.
For the working time of the camera, you can do creative techniques to reduce the power consumption of your camera.
First, you can set your device to work at a specific time during the day or night and that is called "Schedule Recording".
Second, you can choose from the camera modes and select the camera to work when it detects motion or movement of any object in its range, it's called " Motion Recording".
Third, this option is considered the worst for running out of battery from energy as it works by making the wireless camera work during the whole day 24/7, this mode is called " Continuous Recording".
These are tips for saving battery power to stay and work for a long time without having to recharge it every time.
3- Buy a Separate Solar Panel
Thinking of solar panels is a great way to power wireless security cameras, especially for large places that don't have power outlets near camera locations.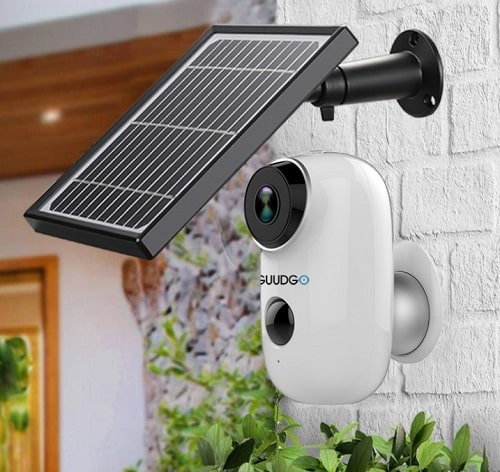 Unlike other ways used to power wireless security cameras, this method is suitable to be used in your home to monitor outdoor property, and also can be used to give protection for barns, garages, and any place that is far from your home.
Nowadays, surveillance cameras are more important than before. Homeowners buy wired cameras because they're durable and stay for a long time but they face more than one problem during installation such as wiring issues, and difficulty of mounting wired security cameras away from the power source as it's limited to place in certain places only.
On the other hand, wireless cameras, especially those powered by batteries and Solar panels are easy to install and can be placed in any location. It's suitable for DIY lovers and if you have one you can use it to monitor boats or large farms.
Note: Wireless security cameras with Solar Panel is considered one of the best security cameras for boats, and marines.
Summary
Finally, you've learned how to power wireless security cameras and you know more than one way to do it, just pick the method that you love and match your needs. You can use the above 3 methods at the same time if you have a large number of surveillance cameras in your home or office.
You just need to make sure that you install them in the right place and connect the power connections correctly to avoid any stops in the camera functions. Moreover, if you have a wireless receiver and transmitter to broadcast the camera signal make sure it's working normally and doesn't have any issues.