Having a security camera system installed in your house is a good thing for your home's safety. 
However, some homeowners pick a surveillance system and mount it without any protection for the system devices or wires exposing system components to steal and damage from others.
In a hurry, these are the best ways to protect security camera wires from damage, cuts, or any potential threats. 
Protect outdoor security camera wires by painting.
Hide security camera wires Inside walls.
Conceal security camera wires Inside ceilings.
Get a plastic tube to hide wires.
Purchase a wire protection cover.
Use baseboards for hiding CCTV wires.
Protect Indoor CCTV security camera wires behind home wall decor.
Use fake wires.
Install wireless security cameras.
Here in this blog post, we'll dive into the details of each method to protect security camera wires.
Also, we'll show you some tricks to protect security system components, and also simple ways to hide security camera wires whether inside or outside.
Next,
Why Do We Need to Protect Security Camera Wires?
Hard-wired surveillance systems are widespread in every place around the world. As we know, the main component of these systems is cables besides cameras and video recorders whether NVR or DVR.
Unfortunately, these systems can be damaged easily when the wires of the system are passed on easy-to-reach places, or when the wire route exists in locations that are exposed to vulnerable from burglars or intruders.
In a short time, they can break into your property, see the unprotected camera wires, and cut them to disable the system from monitoring their faces while they are stealing.
Not only that if the security system outside wiring is non-waterproofed, then the CCTV camera wiring can be damaged by water, weather, and dust.
Once, the security system wiring is disconnected, the cameras wouldn't work normally and they'll not be able to capture any footage.
Plus, the video recorder will not record any video as there's no connection between the cameras, the DVR, or NVR.
So, to keep your system protected and untouchable, it's important to pay attention to security camera wires and try to do your best to protect them from cutting or damaging. 
Here, In this article, we will show many ways to protect security camera wires and hide them.
Especially for security system wires and how to protect and hide security cameras wires.
Now, Let's see
How To Protect security camera wires?
Concerning security camera wiring protection, there are easy and cheap ways you can use to protect security camera wires. 
All you have to do is to pick the way that is fit your needs and situation. Here are the methods:
Method 1: Protect Outdoor Security Camera Wires by Painting
The first and the most straightforward way to protect security camera wires, whether inside or outside the house is to camouflage the wires of the CCTV camera with paint.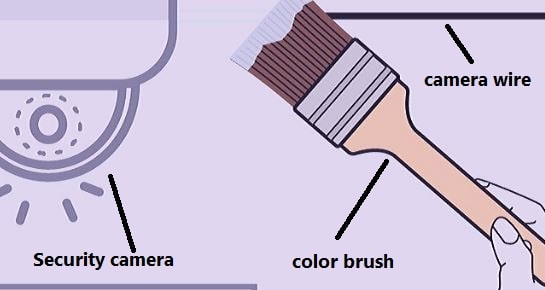 Depending on the type of security system you have, is it an analog system that uses a coaxial BNC cable and separate wires for power? 
Or, it's a wired PoE system that uses network ethernet cable like Cat5 or Cat6 connected to the IP cam?
Both system wiring can be hidden by painting it with colors similar to the colors of the surface that are installed on it. 
Plus, painting the camera wiring will keep the decor of your home as it's without ruining the home decor by using different colors.
The only thing that you should care about is how you want to paint the security camera wires. 
Well, in this scenario, you have 2 options to choose from:
First, If you have short-length cables used for your system, then you can:
Paint the short section of wires.
Leave the wires for a few minutes to make the paint dry.
Try to hide the camera wires in a wall.
Take the wires, and run them on their route.
Second, In case, your system consists of a large number of cameras and has a long route of wires, then you should:
Decide the wire route.
Use cable staples to keep the wires fixed on their route.
Run the wires along its route.
Start to paint the wires with a color brush.
The 2 ways are good to conceal the security camera wires on any surface whether indoors or outdoors. 
Another thing, there is obstacle that makes this method hard a little which is the process of choosing the painting colors for the wires, especially for beginners who don't know color codes or names at all.
Anywho, you can solve this issue by consulting the person who made your home decor, or you can take photos of the colors of your wall and go to any building materials store near you, and make the store owner help you choose the best color that meets the colors of your walls.
If you don't like painting wires and find it hard to do, you can use cord covers, but you need to find cord covers that match your walls.
Method 2: Hide Security Camera Wires Inside Walls
Another amazing way used by professionals to protect security camera wires is by hiding the wires of the system inside home walls.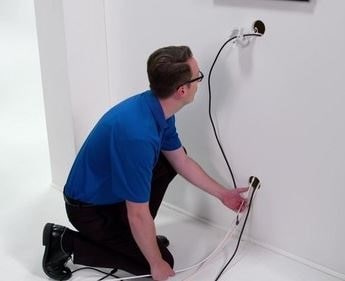 By hiding security system wiring inside walls, you keep the signal wires protected from tampering or being damaged by burglars.
For example, if you have outdoor CCTV or doorbell cameras and want to install the cameras to monitor your property. All you have to do is: 
Decide where you want to run the cables.
Make sure the cables on a suitable height.
Measure the route of the wires.
Use a pencil to mark the wire route over the wall.
Bring a power drill, and change the drill bit to fit the wall material.
Start drilling along the route that you marked previously.
Put the electric tube inside the drilled pass.
Use fish tape to help you push the camera wires from one end to the other.
Connect the connectors on the ends of the wire.
Now, everything is ready and you can go immediately to use your surveillance system without any fears that your wires may be cut or damaged by others.
Method 3: Conceal security camera wires Inside ceilings
Sometimes homeowners find drilling into holes tough to do, so they stop the whole thing and keep their system wires as they are.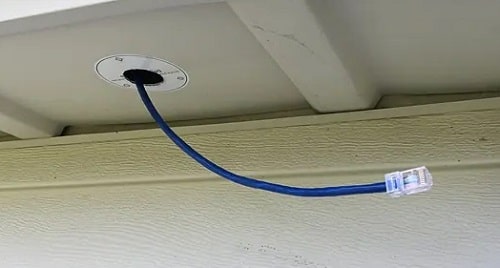 I had clients who refused to use walls to protect their security camera wiring. I advise them to hide security camera wires inside ceilings.
Aside from protecting wires, ceilings have many hidden benefits that any security camera owner loves to have.
For instance, running wires through the soffit process is super easy, also it's cheap as it's don't require many tools like running security camera wires through the wall. 
Moreover, it's suitable for both indoor and outdoor security cameras. Here are the steps:
Drill holes near camera locations.
Attach the first end of the camera wires to a fish tape.
Ensure the wire route is clean and free from obstacles.
Pull the fish tape along the attic.
On the second hole, take the wire and disconnect it from the tape.
Connect the wires to the required devices whether NVR, DVR, Router, or another camera.
If you're on a budget, then this is considered the best solution for you as it protects your camera wires while keeping the camera visible to capture clear footage.
Method 4: Get a plastic tube to hide wires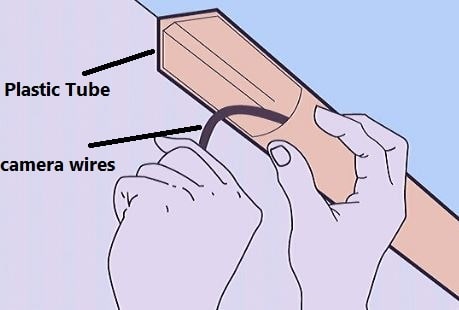 Previously I tested the above methods when it was the first time for me to have a surveillance system. 
They work for me for a while and keep my indoor security camera wires protected from my kids. 
However, when I try to apply them outside of my home, I find it too hard for many reasons. 
So, I decided to use a plastic tube to protect the security camera wires outside. 
But for outdoor security systems covering and protecting the wires of the camera are not accessible.
Most outdoor security systems are waterproof, and few are non. They are made from tough materials and had a specific design to make the camera withstand harsh weather. 
What about outdoor system wires? They are still unprotected, so you should protect them in any plastic tube, or hide them inside any outside objects. 
On the other side, you should have enough knowledge on how to mount a plastic tube, and how to use them.
to get your system to work continuously without any issues, you should
Although this method of covering wires is perfect. But if you don't know how to install the tube you may damage it.
This way involves drilling through studs and threading the tube and making sure that the tube is fixed before you use it.
This may be a complex way for most people, so if you are one of these people you can contact a security camera installer expert to do it.
Or if you are one of the DIY lovers you can search and watch videos online and learn to install the plastic tube.
Method 5: Purchase a wire protection cover
If you have an expensive security camera, then you know how important it is to keep the wiring hidden and out of reach. 

Unfortunately, that can be difficult to do, especially if your camera is in a high-traffic area. 
That's where wire protection covers come in. These covers can help to protect your camera cable from being damaged or tampered with.
Before you purchase a wire protection cover, you must know that there are 2 different types of wire protection covers. 
The first type is made of plastic and is designed to slide over the cable. This can be a good option if you don't want to drill any holes in your walls or ceiling. 
The second type of cover is made of metal and is screwed into place. This is a more permanent solution, but it will provide the best protection for your camera cable.
So, when you come to choosing a wire protection cover, make sure to pick one that is fit your home design, and don't pick a low-quality wire protection cover.
Method 6: Use Baseboards to Hide CCTV Wires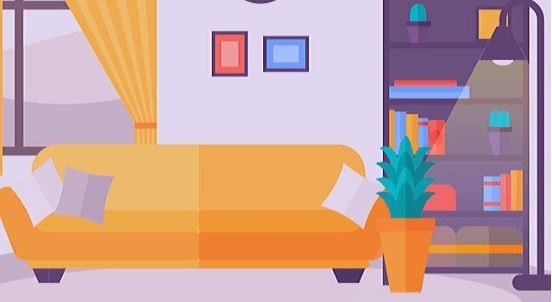 Another way to protect CCTV camera wires inside the home is by using BaseBoards. 
Baseboards can be a perfect place to hide wires of security cameras in two ways.
First: Separate the Baseboards from the walls, put the camera wires between the Baseboards and the wall, then put the baseboards back.
Second: Using the first way which is painting the wires of the camera. But in this way, we will cover the camera wires with the same color as the baseboards to appear as if it's another part of the baseboard.
This method will keep your security camera wires away from people's sight. And protect the wires against any potential damage or cutting from kids or any other person from the family.
Method 7: Hide CCTV Wires Behind Home Wall Decor
Home wall decor exists in almost every house. The good thing is we can use this wall art to make the security camera wires invisible by hiding the cables behind them.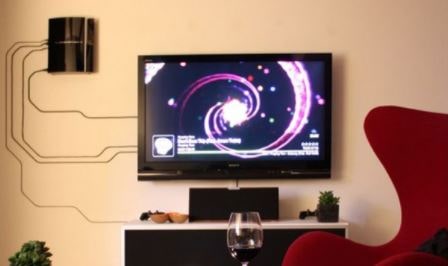 For example, if you have a piece of wall decor whether wooden or metal, then you can use it for covering security camera wires. 
Here are the steps on how to use home wall decor to protect security camera wires inside:
Finish the installation of the camera security system. 
Purchase a suitable wall art that matches your wall color.
Once you buy it, then you can put it on the wall that you pass wires on to hide the cables completely. 
While this method is not the perfect solution for protecting security camera wires as it leaves some of the cables appearing, it's still effective to hide CCTV wires without ruining the home decor. 
Additionally, applying this way is super easy, and doesn't cost money, unlike other methods. 
Method 8: Use Fake Wires
This trick is used to mislead intruders or any person who wants to cut the wire of your camera. 
Simply hide the real wire of the camera by using the above methods. After that, use fake wires to connect between cameras and other devices of the system.
Once, the intruder sees the wires of the camera visible, the first thing to do is to cut the wires and damage the surveillance system. But, he cut the wrong wires and the camera still works and maybe captures him.
Method 9: Install Wireless Security Cameras
Without involvement in wiring problems, you can install wireless security cameras and get a piece of mind about your system's safety.
Wireless security cameras are a type of IP camera that uses the Wi-Fi signal to send and receive data. A wireless surveillance system can be
Wireless: That means that the security system uses Wi-Fi for sharing data. But use the electrical cable as a power source for the camera. Previously we review the best wireless cameras to use at home.
Wire-free: Wire-free cameras use the Wi-Fi signal for the date, and use a battery or solar panel as an electrical source for the camera.
In case you don't know how to protect security camera wires, then the best choice for you is to pick a wire-free camera from the beginning.
Next,
How to Protect CCTV Cameras? 11 Tips and Tricks to Secure Your Home Camera
Keeping your camera's wire hidden and safe doesn't mean that your surveillance system will still work if the camera wiring is cut. But you need also to protect and hide and protect security cameras.
Above we discussed how to protect security camera wires, below we'll show how to protect CCTV cameras. Let's see
Tip 1. Use security camera protection boxes.
These boxes protect your cameras from bad weather, water, and dust.  Also, they keep cameras secured against thieves and keep them clean.
Tip 2. Choose secure placement.
Don't just mount your cameras high up on a wall, above the front door, and window of your house. 
Get creative with placement and make it more difficult for someone to reach for them. The harder to access the cameras quickly, the less chance of damage.
Tip 3. Change the camera Color.
Paint the camera with black color and hide it from sight. Doing this will make keep your camera from being blinded by a flashlight or laser pointer.
Tip 4: Use Fake cameras.
Try to make them visible, and keep the real camera completely hidden from people.
Tip 5: Conceal your surveillance cameras in birdhouses or bird nests.
Don't mount WiFi outdoor security cameras into metal birdhouses to avoid being damaged by electricity.
Tip 6: Purchase a camera that has motion and tamper sensors.
IP security cameras that have these features will keep you safe and send alerts when something wrong happens.
Tip 7. Pick secure IP cameras.
Always purchase cameras with the latest security protocols like (WPA2, or WPA3) to protect your data and avoid hacking from strangers persons.
Tip 8. Keep the security system viewing software, or mobile app updated. 
One of the most important things you can do to protect your security cameras from being hacked is to keep your camera viewing software up to date. 
Manufacturers are constantly releasing new updates that include security fixes for vulnerabilities that have been discovered. 
So if you're not running the latest version of the software, you could be leaving yourself open to attack
Tip 9. Use a strong password for your camera account.
This will help to prevent unauthorized access to your camera. Choose a password that is easy to remember, complex, and always follows the rule of (8 characters or more+upper and lowercase letters+numbers+symbols= strong password).
Tip 10. Keep your camera's firmware up to date.
This helps to ensure that your camera has the latest security features and is less likely to be hacked.
Tip 11. Don't use public WiFi signals
If you have updated wireless cameras, avoid using public Wi-Fi networks to connect your camera. These networks are often insecure and could allow someone to access your camera without your permission.
Protecting your security camera depends on many factors like the material of the camera, how you run the camera wire, and how to keep it away from people.
So, if you want to completely protect your camera, It's recommended to make a checklist next to each step and see if it's applicable to your system cameras or not.
In case you don't find something is missed, go and check your cameras until you apply on them.
Note that: Sometimes homeowners Blind Neighbor's Security Camera because they think it's spying on them. 
So, when you install your camera, steer away from your neighbor's home to avoid blinding him.
For more on how to conceal home security camera wire, watch the next video
Source: Zim Home Security Cameras
Where to hide CCTV DVR/ NVR or How To Protect Security Camera NVR/DVR?
Not all security camera systems are the same, It differs from one system to another system according to the component, the technology used, and also the connections between the system devices.
For example, systems like indoor security systems consist of a few parts while outdoor security systems have many types. The security systems match with each other in the:
Connection wires if you have wired security systems.
Security cameras and camera parts like the lens and mounting bracket.
Storage devices like NVR, and DVR.
Whatever the system you have, your system's main part the video recorder must be protected to make it work for a long time and increase its lifespan.
Here are the tips to protect the security camera system NVR/DVR:
Tip 1. Hide DVR/NVR in a safe place. Put the video recorder locker or safe box made of steel to make it hard for anyone to damage it.
Tip 2. Try to find a place for the NVR or DVR inside the attic, but make sure it's out of the intruders' reach.
Tip 3. Protect the NVR/ DVR inside a protection box installed on the wall, after that, cover the wall with any tall objects.
Tip 4. Hide storage devices in home furniture like closets, and bookshelves. This will help you cover the device and make it hidden from people's sight.
Anyway, to protect the security camera NVR/DVR, cabling, and other parts, you should have a  plan for how and where you'll place the security system.
E.g, when you set a plan for your wired surveillance system, you'll know exactly the route of system wiring without the need to pay for extra wires. 
Not only that but also, when you select a location for your system video recorder near cameras, you'll consume reduce the cost, and also, eliminate wiring problems.
Before you go…
As technology advances, so do the ways of accessing homes or businesses to steal from them. 
One of the most popular methods that criminals use to damage a security camera system is by cutting the system wiring or hacking the surveillance cameras.
So, you must be updated with the latest tips and ways to hide CCTV wires, cameras, and video recorders to protect your whole system.
Related Articles:
Resources: