The Reolink security camera is one of the best outdoor security cameras without a subscription. Why? You'll know by the end of this review article.
It's basically a wireless security camera that you can install outdoors for surveillance. Even better, you get all the effective Reolink security camera features without paying the subscription fee.
A lot of security cameras out there have plenty of features but it affects on price, the more features the camera has the more money you pay, except for the Reolink security camera.
So, you'd only be investing in it once.
As there are so many things to consider before you can decide on it, we'll be discussing its features, benefits, and drawbacks in this Reolink security camera Review article. This will enable you to decide without hesitation.
Let's get started with the best outdoor security cameras without subscription review.
Best Outdoor Security Cameras Without Subscription | Reolink Security Camera Review
Features and Benefits
1. No Subscription Fee
The most impressive thing about the Reolink security camera is that it doesn't require a subscription fee. And, you will get effective security features.
Reolink Security Camera offers Free Rolling 7-day Cloud Storage to store your recorded videos, by using highly secure end-to-end encryption no one can see or spy on video.
Plus, there is a built-in micro SD slot as well. You can insert a card with up to 64 GB of space to save captured footage. It also stores the motion-activated clips on the Reolink cloud.
2. No Wires
There are no wires with the camera as it's battery-powered, keeping your installation area free of clutter.
Moreover, you can power the camera with a rechargeable battery. You won't have to use a dedicated power outlet for it.
Impressively, the camera comes with a solar panel. You can charge its battery whenever or wherever you want with it.
So, you don't have to struggle by using a wired camera and check every time if camera wires are cut or not.
3. High- Resolution Videos
The picture quality of reolink security camera is 1080p, which is arguably the best compromise between picture clarity and the size of the footage.
Best outdoor security cameras without subscriptions tend to use a low-quality lens to save more space on storage resources, but reolink not. It offers HD videos to see everything clearly.
Moreover, the Reolink security camera allows you to use an advanced advantage called Privacy Mask.
So, You don't have to capture everything in your outdoor view. With the privacy mask of the camera, you can hide certain parts of the visual, for instance, footpaths and neighbors' property.
4. Weatherproof Camera
Reolink is one of the best outdoor security cameras without subscription because it's IP65 weatherproof.
It's designed to work in Bad weather conditions if you install it outdoor, for indoor usage it has a great job. So, you won't have to worry about the water and elements damaging it.
5. 2-Way Audio
The two-way audio feature is also great for warning off intruders and interacting with guests at the door. The ability to preview the surroundings live from the app keeps you worry-free.
In addition, the 2-way audio establishes a solid bond between you and your home. No matter where you are, you can communicate with your loved ones, pets, and nanny at home.
6. PIR Motion Detection
Not like Blink, Arlo, and nest. Reolink security camera has a smart PIR motion detection system for monitoring everything that happens.
The PIR motion sensor lets the system only send notifications when there is real activity. Not only that, the Reolink is equipped to prevent any false alarms caused by insects, rain, leaves, and anything you are not concerned with.
You can also set the sensitivity of the sensor according to the situation and your requirement.
7. Compatible With Home Smart System
Reolink security camera compatible with Amazon Alexa and Google Home, so you can use your voice to have a live feed of your home on your phone instantly.
8. Full HD Night Vision
By using a starlight CMOS sensor, the Reolink security camera offers vivid night vision up to 33 feet away.
9. Stable Connection
Forget the losing signal between camera and router problems with reolink security camera, it comes with 2.4GHz Wi-Fi that keeps the connection stable, providing constant surveillance.
10. Easy Installation
Wireless security cameras are known for being easy to install and so on reolink wireless cam.
Note: if you want to avoid problems in installing it. Audio guidance came with the cam in case you are stuck at any point during the setup.
Cons
· However, the speaker of the camera is a little weak. But, it gets the job done.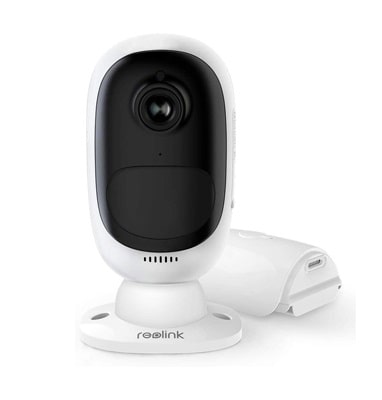 Pros
Affordable Price
High SD Storage
Wire-Free Camera
Cons
Subscription For Cloud Storage
Summary
Looking at the effective security features, it is safe to assume that the Reolink security camera is one of the best outdoor security cameras without subscription.
It's weatherproof, allowing you to install it anywhere with peace of mind. It's easy to install and comes with step-by-step instructions as well.
You can effectively communicate with anyone at home thanks to the two-way audio of the camera. It offers a 1080p resolution and a 33 feet night vision.
You don't have to pay for anything other than its initial price as there is no subscription fee for its features.
The camera offers all the bells and whistles for effective security surveillance, making it an effective one-time investment for your peace of mind.