View Analog CCTV security cameras on Smart TV is easier than calling an installation service or hiring a technician to do the job for you.
Before the wireless cameras, CCTV analog security system was the first system used for monitoring, and for that engineers discovered a way to watch recorded video of the camera on TV.
There are more than one analog video signals for the security cameras in the market and most people get confused to know the differences between them.
The most common analog video signals that you should know are CVBS, SDI, TVI, CVI, and AHD. 
In this method, we go through how to View Analog CCTV Security Cameras On Smart TV, especially for CVBS.
But, What is CVBS?
Well, CVBS refers to Composite Video Baseband Signals. This signal was used in the original Analog CCTV camera, not High Definition camera.
How to View CVBS Analog Security cameras to Smart TV?
Well before you start the installation to View Analog CCTV Security Cameras On Smart TV, you should have the right tools to get your job done in a short time.
The tools like 
Analog CVBS Security Camera (Zosi, Reolink, and Swann)
Pre-made Siamese CCTV cables
BNC to RCA Connector
Camera power supply
Smart TV (Samsung, LG, Fire TV)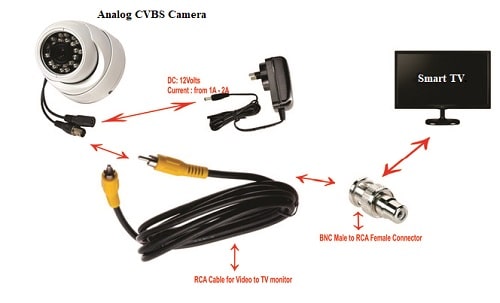 Once you get this equipment and tools. Plus, finish mounting your cam in the right place, then follow the below easy steps to connect and Stream your Security Camera live feed on Smart TV.
Step1: Take the Video Output of the CCTV security camera and the power wire and connect them to the Siamese coax cable.
Step2: As most Siamese cables have male BNC connectors at both ends of the cable, and the TV input support female RCA, then you need to use BNC to RCA connector.
Step3: After making the right connections between the CCTV camera and The TV, then connect the power wires by connecting the Cam power plug to the power supply included with the camera, and then connect the power supply to a power outlet.
Step4: The last step in Viewing Analog Security cameras on Smart TV is to choose the input source of your Television, From the menu setting of your TV select the video source, and then choose the camera channel.
To view your recording with both audio and video most TVs have the ability to do this by just repeating the same steps but using voice input.
Note: This solution may work for specific Smart TVs because most Smart TVs in the market don't have RCA inputs.
Now, Let's Dive to see
How to View HD Analog Security cameras On Smart TV?
Well, View HD analog Security Camera feeds On Smart TV require a small device called BNC to HDMI Converter it's available on Amazon and other online markets.
As we mentioned above, there is more than one analog Video signal like CVBS which we discussed above and the other signals are TVI, CVI, and AHD. You may Ask
What are TVI, CVI, and AHD?
The 3 analog video signals are used in HD analog CCTV security cameras in different types like pan/tilt/zoom, dome, and bullet cameras, and here we explain each one
TVI refers to Transport Video Interface, It's a transport technology that was released in 2014 that enabled you to transmit HD analog videos over a coaxial cable.
CVI refers to Composite Video Interface, Transport technology that works on the same principle of TVI (transmit HD analog videos over a coaxial cable) but with a different digitized transmission signaling. 
AHD refers to Analog HD, it's a transport technology that transmits HD analog Videos over a coaxial cable similar to TVI and CVI but differs in video transmission signal digitization.
There are no differences between the 3 technologies, all provide the same image quality and come with similar features.
So, whatever type of analog signal security camera you have, you'll be able to connect it to your Display screen using an HDMI converter.
The BNC to HDMI converter box used to 
Make a connection between your TVI, CVI, and AHD analog Security cameras and Your Smart TV.
Display Different resolutions 720P, 1080P, 3MP, 4MP, 5MP, 8MP on the same Screen.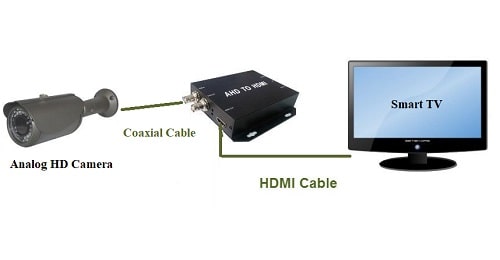 To make the installation process successfully follow the below steps
Step1: Connect the TVI/CVI/AHD to the input of the BNC to the HDMI converter.
Step2: Bring the HDMI cable and connect it from the Converter output to the HDMI monitor or TV Input.
Step3: Plug in the power adapter included with the device and turn on your camera and enjoy.
Note: This BNC to HDMI converter can be used also with CVBS Analog Security cameras to connect it to your smart TV.
How to View One HD Analog Security Camera On Multiple Smart TVs?
Some customers look for streaming one HD analog security camera on more than one TV to get 7/24 monitoring and see what happens from different locations.
Imagine you have a CCTV analog security camera mounted on your front door with no DVR, and you want to stream your camera footage on two different screens.
You may think about hiring a professional installer to do it for you, but this will cost you additional fees in a DIY job.
The good news is that you can do it with your hand without wasting your money, Just follow the coming steps
This method used the same principle of using a BNC-to-HDMI converter box. Plus, a specific connection in wired cameras is the loop connection. 
So, the number of Converter devices must be equal to the number of screen devices, each screen will be connected to one Device.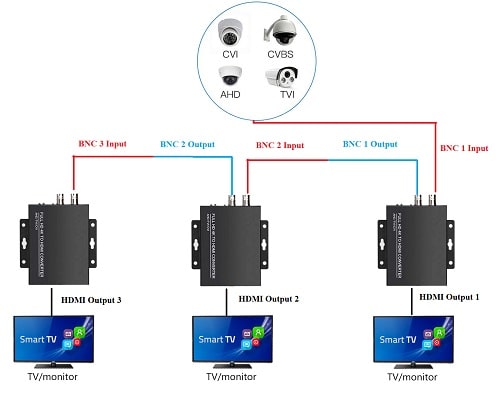 For example, let's say you need to connect an installed previously single cam to 3 Display screens. 
Here is the setup process and Steps
Step1: Link the camera output to the first BNC-HDMI converter input. 
Step2: Hook Up the HDMI cable from the converter out port to the first monitor screen. 
Step3: Connect the Output of the BNC in the first converter to the input BNC of the second BNC-to-HDMI converter. 
Step4: Take the HDMI cable and connect it from the second converter output to the second screen input. 
Step5: Repeat steps 3 and Step 4 to connect the 3rd monitoring TV with the 3rd BNC-HDMI connector. 
How to View Multiple HD Analog Security Cameras on Smart TV
View Analog CCTV Security Cameras On Smart TV, especially if you have a large number of CCTV cameras, it is easier than you think and takes less time.
This way depends on using one single device that combines security camera signals and transmits them to smart TV with an HDMI cable.
The device that can do this job for you is DVR (Digital Video Recorder) or sometimes called a multiplexer.
This DVR has many ports or channels from 4 ch to 16 channels depending on the number of surveillance cameras you have in your house.
Some Multiplexers come with ports for analog CCTV cameras and IP (Internet Protocol ) network cameras. So, you may see one device has Ethernet ports and Coaxial cable ports.
For the installation method and how to connect CCTV cameras to DVR, follow the below steps
Step1: Count the number of surveillance cameras you have, then purchase a DVR with your specification.
Step2: Connect the CCTV security cameras to The multiplexer ports, and make sure that there are no cuts or bends in wires.
Step3: Hook Up the HDMI cable between your Smart TV and the DVR, after that check the connections.
Step4: Insert the power cable into the power outlet and turn on your DVR device and Smart TV, then change the input source of your television and enjoy streaming your camera live feed on your Smart TV.
Additional tip: Make sure before buying a DVR that it has a hard drive with a large storage capacity to keep your camera recordings for a long time.
Note: You can use NVR if you have one instead of DVR to View Analog CCTV Security Cameras On Smart TV, but first check if NVR is compatible with Analog cameras or not? and you may need to use a coaxial cable to ethernet converter.
Summary
View Analog CCTV Security Cameras On Smart TV can be done with a lot of solutions. In this guide, we focus on Analog CCTV surveillance systems and how to view the camera feed on smart TV.
If you have a network IP camera or NVR (Network Videos Recorder) then you can use different methods to view IP security camera footage on a smart TV, Mobile, or PC.
Methods such as Use google Chromecast or downloading third-party live-streaming apps that are available for android/IOS apple mobile users and can be downloaded on your smart TV also.
In case you want to View Analog CCTV Security Cameras On a PC, you can use software Like a VLC media player it's effective and takes a few minutes.
Note: This article is suitable for wired security systems, for wireless or wire-free systems you can search here on Safebudgets for how to connect camera to TV wirelessly.
Resources: Security Cam, and Reolink