View IP Security Cameras On Smart TV is very helpful for families who search for watching cam feeds on big screen monitoring devices.
In the past, when CCTV Analog Security cameras were introduced to the world, the only way to watch Security Cameras footage was by connecting specific cables to the TV display screen.
Now, everything around us has become smarter than before, from smartphones in our hands to smart systems in our homes such as google assistant, and Amazon Alexa.
And the same thing for TVs product, the homeowners always search for new technologies to get more entertainment and funny time, and that is what Smart TVs do, it's enabled you to select from millions of amazing videos available online on the internet.
But what if you have a Security Cameras and want to View Your Smart TV?
Well, there are many ways to do this job from using cables and wires to connect surveillance cameras to monitoring devices wirelessly.
And in this article, we dive into details of How to View IP security cameras on Smart TV especially Network IP cameras.
For Analog CCTV security cameras you can Check how to stream Analog CCTV security cameras feed on Smart TV.
Now
What Are The Benefits of View Security Cameras on Smart TVs? 
View IP Security Cameras On Smart TV has a lot of advantages that everyone dreams to have. Such as 
Provide you with more details of cam footage that can't be seen on small screen devices like mobile.
Watch high-resolution security pictures Without missing Details.
Add more protection and increase your home security level as you can see and monitor more than one cam on the same TV display screen.
The Smart Television can be set up like a mobile to receive motion alerts and notifications from your security camera.
Display your voice command to your smart home systems.
Viewing Security Cameras on Smart TV can be undeniably beneficial, Unlike watching security cameras on mobile screens in a specific width and length.
For Now, Let's see the different ways of
How to view IP Security Cameras on Smart TV
View IP Security Cameras on Smart TV depends on the surveillance system you have and the type of cameras you install in your house.
For Surveillance systems there are Wired, Wireless, and Wire-free security systems and each one can be connected to a TV to see the cam feed.
On the other hand, the type of Security cameras you have like Analog CCTV, and IP Network cameras can be connected to the TV in different ways.
Here are the Methods of View IP Security Cameras on Smart TV
Method1: Pick IP Camera to HDMI converter Device
One of the easiest ways to View IP security cameras on Smart TV is using a converter device. This IP camera to HDMI converter enables you to stream your camera feed to smart TVs.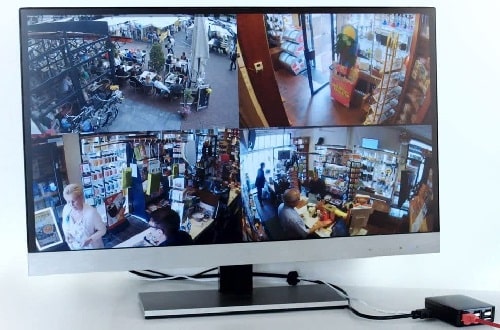 You don't have to dive into complicated methods and hire professionals to connect Security Cameras to Smart TV and see the live feed.
An IP Camera to an HDMI converter device like NetcamViewer Monitor is available at Amazon and other online stores.
Note: Before you think of this method you should make sure that your devices support and have compatibility with ONVIF or RTSP.
For the connection joints between the TV and your security camera follow the below steps
Step1: Connect the Ethernet Network cable to Your IP camera to the HDMI converter.
Step2: Hook up the HDMI cable from your NetcamViewer Monitor or any device you have to the Smart TV screen.
Step3: Plug in the power cable of the IP Camera to HDMI converter into a power outlet and turn it on.
Step4: Download the NetcamViewer Mobile app on your mobile device, install it and then open it to complete the setup and add your cameras.
Step5: From the App main page there is (+) on the top, click on it and add your camera username and password to link it with your system and enjoy.
Method2: Download Streaming App on your Smart TV
View IP Security Cameras On Smart TV is hard to do if your smart TV has a different operating system or uses unfamiliar software.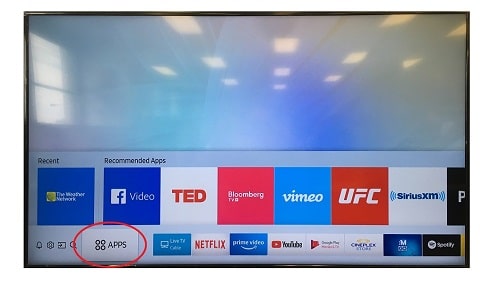 Nowadays, most home users looking for easy-to-set-up devices that have advanced technologies and can be controlled with one touch.
These operating systems on Smart TVs like Android have millions of mobile apps on their store, and definitely monitoring and security apps.
Smart TVs are one of these devices, it comes with Google Android operating system, except Apple TVs it has a different system.
You can download any of the universal trusted apps available such as IPcam Viewer or Pro tiny Cam Monitor on Your Smart TV, it's a third-party application, not the manufacturer app.
Once you download the app on the smart tv, install it, and then link your cameras to your Smart tv and enjoy streaming your cam feeds. 
Note1: The IP surveillance camera's apps are available on Smart TVs such as Sony, LG, and Samsung Smart TVs, or other Android-based Smart TVs.
Note2: You may need additional Info about your IP security camera to complete the setup & login process such as IP address, username, and password from camera settings.
Method3: Pick Google Chromecast
Above we mentioned effective methods to View IP Security Cameras On Smart TVs, and in the next words, we dive into using a google Device Called Chromecast.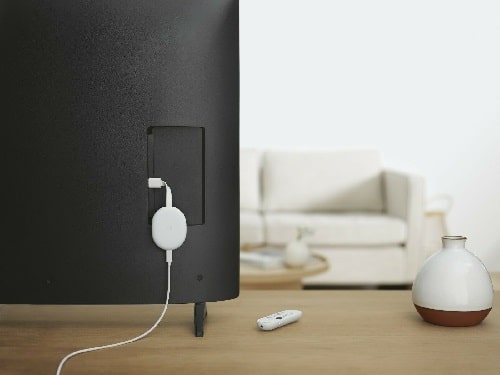 Google Chromecast is another solution to stream your camera-recorded videos and watch your location live and capture what happens.
The Chromecast device actually works as a bridge/mirror between your Smart TV and your tablet or phone, it transmits the video recorded on cam to the TV using the home network.
Note: to make this bridge connection successfully you need a WiFi router.
The important question is  How To View IP Security Cameras On Smart TV Using Chromecast?
Well, once you purchase a google Chromecast from any online store( has an affordable price) and read the user manual, you are ready to follow the next steps
Step1: Connect the power easily by using the Micro-B USB input in the device.
Step2: Hook up the HDMI cable into the Smart TV Input.
Step3: Pair your Chromecast device with your Wi-Fi signal and configure it.
Step4: Use your Mobile or Tablet to choose and control what is content streaming on your Smart TV.
You can use any other streaming method like Amazon Fire TV if you have an Amazon Alexa smart home system, plus you can apply voice commands in your home also.
Method4: Turn On NVR (Network Video Recorder)
One of the oldest methods to View IP security cameras on Smart TVs is using a video recorder device whether DVR or NVR.
The DVR that works with analog CCTV cameras stores recorded videos and can be used to stream camera feed on Smart TV, the same also with NVR but it works with Network IP cameras.
Both recorders have ports and channels such as Coaxial cable ports in DVR, and Ethernet ports in NVR, and both video recorders have HDMI ports.
To view your security cameras on Smart TV just do the below
Connect your cameras to NVR Box.
Hook up the HDMI cable to the Smart TV input.
Pick the remote control and change the source channel to display your camera footage on TV.
This method is best for customers who look for a cost-effective way to View IP security cameras on Smart TV. NVRs box differs from 4 PoE channels to 16 ch depending on your system cameras.
Note: if you have a wired, or wireless security system and want to see your security cameras on Smart TV this method is good for you.
Method5: Think about Mini Android PC
View IP Security Cameras on Smart TV can be done with another amazing, cheap, and small device called Mini Android PC.
The principle used here in this way is similar to the way used in streaming IP security cameras on PC on Mobile Apps.
Simply, download the IP camera mobile App on the mini Android PC and Link your security camera system to it.
Here are the steps in details
Step1: Purchase a good quality Mini Android PC device that has High-speed Ram, and large-capacity storage space.
Step2: Download the IP camera mobile app and log in to your account.
Step3: Link the IP cameras of your house to the mobile app downloaded on the Mini Android PC.
Step4: Hook UP the HDMI cable to the Smart TV.
Step5: Plug in the power cable and turn on the device to watch your IP security cameras on your Television.
Summary 
Viewing whatever IP or CCTV analog Security Cameras On Smart TV is important and can be done in many ways. In this article, we mention the best 5 effective methods to connect your Security Cameras and Smart TV.
Some of these ways may require a lot of money and others are cheap and easy that every beginner can do without hiring anyone to do it.
For example, If you select the NVR to stream your camera videos on TV we advise you to go for branded camera manufacturers such as Reolink and Zosi.
The NVRs are compatible with Smart TVs and have a lot of features, plus the prices are good in comparison to other camera Brands.
Definitions
RTSP refers to The Real-Time Streaming Protocol (RTSP) is a network control protocol designed for use in entertainment and communications systems to control streaming media servers. (source: wikipedia)
ONVIF refers to The Open Network Video Interface Forum(ONVIF) is a global and open industry forum with the goal of facilitating the development and use of a global open standard for the interface of physical IP-based security products (source: Wikipedia)
Resources securitycamcenter, cctvcameraworld