Connect security cameras to Smart TV is essential these days especially if you have a large number of cameras installed at your place.
There are a lot of devices out there used to stream surveillance camera footage on Big TV Screens. 
From DVR/NVR to HDMI converters and wifi routers, all of them can be used in connecting and viewing security cameras on Smart TV. 
So if you want to connect security cameras to Smart TV, then you should pick a suitable streaming device for your surveillance system.
Don't make a mistake by purchasing a device before knowing if your Smart TV and security cameras are compatible with streaming protocols or not. In addition, you should ensure that you have full access to your system (username, IPs, and passwords of cameras)
Streaming Protocols Like RTSP are used in smart TVs to enable you to see a live feed of your cam. 
Now, Let's see 
How to Connect Security Cameras to Smart TV
As we mentioned above, connect security cameras to Smart TV depending on the surveillance system you have. 
There are Wired surveillance systems that use wires as the main connection between the cam and any other device. 
Wired Security Systems like CCTV analog systems use coaxial cable, and PoE (Power over Ethernet) systems use Ethernet cable in joints between IP cameras and NVR. 
Since wired security cameras have a lot of wiring problems, homeowners tend to install wireless or wire-free security cameras. 
Wireless and Wire-Free cameras don't use wire and cables like wired systems, they transmit the data by using Wi-Fi signals. 
Right Now let's see 
How to Connect Wired Security Cameras To Smart TV
Connecting security cameras to smart TV, especially in wired monitoring systems, is the easiest way to stream your CCTV footage on TV.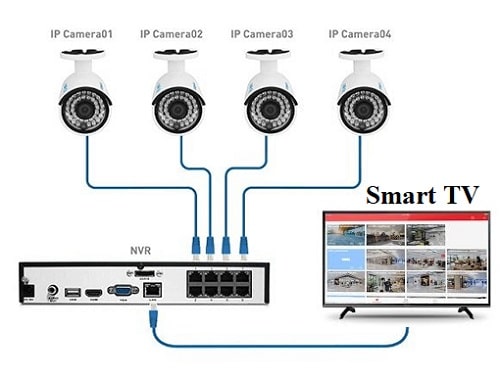 Whether you have PoE security cameras or Analog CCTV both use the main components, each system has wires and cables that differ only in the Video recorder.
For analog CCTV cameras, the central HUB device is a DVR box ( Digital Video Recorder), it comes with an HDMI port and Channels for your system cameras.
So, To Connect Wired Security Cameras to the TV screen, take each camera wire and link it to its port on DVR, then connect the HDMI cable to The Smart TV.
Additional Tip: Sometimes Smart TVs come with RCA inputs, and if you don't have you may need to use BNC to RCA connectors.
In the case of Network PoE cameras, you'll need to connect each camera ethernet cable in the NVR(Network Video Recorder), and then hook up the HDMI cable to the Smart TV monitor.
It uses the same way of connecting Analog cameras to Television, except in the PoE (Power over Ethernet) system you don't need to worry about power cables. Power and Data are transmitted on the same cable.
Note: Once you finish the connections from the Smart TV screen to DVR/NVR box and Vice versa, you need to change the Source Input of the Smart TV to the HDMI channel.
How to Connect Wireless/ Wire-Free Security Cameras To Smart TV
Connecting security cameras to Smart TV using DVR/NVR is easy and the best choice for people who look for reliable systems that work continuously without stops.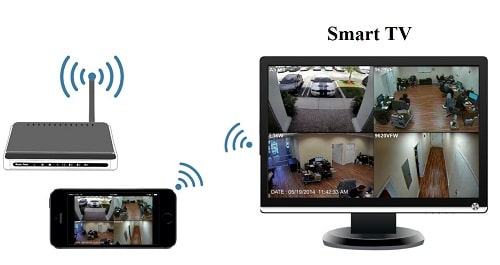 But what about homeowners who hate wires and don't want to fall into wiring problems from cuts to splicing?, the best solution for them is to have or purchase a Wireless or Wire-Free camera.
Wireless and Wire-Free cams linked to NVR or base stations without any wires or cables. So, before using this method to stream your Cameras video on Smart TV make sure that you have
Wireless NVR with Antenna (Some NVRs doesn't have Antenna)
Wireless Security Cameras
Once you finish linking the cameras with NVR, then you are a step away from Connecting your Security Cameras To Smart TV, just Hook up the HDMI cable to Smart TV and you're done.
If you don't use an HDMI cable then you should have additional products to complete Streaming IP Security Cameras on Smart TV job. The devices are
Smart TV with WiFi signal
Wi-Fi Router
To Connect Security Cameras To Smart TV without HDMI cable you need to use third-party apps or the streaming app the camera manufacturer offer
Most Smart TVs right now work on the Android operating system from Google, and there are a lot of streaming apps on Google Play Store. Just follow the below steps
Step1: Download Streaming App on Your Smart TV, and install it.
Step2: Connect your security camera to your home Wi-Fi Network.
Step3: Create an Account on the App.
Step4: Link security cameras to the app by scanning the camera or entering cam login credentials.
Step5: Setup the camera settings, and the viewing angle.
Step6: Turn on your TV and enjoy watching your cameras live on TV.
Now after finishing the installation process and linking your system you have the ability to see your cams on Both TV and mobile.
Note: Some customers use Google Chromecast or even Apple TV as another solution to connect an IP camera to a TV without downloading Apps.
If you have a fire TV in your home then look at the next words to connect your cameras to it.
How To Connect Security Cameras On Fire TV
Amazon Alexa is in almost every house in the United States at this time. The Alexa ecosystem enables you to communicate with your home's smart devices with one touch.
And since Fire TVs are one of these devices that use Amazon Alexa, they can be connected to Alexa and stream any device feed.
To connect the Alexa app with your camera and Fire TV follow the next steps.
Step1: Download the Alexa App from Apple Store or Play Store, and install it on your smartphone mobile device.
Step2: Open the Amazon Alexa app to link your Fire TV with your Echo device.
Step3: Go to the App menu and select 'Music Videos, & Books'. After that, a pop-down menu will appear, then select the 'FireTV'.
Step4: choose the 'Link your Alexa Device' Option to allow you to control your Fire TV with your Alexa device.
Now after finishing linking our Fire TV with Alexa Device, it's time to configure the security cameras
Step5: Link Your Security Camera with Alexa from the Alexa app on your mobile.
Step6: Follow the steps in sequence 
Open the Alexa app menu in the top corner.
Scroll down and search for 'Smart Home' then select it.
Choose 'Devices' and after that open the 'Alexa Smart Home Store'.
Go to Your security camera configuration page and adjust the cam setting.
Test your camera stream on the VLC media player and see if it works or not.
Create an Account on Monocle and sign in.
Monocle: is a gateway service that enables seamless integration of your private IP-based network cameras with smart home automation services such as Amazon Alexa®.
Add your camera to the Monocle Account, then enter the camera details that you want to stream on your Smart TV.
Go for Amazon Alexa and enable Monocle RTSP/RTP IP cameras skill on your device.
Update your Amazon Alexa account. After that, you will see your camera Click on Discover.
Step7: Stream your Camera Feed to Supported Fire TV by using voice prompts like 'Alexa, show me the garage camera' to show your cam feed.
For more on How To View Security Cameras On Fire TV watch the next video.
How To Connect Security Cameras on Samsung Smart TV
Samsung Smart TVs are one of the most popular brands in Smart TV markets, the Samsung TVs come in different sizes, resolutions from HD to 4k, and shapes there are flat and curved TVs.
To View Security Cameras on Samsung Smart TVs, you need to follow the same method of viewing security cameras on smart tv using the Android App.
Since Samsung started to produce Smart TV, it had an app called "SmartThings", and Samsung offers native support for this app. 
Once you download the SmartThings app you'll be able to connect multiple devices and control them. Plus you can connect your devices to be monitored on TV.
Here are the steps to view Security Cameras on Samsung Smart TV
Step1: Download the SmartThings app, and install it.
Step2: Add the "Device " to your App by selecting the (+) icon.
Step3: Select which device you want to add, In camera case choose " Camera"
Step4: Authorize and verify the connection to your camera.
Step5: Open your Smart TV and watch your camera feed.
Once you finish the above steps you complete almost 99% off View Security Cameras on the Samsung Smart TV job, and there is some additional information you may need such as camera login credentials.
Summary
At the end of this guide, you have the full knowledge of how to connect security cameras to smart TV without needing to hire pro services or waste your time. The methods mentioned here are effective and work with any type of camera you have.
you can apply the simple methods you learn here to your home system or do it as a favor for your neighbors who have problems with connecting their security cameras to the TV.
If you stay at home and want to view security cameras on PC there are specific methods you can use. It is the same to view security cameras on a Phone, not all the methods work on the same devices.
Please, if you have any questions let me know in the comment section and we'll answer them as soon as possible.
ReSources: Reolink, Perfect4home