What is the best security camera with two way audio? but before answering this question what is the importance of Two-way audio features?
Well, most people need to see and watch their kids, and pets from time to time and ensure that they are safe at home. But how do people do that?
Nowadays, technology makes the solution very simple with widespread indoor and outdoor security cameras. The security cameras allow you to send and receive voice commands to control things around the camera.
In the case of Pets, homeowners especially those who are working for long hours in the office need to ensure and see what the pets doing in the home.
Simply they pick best pets High-Quality cameras and via mobile App, he can do this and send a small message to pets.
For safety, manufacturers tend to add this feature to home security cameras to make camera record videos of intruders with sound.
So, for this reason, most security camera has a High-Quality mic and speaker that let you stay in touch with your household.
In addition, you can use this feature to Check in with the kids after school while you away, listen to family members, and say hello through the security Cam App.
Now let's Jump and see
Best Security Camera With Two Way Audio
1. NEST CAM INDOOR: Best Choice for Home
If you look for the best indoor/outdoor home security camera then don't think and take more time With Nest. Nest indoor security camera has a small shape and size with a stand and the magnetic arm makes directing the camera so easy.
The camera can be placed on a table or bookshelf inside the home even if you want to keep the camera away from children it's easy.
Simply find the place you want to mount your camera it is on a wall or Ceiling and drill in the chosen place and ensure that the camera is stable.
For resolution Nest, an indoor cam has a wide angle of view up to 130 degrees to monitor everything around you.
Plus the camera has a High-Quality recorded video 1080p that delivers HD ( high definition ) videos to capture more details.
Like many Nest security cameras, this camera is powered by a plug and wireless for data which means it uses wifi.
Using Wi-Fi in this camera allows you to avoid sequential problems of camera wiring, Plus the camera uses a mobile App to send alerts and notifications.
A two-way Audio feature added to the Nest indoor security camera delivers a good experience of talking and listening to anyone around the camera, By using and Built-in mic and speaker you can talk with your family, and kids, and get your pet's attention.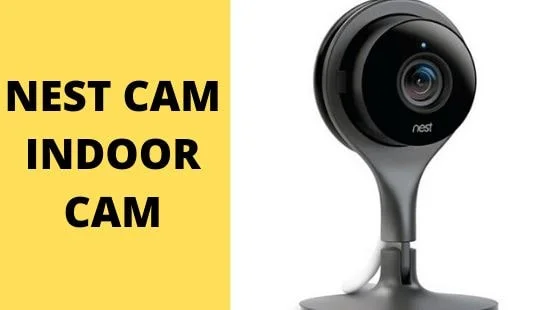 Pros
Amazing Two-way Audio
24/7 Live Video
High Video Quality 1080p
Cons
2. ZUMIMALL Wireless Security Camera: Powerful Battery
Some people search and look for Wired security cameras and Nest Indoor security cam is one of these cameras. But if you want a Wire-Free security camera then a ZUMIMALL indoor/outdoor camera is perfect for you.
The camera is totally wireless it's powered by a rechargeable battery without any annoying wires.
The battery capacity is 6000mAh which means that the camera can work for 2 – 5 months with regular use before needing to recharge it.
What makes this camera special it has many features at affordable prices.
It can be used inside the home or outside to monitor and keep your property safe. As we mentioned above the ZUMIMALL security camera uses wifi and it's compatible with a 2.4G WiFi router.
Many homeowners use this camera as it's one of Best Outdoor Wireless cameras and the camera does a great job. As the camera is well designed from High-Quality material and has a weatherproof feature which makes the camera work in bad weather.
In addition, This version of ZuMIMall comes with an HD camera that delivers 1080p videos and a field of view that reaches 130 degrees.
Plus, equipped with night vision and advanced PIR motion detection that makes the camera see in the dark and detect motion up to 10m (32ft).
A built-in mic and speaker are included with a security camera that makes the camera support two-way audio talk, From your mobile, you can speak with your family and hear their talks while you're away from home.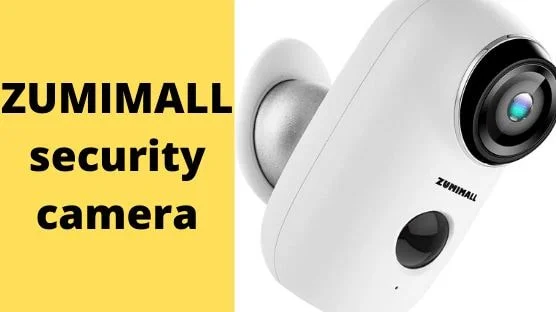 Pros
Totally Wireless camera
Two-way Speaker Mic
WeatherProof
Cons
3. Conico Wireless Outdoor Security camera
The market of security cameras has more than one type and choosing between them it's really hard. But Conico outdoor wireless security camera solves this problem by making all the features you need in one camera.
Like the ZuMiMall security camera, the Conico outdoor security camera has the ability to record 1080p video with high resolution. Plus, it has a wide angle of view to capture videos without missing any details.
Conico Outdoor security camera supports Night Vision videos by using advanced IR technology. The advanced infrared tech makes the camera produce a clear night vision video even in the dark.
Without any wires the Conico outdoor camera is totally wireless, it's powered by a 6000mAh built-in battery and this battery is rechargeable.
So, you don't need to buy a new battery for your camera. Plus, The Conico camera is from IP security cameras that use a Wi-Fi connection to send data.
Other features added to this camera like a motion detection feature using a smart PIR sensor.
The camera will send instant alerts to your phone once the wireless camera detects people or pets.
Furthermore, the camera supports a Two-way audio feature to make you hear and hold a conversation via your camera.
After this simple design and an amazing feature from the Conico security camera, you can get what you want with one camera.
For storage, the camera supports SD storage up to 128G Micro and encrypted Cloud storage to save your videos.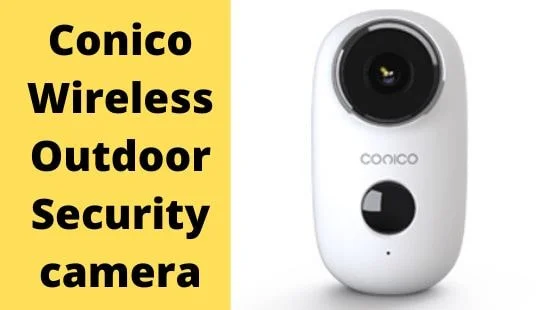 Pros
1080p HD Videos
Rechargeable battery
Easy to Install
Cons
4. Wyze Cam: Best Smart Home Camera
Wyze home security camera is considered one of the most affordable prices out there. The camera can do more than one job at the same time without any interruption like the other security cameras.
The Smart HD cam from Wyze has the ability to record and live stream Full HD videos 1080p. Plus, the camera has clear night vision videos due to 4 Infrared LEDs (850nm) and illuminates up to 9m (30 feet away).
Wyze smart camera has a camera lens of F2.0 aperture, 2.8mm focal length, an Image sensor of 1/2.9″ CMOS, and 8x digital zoom.
These options make the Wyze smart security camera deliver High-resolution videos.
As more people use smart home devices the Wyze cam is compatible with most smart home systems like Alexa and Google Assistant.
So, if you want to see anywhere at your house as the front door, kid's room. All you have to do is ask your voice assistant to do that.
For two-way audio, the Wyze security camera also supports talking and listening through your Cam. Once you download the Wyze App from the Google play store or Apple Store you can manage and view multiple cameras.
Motion tagging features and outlines motion are also added to Wyze home security cam in both live stream and playback videos.
Once a camera detects motion or sound it starts automatically to record a 12-second Event Video.
These videos are accessible for 14 days without any subscription or monthly fees like other companies. This means that this camera is a Free Subscription camera and will save you money.
It's securely uploaded to the AWS cloud via end-to-end encryption which means no one can access your videos.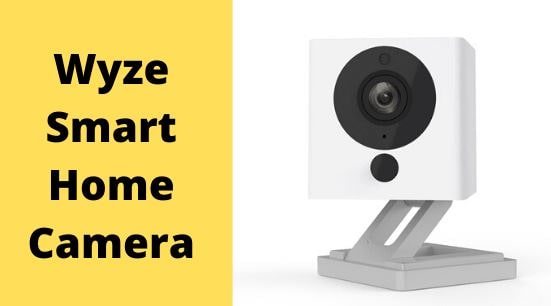 Pros
Live Stream from Anywhere in 1080p
Works with Alexa
2-Way Audio
Cons
Video clip Saved to the cloud for 14-days
5. Arlo Pro 2  Security Camera: High-Quality Camera
Another Amazing indoor/outdoor security camera From Arlo can be used to add more safety to your house. The Arlo Pro 2 consists of 1 camera and a system unit.
In case of need to add more cameras, you can change the number of cameras depending on your usage.
Arlo Pro 2 is a wire-free security camera that can be used inside the home or outside.
Plus, the camera uses a rechargeable battery with the advantage of fast charging. So, as the camera is totally free from the wire you don't have to worry about power cords and wiring problems.
Arlo Pro 2 cam support High definition videos 1080p with clear image and sharper details.
Black and white night vision videos can be captured by the camera.
Plus, the camera has the 3-second lookback advantage which captures activity 3 seconds before a triggered event.
Pro 2 security camera includes a 2-way Audio feature that makes you talk and listen to anyone around the camera is super easy by using a built-in mic speaker.
In addition, The Pro 2 camera has a Smart Siren that makes a sound of over 100 decibels when motion is detected.
What about smart home systems? The Arlo Pro 2 works with Alexa/Echo, Google Assistant, and IFTTT, Samsung SmartThings.
By simple voice command, you can control your camera and you can do it at the place you are, as the camera has a wireless range of 300+ feet.
For Storage and to save your videos, the Arlo Pro 2 indoor/outdoor security camera has 7 days of free cloud recordings.
In the case of its live stream video or recorded audio, it will be saved for 7 days without the need to pay for another cloud storage.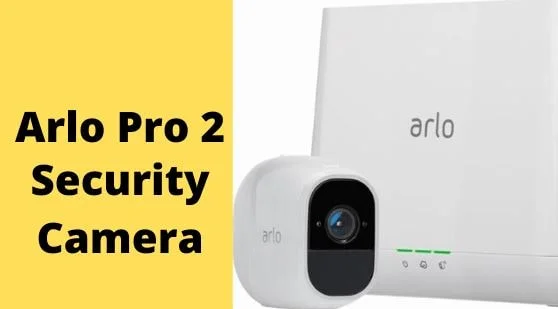 Pros
Wire-free camera
3 Second Look Back
Works with Smart Home Systems
Cons
Monthly fee for some features
What is a 2-way audio IP camera?
A 2 Way Audio IP security camera is an added feature that allows you to transmit and receive audio through your CCTV IP camera. So, make sure before you pick your security camera to see if the camera supports 2-way audio or not.
In order to turn on a 2-way audio function in your camera, you need to attach an external microphone or speaker. and you should look for Best Network Video Recorder to ensure your audio is fast and each one hears you correctly. Plus, good camera cables if you have a wired system.
Once, you finish the installation of your security camera read the manual user guide to see how it works.
2 Way audio Benefits
This feature enables you to 
Talk to your family while you're away from the house.
Hear the voice of anyone around the camera range.
Keep you connected with your pets.
Does the blink camera have 2-way audio?
Most people want to know if the Blink security camera has 2-way audio or not. well, The original Blink XT security cam lacked the 2-way audio feature. In addition, Blink XT2 has two-way audio as Amazon has announced, and some Blink buyers consider it the best security camera with two-way audio.
The company shines in the ability to use standard AA batteries as a power source for cameras. This will make cameras work for a long time.
What is 2 way talk?
You don't know what is the best security camera with two-way audio. Unless you know exactly what is Two-Way Talk? 2-Way feature allows you to communicate in real time with the people who appear on your camera. Plus, this makes you control and manage things around your camera.
Some companies enhanced this advanced technology and allow people to talk and listen through the camera App.