Getting an indoor or outdoor security camera with audio is a smart decision, if you want video and audio recording or if you need a two-way audio feature to speak with your family, pets while you are out.
Right now with a lot of wi-fi security cameras with audio and PoE types available in the marketplace, it may be tough for you to get the best home security cameras with audio.
Don't worry! In the next following words, you'll know everything about surveillance cameras with audio recording capability, benefits, and usage.
A two-way audio feature enables you to listen or talk through your security camera.
The security cameras that have recording capability have a built-in mic or external speaker, it works like a walkie-talkie.
In a short time, Best Surveillance Cameras With Audio Recording Capability.
Now, let's see in details
Best Surveillance Cameras With Audio Recording Capability
1- Arlo Pro 3 : Best Two Way Audio Security Camera
The Arlo Pro 3 is probably one of the best surveillance cameras with audio recording capability available today.
However the price may be expensive as you compare it to other security camera brands, but it has a lot of features.
The benefits of Arlo Pro3 more than the cons. For resolution, Arlo Pro 3 has the ability to record 2K HDR video.
Plus, the camera covers a wide area by using the "color" Night vision feature, and the integrated spotlight makes your camera capture and record videos without losing any details.
Arlo Pro 3 is Wire-free powered by a rechargeable battery, The Battery Life is 3-6 months, and takes 3.5 Hrs to Full the battery.
2-way audio is also available in Arlo Pro 3, from your mobile you can download Arlo App and control two-way audio and enable motion detection. The Arlo offers 30 days of cloud storage, so you can view your stored videos and audio recordings for up to 30 days.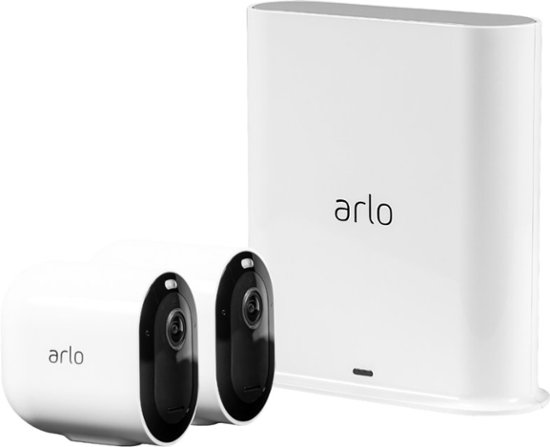 Pros
Wide field of view Range
Color Night Vision
long Battery Life
Cons
2- Ring Spotlight Cam : Versatile Power Options Camera
Ring smart home products are amazing, produced for beginners and professionals also, it's easy to install and set up in minutes.
Ring Spotlight Cam is one of Ring empire's, powered by a battery like Arlo Pro 3, but this ring awesome camera came with sports LEDs on either side of the camera.
To install it, Bring the mounting tools, decide where you want to place your Ring camera, and install it.
The cam has an Integrated mounting base with an adjustable angle, Direct the camera to your favorite place, install the battery, then turn on your camera and enjoy.
For features, the camera record videos in High definition 1080p with a wide viewing angle (140° horizontal, 78° vertical).
It's one of the surveillance cameras with audio recording capability, by using Two-way talk with noise cancellation advantage you can hear and speak to people on your property easily.
Another attractive feature of the Ring security camera is that it works with Alexa, so if you are one of Alexa fans it'll be incredible for you, Just link your Ring account to Alexa to see everything on your home monitoring screen.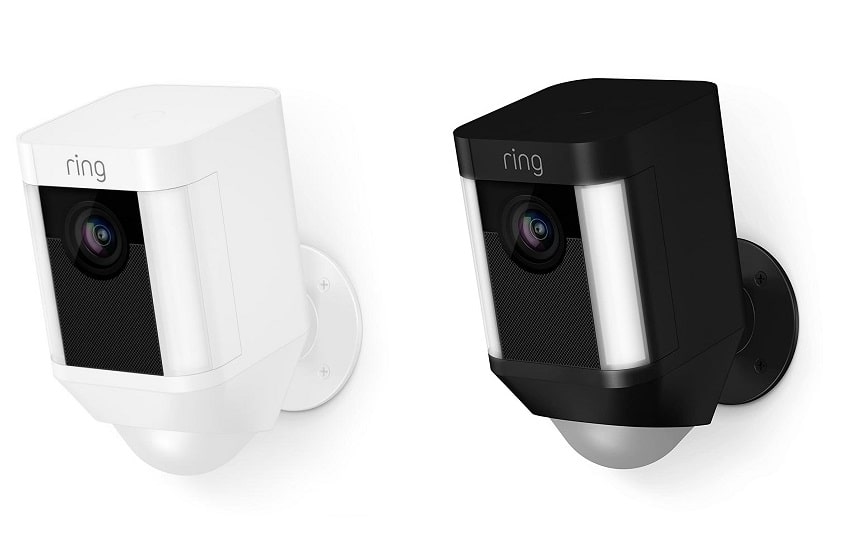 Pros
Works with Alexa.
Lifetime Theft Protection
Super 2-way audio
Cons
Subscription required for Ring plan
3- Nest Cam IQ Indoor : Trusted Security Camera
Nest's Cam IQ from Google gain a good reputation among other security camera brands.
The Nest's cam collection of security cameras has a great image and a lot of features that everyone looks for.
This Nest IQ cam is for indoor and can't be used outdoor as it does not have a water-resistant material, it's small in size and designed to place in your home and fit your house decor.
The camera is not like the previous two wire-free cameras, it's powered by a cable, make sure that you have a power outlet near the camera place.
The image quality of the Nest cam is perfect, like most of the security cameras available now in the market it records 1080p, and came with 130 degrees viewing angle, whatever how large your house is the Nest cam can cover most of it easily.
Night Vision is also provided in Nest indoor camera, plus two-way audio and recording capability are also available, and it can work with Alexa, and google assistants just linked them together.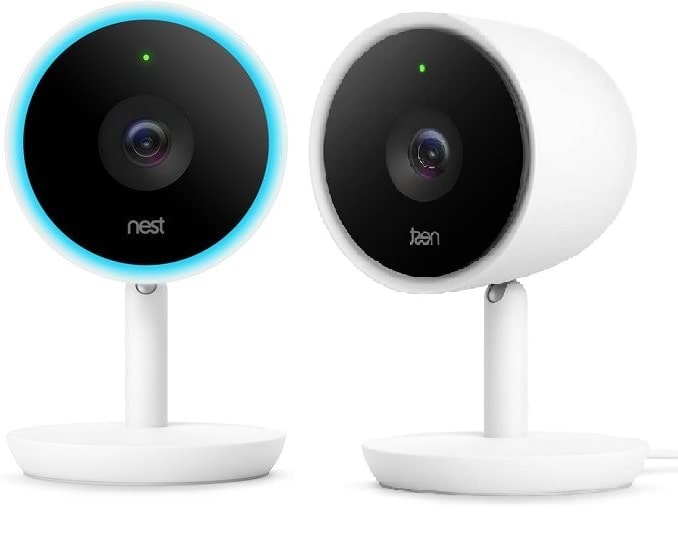 Pros
Recognizes & Detect people and faces with Nest Aware
Protected Videos with Encrypted Cloud storage
Speaker and microphone For two-way audio
Cons
Expensive camera, but High quality
4- eufyCam 2C : Best Wireless Affordable Camera
Nowadays, it's hard to keep your things away from people's sight, and the same for security cameras, there are a large number of home cameras that can be hacked by ugly people. But, this will be finished once you buy and turn on your eufyCam 2C camera.
The camera or let's say the eufy system consists of 2 surveillance cameras and one main device like Arlo, The cameras are wire-free and powered by batteries that last up to 180 days before needing to be recharged. eufyCam must be mentioned in our wireless best cameras list
The eufyCam lenses capture clear 1080p HD videos and offer a large field of view range 135-degree, with this resolution you can see and capture almost anything that's going on.
Moreover, Night Vision in 2C cameras is powerful, The eufyCam cameras have a built-in spotlight that illuminates most of your area in the dark.
Plus, the motion detection is accurate, These cameras use advanced human detection technology, you'll be alerted once the camera detects a human face, not anything else.
As we mentioned above the security of data is important, eufyCam 2C has an advanced encryption standard( AES-128) to ensure that your data and footage are safe and no one can access them easily.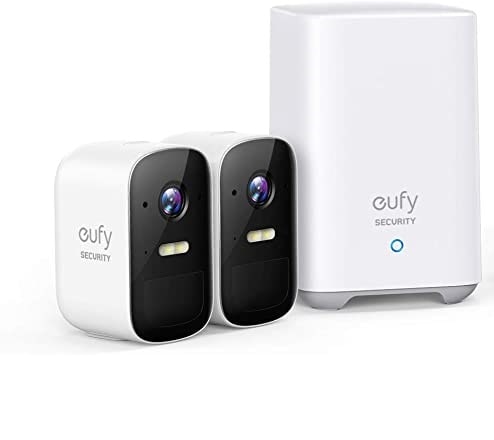 Pros
Can be used both inside and outside the home
6 months Battery (180-Day Battery Life)
3-Month Local Storage to your videos
Cons
High price system
Motion detection has some problems
5- Reolink Argus 2 : Suitable For Indoors or Outdoors
For Reolink Argus 2 it's totally wireless (wire-free) and not like Nest or EZVIZ wired cameras.
Most of the wire-free cameras are easy to install, The Argus 2 camera can be mounted both indoors and outdoors without any problems.
Like most surveillance cameras with audio recording capability Reolink Argus 2 captures smooth, crystal-clear 1080p Full HD Videos, also it has a wide viewing angle of 130°, so you'll never miss any details everything is recorded.
Night vision of Argus 2 Reolink camera cover up to 33 feet in low light situations, and if you have a fast network signal you'll be able to make a conversation with anyone near the camera by using a 2-way audio advantage.
Moreover, the fast connection allows you to receive instant alerts once the camera detects something wrong in your house.
Pros
Work with Alexa & Google Assistant
Support both SD card or Cloud Storage
Easy to install
Cons
The camera came with one battery which is will end fast
Best Two Way Audio Security Camera
6- Wyze Cam Pan : Best Cheap Surveillance Cameras With Audio Recording Capability
However, the price of security cameras out there increased, The Wyze cam pan indoor camera is still affordable for most people. Don't worry you get most of the essential features you need and are considered one of the best cameras for pets.
This security camera is a PAN (Pan, Tilt, Zoom) camera and allows you to control the camera remotely by using the Wyze app, Wyze cam has a 360° rotation range whatever right or left and 93° vertical range to move the camera up or down.
What we like in Wyze Cam Pan is the Pan Scan feature which enables you to set 4 predefined waypoints that the camera will monitor automatically, Advantage like this will be helpful for you especially if you stay away for a long time.
Recordings and Live Stream are made at a resolution of 1080p, 2-way audio is existed also to speak with your friends and family through the Wyze app easily.
When motion or sound is detected the Wyze Cam Pan starts automatically recording a 12-second video clip, Plus it saves the recorded videos to the cloud for 14-days for free without subscription.
Wyze Cam uses 6 infrared (IR) LEDs which allows you to enable the night vision feature and see up to 30' in darkness. In addition, the Wyze home camera works with Alexa.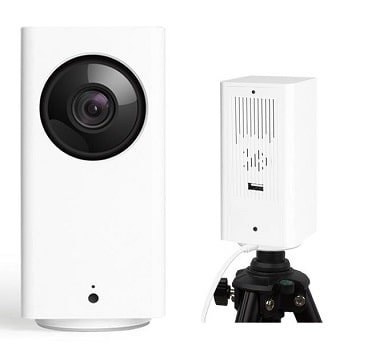 Pros
Cheap Price
Works with Alexa
Total 360° coverage in under 3 seconds
Cons
Some plans need a monthly subscription fees
7- Reolink E1 Pro : Best "budget" camera
After Reolink Argus 2 security camera, Reolink came again in our recommendations for the best surveillance cameras with audio recording capability but with different models.
The Reolink E1 Pro camera is what you search for. begin from resolution, the E1 Pro Reolink camera super HD videos with a resolution of 2560×1440 (4 megapixels) which is more than other most common cameras.
As you compare to the previous audio camera Wyze Cam Pan, Reolink from the same type PTZ and has less range for both Pan range and Tilt range, it's rotated 50° vertically and 355° horizontally.
But, For night Vision Reolink security cameras do a great job, the camera uses an Image Sensor CMOS sensor and use 8pcs LED lights more than Wyze cam, and as a result, the camera cover range as long as 40 feet (12 meters) in the dark.
Wireless surveillance cameras shouldn't lose the Wi-Fi signal easily. For this reason, the Reolink E1 cam supports both 2.4GHz and 5GHz dual-band WiFi to provide a strong signal for reliable network performance.
This camera is ideal for baby monitoring. Once you connect it with Reolink NVR you can enjoy 24/7 monitoring. Two-way audio is available with one-touch on the Reolink app you can hear what's going on in your home and talk back in seconds.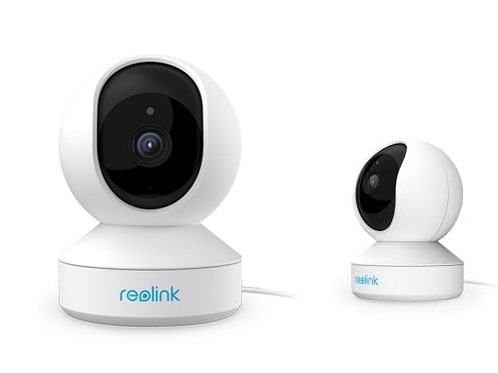 Pros
Can store videos to Reolink cloud or local SD card
High Resolution
Multi-screen live streaming Feature
Cons
No availability to schedule infrared lights
8- Blink XT2 : 2 Years Security Camera
Want to get a wire-free security camera that works for a long time without needing to recharge the battery? then Blink XT2 is perfect for you.
For me, I consider Blink cameras and especially the XT2 model at the top best Two Way Audio Security Camera, The camera uses two AA batteries and can work up to two years without battery problems.
Blink XT2 cam is a multi-functions cam, It can be mounted wherever indoors or outdoors.
For indoor it's small in size and can be placed anywhere, it allows you to keep an eye on what's happening around you. On the other hand, For outdoor, the camera has a high-quality material and it came with IP65 water and dust rating.
Everything in the Blink camera is amazing. Storage as an example, Blink offers free cloud storage to keep your recorded videos for up to 1 year if you want.
Furthermore, It's easy to set up and doesn't take too much time to install it. Recording capability is also exists by enabling 2-way audio.
Blink Doesn't forget motion detection it's available and customizable, plus you'll be alerted and receive instant notifications on your Blink app.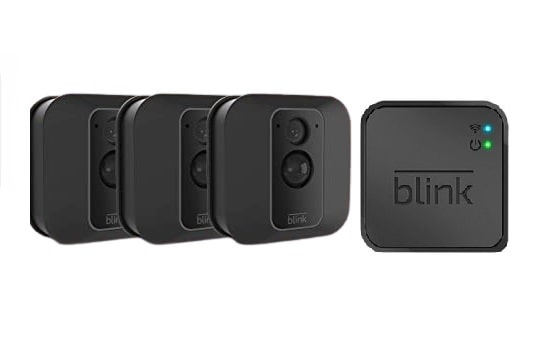 Pros
Long-lasting battery For two years
Integrates with Alexa
Easy to Setup
Cons
Batteries Non Rechargeable
9- EZVIZ C3W ezGuard Camera : All Features Camera
You may be amazed by the EZVIZ Guard 1080p smart camera, but this super security camera is designed for outdoor utilization and provides all of the features you need on a budget.
Although the EZVIZ camera is not wire-free and uses a power adaptor to turn on, it has a ton of features.
The camera record 1080p full HD videos with HDR and has both features motion detection, two-way audio, and for sure Night vision features and all these at affordable price.
What we like about EZVIZ EZ Guard audio camera is it has Several storage options for your camera videos, you can save videos on First Micro SD Card, the second encrypted cloud storage, and the third the EZVIZ NVR.
Furthermore, you can save all three locations at the same time. Don't worry no data will be lost.
EZVIZ cam is easy to set up as it has a mounting base and camera holder that can be rotated 360 degrees, the camera material is designed for all-weather whatever it's rain, sunshine, or even snow the camera will still work.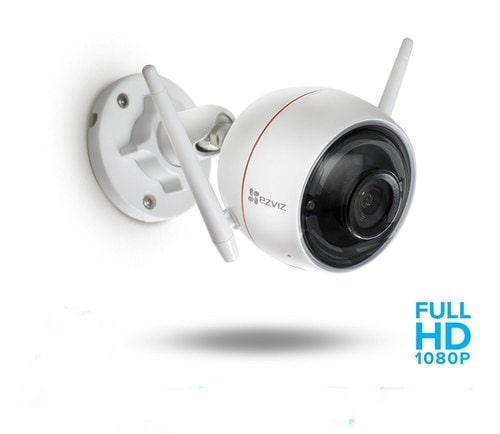 Pros
Full HD 1080p Video
Two-Way Audio
Motion Detection
Modern Weatherproof Design
Cons
Wired Security Camera Need Power Outlet
Types of Surveillance Cameras With Audio Recording Capability
Firstly, let's start with the 3 popular types of security cameras with audio:
Security cameras with a built-in mic: This is the most frequent type of indoor and outdoor security camera with microphones that can record both videos and sound as well.
Security Cameras that Support an Exterior Microphone: This kind of type of security camera with audio recording comes with an audio-input connector, to which you can add an additional microphone for video and audio recording.
Two-Way Audio Security cameras: The last but also commonly-used kind is the security cameras with a built-in microphone and speaker, through which you can listen closely to and communicate with the guests at your entrance door or your family without having to actually be right now there.
How to Select The Best Surveillance Cameras With Audio Recording Capability
1. HD Security Cameras with Audio
The quality of an excellent security camera with audio should be at least 1080p or 1920p (5-megapixel). It will allow you to view live video clips in crisper and better images.
An HD security camera with audio can also maximize the possibility for you to recognize the face of a suspicious person and the license plate numbers, specifically when the video footage is needed as proof to lodge claims.
2. Security Cameras with Audio and Night Vision
The " cable " and "cableless" security cameras with audio need to have at least IR LEDs and also IR filters to guarantee good quality|good quality} night vision.
The night's vision range of the security cameras with audio for the house is also an aspect you need to check out, which indicates how far the cameras can see actually in total darkness.
Several top-quality wireless security cameras with audio, offer accurate color pictures at night to allow you more clear details.
3. Indoor or Outdoor Security Cameras with Audio
For the indoor security cameras with audio, are made "not water-resistant" and are normally used inside your house and places of work.
Although the outdoor security cameras with audio are ideal to be placed both inside and outside.
Waterproof is the NO.1 function for a wi-fi outdoor security camera with audio. An IP65 or IP66 outdoor security camera with two-way audio is able to brave all the components.
4. Home Security Cameras with Good Audio Quality
While a lot of security cameras are promoted to feature audio recording, not all of them have the great audio quality to your goals.
To easily find the best security cameras with audio, you may look through the customer testimonials of the security camera systems with audio to notice if there are any problems with the microphone level of sensitivity or the sound noise.
Plus, it's a great deal if there are video examples of security cameras with audio recording, so that you can immediately notify the audio quality of the cameras.
5. Find a Trustworthy Company of Security Cameras with Audio and Video
As soon as looking around the security cameras (systems) with audio, you should also spend more time on whether the brand is reliable enough.
This specific will decide if the home security cameras with audio are of high quality and if you have a guarantee or not. Here are the key factors of a trusted brand.
Offer a full range of security products
Have 24/7 service and free support
Guarantee 2-year warranty and 30-day (more or less) return
Get good reviews in the industry
Get high praise from consumers
Benefits of CCTV Surveillance Cameras With Audio Recording Capability
The large advantage of this type of CCTV audio system is that you rarely require any extra wires or even an audio plug. This is simply because the video and audio signals are all attached to one cable.
This would make the system less messy and more importantly, less noticeable while you want to employ the CCTV camera to take care of your property or home and those you like.
Although this type of system uses fewer cables, it is still necessary that it is mounted by an expert CCTV installation company.
Uses for CCTV cameras with audio
A CCTV camera with audio capabilities has many purposes and advantages for the homeowner. A lot of persons decide to utilize that type of CCTV system when they suspicious a stranger one.
The CCTV will capture in the real moment, additionally, you will certainly be able to discover everything that is said. This will help to improve your situation if you determine to move to law enforcement.
CCTV with audio recording is also very functional when dealing with neighborly arguments. Throughout this type of potential fight, it is useful to hear what is being said.
Final Thoughts
The last words about surveillance cameras with audio recording capability is to know how to use 2-way audio cameras, a lot of people buy cameras and they don't know what the features the camera has and they misuse the camera.
Our advice after finishing buying your security camera is to read the user guide to see and know everything about your cam, how to power it on, also to see what are the advantages existed in the camera.