Here is Blink Indoor Security Camera Review, the top features of the camera, and the cons also.
The world of home security is a litany of pain. Camera and monitor hardware that's awkward to install, poor image quality even when it works, limited cloud storage.
Plus, Traditional home security cameras are easy to break into, big, and expensive. The list goes on.
But there is a new tool in the fight against crime. It's been on the market for two years now and it's already making a difference to hundreds of thousands of users worldwide, which is Blink Cameras.
Blink (Amazon Company) has many different types of cameras like Outdoor security cameras, Blink Mini cam, XT, XT2, and Indoor cameras which we review here in detail. You can Read Blink Mini Security Camera Review.
The Blink Indoor Security Camera combines state-of-the-art smart technology with innovative design elements that ensure you're covered 24/7 by a home security system that can grow with your needs.
| Blink Indoor Camera | Specification |
| --- | --- |
| Power source | 2 AA lithium batteries |
| Usage | Indoor Only |
| 2-way audio | ✅ |
| Motion-activated alerts | ✅ |
| Infrared night vision | ✅ |
| Works with Alexa | ✅ |
| Video resolution | ✅ |
| Weather-resistant | ❌ |
| Price | Check Price |
In this Blink Indoor Security Camera Review, we will focus on this device's features, positives, and negatives.
Features
1. battery-powered security camera
Most people are Worried about the security camera mounting process and the problems that come with installing security camera cables and wires.
But, Blink tends to change this by creating wireless battery-powered security cameras at affordable prices, and Blink indoor security cam is one of these cams.
The Blink Indoor Security Camera requires no cables, no power socket, and no hassle. It uses a pair of AA batteries that last for months without changing it.
Just insert the batteries in the camera, switch it on, and look for camera light indicators, register your account on Blink App and you're good to go!
2. Customizable Motion Alerts
Indoor security is a growing problem. According to the FBI, just over 60% of burglaries occur while the homeowner is away.
With families spread throughout the country, it's very difficult to monitor homes and small offices while traveling.
If you think about available solutions like Regular security guards, and Dogs it may be expensive and sometimes unreliable also.
All of these can be eliminated by having a security camera!
The Blink Indoor Security Camera could be an inexpensive way to keep watch over your home or small office while you're away.
It works like many other IP cameras but comes with some nice extras, such as a customizable motion alert zones Feature.
Customize the motion detection alerts to what you want. For example, if you can't tolerate being notified of temperature changes, turn these off.
You can even be notified when no motion is detected to ensure your home is safe when you are away.
Not only is Blink affordable, but it also allows unlimited personalization for the perfect solution to fit into your lifestyle and needs.
3. Two-Way Audio
You can never fully trust a security camera if you can't see the thief's face or hear what he or she is saying. It could be a cat meowing back at you and not a robber!
So many people have fallen victim to this 'cat-and-mouse game. Nobody deserves to lose their home, possessions, and dignity to a bandit who is laughing at them as they steal their stuff.
The Blink Indoor Security Camera helps you keep connected to your home when you're far away by allowing two-way audio communication between you and those inside your home.
All this lives on your smartphone so that during an emergency situation, you can always respond quickly.
4. No professional installation
The most tedious part of installing a home security CCTV system is the wiring and refining process. Plus, the installation fee may be costly.
No – you don't need a professional. You can set up the Blink system in no time on your own.
Thanks to its simplicity, speed, and flexibility, it's easy to set up without any wiring hassle.
Just strap the magnetic camera anywhere you want it to be, then install your batteries, and turn the camera on.
After that, create your Blink account from a mobile phone or any other device that has internet access…and log into your account from any web browser.
Install and configure the Blink app if you prefer over a web browser interface for even easier monitoring.
5. Works with Alexa
Smart home technology is impressive. We know all about the benefits that come with having an electronic assistant in your pocket.
But, putting up security cameras, managing software, and monitoring your webcam feed away from home isn't exactly appealing.
You don't have to spend a night in front of your laptop anymore. The Blink Indoor Security Camera lets Alexa be your eyes, ears, and guardian angel when at home or when you're out.
Blink Indoor Security Cameras keep you connected on your terms whatever where you are.
Check on your home from anywhere with an internet connection or use voice control to check in from the office or when you're on vacation.
6. Support Cloud Storage
Being able to easily share video clips and photos of what's going on in your home is a lovely idea.
But one which means having to store those videos and stills somewhere.
Needing to manage your own storage is tedious. For Blink users, it's not, Blink Indoor Security Cameras store all of your favorite moments in the cloud storage.
So you never lose access to them, and you can even view them via a web browser or smartphone app.
Plus, the local storage option is available also by using Blink Sync Module 2
7. Cheap Price
Finding a great security camera for your home or business can be stressful. You want something that is reliable, inexpensive, and effective in detecting active intruders.
However, there are so many different kinds of manufacturers and software that it can be hard to know what is the best choice for you.
And all this in a market where prices vary dramatically, from cheap to exceedingly expensive.
But, with Blink indoor security camera you get what you want, it's come at an affordable price as you compare to other security camera brands with the same features but at a high cost.
In addition, there is a free trial for using cloud storage options to store your recorded videos, and if you want to subscribe to paid plans it's cheap.
8. Indoor usage Only
The Blink Indoor Security Camera makes it easy to keep an eye on your home, business, or child from anywhere with an internet connection.
This camera is designed to use inside the home only, it doesn't come with a weather-resistance feature or water-resistant material.
Without the need for wiring or study camera cables, the Blink indoor security camera is easy to set up, powered by batteries and you can mount it on a surface, table, or on the wall.
9. HD Video Resolution
In our Blink Indoor Security Camera Review, we found that this camera is one of the most secure home security cameras on the market today.
It has a 110° Diagonal Field of view and records video in 1080p with a frame rate Up to 30 fps.
So, with HD resolution provided by Blink camera, you can keep your eye on everything happening in your yard, with no grainy pictures or low-quality videos.
Drawbacks
1.  Poor Night vision
In Blink indoor security camera review, the night vision feature is less than we expected and we get a dull picture during the night.
While the camera has infrared LEDs, but the number of IR LEDs doesn't give good light during the camera's working hours.
The Blink cam has two indicator LEDs.
First, 1 LED to help you know when it's active  or not (blue LED)
Second, 1 LED that works during record with Night Vision (red LED)
2. No Continuous Live View
Another disadvantage we found while our Blink indoor security camera review is the camera doesn't support continuous live view like other cameras.
In Blink security camera review, there is a limit for continuous live viewing, the camera gives you the ability to view up to 5 minutes at a time in 30-second intervals.
After the first 5 minutes are finished you would have to start a new live view session.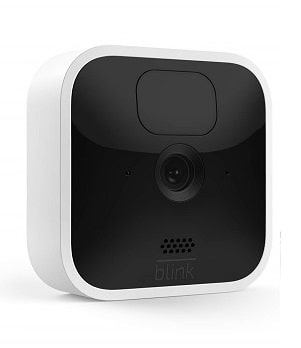 Summary
After Finishing the Blink Indoor Security camera review, make sure you read the features carefully to see if the camera meets your needs or not. purchasing the wrong camera may damage your home surveillance system.
Plus, the Blink indoor security camera is the best for homes, rooms, and living areas also. it's one of the most valued cameras on Amazon with a good percentage of customer sanctification.