Checking and viewing security camera recording is a really important thing that you stepped in after the installation of any security camera.
Doing this step allows you to ensure that your cameras are working and do their functioning in the correct way.
However, this step is useful, it has a lot of problems that every beginner hates as each security camera has its method for viewing recordings of cameras.
But don't worry! In this blog post, we will discuss in detail how to check security camera recording on different devices which work with most security cameras such as mobile apps, tablets, PC, and TV.
Can we see CCTV on mobile?
The answer is YES, you can see CCTV recording on mobile through the mobile app provided by the camera seller or manufacturer, also you can see CCTV footage on other different devices such as Tablets, Ipads, Computers, Laptops, and Smart TVs.
The method of viewing CCTV recording is depending on your camera brand, and the app or software it provides for customers to see CCTV footage.
For example. There are some security camera brands that offer only smartphone applications for homeowners to view the CCTV recording.
While other security camera manufacturers support their customers with both mobile applications and PC viewing software to make them choose what they want to use.
How to Check Security Camera Recording Stored on DVR/NVR Hard Drive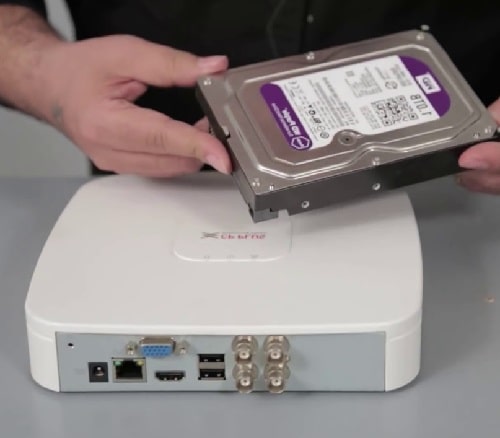 Nowadays, security camera sellers provide customers, and business owners with more than one solution to check security camera recording from any device they love.
From devices that display videos and footage on small screens such as mobiles, and tablets to large devices that display the camera feed on big screens like TVs, and PC screens.
Now, Let's see each method in detail
Method1: Check Security Camera Recording On Mobile Phones (iPhone- Android)
As the number of security cameras in the market increase, the mobile applications that are used to control and manage security cameras increase also.
Most of these security camera mobile apps are free and available on the Google play store or Apple Store. 
Also, these apps are easy to use and often come with a wide range of features that let you customize how they work for your needs.
One of these features is the recording and playback feature which enables you to go back and watch the recorded footage even if you weren't around when it happened. 
Here are the steps to check security camera recording on mobile apps
1. Open the security camera's mobile app on your device.
2. Enter your login information(username/password).
3. If you have more than one camera linked to the mobile app, choose the one that you want to check its recording.
4. Try to go in front of the camera, or move your hand to check if the camera records it or not.
5. Go to the mobile Screen, Then press "double click" on it to open a single tap for the selected camera.
6. Search for the "Playback" button on the top, or bottom of the screen.
7. Select the date you would like to view the footage.
8. Once the video loads, use the arrows on either side of the screen to scroll through it and see the recorded video in detail.
These are the basic steps that will help you if you want to view security camera recording on mobile devices.
To know more about how to playback security cameras on mobile, watch the next video
Source: C & K Byfield
Method2: See IP Security Camera Recording on PC & Laptop
PCs and Laptops are the second most popular devices around the world after mobiles, they are useful as they allow you to control what you have on your mobile but on a big screen, and with more options that are not available on mobile.
For security cameras and surveillance systems, PCs and laptops are used to watch a live view of the camera and to check security camera recording on past days to see what happens while they are absent.
With help of viewing software designed especially for this task, or with other available viewing software you can open your account on the PC and see the recorded videos on a specific day.
Note that not all security camera providers offer monitoring software for their clients, only some of them do. 
So, in case your camera brand does not offer a computer viewing program then you can go and download one of the other camera viewing programs available online. 
Here are the steps to check security camera recording on PC and Laptops
1- Download the Viewing software from the CD provided with the camera package, or from the manufacturer's website.
2- Login with your account credentials if you sign in before, if not sign up for a new account.
3- Once you write your account Username & Password, enter the main display screen of the program.
4- Use the mouse, and press the right click, a small menu will pop up, choose the "Playback" option to open a new window for checking and viewing the camera recording.
5- In the new window, you will see a calendar in which you set the date of the day that you want to check the recording.
6- Set the Start time & End time in case you want to check a specific event on the selected day.
7- Select the Ch of the camera that you want to check its recording, then decide which type of recording you want to check ( Manual, Automatic, Motion, or Scheduled recording).
8- Once you select everything, press the Apply button. After that, the video recording will appear in front of you on the screen.
9- Choose the video clip you want to look at and it will open on the PC screen immediately.
For now, these are the general steps that are used to check CCTV security camera recording on PC, and Laptop viewing programs. 
You may need to do more or fewer steps than mentioned above. It depends on your camera brand and viewing software.
Anyway, Watch the next video to see how to chech recording on security camera playback software.
Source: 123 cctv
Method3: View CCTV Security Camera Footage on Smart TV & Monitor
In large buildings and places, you don't have permission to access the security system cameras from a mobile or through a PC.
The surveillance system of the building exists in a special room away from employees and other workers inside the company or office.
In most cases, this system is being monitored by connecting the video recorder device of the whole system directly to the TV screen or multiple monitors.
If you face this scenario and it's required you to see if the camera is ON or not? And check security camera recording then you can rely on this method to watch your system videos on the monitor.
Aside from the ability to watch whole security cameras on one big screen, using this method is perfect for beginners who have little knowledge of surveillance systems and how they are monitored.
For now, let's see how to check security camera recording stored on a DVR/NVR hard drive directly on a big monitor or TV.
1- Turn on your cameras, and make sure your video recorder is plugged in and working normally, try to film short videos of you or any of your body parts moving.
2- Look at the HDMI or VGA cable and ensure they are connected to the screen successfully and there's no issue in the connections.
3- Open the DVR/NVR main page, and a list of all cameras connected to the video recorder will appear in front of you on the screen.
4- Use the mouse, Press on the Right-Click to open the controlling menu.
5- From the menu, Look at the "Playback Recording".
6- Open the "Playback Recording" settings, then you need to set the date and time of the recorded video that you want to check.
7- After you set the time range, select the type of recording and the channel also.
8- Press OK or Apply to open the whole recorded video at the specific date and time that you select.
9- Start to check the short video that you recorded in the 1st step, then open it and see if the camera recorded it with details successfully or not.
Finally, after finishing the above steps you will be able to view your security camera videos on TV or display monitor without having to involve in technical issues, or hiring someone to do it for you.
How to View and Check Security Camera Recording Stored on Micro SD card
Storing security camera videos on SD cards is a good choice in case you want to keep your data offline away from hackers.
However, to check security camera recording that is stored on a micro sd card you have to do a specific step that will make the checking and viewing process easier than you think.
This step is related to the storage type that you select your camera to save videos on while you're configuring the camera settings.
For more illustration, some people prefer to select the HDD of the video recorder whatever DVR or NVR while others love to keep their camera videos online on cloud storage to make it easy when they're trying to access the camera-recorded files.
Whether the camera stores videos on HDD or a cloud store you can from the application or viewing software to access and check the camera recording.
For an SD card, to watch the security camera record videos on it, you have to change the video source on the application, or software and select an SD card option.
Here're the steps on how to check security camera recording stored on an SD card
1- Insert the SD card into the slot that exists on the back, or side of your camera body.
2- Turn on the camera and wait for it to be in work mode.
3- Go to the main menu and search for the " Storage" or " Manage storage" Options to set and select the SD card.
4- Once you adjust the storage set to be on a micro SD card, you can live view the camera feed and check.
5- For checking the recording status of the camera, Open the "Playback" tab from the menu, then select the data of the day, and time of the event, and at the end decide the recording type.
6- After you finish setting the playback requirements, the app will show you the recorded events during the day, and the time you selected previously.
7- Open the event you want and enjoy watching your camera videos.
Note that every security camera brand has its application, and the camera applications or software have different user interfaces so that's why we here mention the general steps that guide anyone to check security camera recording whether on HDD, or SD card.
Summary
Finally, there's no specific way to check security camera recording. If you have a complete security system installed in your house, you can use one of the above methods to watch your camera videos.
On the other hand, if you want to check if a security camera is on for recording your neighbors or other places, then, in this case, you have to visit where the recording took place and request from camera owners to access and see the recorded videos to review them.
Depending on the policies in place, any person with the premises to access the camera data may be able to provide you an SD card or USB drive containing footage from specific time periods on the day that you request from them.