Connecting CCTV security cameras by using Cat6 cable has many benefits that anyone loves to have.
One of the biggest advantages is that Cat6 cables can support much higher data rates than other types of cabling, such as coaxial used with analog security systems.
What I mean is you can transmit more video footage and data to and from your security cameras without any signal degradation.
In addition, since Cat6 cables have a greater bandwidth capacity than other types of wiring, they are less likely to experience interference from outside sources, like power lines or radio signals.
As a result, you can be confident that your camera's image quality will remain consistently high no matter what conditions it is operating in.
Now, Let's know more about how to connect Cat6 Cable to CCTV Security Camera
Can we use Network LAN cable Cat5, Cat5e, or Cat6 for CCTV cameras?
The answer is yes, network LAN cable, whatever cat5, cat5e, or cat6 can be used for connecting CCTV analog cameras to DVR by using small connectors such as video balun and power male or female connectors. Simply, you have to remove the Rj45 connector if your cable has, and then install a video balun. This balun comes with a BNC port that will be used for connecting the CCTV camera with the DVR.
The only difference is how you want to make the connections, and what type of cables you want to use.
How do I run an Ethernet cable through a security camera?
As we know, security cameras have two types related to how they are capturing the videos and transmitting the data, there are analog CCTV cameras, and Network IP cams.
For analog surveillance systems, CCTV cameras are used such as TVI, CVI, and AHD, and they are connected to DVR by using a Siamese Coaxial cable, but sometimes camera owners prefer to use network cable for connecting the analog system cameras, and DVR.
On the other hand, Network systems use Internet Protocol (IP) cameras, and they are connected to the NVR (Network Video recorder) by using Ethernet cables.
So, before asking how to run ethernet cable for security cameras, you must decide which type of cameras you'll use: analog or IP cameras?
But don't worry below there are 2 methods with details that will help to connect your cameras with an Ethernet cable without looking for a camera type.
Method1: Connect an analog camera with cat6 cable? Or Connect cat6 cable to CCTV security camera?
Ethernet cables have 8 wires, each 2 wires are twisted on each other. And there are two models, first is the pre-made cable which comes with an RJ45, while the common cable is an Ethernet cable without any connectors.
For a common Cat6 Ethernet cable, To connect a CCTV security camera through the network cable, you have to get the wires out of the main cable.
Read the steps below in detail.
Step1: Get a wire crimper and then remove the outer part. Once you do, untwist the wires, then take wires away in order (blue – blue/white – brown – brown/white) and twist them on the main Cat6 cable.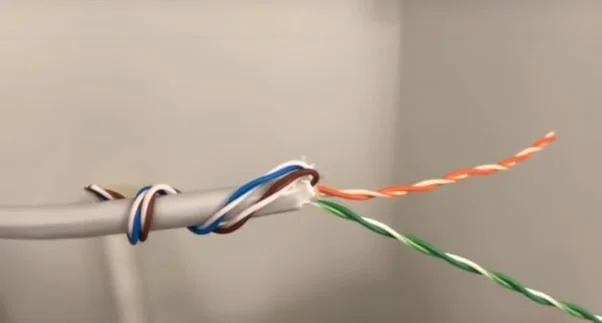 Step2: Take the (green for (+) -green/white for (-)) wires and connect the Balun to the wire ends.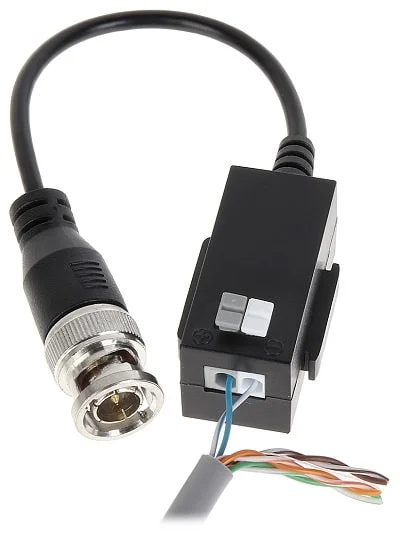 Note: you can replace green wires with blue as we do in the above picture.
Step3: For power, bring the (orange for (+) – orange/white for (-)) and connect them to a DC power connector.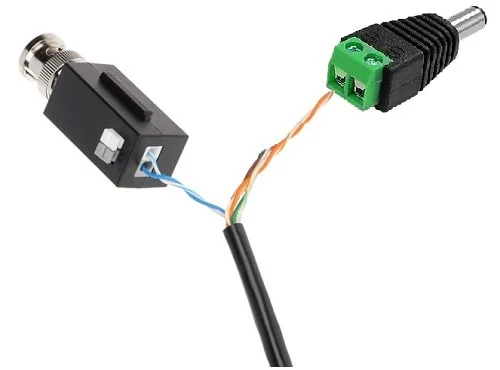 Step4: Link the power connector you installed previously to the power adapter of the camera, and for the camera, take the output of the balun and connect it to the DVR port.
Step5: Repeat steps 3, and 4 on the other side of the cable, and after you finish connect the video feed of the camera to the BNC port of the cable, and power connector with the camera power.
For more watch the next video
video source: Techn' Moto
Note that in case you cut the cable by mistake, you can splice the ethernet cable and continue working on your task.
Method2: Connect a pre-made cat6 cable to CCTV security camera
If you have a pre-made Ethernet cable with an RJ45 connector on both ends, then it'll be easy to link the camera to the DVR through this cable.
The reason behind making this so easy is you don't have to use the crimper, and involves wiring problems of the cable.
Just get a video balun connector with Ethernet port and the task of connecting CCTV security camera with cat6 cable will be finished within seconds.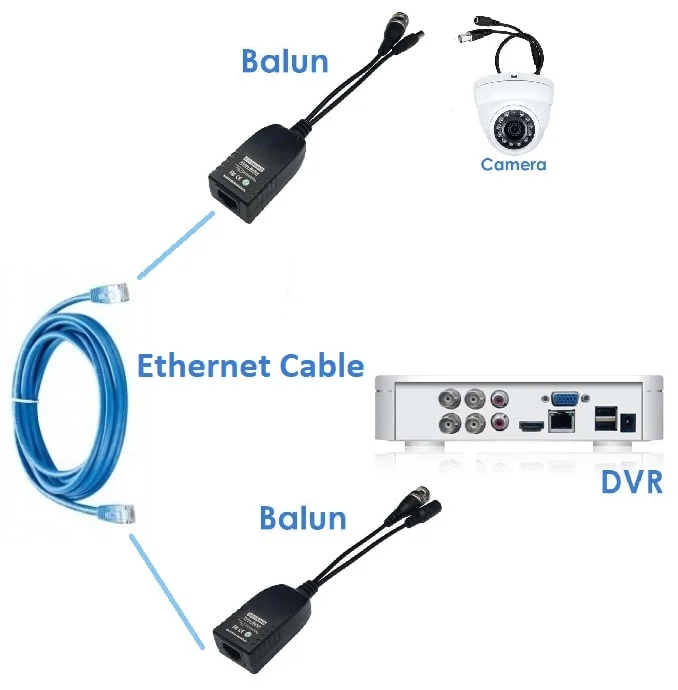 For more following the below steps
Step1: Get the Video balun you purchased before, put one on the back of the DVR and connect it, BNC to the DVR port, and the power connector for the power adapter provided with the analog camera.
Step2: Bring the UTP cat6 cable with accurate length to link between your central device (DVR) and the analog camera. Then, take the Lan port and insert it into the first video balun port.
Step3: For the CCTV camera, connect a video feed balun in the same way you connect the first balun. After that, connect the 2nd LAN port of the ethernet cable to the camera video balun, and you're done.
Step4: The last step is to connect the camera power adapter to the power wire of the balun.
Method3: Connect Network IP camera with cat6 cable
Unlike connecting CCTV cameras to DVR through Ethernet cable, connecting PoE IP cameras is easier than anything you think by using LAN cables.
As we Know, PoE (Power Over Ethernet) cameras are devices that are powered and work with only one Ethernet cable, this cable is transmitting signals, and also powers the camera.
So, When it comes to running the cat6 cable between the NVR(Network Video Recorder) and the PoE cameras, you don't have to use a wire crimper or involve any security camera wire splicing problems.
It's a simple process. Just connect the cable to the camera LAN port, and then go for the second end of the cable and insert it into the back of the NVR.
How far can you run CAT 6 cable for cameras?
Well, the maximum length of Cat6 cable to use between your security cameras, and video recorder device is 100 meters or 325 feet. After this, the camera signal will be delayed, and you'll get into trouble of loss of connections between the camera, and NVR/DVR.
On the other hand, if you install PoE cameras beyond this distance, then you can use a switch to extend your Ethernet cable length to reach the locations of the cameras.
In case you have only one camera that exceeds the specified length of the network cable, then you can go for an alternative solution which is Ethernet Extension Cable.
Summary
Finally, a lot of people love to have and connect Cat6 cable to CCTV security camera as this type of cable provides a more stable performance than coaxial cable. Plus, these cables are protected against interference from other cables and power sources.
However, Coaxial cables have a large number of fans, as they are cheaper than ethernet cables, and they are easy to splice or change with new cable, unlike Network cables.
Resources: Back Street Surveillance,