Connecting NVR to TV is one of the different methods used to watch IP security cameras feed on big screens, it doesn't require running wires, you can do it wirelessly. 
Aside from wired security camera problems, learning how to connect NVR to TV wirelessly will help you to see everything on your TV with minimum effort as compared with other methods. 
You just need to get your IP camera installed and linked with the video recorder device, whether by wires, or through a WiFi signal, and the TV is turned on. For the linking processes between the 2 devices follow the next words. 
Why should you try to connect NVR to TV wirelessly? And what are the benefits? 
If you ask beginners or experts which system you preferred wired or wireless? They mostly answer with Wireless. 
No one wants to be involved in the installation process of a wired camera system which is harder than wireless. 
Even more, wired security cameras with DVR and coaxial cables cost more money. 
Whether you have knowledge of the installation of surveillance systems before or not, you have to plan and run wires to all the CCTV cameras in the system. 
On the other hand, the devices that rely on wifi signals to be connected with others are easy to install and give you the ability to change the cam location when you want, unlike wired cams. 
Moreover, most smart home systems right now use wifi signals to connect to the internet and be online to receive and send alerts. 
So, in case you're thinking and wanting to connect NVR to TV wirelessly it will be a great idea and it keeps your home design clean without messy wires. 
Related: Read How To Connect Camera To TV Wirelessly
Let's see how 
How do I hook up my NVR to TV wirelessly? 
To connect NVR to tv wirelessly you have several ways to go and choose from, the method you select depends on the budget, the devices you want to use, and lastly the type of display ports on your TV.
Generally, you can use a signal transmitter and link it to your video recorder, and on the other side, hook up the signal receiver and take the signal output of it, and then connect it to your Television. Or you can use a streaming app if your TV is a smart TV connected to the internet.
For more details read the below methods
Method1: Use HDMI/VGA Transmitter and Receiver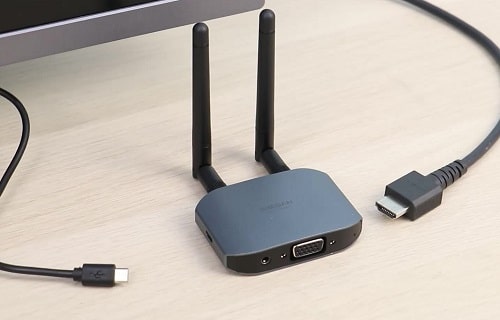 In the past, to link NVR with any other device you had to use wires, and cables, whatever PoE cameras, computers, or display screens.
Right now, there is a bundle of wifi transmitters and receivers in the market that provide strong signals and come at affordable prices.
Among the available transmitters and receivers in the market. There are 2 models that we can use to connect NVR to TV wirelessly.
The 2 devices are HDMI Transmitter/Receiver, and VGA Transmitter/Receiver, to know which type you can use depending on your TV ports.
Sometimes, TVs come with VGA ports only, and sometimes do Not. the same also with HDMI. But now most TVs come with both ports.
So, Connecting NVR to TV wirelessly can be done directly without needing access points or wi-fi extenders.
For steps, Let's see How
Purchase a wireless HD transmitter & receiver extender from any trusted store, then start to set it up with your NVR.
Note: Before you decide where to put your receiver or transmitter make sure they are near power outlets. 
Every device has power adapters included in the box, take it and plug it into your electric source to power your device.
At this stage, you are done with how your devices are powered. For now, you have to start with a wired connection.
Take the HDMI or VGA cable from the package and connect it to the HDMI output port of the NVR. If your video recorder supports VGA and you want to use it, then do the same step.
Now you're done with signal transmissions. For receiving the signal, you have to do the same with the transmitter. 
Turn the device on and take the HDMI cable and connect it from the HDMI output port of the Receiver, and then connect it to the HDTV input.
In the last part, Turn on your TV and select the source to enjoy watching your NVR and wireless camera footage, and videos on your TV.
Note: This method is amazing if you TV in the range of the Wi-Fi signal of the transmitter and the receiver; if not, then you can jump to the next method.
Method2: Use a WiFi Bridge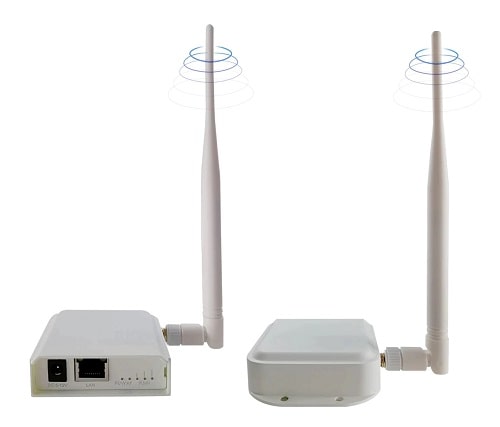 Sometimes homeowners suffer from weak wifi signals in their houses and search for effective methods to increase/boost Wi-Fi signals of wireless cams to reach faraway spots in their properties. 
They begin with changing the router antenna with a powerful one which is a good idea if you have a low budget. 
On the other hand, guys with networking knowledge pick an access point and link it through an Ethernet cable with wifi to extend the coverage and this is exactly what we gonna use in the next method. 
In the second way to connect NVR to TV wirelessly, we use a WiFi bridge (sometimes called an access point) and set it up with the home network router, then link it with your TV screen.
Note: This method depends on having a smart TV in your house and supporting wifi signals. 
Let's go deep into the steps
After you finish pairing up all of your system cameras with the video recorder. Start with the connection between Network Video Recorder and the WiFi router. 
In most cases, the recorder device is connected to the router through an Ethernet network cable whatever the type cat5 or cat6 both will do the job. 
However, if you have an NVR with an antenna or a base, then you can link it to the router wirelessly.
Once you get the wired connection between the 2 devices done, then bring an access point and link it to your router to extend your wifi range and cover the TV area.
The AP can be connected to your home router in 2 ways. 
The first is by using a WPS (Wi-Fi Protected Setup) function if your router and access point support it. 
This feature is provided by most router suppliers to make the process of connecting wireless networks from other devices secure, and easier. So, you can use it to pair your router and the extender.
The second way is to link the extender with the WiFi router manually, and that is done by connecting your AP to the PC with an Ethernet cable and configuring it.
Now, you reach the end of the 2nd method to connect NVR to TV wirelessly. 
Just turn on the TV and scan for the access point Wi-Fi signal, once you find it, link your TV to it and you're done.
Note: The above steps are the best choice for you if you mount your TV in a place that is out of your wifi router coverage.
Method3: Connect NVR to TV wirelessly by Using the Internet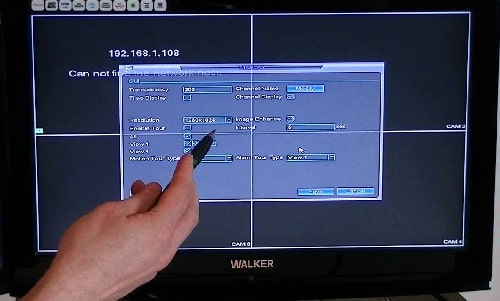 Connecting NVR to TV, PC, or smartphone can be done through wired and wireless connections. 
The wired connection is easy to do but takes too much time and effort while the wireless connections don't. 
But how do you connect NVR to TV wirelessly without wires or cables? 
Well, the third method is depending on using your security camera brand streaming software on the smart TV. 
Each surveillance camera manufacturer provides mobile apps for both Android and iPhone mobiles, and viewing software for PCs, and smart TV. 
So, to get the best results of this method make sure your camera has good software for streaming videos on the internet, and your smart TV gets a high-speed internet connection. 
Thinking of using the internet to connect NVR to tv wirelessly is good for beginners who don't need to dive into wiring problems but it'll consume a lot of your network bandwidth. 
Moreover, if you have an issue with your internet your TV will stop completely from showing any feeds coming from security cams and NVR. 
Before you go…
Having a home security system is a good idea and using a large TV monitor with the NVR of the security system can give you the best picture possible. 
It is possible to connect NVR to TV wirelessly, and it can be an easy process, or it can be an overwhelming one depending on how you want to do it.
If you select to go wirelessly, then the easiest way to connect your NVR to TV is by using a wireless HDMI transmitter and receiver. By doing this, you are able to transmit the signals between your NVR and TV wirelessly, which will significantly cut down on cable clutter and costs.
Related Articles:
Resources: