Imagine one day you are caught by a security camera in your home, and after watching recorded videos your sound is played in the video. For minutes you are surprised by what the security camera show you and you wonder "Do Security Camera Have Audio?."
Well
Nowadays, Advanced technologies are added to security cameras. Technology like motion detection, and the ability to record night vision videos by using infrared LEDs.
Some types of security cameras use OLD technology for sending and receiving Data and these cameras are CCTV analog cameras.
On the other hand, security cameras with new technology like IP security cameras use networks for Data and sometimes Power.
The technology used in security cameras affects features added to camera and audio also.
You can find a type of camera that has audio while the same type with different technology doesn't have audio.
So, Before you buy your camera you should look carefully for the camera specification.
Let's Know more about audio in security cameras.
Do Security Camera Have Audio?

Yes, a security camera has audio and you can use it in many cases. But before asking Do Security cameras Have Audio or Not? you should know more about used technologies in cameras.
As we mentioned above, security cameras have two technologies Analog and Digital, and there are some differences between the two technologies.
Analog technology, This technology use analog CCTV cameras and DVR ( Digital video recorder) and most analog CCTV cameras record video only.
Solution: If you have a DVR and analog CCTV camera. Make sure that you buy a camera with a built-in audio input, then add and connect the microphone separately to the DVR.
For more watch the next video on How to add audio to your CCTV system
Source: SpyCameraCCTV
Digital technology uses Network security cameras LIke IP camera and NVR (Network video recorder), The digital IP camera can record both audio and video some cameras are not.
Solution: Before purchase, an IP security camera makes sure that the camera has built-in microphones.
To know more about you can read DVR Vs NVR
Once you know what techniques are used in cameras you can know if the security camera has audio or not.
Benefits of Security cameras Audio
The audio technology added to security cameras enables homeowners to record videos and sounds of persons around the camera. So, you can watch and hear the voice of intruders and what they are saying.
In addition, The audio of the camera is used in the Two-way Audio feature allows you to listen and speak with your family, also pets.
Is It Illegal to Record Audio on Security Camera?

Well, As the privacy of each person is important we should know whether is it illegal to record audio of other persons or not.
The first thing you must keep in your mind is the privacy laws of your country and state. You need to inform Guests in your house that you have a camera that records audio or breaking the law and their privacy.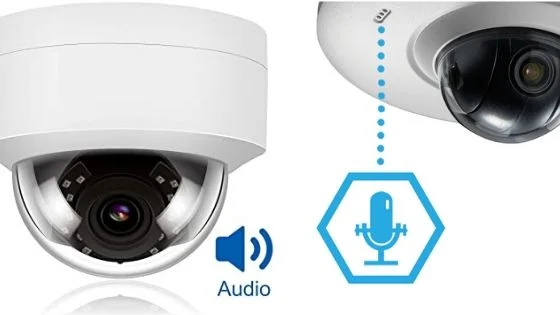 If you don't know is it illegal or not? You can ask a lawyer about using a security camera with an audio recording feature as laws vary from state to state.
Some states and cities require the consent of persons before using these cameras while other states and countries don't. But there are some common cases we will mention below:
1- It's Legal to use a security camera that records audio in your house, as you can use the cam to speak and hear with your family. It's your home and in most cases, it will not be against any violation Law of anybody's privacy.
2- If you want to record audio by using a security camera in your business. You must inform the employees about audiotaping and get the third party's consent for doing that to be legal.
3- Some Places have used a sign to indicate that the audio is recorded by a camera and these places consider it as consent. This may be illegal but people should be careful when seeing this sign and stop private conversations there.
There are the most popular three cases about whether Is It Illegal to Record Audio on Security Camera or not. The main and the most important thing that will show you illegal or not is the state law of privacy.
Security Cameras that Record Audio

Although recording audio by security cameras is illegal in some places but this feature is still important for cameras, especially in House. As we mentioned above, security cameras have benefits for you and your family.
There are more and more security cameras that record Audio, but each camera varies in design, Quality of video, ..etc.
Also, some homeowners prefer to use security cameras with audio inside the home while some people use cameras in outdoor systems. The Audio security camera is used outside the home to speak to anyone in front of your door.
How to Know If Security Cameras Have Audio Or Not?
Simply, you can know this in two ways
First, before you purchase a security camera. Go through the product description and read the tech specifications to know if the camera record audio or not.
Second, If you couldn't get and read the tech specifications. Just check if the camera has a small hole for Microphone or not.
Here is an article about best security cameras that have two-way audio so you can read and know what's the best for you.
Summary:

At the last, The answer to Do security cameras has audio or not is absolute, yes, but depending on which type of cameras you will use. In addition, the technology you will use in your surveillance system.
If you don't find what you want and For more info, You can read Quora Answers about do security camera have audio? to be more aware of cameras.f