The words below describe in detail how to install security camera on brick wall. 
Security cameras have become an essential element for home safety.
In the past, they were considered expensive, but now they are pretty affordable. 
They are available in the market in a large variety, you can purchase them according to your budget and need.
For example, a CCTV camera for outdoor security is more expensive than an indoor camera.
Once you buy a security camera, you need it to be installed. 
You can install the camera through a soffit, or any place you want, sometimes people install camera system on concrete.
Once you choose the cam placement you can either hire a professional or do it by yourself.
So, if you are interested in learning How to install security camera on brick wall then this article is for you, it's a step-by-step guide.
What are the tools used to Mount Security Cameras on Brick Walls? 
Well, to be able to install security camera on brick wall you need some important tools such as
Ladder.
Hammer drill.
Screwdriver.
Masonry drill bits.
Long power cables.
High-quality Ethernet cables for PoE network systems or Coaxial cables for Analog Surveillance systems. 
Plastic conduits/ Cable Raceway in case you want to cover and protect your camera wires. 
These are the most important tools that you need to use for installing security camera systems inside or outside of your home.
you may ask
Is it Possible to Install Security Camera on Brick Wall Without Drilling?
A lot of homeowners and customers who love their home design, hate to damage their home walls and ask for a way to mount cameras on Brick walls without drilling.
Well, the answer is YES there is a specific way you can use that allows you to install security camera on Brick wall without Drilling. Simply use High-quality adhesive tape, or use Vinyl Siding Hooks to fix the camera without needing holes or screws.
Sometimes security cameras come with an adhesive strip, and you do not even need to drill holes in your brick wall. 
It will keep your camera level on an uneven brick wall. You can peel it off whenever you want without doing any damage to the brick wall.
Now, Let's see the steps of
How to Install Wired Security Camera On A Brick Wall 
Installation of a security camera on a brick wall requires some creativity, especially when doing it yourself. But don't panic as the steps are straightforward to follow by using some guide we provided here.
Step1:- Find the Place Where to Mount Camera
First of all, Before you start installing security camera on brick wall, you have to figure out where you are going to mount them.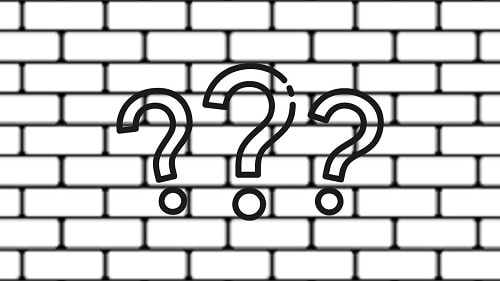 You already know that security cameras are for safety purposes. So, select a heightened place from where the security camera can cover most of the area. 
But it should not be too high that it cannot even capture the explicit video.
Plus, You should also avoid mounting it too low to avoid anyone removing or damaging the camera if it is lower.
Note: Before installing, you should remember that security cameras cannot be mounted on all types of surfaces in the same way. 
The methods are different to install the security camera on a brick wall. But when you are going through this process, it can prove to be tricky for you. But don't worry. We are here to assist you.
Step2:- Check Your Equipment
Another important step before starting to install security camera on Brick Will is to prepare your tools and devices.
Before stepping up the ladder, check that you have all the equipment near you.
Otherwise, you will have to come down repeatedly to find the tool you require which will make your installation job too hard.
You may need cables, screwdrivers, BNC or RG45 connectors, wires, safety glasses, etc.
Also, check that you have a proper power supply or a fully charged battery for using a hammer drill.
Step3:- Use A Strong Ladder
As we say when you install security camera on Brick Wall keep it high, so you'll need a Ladder.
It is essential to ensure your safety while doing such tasks. Check the ladder altogether. Put it on the wall and make sure it does not slip. 
You can check this ladder at any position on the brick wall and fix it on the place you researched in the previous step.
Step4:- Mark The Location
Mark where you are going to install the camera and make sure you draw the lines according to the size of the CCTV camera. 
You will then precisely know the exact point where you are going to install the camera by using the installation template provided with the camera.
In case you have a wired security system you can use Cable Raceway to put the wire of the cam in and protect it from cuts.
Plastic tubes or Cable raceways are helpful tools if you have a long wire route and a large number of cameras and devices need to be connected all together.
Step5:- Put Security Camera Mount Template
A lot of security cameras have an adhesive template that is applied on the mounting surface to mark holes in screws.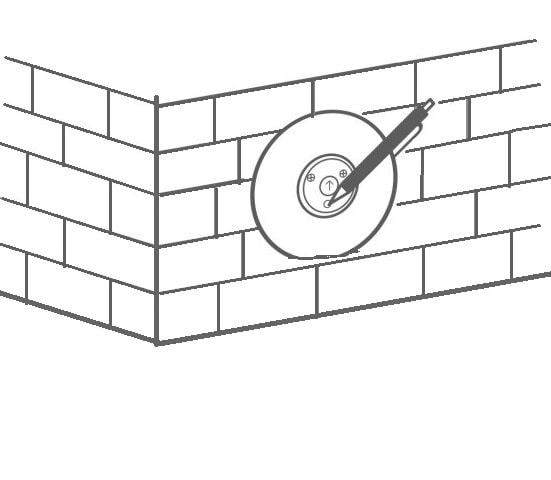 Since there is more than one security camera type such as dome, bullet, and PTZ cameras, in most cases the adhesive mount template is similar to the camera shape.
In case you lost or don't find this template you can contact your camera customer support or download it from the manufacturer's website.
Step6:- Use Hammer Drill to Make Holes
Now the most important step in installing security camera on brick wall is to use the hammer drill for camera screw holes and also mount a cable raceway.
For drilling, the wall hammer drill is considered the best. It is specially designed for hard surfaces like stone, brick, concrete surfaces, etc.
Once you finish applying the mounting template on your wall, you should turn on your hammer drill with a masonry drill bit and start to drill pilot holes in marked signs on the wall.
You may already have this device in your house, but if not, you can borrow it from any garage.
For Raceway use a pencil or any marker to put screw signs on the brick wall to Drill holes. This tool is hard to install but it's effective and hides your camera wires.
In case you have a box mounts read the below words
How To Fix Box Mounts?
Electric box mounts can be attached to the brick wall with a drill. 
But they are more convenient and secure than drill holes because they do not allow air to pass in or out by covering the hole completely. 
That is why we recommend you invest a little money in purchasing electric box mounts. 
Sometimes these are available with the security camera. But if you do not get one, you can buy it online.
What we recommend is that you use an electric box mount instead of simple drill holes. 
Step7:- Drill Camera Main Cable Hole
After finishing drilling the screw holes, Now it's time to drill the main cable hole for your camera.
The main cable can be an Ethernet cable if you have a PoE system with an NVR device or a Coaxial cable with a DVR device.
For Ethernet cables choose from different drill bits in most cases a 1/2 into 1in will be suitable, for Coaxial Cable you can choose the size depending on your cable, sometimes Coaxial cables are attached with power wires in one cable.
Step8:- Fit the Camera Brackets to the Brick Wall
Once you reach this point in how to install security camera on Brick wall this means you totally do most of the job.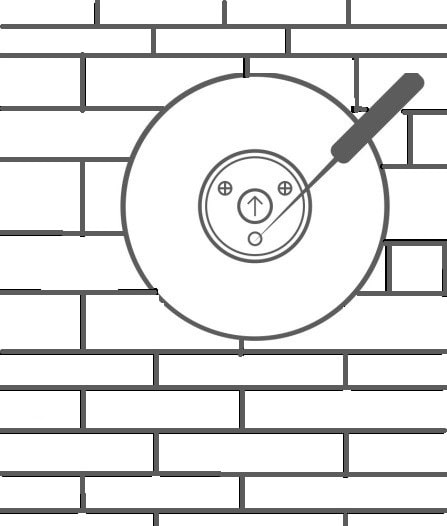 Bring the supplied screws that are provided with the camera package and turn on your screwdriver to attach the camera brackets to the Brick wall.
Note: you can change the electric screwdriver with hand tools if you don't know how to use it.
Step9:- Run Cables & Attach Security Camera
In case you have a PoE wired system, you should run an Ethernet cable through the drilled main hole and then attach the security camera to its location.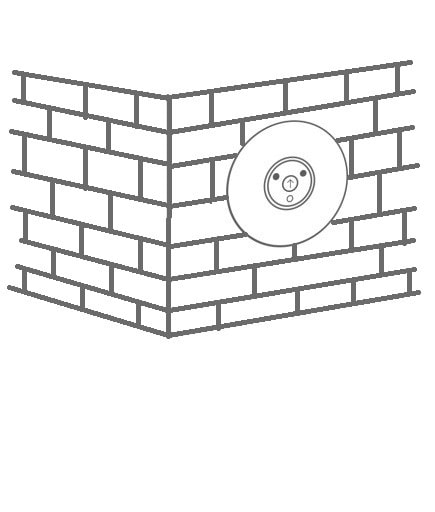 Make sure that you use weatherproof wires and connectors especially when you use your camera outside.
Once you finish connecting Ethernet cables to cameras (Coaxial cables in analog CCTV systems). You should run the Ethernet cable to the NVR or DVR.
If you have plug-in wired CCTV cameras and DVR, you should mount your cams near the power outlet and do the same steps to connect the power cables.
After all the installation is completed, it is essential to check whether the camera is working correctly.
Step10:- Take Help if Needed
Do not feel shy to ask for help from somebody. You can call your friends or neighbors.
Even if they do not aid you in installing the camera, ask them to stay near you to help you in case of any disaster.
If you're use Stucco as a decorative coating for your walls, Learn How to Install Security Camera on the Stucco.
Tools Recommendations
A Few years ago, I want to install my security camera on a brick wall, I thought to hire a professional to do it but I discover it was a DIY task that any beginner can do.
Finally, I installed my security camera on a brick wall which is good news, But the bad news is I take too much time to do it searching for the right tools to use.
Based on my experience as I install a lot of security systems over the past years here are my favorite tools for installing security cameras on a Brick wall
Product
Specification
DEWALT Hammer Drill
– Battery Powered
– 3-Speed
– 40-Piece
Little Giant Ladders
– 17 Ft Size
– Multi-Position Ladder
– Aluminum
Ximytec Screwdriver
– Cordless
– 45Pcs Screw Bits
– 250RPM speed
DEWALT Masonry Drill Bit
– 7-Piece
– Electric or cordless hammer drills
– For Brick, block, concrete, and masonry
Swann BNC Coaxial Cable
– For CCTV System
– 100 Ft / 30 M
ZOSI Cat5e Ethernet Cable
– High-Speed Network RJ45 Wire Cord
– For PoE IP System
– 100 Ft / 30 M
Stageek Cable Raceway Kit
– Easy to Install
– 9×15.4inch
– 9 Cable Channels
These are the essential tools for your installation process, Pick what you want and start. You can use them in installing security cameras on aluminum soffit if you have them, or on concrete, they will be suitable for any surveillance system installation.
Final Words
Installation of security cameras on brick is not such a difficult task. You need to be confident and careful. 
First, check all the equipment you require and request someone to assist you. 
Start by choosing the right security camera for you, and then look for the right place where you are going to fix it. 
Then select between drill holes or an electric mount box and get down to business. The last step is to attach the camera to the mount and test it. 
This is how you install a CCTV camera on a brick wall and run security camera wires through the wall.
Hopefully, you find this guide helpful, and if you have any confusion, mention it in the comments box. We are here to help you.