A lot of beginners are stuck on the question of what type of wire is used for security cameras? Before purchasing a surveillance system.
Nowadays, almost every home around the world has one or more surveillance cameras, varying between wired security systems and wireless systems. 
Except for the wire-free security camera systems, both systems do the same job, and both use wires and cables, they only differ in the system components and main devices.
For example, The type of security cameras differs from one to one depending on many factors such as resolution, storage, and other features. 
On the other hand, the type of wire is used for security cameras and the connection of the recorder depends on the technology of your system whether it's an analog system with CCTV cameras, and DVR or a digital system with NVR, and IP cameras. 
Anyway, there's a large number of homeowners who love to install wired security systems, as it's trusted and has fewer problems due to interference. 
In contrast, there're customers who pick wireless systems as these systems have fewer wiring problems than wired systems.
Whatever the security system you are going to use, or already have, you should have full knowledge of the type of wires and cables used in both systems.
So, here in this blog post, we explain in detail what type of wire is used for security cameras, and also we'll mention the differences between wire and cable connectors.
Now:
What Type of Wire is Used for Security Cameras?
To make it easy for you we make the below list of security cameras and the type of wire each system use:
System
Type of Cable Used
Notes
Wire-Free Security Camera System
Don't Use any Type of Cables
1- Send Data through WiFi
2- Powered by batteries
Wireless Security System
Use one Cable
1- Send Data through WiFi
2- Powered by a power adapter
Wired PoE Security System
Use one cable
1- Send data and the power over the Ethernet cable
Wired CCTV Security System
Use more than one cable
1- Send data over a Coaxial cable
2- Powered by a separate wire connected to a power adapter
Note that each type of wired camera uses a different type of cable. For example, with PoE cameras, you can use cat5, cat5e, or cat6 Ethernet cable if you want. 
What are Analog CCTV Camera Cable Types? or What cable is used for CCTV cameras?
Analog or HD-TVI security camera systems use RG-59 Siamese cables. This cable consists of one main copper wire covered by an isolated plastic layer, and then a third black layer. 
Not only that, this cable has more than one type. For example, there's a 2-in-1 coax cable and this consists of two wires, the first one for power, and a second wire for the signal, both wires are mixed into one cable. 
Let's dive into the 2-in-1 coaxial cable and know more details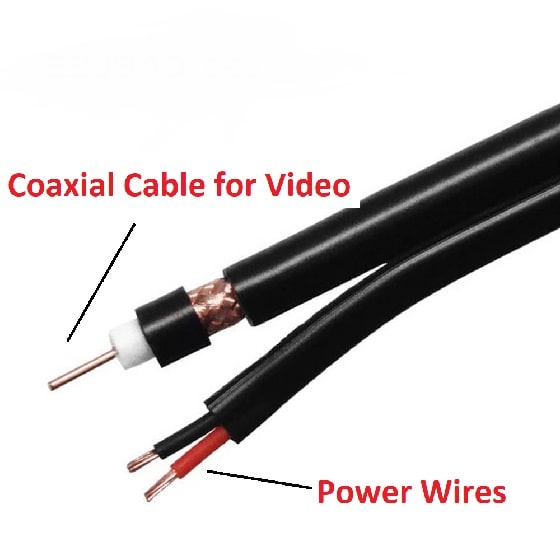 For power, there's one cable that has 2 copper wires inside it, and both wires will be used for running your analog CCTV cameras. 
You actually need to attach these wires to a 12v power supply by using a wire cutter and electric tape.
For data transmission and receiving data from cameras, There's a second coaxial cable, which consists of one main thick copper conductor bounded by a coating of insulation.
Not only that, but this layer is also surrounded by a second copper or alumni conductor, then the second layer of insulation surrounds the second conductor. 
But what are the benefits of all these layers?
Well, This cable is shielded enough to protect your camera wires from bending and cutting, and it's connected directly to the DVR using a BNC connector.  
Moreover, Siamese cables differ in thickness, the thicker the cable is, the longer it can go without losing data signal from cameras. 
In case you need to cover large areas and have an Analog system, it'll be useful for you to buy a thicker Siamese cable.
For example, RG-59 is the common cable thickness for analog CCTV camera systems. It is a suitable thickness to run and transmit video signals across your property, also it's easy to work with as you have the right tools.
Concerning analog CCTV camera cable types, there's a 3-in-1 coax cable and this cable has one wire for power, a second wire for the signal, and the third wire for the mic.
The combined 3-in-1 Siamese cable will be cut before you install your CCTV cam, you just separate the cables to use each one individually.
What are CCTV camera connector types?
As the Siamese cable consists of two cables rolled into one, then you need to have different connectors for both the power cable and the data cable.
For the standard coax cable, You'll need to use a small part called BNC connector to connect the coaxial cable between the DVR and the CCTV camera. 
This BNC connector has 3 small parts the main thick copper connector, the outer case, and the compression part.
It's easy to install and anyone can do it without the need to hire professionals. In the next video, you'll know how to attach a BNC connector to an RG59 Coax cable.
Source: cptechreviews
For Power, The second cable will use to power the camera through a 12v power supply. 
Actually, to use the power cable correctly, you want to check the power connection of your camera.
Some cameras have a direct power connection while others don't. In the second case, you cut your camera wires and bring what's called a "DC pigtail connector". 
This connector has both male and female, depending on the DVR and your camera.
In case you have a 3-in-1 or 4-in-i cable, then you need to use a different type of connector for linking your camera with a digital video recorder. 
There's a connector called the RCA connector, this connector is suitable for 3-in1 and 4-in-1 cables as they have a specific cable for video, a second for audio, third for power. 
Benefits Of Using Siamese Cables
From the first time we hear about security cameras till now, the Siamese cable is widely used without any problems, on the contrary, it has many benefits like
•    Ease of Use: The Siamese cable doesn't take time or effort to install the whole wired analog system, once you have the right tools, you can install security camera wiring in minutes.
•    Perfectly Shielded: Although Siamese cables are thick, it's shielded to protect your wires and your system also. Issues like cross-talk, bending, and electromagnetic interference won't be found while using this cable.
•    Affordable Price: When it comes to the price of Siamese cable, the cable is very cheap as you compare to other camera cables. Even when buying cable connectors like BNC, RCA, or DC connectors, it's cheap also.
•    Suitable For Large Systems: Whatever how many cameras you have 1,2 or even 16 cameras, the Siamese will be the best choice for you as it's hard to lose signal, and affordable in price.
•    Strong Cable: IF you look for the lifetime of Siamese cable, you will find it stays for a long time without any damage. 
So, if you plan to have a peace of mind system make sure you get High-Quality Siamese cable.
What are Digital IP Camera Cable Types? or What cable is used for IP cameras?
The security camera wire types used in the Digital systems are different, not like the Siamese cable which is used in Analog CCTV cameras.

For the Digital IP security camera system, you will actually use Ethernet cables to send data and power to your IP camera, whatever it's Cat5, Cat5e, or Cat 6 you'll know the differences between them.
But
What Is Ethernet Cable?
Ethernet cables are the most popular cable, it's essential and they are used for hard-wired PoE security camera systems. No matter what security system you have digital or analog, It can be used in both.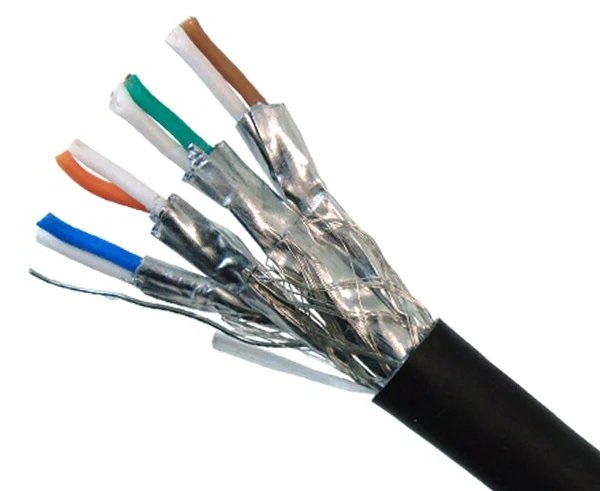 Ethernet cable consists of eight covered copper wires divided into 4 pairs.
Inside each pair, the 2 wires are twisted around each other for the whole length of the cable, The wire is twisted in order to reduce the signal interference from each wire. The Ethernet cable is also called "twisted pairs."
What is the Ethernet Cable Used for in an IP Security Camera?
As we mentioned before, Ethernet cables can be used in both IP digital security systems, and the Analog system, In the next words, we explain the usage for both.
If you're setting up an IP security camera system, you're going to need to power your security cameras and connect them to the network. 
Ethernet network cables can accomplish both of these tasks. Let's see
Ethernet Network cables are used to transmit data between the IP camera and the Network Video Recorder (NVR).
Ethernet cable is used in the connection between NVR and the router. 
By connecting your NVR to the Internet you will get some IP camera features like remote access to see what happens while you're away, communicating with people around your camera using a 2-way audio feature, and more if you have one of The Best NVRs.
Network Ethernet cable is also used to power the camera, and in this situation, it's called a PoE cable.
The term PoE refers to "Power Over Ethernet". So, If your camera support using PoE it'll be the only cable connected to The camera.
Note that there are some IP security cameras that don't support PoE, and they use Ethernet cable to transmit Data only and use a different cable for power.
What is the Ethernet Cable Used for in a CCTV?
If you like the Ethernet cable for its advantages and want to use it in your analog system No Problem. 
You can convert the RJ45 of the Siamese cable connector to an Ethernet connector by using a BNC connector. 
Previously we write a blog post on how to connect Cat6 ethernet cable with CCTV analog cameras, you can read it to know more.
What to Look For Before Buying Ethernet Cable?
You've noticed an Ethernet cable referred to with the term "cat" followed by a number. This describes the "class" of Ethernet cable. 
So, before you buy your Ethernet cable look for what category or class you want.
It has several different categories, and each category is different in many terms like How the cable was designed? How much data can transfer?, and How fast the cable is transmitting the camera data?
In harry the Difference between different types of Ethernet cables.
| Category | Transmission Speed | Max Bandwidth |
| --- | --- | --- |
| Cat 3 | 10Mbps  | 16 MHz |
| Cat 5  | 10/100 Mbps | 100 MHz |
| Cat 5e | 1000 Mbps (1 Gbps) |  100 MHz |
| Cat 6 | 10,000 Mbps / 10 Gbps | 250 MHz |
The most common type now in surveillance systems is Cat5e, it's fast and cheap and provides a high-transmission speed as compared to Cat5. Cat3 and Cat5 it's considered the old version, it's rare to use now.
Cat5e and Cat6 is the best cable category you can buy for your security system. The difference between them is the price and the transmission speed.
Cat5e is cheaper than Cat6 and suitable for the Analog system, as the transmission speed doesn't matter to you. 
On the other hand, Cat6 transmits data at a higher speed than Cat5e, it's amazing in the Digital security system.
Benefits of Using an Ethernet Cable for Security Cameras
After viewing the wired analog or digital surveillance systems, you may think to get a wire-free system, although it's helpful, it has problems also. 
To get a stable security system we must look for speed, reliability, and absolutely fewer problems, that's what you get by using Ethernet cable.
There are several advantages to using Ethernet cables, no matter if you're setting up an IP Network or even an analog security camera system. Ethernet cables are effective because.
Trustworthy
It's important for your system to work effectively during the day, what I mean is that you don't need a problem like losing a Wi-Fi signal, or slowness in transmitting data because of signal interfacing. 
Although issues like slowness may be found in hard-wired security systems, not like in Wireless systems.
Speedy
As we mentioned above, slowness in transmitting data is a big problem, while Wi-Fi delivers data fast, and if there are no problems affected by the signal, Ethernet Cable can get and send data very fast also. 
Sometimes the network speeds reach up to Gigabyte, depending on your Ethernet cable category.
Low-Cost
No matter how your wire route will be, Don't worry it's still affordable. Ethernet cables are widely used these days as it's cheap and High-quality cables to work with.
Multipurpose
Whether you have a computer, printer, Wi-Fi repeater, or router, and at the last security cameras, you'll need Ethernet cables definitely. Ethernet cables are a magic option and will be helpful for you most times.
Very Easy
Imagine your security camera Ethernet cable was damaged and you want to change it, is it taking too much time? It'll be easy if you have an alternative cable, just remove and install the new cable within seconds.
What is the best wire for security cameras?
Well, depending on your needs and the system you have, you can use a coaxial cable if you have a large number of security cameras in your system and you're looking for affordable solutions.
On the other hand, if you set the quality of the cameras, and you give the quality of security camera footage priority then you should go and invest in a 4k security system with Cat6 Ethernet cables.
Summary
In the last, no one can deny that security camera wire types are important and essential for any security system, and if you love to have a stable system you should know what type of wire is used for security cameras to help you choose the best types for your system.