Hikvision security camera is considered one of the most common surveillance camera brands used by many homeowners around the world.
The reason why people love to pick these types of cameras is that Hikivision offers both high performance and the best quality at affordable prices.
Unfortunately, some customers complain about the storage capacity of the Hikivision cameras as it's run out quickly due to many reasons.
One of these reasons is
People don't know how to clean their camera storage from unwanted video clips.
They think it's hard to delete security camera footage, especially when the DVR is full.
The Hard drive of the security system they are using has limited storage that is not enough for HD videos of Hikvison security cameras.
If you're one of these and face the same problem you've come to the right place. 
In this post, you will learn in detailed steps how to delete camera recording from Hikvision DVR, or Cloud Storage, so you are not forced to buy more storage.
Now, let's explore the way to remove it!
Can We Delete CCTV Recording From Hikvison DVR/NVR?
The quick answer is YES! you have multiple choices when it comes to deleting camera recording from Hikivision DVR/NVR, you can easily delete the recorded videos from mobile, PC, or through the display screen that is connected to the video recorder. 
But this happens only if you have the admin login information of the security system. 
So if you have the login details, you can enter your camera username and password and then access the storage of your surveillance system. 
After that, you can select any video clips you want to delete and remove them with one click.
Let's dive more into the topic.
How to Delete Camera Recording From Hikvision DVR/ NVR Hard Drive?
Before we start explaining how to delete camera recording from Hikvision DVR or NVR Hard Drive you must know what is loop recording?
Well, Loop recording is the process of deleting old saved data automatically on the Hard drive to free some space on the hard drive for the new data.
Each security camera system enables this option by default and Hikvison is one of them.
Many users think that they must erase the video clip with their hands when the hard disk is full.
But if your system supports a loop recording option, then there's no need to erase any video clip or recordings once the hard drive or SSD is full. 
However, sometimes homeowners that installed surveillance systems for monitoring their houses, and important places disable the loop recordings as they need to check and see every video before starting with the process of deleting camera video clips and footage.
In this scenario, they have to learn how to delete camera recordings from Hikvision DVR/NVR manually.
Let's start with deleting from DVR/NVR Hard Drive
To delete security camera footage you only need to format the DVR/NVR using these steps:
Step 1. Connect your video recorder to a monitor by using an HDMI or VGA cable.
Step 2. Log in to the DVR/NVR with your admin account device and open Device Settings.
Step 3. Use "Right Click" of the mouse on the main screen, Then go to DVR/NVR menu, 
Step4: Move with the mouse and choose the "Disk Management" or "HDD" option.
Step5: Check and see the hard drive that the DVR uses to store the recorded videos, click on it, then choose the "format" or "Init" button to erase any video saved on the hard disk drive.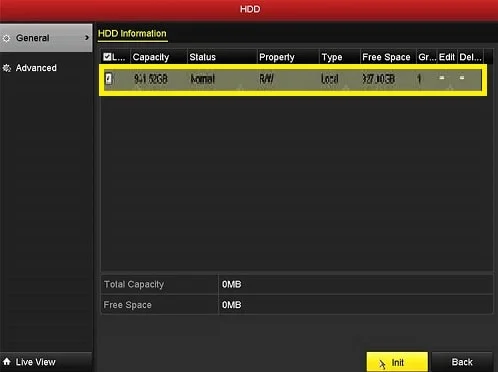 Anyway, It's very easy to delete any videos from a DVR or an NVR even if you're a beginner, all you have to do is to follow the above steps as long as you have access to the security system. 
For more about how to delete camera recording from Hikvision DVR watch the next video
Source: vickey bhardwaj
Note that formatting the hard drive of the video recorder device doesn't change any of the other configurations on the recorder or camera like schedule recording, motion detection, night vision settings, notifications, etc. 
How to Delete Hikvision Security DVR/NVR Footage From Cloud storage?
Not all NVR and DVR videos are stored on HDD or SSD, some customers save their security camera videos on one of the cloud services available. 
The reason for that is using cloud storage for recorded files makes your data safer, cost-effective, easy to find, and fast than traditional ways. 
In addition, cloud storage makes it easier for you to view, delete, or download the recorded videos of your IP camera easily from anywhere around the world.
Hikvision offers more than one option of cloud storage to store your camera videos on it. You can configure your Hikvision DVR/NVR to store videos on Dropbox or Google Drive.
When you want to delete your system footage, you can log in to your account on one of the selected above platforms and erase the recording using these easy 
Here are the steps:
Step 1. Open the cloud storage app that you configure your DVR/NVR to save videos on it.
Step 2. Open the recording page to see recorded videos of your IP security camera.
Step 3. Choose the videos you want to delete, and then click on the delete icon.
Note there are various types of Cloud storage and each one have different systems and apps so be careful when you begin with deleting recording. 
Now
Can we delete individual videos?
Fortunately YES you can delete individual videos from your Hikvison DVR/NVR, this option is good for many peoples who don't need to format and erase all of their system's recorded videos.
You can use Hikivision mobile app to delete a single video clip from a mobile or use the PC viewing software.
All you need is to access the digital video recorder of your system, go for the disk management, select the individual videos that want to delete, then click on the delete button.
Another way you can use to delete individual videos from the Hikvison security Network video recorder (NVR) is to take the HDD and connect it to a computer.
on the computer, you can open the HDD file and see the videos recorded one by one until you get the one that you need to delete and then erase.
How Long do Hikivision Security Cameras Keep CCTV Footage?
There isn't a standard answer to this question. It depends on various factors, such as storage space, camera resolution, compression, and the number of cameras. 
In general, Most security cameras installed in important places such as hotels, police stations, and supermarkets store footage for a specific time range from 20 to 80 days (1 to approximately 3 months at the most). 
On the other hand, security cameras mounted in banks, airports, or railways have different rules for storing and keeping footage of cameras.
For example, banks may be required to keep footage for six months or longer and airports may need to keep footage from six months to a year. 
Can hackers delete your video recordings?
The answer is YES if the hacker is a person from the family who know the login details of your surveillance system. 
In the case of strangers, the answer is No, there's no way he can erase the videos, he must bring the login information to your recorder to be able to access your storage medium and take control of it for deleting or exporting security camera videos.
Aside from having the username and password of the security system, CCTV camera companies secure their quality IP cameras using SSL encryption to encode the video feed.'
Anyway, deleting camera recordings has many benefits and you should do it regularly to keep your system working with high efficiency.
So, In this guide, we've summed up some methods on how to delete CCTV footage, especially Hikivision cameras without any previous experience. 
Can you Restore any of Deleted Videos?
The short answer is YES, You can recover deleted video clips from your account even if any video is deleted by mistake, it does not get deleted permanently. 
Before new ones overwrite the deleted videos, the video data remains on the hard drive. 
Different websites can recover formatted and deleted data on hard drives. You may search online for hard drive recovery services or use one of the data recovery software.
You should know that the cost of recovering your files depends on different factors.
Summary
Overall, Learning how to delete camera recordings from Hikvision DVR/NVR is good for you in the future as security camera owners.
By learning one of the above-mentioned methods you can clean your security camera hard drive without hiring strangers to do this for you and breaking your home privacy. Even more, you save a good amount of money.
In the end, We hope the methods stated here are clear enough for you because we take your data privacy seriously.