For more security and to keep your videos for a long time. This article discusses how to record a security camera to the cloud storage, with some tips and tricks for beginners.
Let's start
If you're recording video with audio on your device's local storage, there's a chance that someone could hack into the system and take over the data.
This is a fact that you should be aware of, especially if you're using an older system that doesn't have the latest security updates.
Even if you upgrade your system firmware and think it is secure, a burglar could still find a way to listen to the tapes of audio if they know where they are stored.
Aside from being not secure, Local storages like HDD and SD cards are not safe also as your neighbor can come and take them.
Not only that, if there is a fire in your house, the footage will be gone with the local storage.
Why is it important to store security camera footage on cloud storage?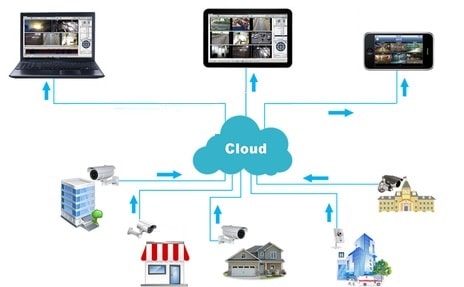 Well, to eliminate some of the issues mentioned above, security camera engineers find it is best to store the recorded video clips of your surveillance system on cloud storage.
When you start recording your system-captured footage on cloud storage, it becomes more difficult for someone to hack into the system and steal the files.
Plus, The data of your system is encrypted and stored off-site which as a result increases the protection level, so even if someone is enabled to hack into your system, they wouldn't be able to view your video footage.
Even more, storing video on trusted cloud storage allows you to see the camera videos from anywhere around the world.
So, If you are interested and want to record a security camera to the cloud but don't know how?
Well, In his blog post we will show you how to record audio or video from your home security camera to cloud storage.
Additionally, we'll provide tips on choosing a cloud storage provider and keeping your content safe. Keep reading!
Can I store my CCTV footage on the cloud??
The short answer is Yes, you can store your CCTV footage on one of the cloud servers available. On the cloud storage, CCTV footage can be recorded, stored, retrieved separately, and grouped.
All You have to do is to make sure that the storage provider you choose is reliable and has a good security protocol in place to protect your data.
How do I connect my CCTV to Cloud Storage?
There are a few things you'll need before you step in any way to record a security camera to the cloud. Let's see
1- A CCTV system that supports cloud storage (most do these days).
2- An account with a cloud storage provider (such as Google Drive or Dropbox).
3- A stable and fast internet connection.
Once you have all of those things, you're ready to get started: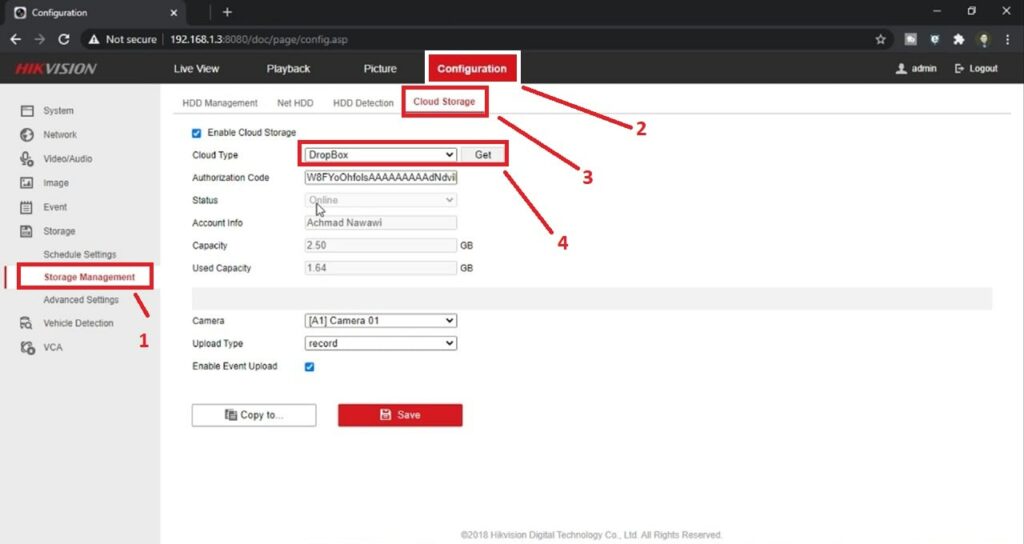 Log into your cloud storage account or create a new account if you don't have one, then create a new folder. This new folder will be where your CCTV footage will be stored.
Open up your CCTV software on your mobile or PC and go to the settings menu. Within the settings menu, there should be an option for storage management and recording from this menu select the "cloud storage" option.
Once you select that option, then select the folder you created in your cloud storage account.
The last thing that you need to do is to turn on the system and test where the system will store the new CCTV footage.
The steps mentioned above are easy to follow and can be a great help for beginners.
By uploading your security camera footage to cloud storage, you'll have a more secure backup that's difficult for hackers to get to.
Also, you'll have access to your clips from anywhere, making it more convenient for you to watch what is happening around your house while you're away.
Related: How to Record Security Camera on PC.
An alternative way to Record a Security Camera to The Cloud storage?
Nowadays, most surveillance camera manufacturers offer a cloud storage option for their clients to record their videos, and make them enjoy with the features that cloud storage have.
However, some camera brands don't offer recording on cloud storage options, or they offer it as a paid plan for their system which is inconvenient, especially for homeowners who are on a budget.
For this scenario, we'll use an alternative way to store security camera recordings in cloud storage. Let's see
1. Establish the connection
To begin with, you will need to first turn on your home surveillance cameras, and then connect them to the internet.
This can be done via WiFi if you have a wireless camera or Ethernet cable in the case of a PoE camera, depending on what type of camera you have.
Connect your camera and open the app or software that came with it, then link all your system cameras to the app.
2. Recording the video
Once you're in the app and every camera is connected to it, go to "settings" and then find the section that says "Storage & Record."
In this section, you'll be able to choose how long you want the capture to be and what resolution you want it recorded in. 
Depending on your needs, choose the settings that are suitable for you, then hit record and let the footage roll.
After choosing the settings, you need to download every video capture separately and store it on your phone or PC.
3. Downloading the required application
To store your footage in the cloud, you'll be required to download a cloud storage application like Google Drive or Dropbox.
Most of these applications have a free tier that should be more than sufficient for storing security footage.
Anyway, If you're an Android user, usually the Google Drive application is installed and you just can open it with you're Gmail.
On the other hand, if you have iPhone you need to download the application of the cloud service that you want to use from the store.
However, If you're using a PC viewing software, then you don't need to download any app, you can open the platform website and use it.
4. Start storing the video footage in the cloud
Once you have the application downloaded, open it up and create a new folder for your security footage.
Then, simply drag and drop the recorded footage into this folder to keep them as a backup in case you want them.
The upload process may take some time depending on how big the files are, but once it's complete your footage will be safely stored in the cloud!
Helpful Link: https://www.safebudgets.com/export-video-from-security-camera/
While this method is difficult to apply with mobile phones but it is perfect with PC because it's too much easy to move files from one folder to another one.
For more information about How to record security cameras in the cloud, watch the next video
Source: Learn CCTV
Pros of Recording Security Camera to Cloud Storage
While security camera experts know the pros of recording camera footage on cloud storage but some beginners don't know what is cloud storage or the benefits of using it.
Plus, they are struggling when they decide to pick a surveillance system for the first time and may be stuck in the security system selection process for a long time.
Anyway, here are the best benefits for recording or keeping security camera footage on cloud storage.
1- EASY
It can be difficult and time-consuming if you're trying to record or store security camera footage on a physical hard disc.
The reason for that is the Hard drive needs to be cleaned and also necessitates ongoing maintenance. 
Additionally, Hard drives work when you install them on a DVR or an NVR to record video directly on it.
In contrast, storing videos on a cloud is simple since all you would have to do is connect your security system to the internet, and then adjust the system to store on the supported cloud storage options.
There are no complicated installations or cords to worry about, nor do you need to maintain any software! A smartphone app or a PC viewing software is used to remotely configure camera cloud storage.
Note that you may need to use local storage such as HDD or SD card if you wanted to store HD, FHD, or UHD videos as the free cloud storage platforms offer limited space for high-resolution videos. 
If you have no availability to use any local storage space, then you can rely on cloud storage but you should first reduce the resolution of your videos from system settings to keep them for a long time on the cloud storage.
2- Free, and More Storage Capacity
There is a limit to the amount of storage that local recorders can hold, and what you could desire.
You may record to the cloud and pick the length of storage for each camera, allowing you to keep your camera footage for as long as you intend to.
3- Reliable and Secure Cloud Storage
Aside from keeping HD videos, local stores have a lot of issues that make homeowners hate to use them.
Right now with cloud storage, the hassles of local surveillance are eliminated when you select to store the security camera footage on the cloud.
Not only that but also cloud storage safeguards you against damage or malfunction of a local recorder, guaranteeing that your camera footage is always available when you desire it.
Also, recording a security camera to the cloud is safer than local storage because no ports are left open for hackers, or SD cards to be taken from thieves.
4- Unlimited Remote Access
Concerning remote access to your security system, you might not always have access to your camera footage using common methods.
For example, if you and your family are traveling for vacation and you feel that you want to check your home surveillance system and see captured videos with local storage space you can't.
But with cloud storage, you can watch the live view or playback your security camera videos from anywhere and at any time.
Tips for Choosing a Cloud Storage Provider
Now that you know all about storing your security footage in the cloud, it's time to choose a storage provider!
Here are a few tips to help you make the best decision for your requirements:
Determine Your Needs
The first step is to determine your goals according to the area that you want to monitor and protect.
For example, you should ask yourself How much video footage do you plan to store? In what time frame? Do you rely on real-time live streaming? 
It is easier to narrow down your options once you know what you are looking for.
Compare Prices
Another thing that you want to consider when you choose a cloud storage provider for your surveillance system is the price.
When it comes to services such as cloud storage, there can be a wide range in pricing depending on the provider and the features they offer.
Take a look at every service and see if it is suitable for your needs or not. And finally, compare The prices before purchasing for any platform.
Consider Security
When it's come to storing sensitive video footage of your home and family, the security of the whole system must be the top priority for you due to its importance.
My advice is after you decide your needs, and compare the price between different services, you should take care of security and the protection level of the system against hackers.
Always choose a provider that offers the latest security features such as data encryption and two-factor authentication.
Check for Reviews
Before making your final choice, be sure to check out online reviews of the different providers you're considering.
There's nothing like hearing from other users about their experiences with a particular service.
Get a Free Trial
You can usually try out cloud storage services for free before you commit to a paid subscription from reputable providers. This is a great way to get a feel for whether the provider is right for you.
Conclusion
The goal of this article is to teach the reader about saving their security footage to the cloud, and how to go about choosing a service to store the footage in the cloud.
The article starts by discussing the advantages of sending recorded material to the cloud over local backup methods. It then goes on to give tips for choosing a storage provider, such as considering price, security, and reviews.
By following the tips and methods mentioned above, you can rest assured that your security footage is safely stored in the cloud.
Not only will it be more secure, but you'll also have easy accessibility to it from anywhere in the world.