Setting up outdoor security cameras is a perfect solution to prevent crime before it occurs. However, if you're worried that somebody may damage or steal your camera, then you will need to learn how to hide outdoor security cameras in unnoticeable places.
Hiding your security cameras outdoors is an excellent way to keep an eye out on your property without anybody seeing it.
Statistics show that about 67% of intruders target residential properties in the U.S. This makes surveillance cameras a robust system to get them caught before they break into your home.
Unfortunately, an effective camera may not be enough if those are easily detected. So, you'll have to place them in a location that will efficiently hide their presence.
If you're overwhelmed with how to conceal security cameras, this article will give you some valuable hide outdoor security cameras.
Benefits of Hiding Security Cameras Outdoors?
Installing your security cameras in plain sight might sound like the ideal approach to ward off intruders, but what are the benefits of hiding them? For many, a security camera can provide insight into your properties without others knowing.
As we know, outdoor security cameras may become a target for criminals. When Intruders decide to steal home, the first thing they look for is whether the home has cameras installed outside or not? As security cameras may capture his/her face and alert the homeowners.
So, the first thing thieves think about is how to ruin the cameras if they're unconcealed.
But, If the cameras are well hidden, the whole surveillance system will be protected while recording the intended footage.
Another advantage hidden security cameras can provide is to help you know the person's true intentions. You'll be able to see their behaviors without any supervision. Whether your kids are playing in the front yard or somebody is dropping off a package.
What are the Best hide outdoor security cameras?
You can find many techniques, ways to hide security cameras outside. Here are some of the top practical hide outdoor security cameras.
Method1: Set The Security Camera Inside of Your Mailbox
A great approach to hide your surveillance camera is to place it inside your mailbox. This way, it will be out of mind, out of sight, and it'll keep the security camera clean from dust, or raindrop.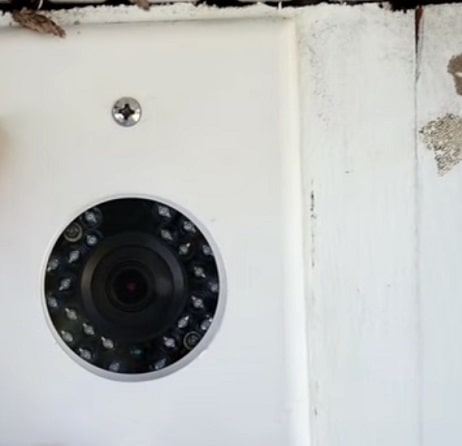 In addition, your neighbors won't be worried that you are spying on them or acting weird by placing security cameras everywhere.
If you want to know how to put the security camera in the mailbox, watch the next video
Source: DIY Creators
Method2: Disguise Outdoor Cameras in Birdhouse
One other simple and effective way to hide your security cameras outdoors is to disguise them as birdhouses. It will help make them less problematic and noticeable for potential burglars to spot.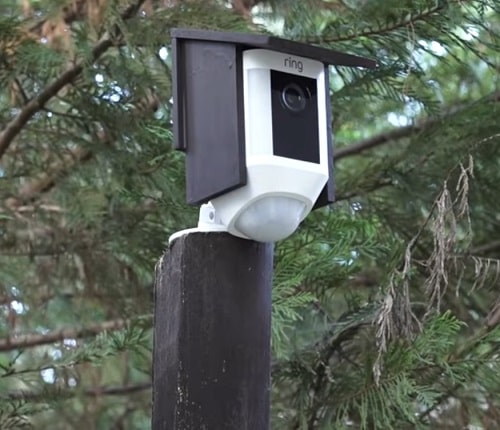 You can purchase pre-made birdhouses mainly manufactured to hold surveillance cameras, or you can make your own with a simple birdhouse form and surveillance camera.
After that, use shims or shingles, and install the birdhouse to flush against the house's roof or on the tree. Then, cut a hole in the front and set the camera inside.
Note: In case you live in a rainy place, you can make use of a clear plastic dome to cover the hole. See the next video for more details
Source: Mother Daughter Projects DIY
Method3: Using a PVC pipe
If you believe a common disguise, just like a birdhouse, is not a practical solution, then here's one of the best non-traditional techniques of disguising your SECURITY camera.
The method simply is to put the camera inside a PVC pipe linked to the railings or the ceilings of your property. Let's see the steps
First, Use a pipe that you don't use for anything and make sure it appears to be a component of the pipe that is popping up.
Second, cut the pipe and install the camera right where it can give you a clear view of a burglar who may be lurking around and set the camera in the space between the cuts of the PVC pipe.
Method4: Using a Fake camera
Fake dummy cameras can often deter undedicated and undetermined intruders if they see enough of these cameras placed around your property. In addition, it can be used as a cover for the real camera.
Just, Set the dummy cameras in the most apparent places such as front doors, back doors, yard, and the locations where it's apparent for a burglar to look into.
At the same time, place the actual camera somewhere else you can hide the security camera in window, or between home floors.
The majority of the thieves won't realize the disguise of the hidden camera, and you can capture and record video for them without knowing they are monitoring.
Method5: Conceal camera near Trees/Bushes
One of the best ways to hide outdoor security cameras is by putting them near bushes or trees. It will help to camouflage the surveillance camera and make it less visible.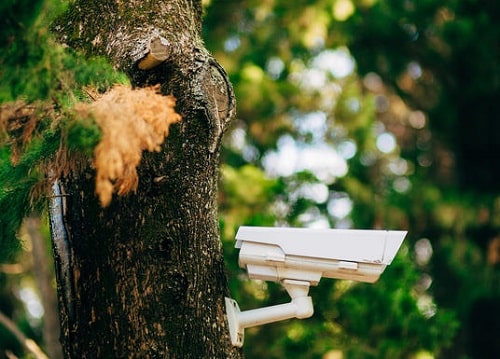 Make sure to go for a well-concealed area that passersby will not detect easily. If the security camera is too visible, it will get less attention from those trying to steal or vandalize it.
Keep in mind, If you have wired security cameras difficult for you to hide, use a wireless battery-operated hidden camera instead, with no wires.
Method6: Hide under Roof Parts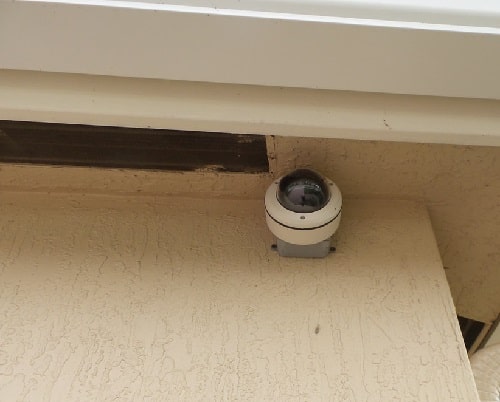 The majority of the small cameras are usually undetectable if installed under the Ceiling. As the surveillance camera is tiny and with a white body cover, you will never see it unless you seriously look for it.
Method7: Use Camouflage Skins
This method is suitable for you to hide outdoor security cameras, and also you can use it to hide indoor security cameras, it works in both situations.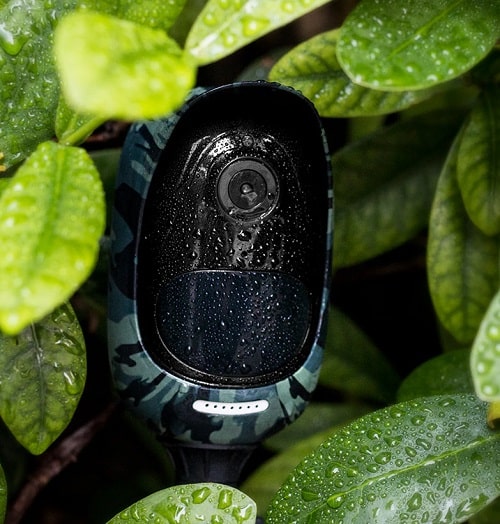 There are plenty of methods to camouflage security cameras, and one of the most popular ways is using camouflage skins.
Camouflage skins get tailored to fit correctly in the existing environment and help to make the surveillance camera practically invisible.
Method8: Using a doorbell camera
Burglars often try to search for installed cameras in places where it is visible and positioned. Most times, they go back in front of some spots where they don't even expect a camera to be set up.
A doorbell is among those spots. Many thieves will usually ignore to check the location that's right at their face. The doorbell cameras also enable you to closely keep an eye on any person who's trespassing your premises, and they have the ideal height to catch the burglar from head to toe.
Method9: Get a Mini Camera
One of the best methods to hide outdoor security cameras is to buy a small or mini spy surveillance camera right away. It's undoubtedly less challenging to disguise a surveillance camera if it is small and wireless.
The small battery-powered security cameras are suitable to hide as they are highly portable, so you can hide them anywhere outdoors to monitor your driveway, garage, garden, porch, or front door.
Summary
This article offered many different hide outdoor security cameras. All you have to do is find the method that fits your condition. Just keep in mind to properly consider the camera location as hiding cameras can limit their field of vision, and also hide CCTV wires.
Also, make certain you're not hiding the security camera in a spot where its lenses are being clogged by foreign obstructs.
These obstructions can restrict what your surveillance camera can see on its peripherals. Check the camera regularly to see if it has something on them.