Having an NVR with limited channels has become a serious headache for homeowners seeking to increase NVR channels.
Unfortunately, It does not stop at homeowners. The same issue faces business owners who want to expand their system channels for monitoring more areas of their companies because the NVR system comes with a specific number of channels.
However, if you're in this situation before, there're many solutions for increasing NVR channels. Solutions include upgrading hardware, combining NVR with another NVR with more channels, or picking a new NVR with the required channels.
In this guide, we will discuss the details of how to increase NVR channels, including answering common questions about this topic.
Now,
Can you add more cameras to an NVR with a few channels?
The answer is YES, you can add more cameras if your NVR support using a PoE switch for additional cameras. However, if your NVR doesn't support it, then you can combine your old NVR channels with the new video recorder channels.
There are a lot of surveillance camera manufacturers who produce NVRs with limited channels, they provide 4-channel NVRs and up to 32-port NVRs to allow you to pick the most suitable NVR according to your IP camera number.
Helpful Link: Best Security Cameras For Poor WiFi Signals.
How many cameras can an NVR handle?
To be honest, the NVR can handle from 4-channels to 64-channels it depends on your NVR brand and the number of channels available for IP cameras. There are NVR brands that produce 4-channels NVR but the actual number that NVR can handle reaches 8 cameras.
On the other hand, large numbers of security cameras and NVRs supplier limit their video recorders with a specific number of channels and if you exceed this number the NVR will not be able to handle the additional cameras.
Next,
How to Increase NVR Channels? 4 Different Methods
Whether it be for a residence or a commercial property, having an NVR with a fixed number of channels limit your security system efficiency.
Let's clarify this if you install a few IP or CCTV cameras to cover a large area, is the video quality will be the same as mounting more cameras for the same area? absolutely NOT.
If you think it's stopped on the video resolution you're wrong. Having more cameras placed around your property allows you to keep an eye on everything, capture details, and more.
Anyway, to increase NVR channels you should decide which way you want to use for increasing your network video recorder (NVR) channels as each of the below methods requires special tools and procedures.
Method 1: Combine NVRs Together or Add a DVR to Another DVR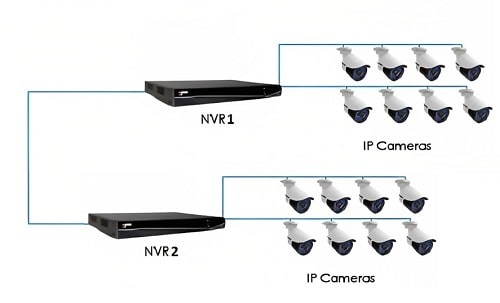 Connecting two NVRs or more together has many advantages, and the most required for our situation is it allows you to increase NVR channels with simple connections, and hardware.
Many homeowners get an NVR with few channels for monitoring their properties. After a while and when threats raise they think about expanding their security system and installing more cameras for more protection.
Unfortunately, they face a big problem which is that the NVR can't be able to handle more than its channel numbers.
In a scenario like this, they have two options, the first one is to invest and buy a new surveillance system with a new NVR which costs more, and the second option is to add the old NVR to the new NVR to increase the availability of camera channels.
At first, it may be hard to do, but with the right tools and a simple setup, you can combine two NVRs together.
The same procedure is also applied if you have a DVR instead of an NVR, there's availability to add a DVR to another DVR. Here are the steps:
Connect the new PoE cameras to your new PoE NVR.
Take an Ethernet cable, connect it to one port of the old NVR and connect it to the LAN port of the new NVR.
Power on both NVRs, and wait seconds until they are ready.
Link the main old NVR to a monitor using an HDMI cable, or VGA cable if your video recorder and display screen support it.
Log in to the main menu of the old NVR, search for the IP of the new NVR, then add it.
Once you add the new NVR, the channels will be displayed on the monitor.
This way is effective to increase NVR channels and it's suitable for large places. Moreover, it offers a variety to link between the video recorders by wired ethernet cable or wirelessly by using a WiFi bridge.
Method 2: Get a PoE Switch
Sometimes the IP cameras installed for monitoring places are bigger than the number of NVR available ports with one, or two cameras.
Thinking about purchasing a new DVR/NVR and linking it to the old video recorder isn't a good solution as it'll waste your money.
In this case, you could pick a PoE switch and connect it directly to the NVR LAN port to enjoy the additional PoE channels added to the video recorder unit.
The PoE switch is cheaper than most of the NVRs, also it has fewer channels compared to NVR, and does a great job with NVR especially if it's a PoE network video recorder.
For connecting purposes, here are the steps:
Connect the IP cameras to the NVR available ports, and then power the system cams, and recorder.
Bring a PoE switch, plug in the power adapter, then link it to the NVR.
Hook up the first end of an Ethernet cable from the uplink ports of the PoE, after that connect the second end to the LAN port of the NVR.
For the PoE switch, take another network ethernet cable and connect it from the second uplink port to the home network router.
Finally, connect the extra IP cameras to the available channels of the PoE switch.
Keep in mind that, the most important thing in this way is the hardware. What I mean is if your NVR doesn't support additional channels, then it'll not work if you connect the PoE switch with NVR.
In contrast, if your network video recorder has the availability to increase NVR channels, then you can pick a PoE switch with the exact number of ports according to your system's extra IP cameras.
To get more info on the connections, and the wires between the NVR and the PoE switch, watch the next video
Source: Fengtaida Labs
Method 3: Use Third-Party Software
Aside from wires, and hardware parts, you can increase NVR channels by using one of the available viewing software.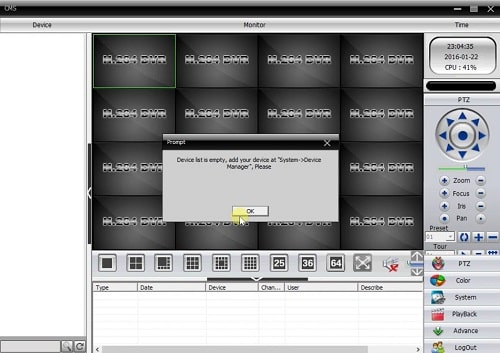 As we know almost every security camera brand has its viewing software and mobile application.
However, in a few cases, the default software that is designed by the manufacturer leaks some of the important functions so many users tend to use third-party software.
These third-party programs enhance the system's overall capabilities and provide additional functionality to your systems such as the ability to link more channels/cameras to the software to record and monitor more cameras or areas at the same time.
Besides connecting more cameras, the viewing software provides other advanced features such as motion detection, storing videos on many platforms, and remote access.
The only thing that you should take care of before using any third-party software is to ensure that the viewing software you want to download is compatible with your NVR and cameras.
Also, consider having a backup of your video recorder data and configurations before installing any software.
Please note that this way is useful for wide-area places, especially with large or complex surveillance systems where multiple cameras or sources need to be monitored simultaneously.
For more on how to add channels for your NVR from another NVR with third-party software, watch the next video
Source: CCTV Camera World
Method 4: Get an NVR with More Channels
Another alternative option, it's suitable for beginners is to buy NVR with a large number of channels from the start.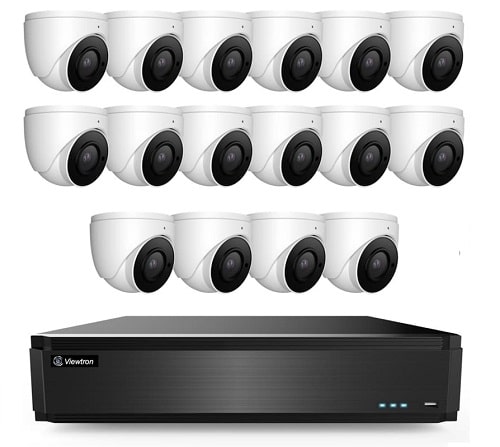 Doing this is beneficial and eliminates the need for power wires and ethernet cables for making the essential connections in turn increasing NVR channels.
Not only that but also, having an NVR/DVR with extra channels gives you the ability to increase your security system cameras in the future without restriction due to NVR available ports.
In case you have a combination of analog CCTV and IP cameras, It is advisable to purchase a Hybrid security video recorder.
This model of video recorders supports analog cameras such as AHD, TVI, CVI, and CVBS, and it also supports IP cameras.
So, if you have installed old CCTV analog cameras previously and want to add extra IP cameras, it's recommended to use this device without wasting more money on others.
Are all NVR cameras compatible?
Unfortunately, No, not all NVR cameras are compatible with each other and the same for surveillance cameras. There are some IP cameras that work with specific brands of NVRs and don't work with others. So, before investing in IP cameras for your NVR make sure to check the compatibility of the camera with your NVR before installing them.
If you have an older model of the NVR, it may not be compatible with newer cameras and vice versa.
Moreover, if you have PoE cameras you should take a look at the NVR PoE ports before taking action as there are some NVRs that have specific PoE ports built into them, while others will not. 
For Hikvision lovers: The Best 8 Solutions to Stop Hikvision NVR Overheating
Before you go…
Increasing NVR channels may seem impossible at the first glance for beginners. However, there're many ways mentioned in this article that help you to raise up your video recorder channels for connecting more cameras to your system.
You just need to choose the method that fits your situation and then begin to take a step forward by preparing the tools, wires, location, etc.
Keep in your consideration that some of the above ways to increase NVR channels may require more than hardware parts and wires. E, g increasing NVR channels by combining two NVRs together require some network configuration for both NVRs.
Related Articles: