Mounting Security camera without screws solves a lot of problems for homeowners and customers who change camera locations repeatedly.
Traditional (Wired, Wireless, and Wire-Free) Security cameras are installed at any place to keep an eye on each corner of your house, office, and shop.
These systems are installed by drilling holes for screws and then fixing them to keep them stable. 
But there is a small drawback with these surveillance systems as it's not easy to change the camera's location.
What I mean is when you need to change the camera placement you'll need to remove all screws, and then reinstall the cameras in the new location which is time-consuming and requires a lot of effort.
So, mounting a security camera without screws will help you to go and change the cam placement from the front door to the back door, or mount a camera in a garage, office, or backyard in an easy way.
Nowadays, there are many methods to mount security camera without screws depending on the surface you put the camera on. 
The methods used to install security cameras on Brick walls without screws differ if you have a Vinyl soffit or a Concrete building.
Don't Worry! The article below assists you in how to mount security camera without screws.
Plus, we will show you alternative ways to locate your camera without screws and anchors. 
Now, Let's see
Requirements for the Installation of Security Camera without Screws
For installing cameras without screws in the correct way you need specific tools to fasten your job.
Below is a list of the essential equipment required to mount security camera without screws. 
One (CCTV, IP, Wireless) security camera.
Removable adhesive tape or two-sided tape. 
Vinyl Siding Clips Hooks.
ScrewDriver (To Fix cameras with attached Pieces).
A plastic Corner Wall Mount Piece. 
Ethernet Cat or Power extensions cables. 
Power adapters.
DVR/NVR.
TV Monitor.
These are the common devices that exist in any surveillance system. The devices may increase or decrease depending on your camera type and the system you have.
Let's Go and see the steps of
How to Mount Security Camera without Screws On vinyl or aluminum siding
Now, to mount a security camera without screws you need to follow the step-by-step guide that is given below.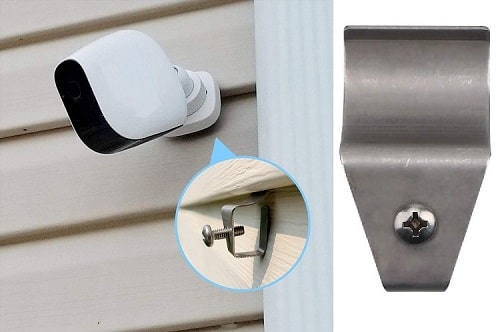 The First method we go into detail for installing cameras without screws is by using Vinyl Siding Clips Hooks. The next methods use the same steps but with different tools
Step1: Select the Suitable Installation Point
The material that you'll place your security camera in is important as also the location.
So, select a suitable point for the installation such as wood, trees, wall fence, or any place that has qualifications to mount security camera without screws. Note: There are two points you must consider before selecting a convenient installation angle. 
First, choose the location that covers most of the area you want to monitor. It depends on where you are installing your security camera, for example, it is in the house, office, shop, lift, building, and around lockers. 
Second, If you have an analog CCTV camera make sure it's near the DVR and power outlet. 
In the case of wireless or wire-free cameras select the point that is nearest to the router to avoid losing signal between the surveillance cameras and the Video recorder device.
Step2: Roll the Vinyl Siding Clips Hooks
When I started my career as a security camera installer, I didn't know how to mount security camera without screws.
I remembered that I have a wireless home camera and after a short time I figured out that I made a mistake by mounting my cameras in the wrong place, So I thought about changing the location.
After I start planning, I face a little issue, the new point that I want to mount the camera in is not suitable for drilling holes for screws as I care more about my home design.
At last, after trying more than 5 ways to mount security camera without screws, I fell until I decided to use Vinyl Siding Clips and Hooks.
As I am a Blink security camera lover, I contacted my cam customer support to help me find an effective method to do this task. After a while, they told me about the amazing Vinyl Siding Clips.
These small tools are cheap and easy to install, you can put them between any seam in vinyl or aluminum siding. 
So, if you love to remove and relocate your cameras this tool will help you and give you flexible positioning of your cams.
Step3: Attach the Security Camera
The last step you need to do to finish mounting a security camera without screws is to attach the cameras to the hooks.
Now, there is a small screw in the hook back, install your security camera and direct it to the right angle to capture clear footage.
After that, use the screwdriver or do it manually and tighten the screw to keep your camera steady and keep it from moving.
Once you do all of the above steps you finish your task and you can power the camera, connect it to your wifi signal, and configure the settings.
How to Mount Security Cameras without Screws On the Wall
There are a lot of customers and people who want to mount security camera without screws on the wall but don't know how to do it.
They fear doing it themselves as they won't ruin their perfect décor or brand-new siding. So, here are the steps to complete this task
Note: in this method, we are gonna use Removable adhesive tape or two-sided tape
Step1: Prepare the Camera Place
The first step you want to do for mounting security cameras without screws on the wall is to decide where to place the camera.
Depending on your wall material, you may have a brick wall which is easy as you compare to install security cameras in concrete.
After selecting the right place, make sure it's high enough and near to DVR if you have CCTV cameras/ NVR if you have PoE IP cameras. 
Once you finish, Clear the place of any dust or unwanted material that may affect the adhesive strip function.
Step2: Take Measurements and Run Security Camera Wires
Measurements are an important factor when it concerns mounting security cameras on buildings.
Imagine you pick the best surveillance cameras with the perfect video recorder device but you have bad wire connections or short wires.
So, to avoid wiring problems you should take measurements of your system wiring route.
First, Bring the measurement tape and measure the distance between your cameras and DVR/NVR and then From these devices to the wifi router.
Second, buy the cable and ensure that you make a few feet of extra wire on both wires ends for Rj45 of Ethernet cable, and the BNC connector of the Coaxial cable.
Third, Run the security camera wires through the wall, and make sure you keep them away from burglars and hide them in raceways or conduits.
Now, you've finished the wiring section that relates to mounting a security camera without screws on the wall process.
Step3: Mount the Camera on the Wall
The third step is the interesting part of the installation process for wall security cameras without screws.
As we mentioned above we'll use another way not like siding hooks for this installation without screws or drilling holes in the wall. 
So, we'll use adhesive or industrial 3M tape for this purpose. These types of tape are strong enough to fix the camera and keep it stable in the worst weather conditions.
Note: you can also use vinyl sidings to mount security cameras on the wall but you'll need additional tools.
Step4: Make Connections and turn on the system
Now, connect one end of the Ethernet wire with the camera and the other with the NVR if you have more than one camera, and then connect them to the router. 
Make sure that the wiring will not affect the beauty of your office, home, or shop. You can also hide the wiring of the security camera in your bedroom. 
For this purpose, you pass the wire behind the board or run the wires through the attic.
Step5: Connect your Mobile and Set up the Settings 
The last step is connecting the whole system with each other and ensuring that everything works normally.
First, The latest cameras can be connected to your Androids or Apple phones. For this, download the mobile app that is compatible with your camera. 
Second, launch the mobile app on your smartphone and start to control your system. 
Third, Go for the DVR/NVR settings page and start to set up the configuration of camera features such as motion detection, remote live viewing, and night vision.
Now your system and cameras are ready for recording videos of anything happening around your property. Plus, you can change the location any time you want because there are no holes or screws.
How to Mount Security Cameras without Drill Holes In Corners
The above methods for mounting security cameras without drilling holes for screws depend on using adhesive tape or a hook.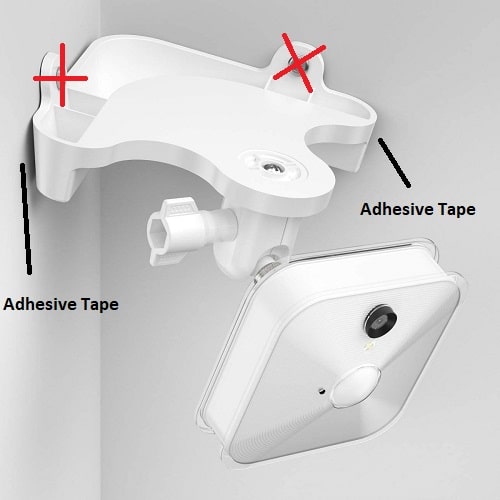 These two methods are suitable if you're gonna use your security camera outside to cover the front door, street window, or garage.
In case you want to mount security camera without screws inside your home then you have two options:
One uses a mounting base provided with a camera box to put the camera on a table or bookshelf, and the SECOND is using Corner Wall Mount.
The first choice is DIY and anyone can do it without the need for hiring professionals and wasting money.
For the second way which depends on using Corner Wall Mount, Here are the steps:
Step1: Choice The Best Corner inside the House
Not every corner inside your home is suitable to mount a security camera on. So, you should choose the location carefully
Make Sure the Corner is Clear and has straight flat construction.
The Corner must cover a wide range of your home areas.
High enough for people to reach.
The corner Location must be away from the window or any powerful lighting source to avoid image problems.
These are the most important points to consider when you go select the corner to mount the camera in.
Step2: Put the Corner Wall Mount
The next step that you should take is installing the Corner Wall Mount that you have purchased.
The Corner Wall Mount is a small piece of plastic that has holes for screws or nails, arms for security cameras, and the main hole for the camera cable feed.
Now, to mount this piece check the below steps
First, Put a double-sided mounting tape on the side and then remove the removable part.
Second, Place the corner mounting piece in its place and you can use a small nail if you have a heavy-duty camera.
Once you are done with the above steps, then you should go for the next step
Step3: Run Wires and Attach the Camera
The last step in mounting security cameras without drilling holes in corners is to install the cam and run the wire connections.
First, Run the camera Ethernet cable through the main hole of the corner wall mount and then connect it to the camera. In case you have a CCTV cam, run the Coaxial cable like the Ethernet cable.
Second, Connect the camera power cable to the power outlet and make sure the wire doesn't have cuts or splices.
Third, Link your cameras to the Video recorder device and turn on your cameras, and then test the functions of the camera.
Now, you're finished mounting the security camera in the home corner without drilling any holes for screws.
Note: This method is amazing if you have a wireless security system connected to the base station and wifi router.
Helpful Link: Learn How to Mount Security Camera On Pole in 3 methods.
Tools Recommendations
If you're struggling to find the best tools for you to mount security camera without screws in your home, Don't worry here are the tools that I used in my installation, and I think you may need some of them.
Product
Specification
Blink Security Cameras
– 1080P
– Wireless
– Powered By Batteries
EZlifego Double-Sided Tape
– Heavy Duty
– Multipurpose
– Easy to Use
Vinyl Siding Clips Hook
– 10 Pack
– No-Hole Needed
– Stainless Steel
Mini Corner Shelf Mount
– Suitable For Security Cameras
– 3M VHB tape
Ximytec Screwdriver
– Cordless
– 45Pcs Screw Bits
– 250RPM speed
Swann BNC Coaxial Cable
– For CCTV System
– 100 Ft / 30 M
ZOSI Cat5e Ethernet Cable
– High-Speed
– For PoE IP System
– 100 Ft / 30 M
Now we arrive at the end for mounting security cameras without screws guide, all the mentioned methods are easy to apply and in case you want to learn more, you can watch the next video
Source: LifeHackster
Summary
Now after finishing the step-by-step installation guide for indoor and outdoor security cameras without screws. 
It is the best option for people who don't want to make holes in the house wall. Or for people, those who do not compromise on the beauty of their house. 
The installation process of a security camera without holes is straightforward. You can install the security camera by following the above steps. 
But you Must buy the excellent quality materials required for the installation. If you compromise on the quality of material and purchase cheap, it will cause inconvenience for you.