How to Blind Neighbor's security camera? or How to Block Neighbor's security camera? the same question with different words but have one object is to protect our Home privacy.
Imagine you back to your home with your kids and while you sitting in the room you found that your neighbor's security camera is directing you to your home.
The first thing you think about is that your neighbor spying on you and ask" How To Blind your Neighbor Security Camera". Not only spy on you it may be worse and your neighbor turns on the live streaming feature and broadcast your home on the internet.
Blinding your neighbor's security camera is extremely hard if your neighbor doesn't respect you. To blind the camera of your neighbor they are in some ways legal and illegal.
Also, there are some ways you can do in your home to reduce the effect of your neighbor's security camera. The methods to Blind or Block your neighbor's camera are increased these days.
Now:
How to Blind Neighbor's Security Camera?
To blind your neighbor security camera we first start with Legal ways.
Method1: Tell Your Neighbor About his Camera.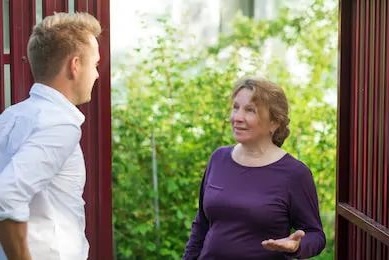 First, you need to speak with your neighbor and say to him that his camera breaks your home and family privacy by monitoring your house. This will lead to 2 ways of solving this problem.
The first one: your neighbor understands you and apologizes for these problems and tells you that he will fix this problem with a camera specialist who installs the camera.
The second one: your neighbor refuses to help you and said that he will not fix this, as he uses the camera to protect his house during the day and he couldn't do anything to fix the problem with his camera.
Taking with your neighbor's will allow you to solve the problem with no losses. Especially if your neighbor just uses and installs a fake camera to prevent burglars from his home.
Method 2: Installing a surveillance camera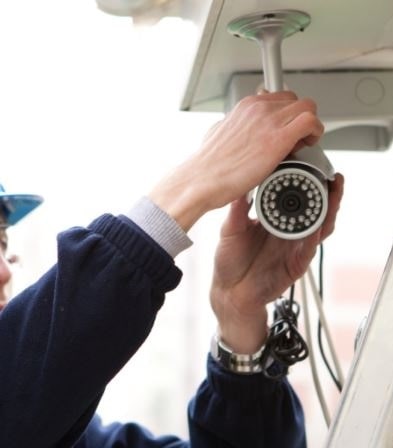 Method 2 for the case if your neighbor refuses to direct his camera away from your home and you don't Know how to blind neighbor's surveillance camera?.
Installing a surveillance camera in your home helps you watch and protect your house first. In addition, if you have a noisy neighbor that uses his camera to spy on your home and family, a dog you can use it.
Once he points his security camera at your home you can buy a security camera to use to spy on your neighbor's.
After reading about security cameras, the best type to install at your home that connects to phone and upset your neighbor is PTZ.
Pan/Tilt/Zoom surveillance camera is one of the best security cameras in the market. It allows you to control the camera direction to help you point and monitor the area you want.
In addition, the PTZ CCTV security camera has the option to Zoom on camera videos to see what happens exactly in the recorded video.
Some models of PTZ cameras have a live streaming feature if you want to use them.
Method 3: Ask installation Expert
Installing a security camera is easy if you know how to install the camera, or if you love DIY you can read the installation guide of the camera and install it. This is doesn't take time and the best cameras with DVR have a detailed installation guide.
But, for companies and a large number of surveillance cameras. There is a service provider that installs wireless security cameras systems for homes and companies. You can find the service provider if you search for "who installs home security cameras".
Once you call the installation service provider you can offer to help you and tell him that your neighbor's security camera monitors your home. And you can ask him what is the best way to block neighbor security cameras.
The installation expert will show you the best places for your neighbor to install his camera. Plus how to direct the security camera to monitor his house and stay away from home.
Or you can ask him about the best place to install your security camera at the home to point and watch both your home and neighbor's house.
Method 4: Talk to The Local Authorities
The fourth method about How to Blind a neighbor's security camera is talking to the local authorities. It depends on where you are living and if your city has a law against privacy invasion or not?.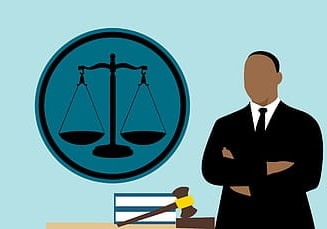 If you try the previous 3 methods and don't work with your neighbors you can talk to a Lawyer or Police and ask for advice on how to Block the neighbor's security cameras.
You can think about another way by searching for your neighbor's security camera type. After that show the authorities that this type of CCTV security camera provides a clear photo.
Types like Dome, Bullet, and IP security cameras support filming high-quality videos. Once you know if your neighbors have one type of these cameras and provide a clear image of your home.
You can use it against your neighbors as criminal harassment. Especially if you have children under the age of 18 still living at home and your neighbor's camera monitor their rooms it's also a crime.
Method 5: Mediators Helping
Another legal method to protect your home privacy and blind your neighbor's security cameras is to seek help from Mediators.
In most cases, when you have an unreasonable neighbor and you try the first method by talking to him about his security camera. But, the talk ends up in failure and you want to solve the problem Legally.
You can ask for Mediators helping to solve the problem between you and your neighbors. The mediators may be useful to disable the security cameras.
For instance, you can go to a neighborhood mediation center or your local community justice to explain your issue and your needs. They will understand you and try their best to settle the problem without further escalation.
Method 6: Search Online on How To Blind neighbor's security camera
This method may be a simple method to blind your neighbors' cameras, by searching online on how to blind a neighbor's security camera you read more information to solve your problem.
When searching online you will find forums and many people asking the same question on How to Block or Blind neighbors' cameras.
You can read their answers and see how they solve their problems with their neighbors. Also, you will know more about your state if it has security camera privacy laws or not?.
Reading your state laws will help you to know if your neighbor has violated certain laws or regulations. Some people make a big mistake and hack their neighbor's camera and Delete Security Camera Footage from neighbor's cameras, In some states, this is illegal and can send you to jail.
Method 7: Block The Camera View Physically
Trying the previous 6 methods will be useful to stop unwanted security cameras to spy on your home. But you may expose to failure when you use one of these methods.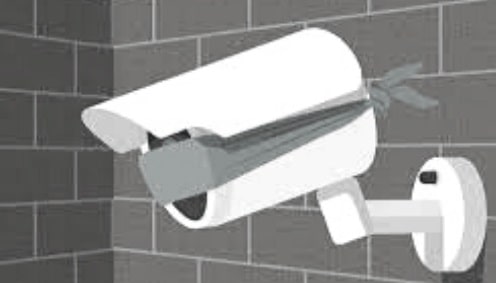 Another method you can use to disable your neighbor's camera is to block the vision of the camera physically. This method will cost you some money but you feel comfortable when you sitting in your home.
This method depends on using solid objects to block the camera view. This solid object will take some work, As it's needs modifications to your property.
Here's some of the physical obstruction to eliminate the camera vision view:
Close all windows and try to use window coverings such as blinds, shades.
Install a sunshade around your home and back yard and point it directly.
Plant a tree or tall shrub or use a tall fence.
Keeping "Privacy Film" on windows that are exposed to the neighbor's cameras will block the camera view also.
Putting up cheap posts with cloth flags along the property line and make sure that eliminate camera vision.
Using these effective obstructions tools will disable CCTV security cameras, and waste your neighbor's money and time by monitoring noting.
Note: in the previous 7 methods we offer legal solutions to avoid your neighbors' invasion of your privacy and save your family privacy.
Next methods we explain other methods to block neighbor's cameras, But some of these methods are Illegal.
Method 8: Blind Camera By Using LED's
Do many people ask How to Blind a neighbor's security camera by using LEDs?.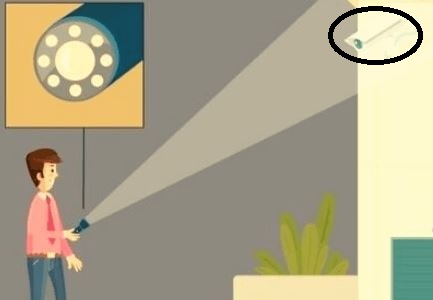 Well, security camera lenses work as the human eye captures the light reflected from the images in front of it. But What if a Light Source is directed to the camera lens consistently?.
The camera lens absorbs the light From LED and the security camera of your neighbors will be blinded by LEDs only.
How to Do that: Simply use a small Shine and powerful LED (light-emitting diode) then direct it to the camera lens with your hand.
A powerful LED is recommended because The brighter the flashlight, the better result in blinding your neighbors' cam.
There is another way you can use to avoid the time you take to direct the LED to your neighbors' camera.
Installing a unit of LED around your home and in the range of your neighbor's camera will be useful. As it will continuously flood the camera image with a bright light and make sure that the LEDs are directed to camera sports.
Note: when you use this method make sure that you cover your face accurately to avoid being caught by the camera. Also, many security cameras have a motion sensor and they send alarms through the app if motion detects.
Method 9: Block Neighbors camera By Using Laser
In the previous method, we use an LED as a source of light to blind the camera of neighbors. Using infrared laser as a light source will also blind the camera.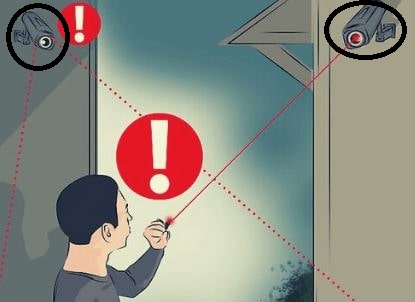 An infrared (IR) laser or Laser Pointer can be used to block the camera by directing the laser beam to camera spots. Most CCTV security cameras work in the same way. And the camera is affected by Flashlight or IR Laser.
But, Using an IR Laser need to be accurate while using, as it requires a very steady hand to direct the laser to the camera correctly. If you move your hand while using a laser the security camera will capture your face.
Or, You can use a targeted laser beam source and direct it to the camera lens and spots. This will produce a Laser Light continuously to the camera and may damage it.
Method 10: Covering/Damaging The Camera Lens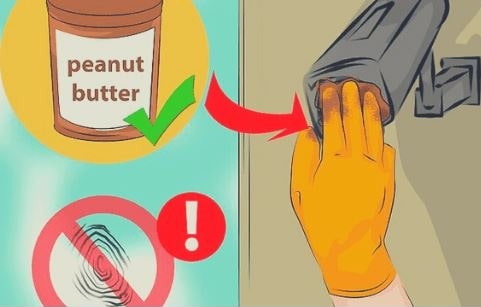 Blocking neighbor's security camera by Covering the camera Lens with materials to disable the camera from Capturing your homes. Although this method is not legal and your neighbor may accuse you of damaging his camera.
But, This method is still effective for blinding neighbor cameras especially if you told him to eliminate his camera before. Materials like Rub Vaseline, petroleum jelly, and any other viscous material can be used to blind the camera.
How To Block Camera By covering Lens?
Well, as we mentioned above a specific material is used to put on the camera lens to make sure the picture comes out blurry. There are many ways to Block neighbor cameras by covering the Lens.
Let's see some of these ways:
Put a duct tape or masking tape over the lens or another viscous substance onto the lens of the camera.
Use spray paint to Cover The Camera lens, Always choose Dark colors.
Try using sticky-but-spreadable foodstuffs like Jam, butter, and peanut butter it's effective to block neighbor cameras.
Cover the camera Lens with a baseball cap, blanket, bag or a piece of fabric.
Please keep in mind that this method is illegal and required you to enter your neighbor's house to reach the Camera Lens. And trespassing on your neighbor's property is illegal also.
Method 11: Stop Security Camera By Jammers
Jammer's devices are used to Stop unwanted devices from work, Many people use this method in blinding neighbor surveillance cameras.
But, Before you use Jammers to disable the camera you must know How Jammers work? and what is required to disable surveillance cameras?.
using Jammers for disrupting security cameras requires camera broadcast frequency and the more information you get about the frequency the easier it is to Jam neighbor cameras.
In addition, you must use the right equipment to jam the frequency, there is no need for Jammers if it isn't able to stop neighbor surveillance cameras.
Method 12: Disable Cameras By Hacking
Another related method for How To Blind Neighbor's security camera is by accessing and hacking your neighbor's cameras.
Note: This activity may be illegal in some countries like the United States.
How To Disable cameras By Hacking?
You can easily learn to hack security cameras online If your neighbor has an IP security camera that uses a Wi-Fi connection you can easily hack the wifi signal.
In most cases, these cameras are used as a remote viewing feature to watch CCTV camera from anywhere by using the internet.
Hacking the Internet wifi signal will allow you to stop the security cameras. In case of yours then you should learn to Protect Wireless Security Camera Signals From Hackers.
In addition, it will make the camera's video connection unusable and stop the camera from working continuously.
Method 13: Cut The Camera Wires
The last way to Blind neighbors security cameras is by cutting the wires, once you cut the connection wires between the camera and the power source the camera will not work again.
Sometimes people use CCTV cameras that use batteries as a power source. In this case, you need to remove the battery from the camera.
If the neighbor has outdoor security cameras that use a solar panel as an electricity source to work.
Once you cover the solar panel and the camera will stop as there is no power source.
Note: before you do something like this you need to know that " Destroying someone's property without their permission is illegal".
Summary: The above methods have some legal ways and other illegal ways, and you must learn and know how this method works.
If you feel something wrong with your camera and are confused if one of their jam, destroy, mess up or turn off security cameras.
Summary
Blocking the Neighbor's camera is a good option if you have noisy neighbors who upset you the whole day without respecting your privacy.
Nowadays, the are a lot of best hidden small size cameras are being used in spying. and to find them you must have the spy camera detector.
On the other hand, Some people are good and don't have the intent to watch you. For example, maybe your neighbor buy the best camera for pets and install it because he or she has active pets, and must be in front of his eye.